TJC Science Center Features New Space Exhibit, Digital Projection System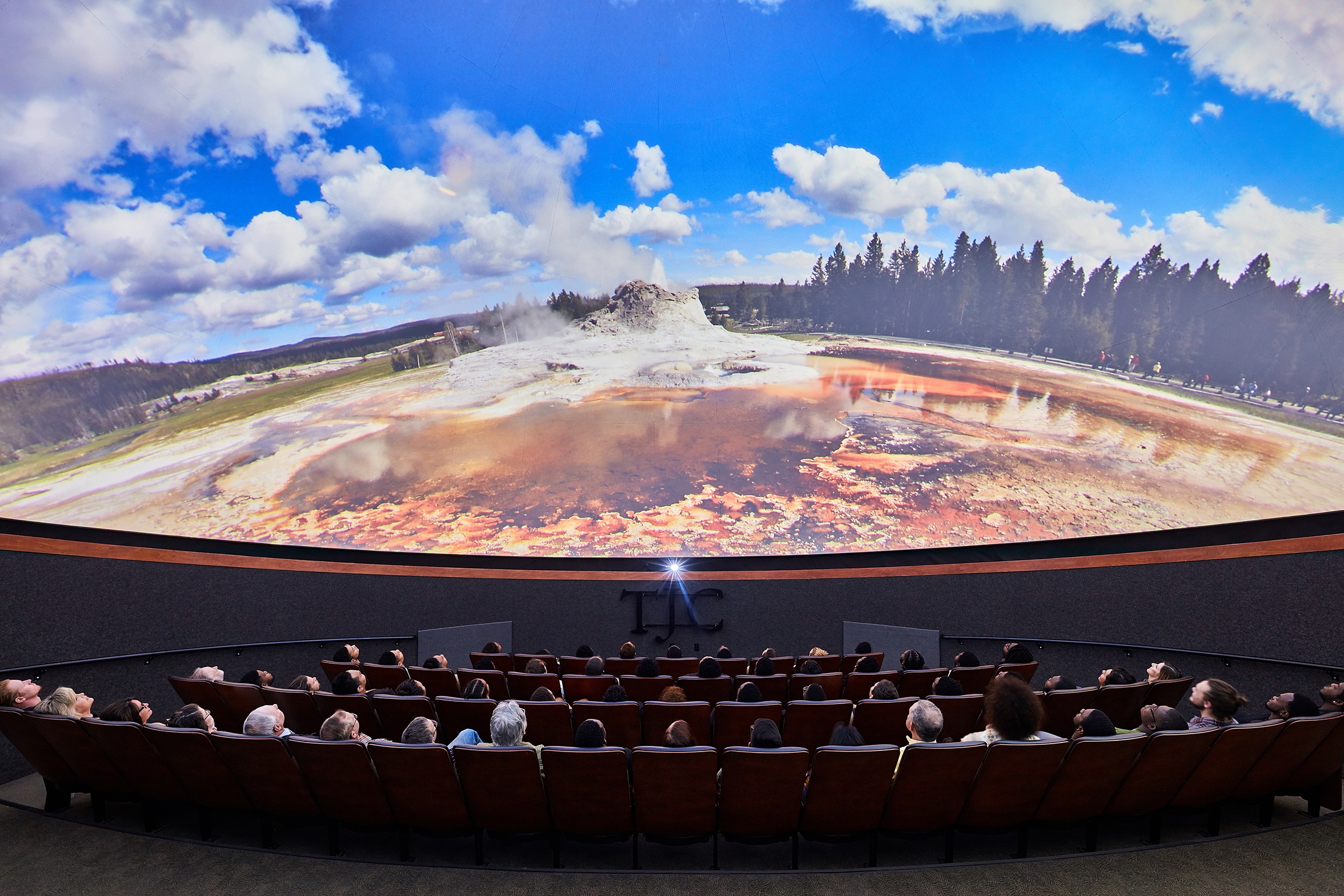 On Saturday, Oct. 5, Tyler Junior College's Earth and Space Science Center featuring Hudnall Planetarium will debut a new exhibit about space – plus a new and improved way of looking at the stars in its dome theater.
Each year, the center serves more than 32,000 visitors and hosts field trips for more than 175 schools ranging from preschool through high school.
'Outreach to Space' exhibit
The new, hands-on exhibit, "Outreach to Space," offers visitors a range of challenges to learn about outer space, what is out there, how to get there, what life is like in space, and what the future holds for space exploration.
"These exhibits are professionally designed and expertly made, built by the world-famous Exploratorium in San Francisco," said Dr. Beau Hartweg, TJC science center director. "It's a great way for our visitors to experiment with all the different aspects of space research."
Exhibit modules include practical lessons on gravity, energy, the constellations, protective gear and space stations and vehicles.
Dome theater features Digitarium Aethos projection system
The center recently upgraded from Digistar4 to the Digitarium Aethos system, which uses 4K laser projection technology to create vibrant, immersive experiences in the 40-foot Hudnall Planetarium.
Nightshade NG software allows for displaying high-resolution imagery of earth, the night sky, solar system, and deep space beyond our galaxy.
"We're proud to be the first science center in the state to have this system," Hartweg said. "The first Digitarium Aethos system was installed in Eugene, Oregon, last year, so we are only the second center in the country to have it."
Dome shows play throughout the day on a rotating schedule:
Tuesdays-Fridays
10 a.m. – Children's Show
11 a.m. – Journey Through Space Live
Noon – Dream Big
1 p.m. – Dark Matter Mystery (new for 2019)
2 p.m. – From Earth to the Universe
3 p.m. – Live Sky Tonight
4 p.m. – Mayan Ancient Astronomy
Saturdays
11 a.m. – Journey Through Space Live
Noon – Dream Big
1 p.m. – Dark Matter Mystery (new for 2019)
2 p.m. – From Earth to the Universe
3 p.m. – Live Sky Tonight
4 p.m. – Mayan Ancient Astronomy
About the science center
Taking a cue from its humble beginnings in the 1960s, the center is now known as the TJC Earth and Space Science Center featuring Hudnall Planetarium.
From 1963 to 2010, TJC's Hudnall Planetarium introduced countless East Texas schoolchildren to science and space. When the lights dimmed, all eyes turned skyward, and imaginations were sparked as the mysteries of the universe unfolded.
Following a massive expansion and reconstruction, the facility reopened in 2011 as the Center for Earth & Space Science Education at TJC and featured a 40-foot dome theater equipped with Digistar 4, then the latest in digital projection technology.
The original planetarium was converted into an interactive area for visitors to enjoy ever-changing exhibits and plasma-screen displays with real-time video from NASA and the Space Telescope Science Institute.
The center also includes an instructional/workshop space and a series of outdoor, educational plazas, including a 15-foot diameter, granite sundial.
Times and tickets
Located at 1411 E. Lake St., on the TJC main campus, the center is open 9:30 a.m.-4:30 p.m. Tuesday-Fridays and 10:30 a.m-4:30 p.m. Saturdays.
Tickets are $5 for children, seniors, and students and $7 for adults. Parking is free.
Open to the public for shows, stargazing events, field trips, and special events, the center reflects TJC's commitment to quality education, vibrant student life, and service through educational engagement with the community.
For tickets and showtimes, go to sciencecenter.tjc.edu.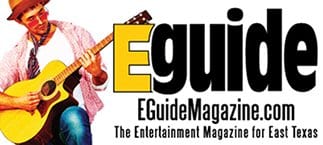 Rose Festival Arts and Crafts Fair Oct. 19th-20th

The annual Tyler Rose Festival Arts and Crafts Fair is returning to Tyler's Bergfeld Park, 1510 S. College, Saturday, Oct. 19 from 9 a.m. to 5 p.m. and Sunday, Oct. 20 from 11 a.m. to 5 p.m.
Hosted by the Tyler Parks and Recreation Department, the Fair will feature more than 70 booths offering handcrafted items for sale, including photography, fine and unique jewelry, hand-poured candles, furniture, bath and body products, clothing, pottery, sewing, wreaths and florals, art-mix-media paintings, plants and more. This will be an excellent event to get a jump-start on holiday shopping, especially for unique one-of-a-kind gift ideas.
Entertainment line-up on the Centene Stage:
Saturday:
Noon – Tyler Junior College Jazz Band
3 p.m. – The Groove Slaves
7 p.m. – Date night movie: Rebecca
Sunday:
2 p.m. – The K3 Sisters
Free admission. Food trucks and the Kids' Zone will be available for a fee.
For more information about this event or about becoming a vendor, please contact Debbie Isham at (903) 531-1214.
Family Fall Events: Fun for Everyone

For more events, check out EGuideMagazine.com 's entire


FREE Movies in the Park: "The Parent Trap" October 19th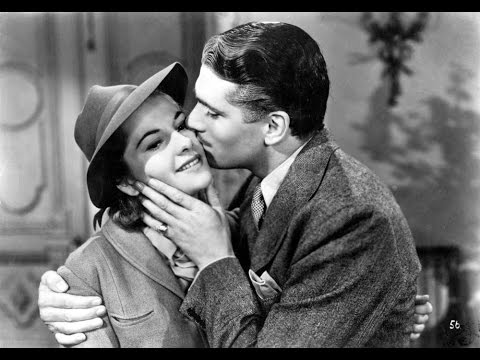 Join the Tyler Parks and Recreation Department for the fall season of the popular Movies in the Park series, a free, family-friendly way to enjoy pleasant fall evenings. All movies will be played at Bergfeld Amphitheater on the Centene Stage, located on 1510 S. College Ave.
The film line-up for the fall season includes:
Sept. 21 at 8 p.m. – "Secret Life of Pets 2" (2019) Max and his pet friends explore the idyllic farm they now call home once their owner is absent. Hilarious circumstances ensue as the formerly urban denizens acquaint themselves with their new pastoral neighbors. Animated. Rated PG.
Sept. 28 at 8 p.m. – "Aladdin" (2019) A street rat pursues the princess of Agrabah with the help of a powerful genie who can grant him three wishes. His primary opponent is a malevolent sorcerer who serves as the city's grand vizier and the chief advisor to the Sultan. Live-action. Rated PG.
Oct. 4 at 8 p.m. – "The Parent Trap" (1961) Identical twins change places to reunite their divorced parents after they meet at summer camp for the first time and discover they were separated at an early age. Hayley Mills plays twins Susan and Sharon. Rated G. This movie was rescheduled from the spring due to being rained out.
Oct. 19 at 7 p.m. – "Rebecca" (1940) Date Night Movie! Starring Laurence Olivier, Joan Fontaine. Alfred Hitchcock at his best with a story of a marriage that is haunted by the aura of the husband's dead first wife. Not rated.
Concessions will be available for a fee. Visitors can bring blankets, chairs and picnics to enjoy the show.
Fall sponsors include Altra Federal Credit Union. More sponsors for the Movies in the Park series are still available.
For details, contact Debbie Isham, special events/recreation manager, at (903)531-1214.
Other FREE events…..