True Vine Brewing: 5th Birthday Bash & Beer Run March 30th


March 30th is Going to be Epic:
The Beer Run and the 5th Birthday Party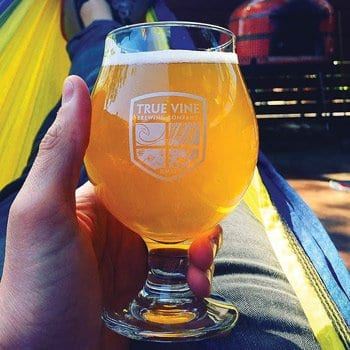 Every year, True Vine hosts the "party of the year" celebrating its birthday, and this year is no exception.
The Beer Run
This year, the 2019 Beer Run promises to be even better than ever, and will begin the day of celebrations for the brewery starting at 8:30am.
The challenging 5k is always fun (plus you get a free beer when you finish!) and this year, it will feature more for for all ages. In addition to awarding men's and women's winners with Mug Club memberships, they are adding awards for "Fastest Dog Finisher," "Fastest Stroller Finisher," "Best Dressed," and tons more. There will also be a Root Beer Kids Run at 10am.
Sign up now at getmeregistered.com for discounted rates. Your entry fee includes a 50/50 shirt, commemorative beer run glass, entrance into the post-race finisher party, and one free beer.
True Vine's 5th Birthday Party
Held 5-11pm, True Vine will be celebrating a Hoppy Birthday! Tyler's first craft brewery is turning 5!
In addition to having the entire facility decked out birthday-style, True Vine will also have five local bands, five special beer releases, five indoor and outdoor beer stations, five food vendors including Sola Bread Co., a mobile cigar lounge with limited edition True Vine branded cigars, a 25-foot rock climbing wall, brewery tours throughout the day, a Rose City IPA Art Show, house-made sodas and root beer for the kiddos, and other surprises.
This is going to be a party unlike anything they've ever done, so don't miss out.
There are two ticket options. $55 VIP tickets (100 available) include a commemorative 5-year anniversary glass, three beer tickets, early entry at 4pm, VIP seating area, dinner by Stanley's Famous BBQ, private beer station, exclusive VIP only beers, and a private brewery tour with True Vine Founder and Owner Ryan Dixon. General admission tickets are $15 and include a commemorative 5 Year Anniversary glass and two beer tickets. At-the-door tickets will be available for $20, but only if they don't sell out online first. Non-drinker tickets are $5.
Tickets are available at facebook.com/events/529439574234134.
Beer + Exercise = Fun at True Vine
March 2nd (10:30-11:30am): Pilates + Pints – Every first Saturday of the month, Pilates + Pints class with Studio B Pilates+Barre takes place. For just $10 at the door, you can take an hour-long Pilates class inside the brewery and have a beer afterward.
March 9th (10-11am): Yoga and Beer at True Vine – Every second Saturday of the month, a beautiful yoga practice is held under the pavilion. Afterward, you can enjoy a beer. Class and one beer are included in the price of admission. Tickets are available at the door for $10.
March 16th (10:30-11:30am): Barre & Brew with Studio B – The third Saturday of the month brings this Barre + Brew class with Studio B Pilates+Barre! For just $10, this barre class mixes elements of ballet at the barre and functional movements set to motivating music.
March 23rd (10am): Brew Fit – This free workout class is led by Lead Brewer Scott Moss. This workout was developed after Scott started brewing and noticed the manual labor associated with brewing caused him to lose weight and build muscle. This class will focus on fundamental lifting and will combine those lifts and movements into an interval cardio circuit.
More Info
True Vine Brewing Company is located at 2453 Earl Campbell Parkway, Tyler, truevinebrewing.com, facebook.com/truevinebrewing.