True Vine: The Community Grows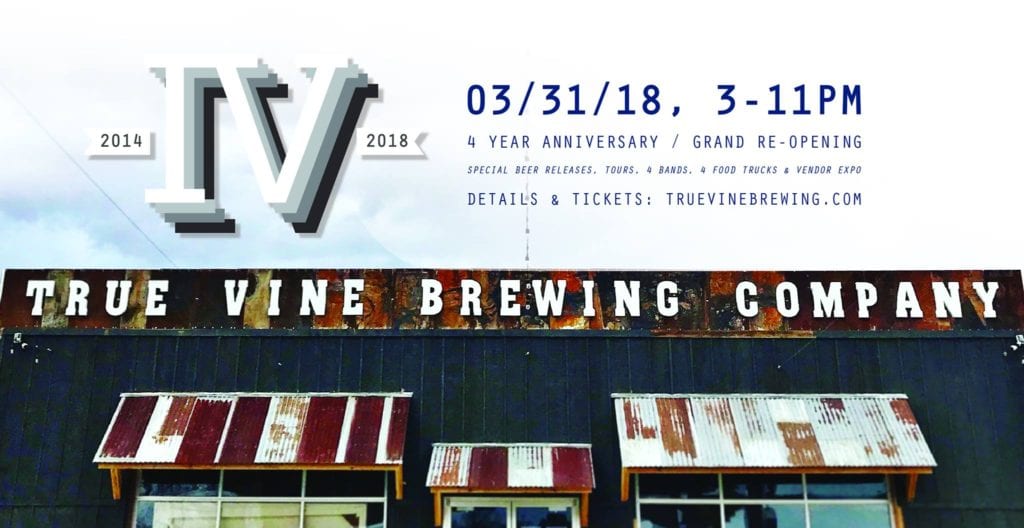 By Johnny Griffith
Formed in 2011 by three friends in a garage, True Vine Brewing sold their first keg of beer to a local restaurant in 2014 and enjoyed the novel status of Tyler's first brewery. Four years since that first keg, True Vine has enjoyed the success that often accompanies hard work, perseverance, and a quality product. From the establishment of the brewery at the Englewood location in 2013, to the Open Taps events, to the opening of a true Tap Room, to beginning to can their beers for wider distribution, the trajectory of the brewery has been steadily upward for founders, managing partners, husband and wife duo Ryan & Traci Dixon. Now, it's 2018 and things are as busy as ever for the crew over at True Vine and brewers Ryan Dixon and Scott Moss have released some popular brews; Daddy's Juice Box New England Style IPA, as well as some new seasonal beers coming this spring and summer to watch out for.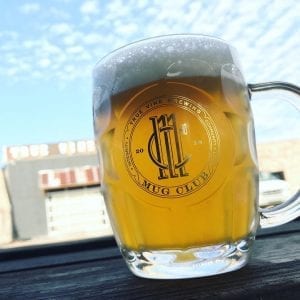 All of this has culminated in a move to a new location this spring with a grand re-opening set for March 31st. The new facility will allow True Vine to accommodate the growing demand as well as set themselves up will for future growth. I caught up with Ryan Dixon recently to see what the news is from the Brewery at the new offices at 2453 Earl Campbell Parkway:
Johnny: What was the moment you all looked around and knew it was time to look for a new location?
Ryan: Without the opportunity to grow into adjoining spaces or the land at Englewood, we knew that our time there was limited. We truly were capped for more production and space for guests at events. We had a blast establishing the great True Vine Community there.
Johnny: What were some of the mental checklist requirements for the new spot?
Ryan: Space. In terms of production growth and land for the future beer garden. We have always wanted to be a destination space. A place where people can come sit, relax, and enjoy a "get-a-way," a break from the busy lives we all live.
We needed office space, production space, room for an indoor tap room, restrooms and outdoor space for community. Being a primarily outdoor venue, covered space was also a must. Being that we have always been a "family-friendly" brewery, space for the kiddos to run around was also a need.
Johnny: How long did the search last before the new location was secured?
Ryan: One of our True Vine investors, Jim, found and purchased the building in October 2016 for a possible investment project for his company. After he told Traci and I about the building being a possible "back up plan for a future True Vine," we came to check it out and immediately fell in love with what it "could be". Shortly thereafter, the project began to renovate the dilapidated building and preparation for a brewing facility.
Johnny: Any specific challenges that were unexpected in getting the new facility up to speed?
Ryan: Being a production brewery with beer on area shelves and local draft bars, planning to move a beer factory around scheduled production was tough. Especially since we are using all of the existing equipment, minimizing our down time getting it all online here at Earl Campbell was crucial. We ended up a couple weeks behind but we are now all up and running.
Johnny: What are the immediate improvements the new facility offers?
Ryan: Our former location on Englewood was 2000 square feet. Here, our building is 10,000. Before, we had 4 official parking spaces plus the road and generosity of the county at the Cotton Belt building parking lot. We have room for about 100 cars within our property perimeter plus other overflow options. Also, we are pumped to have official indoor space here. Nearly 1700 shared feet of heated/cooled space as well as restrooms for both women and men. Our onsite pavilion and venue space is 1700 square feet of covered area to help with inclement weather and provide shade as well as a 400 square foot stage for bands and musicians.
Johnny: The new location will also be home to Sola Bread and Pizza. What was the genesis of that collaboration?
Ryan: The Sola Bread Company team have been great friends of our for a long time. Since the beginnings of True Vine, our goal has been to help grow small businesses alongside True Vine. We feel community is always best. Same concepts with our friends and former neighbors, Porch Culture Coffee Roasters who still reside at 219 S Englewood, for now.
Sola Bread has been doing community pizza nights in their backyard for a few years now. Legit wood fired Neapolitan style pies. Once we nailed down this location, we knew they would be a great fit for onsite food for our patrons. When you enter the True Vine tap room, you'll be able to order a beer and order Sola Pizza, as well as a variety of artisan style snacks. You will see them prep your pies and bake it in their oven, right there in our shared space.
Johnny: Are there upgrades to the brewing operation that are taking place simultaneously with the move? If not, is there anything on the horizon you can give us a heads up over?
Ryan: True Vine has always taken one step at a time in our growth. We believe in growing it all organically. That being said, we were in need for a new space and a step forward on production capacity. We purchased 4 new brewing tanks (2 water and 2 fermentation vessels) to help with our production demand. The larger water tanks will allow us to brew 24/7 one day and the 2 new fermentation tanks increases production capacity 2.5X. We also have plans for adding more down the line and have allocated connection points and space for future growth. One of the next pieces we will acquire will be our own canning line as well as upgrading some of our main heating and cooling units for beer production.
Johnny: The grand reopening and 4 year anniversary is March 31st. What does True Vine have lined up for that event?
Ryan: 03/31/18 will be FULL and overflowing with beer, music, food and fun. Early in the day we will be hosting our second annual Beer Run. As of this moment, we have 400+ registrants for the 5K fun run and expect close to 700 for race day. For the 4 Year Anniversary and Grand Re-Opening, starting at 3pm, we have 4 bands lined up including a few from right here in East Texas as will as musical guests from Austin, The Rocketboys. We have 4 confirmed food vendors on site as will as Sola Bread & Pizza Company. We also will be hosting several fun sport tournaments that day including disc golf putting and a corn hole tournament.
As for beer, we are getting closer to having our brand new tap room draft system flowing. Crafted from original True Vine kegs. Our new draft tower will help our bartenders dispense 20 hand crafted beers and sodas for our guests. Some of the beers that we will be pouring that day will include a special 4 year anniversary IPA with 4 hop varieties, our brand new Giant Slayer Imperial Stout and many many others. It's going to be a fantastic day!
Johnny: Finally, how would you describe the State of the Craft Beer Union here in East Texas currently and how is the future looking from where you guys stand?
Ryan: We are proud of how far we have all grown in the craft beer community. Seems like everyday someone new is getting turned on to craft beer, the bolder flavors and supporting the small independent breweries here in Texas, just like True Vine. I believe that this will grow immensely in 2018, mainly due to great craft beer being brewed here in Texas and the great support of locals. Our success has a direct correlation with the community support. With it, every small craft brewery who produces great beer here in Texas has a fighting chance against big beer.
True Vine Brewing Company is set to have their "Grand ReOpening" on March 31st from 3pm-10pm at 2453 Earl Campbell Parkway. For more information on this event, please visit: truevinebrewing.com.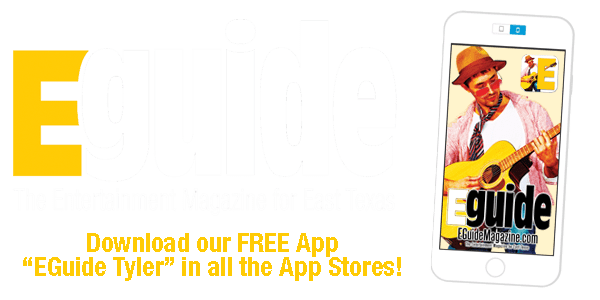 Announcing…Dogtoberfest 2018
Dogtoberfest 2018:
Craft Beer and Cute Puppies Join For a Great Cause
Join the fun with your four-legged best friend October 27th (11am-7pm) at Dogtoberfest 2018!
Held at Juls Event Center, 7212 Old Jacksonville Hwy., Tyler, Dogtoberfest is the culmination of adoptable pets from local animal rescue groups, pet-related vendors, local live bands, restaurants and food trucks and craft breweries.
The Craft Beer tasting will take place indoors in the newly remodeled Juls Event Center!
The ultimate goal of the day is finding forever homes for as many homeless pets as possible.
They are currently seeking vendors, breweries, and more; applications are available online. For more info go to spcaeasttx.com/events/dogtoberfest-2018. If you have questions about the event, contact: marketing@spcaeasttx.com.
7th Annual Butterfly Hope Luncheon, November 1st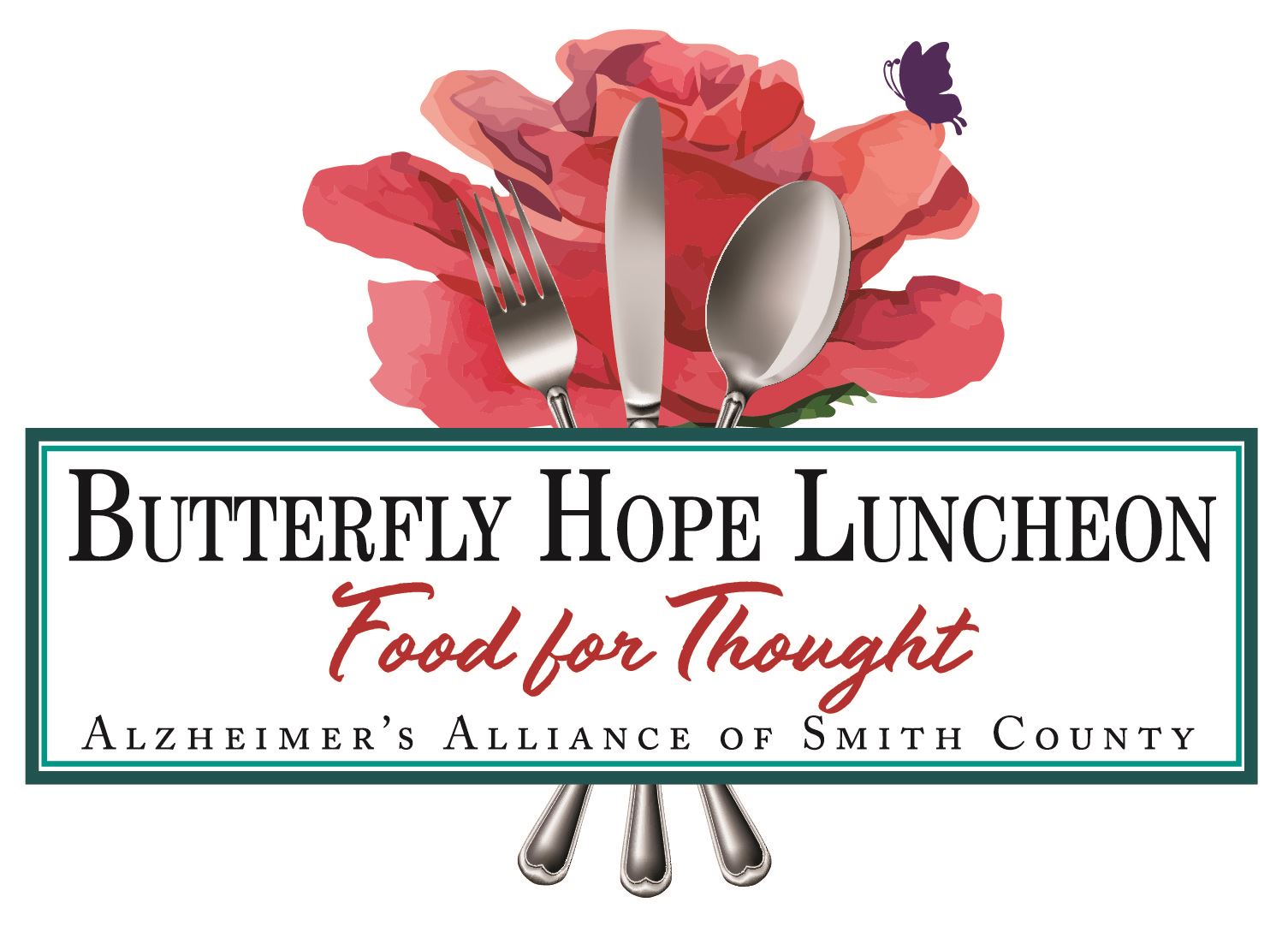 7th Annual Butterfly Hope Luncheon features Madison Cowan, First Winner of the Food Network Series "Chopped"
Thursday, November 1st  at 11:30 am at the Rose Garden Center (420 Rose Park Drive, Tyler), the Alzheimer's Alliance of Smith County will hold it's 7th annual Butterfly Hope Luncheon featuring Madison Cowan, an Alzheimer's Advocate and first winner of the Food Network series Chopped. This annual event benefits the Alzheimer's Alliance of Smith County.
Tickets for the 7th annual Butterfly Hope Luncheon go on sale September 10th for $75 per person. For more info call (903)509-8323 to reserve a seat or visit alzalliance.org.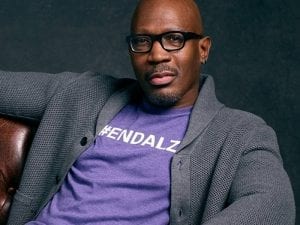 Madison is a hands-on family man, cook, producer and storyteller with roots in London, Jamaica and Detroit. In 2004, after being awarded a four-star rating from The Times as executive chef of Ashbells in London's West End, he established Madison Cowan LLC, a global culinary production company that oversees operations in licensing and consulting, television production and private dining that has reached throughout Africa, Europe, Japan and South America.
Madison has catered to jazz legend Lionel Hampton, singer and human rights activist Odetta, actors Halle Berry, Scarlett Johansson and Anthony Anderson, rapper and poet Mos Def, fashion icon Donna Karan, playwright Lanford Wilson, former NYC Mayor David Dinkins and former President Bill Clinton.
He credits his mother's influence as the springboard to his culinary experience: "She made certain I knew my way round the kitchen and would never depend on anyone for a meal. Sage advice I now impart to my own child."
In 2010 Food Network selected him as a contestant for their hit Primetime series Chopped where he competed and won three consecutive episodes to become the first ever Grand Champion. Following appearances on NBC's Today Show and CBS This Morning, in April of 2012 he was victorious on Iron Chef America's epic Battle Kale and co-starred in BBC America's exciting travel series No Kitchen Required. Madison returned to television in late 2013 as a recurring judge in Food Network's delectable series of chance, Kitchen Casino and currently features on multiple series such as Beat Bobby Flay, Guilty Pleasures, Worst Cooks in America, Chopped Junior and Guy's Grocery Games.
Most notably, Madison's charitable endeavors include advocating on behalf of both the Alzheimer's Association and Alzheimer's NYC in its quest to cure the dementia related disease, serving as culinary council member for Food Bank For New York City, a leader in the movement to end hunger and poverty and signing on with First Lady Michelle Obama's Chefs Move To Schools initiative, which creates partnerships for professional chefs and public schools nationwide with the goal of solving childhood obesity within their communities by collaboratively educating children about food and healthy eating.
At the luncheon, Bishop Strickland will be honored with the Butterfly Hope Award for his steadfast leadership within the Alzheimer's Alliance of Smith County for many years and his passion and commitment to the Alliance. Bishop Strickland has served on the Alliance Board and is now on the Alliance Advisory Council.
Sponsorships are available, please contact the Alliance office for more information. For more information regarding Alzheimer's disease, Alliance programs & services or for volunteer opportunities please visit alzalliance.org.
About the Alzheimer's Alliance of Smith County
Founded in 1982, the Alzheimer's Alliance of Smith County is a local nonprofit organization committed to walking alongside all of those affected by Alzheimer's disease and related dementias. Our services include personal consultations, education and awareness, caregiver support and resources, and brain health advocacy in Smith County.
Fit City Tyler's "Fit Bite Program" Grows
Do you want to eat healthier when you are eating out? Fit City Tyler's "Fit Bite Program" offers a current list of restaurants and their healthy menu options.
Participating restaurants are:
You can go online at fitcitytyler.com/fitbite and click each restaurant to view their menu items that qualify for placement into the "Fit Bite" Menu Recognition Program.
Look for the "Fit Bite" logo on window stickers, menu labels and informational posters. These will highlight the meats, fruits, vegetables and beverage options are prepared using any of these healthier cooking methods: grilled, broiled, baked, steamed, poached, roasted, sautéed or stewed.
​Any restaurant in the Tyler area can join the free "Fit Bite Program." To enroll, go to fitcitytyler.com. For more info email Terrence Ates at TAtes@NETPHD.org.
Fit City Tyler is a community wellness coalition that supports individuals, families, and businesses to create action toward adopting healthy lifestyles. The Fit City Tyler coalition consists of more than 100 local organizations: the media, hospitals, gyms, public and private schools, city and county government, community clinics, public health organizations, non-profits, restaurants, churches, health clubs, fitness gyms, CrossFit boxes, non-profit agencies and numerous community volunteers.