For more events, check out EGuideMagazine.com's BIG CALENDAR!
---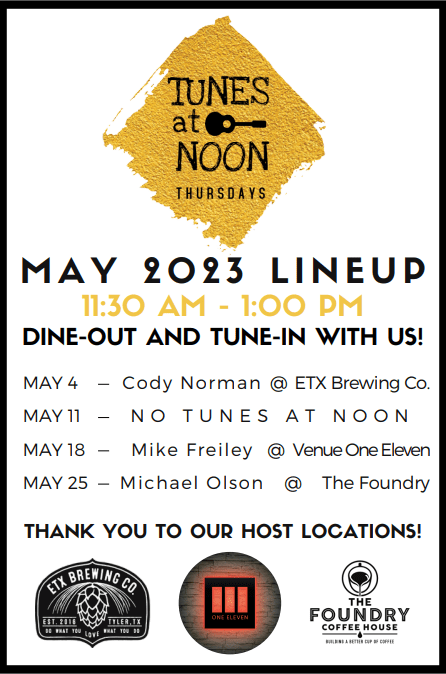 Tunes at Noon destination style is back this May!
On select Thursdays from 11:30 a.m. to 1 p.m., grab some lunch and join us for music by local artists at different Downtown venues each week.
Scheduled are:
Thursday, May 4, from 11:30 a.m. to 1 p.m. – Cody Norman at ETX Brewing. Co.
Thursday, May 18, from 11:30 a.m. to 1 p.m. – Mike Freiley at Venue One Eleven
Thursday, May 25, from 11:30 a.m. to 1 p.m. – Michael Olson at The Foundry
The June schedule has not been released yet, but for updates and more information, visit the Downtown Tyler, Texas Facebook page.
The City of Tyler's Main Street program created Tunes at Noon in 2019 to attract residents and visitors to enjoy lunch along with live music.
The event began and was held on the Square in Downtown Tyler until the 2022 fall event.