By Barbara Greenbauer
Ready for a new adventure that will test your mental and physical strength, team-building, and problem-solving skills, all rolled into one?
Tyler Rock Gym is the one-of-a kind new climbing arena in East Texas that is designed for both seasoned and first-time climbers. It's kind of an awe inspiring sight as you enter the facility, huge 32 foot walls, emblazoned with colorful foot holds, ropes and people climbing and scaling everywhere.
Opening just last month, TRG has become a haven for climbers and watchers alike; a climbing oasis that has built a strong, friendly community. This community has one thing in common – they want to get to the top, and conquer the walls.
Sign a waiver, get some hands on instruction, and orientation from well-trained staff about the harness, auto belays and bouldering walls, and you're ready to go. It's truly a motivating, positive experience, as you witness fathers and sons, mothers and small children, encourage each other to reach out, find another route and keep going!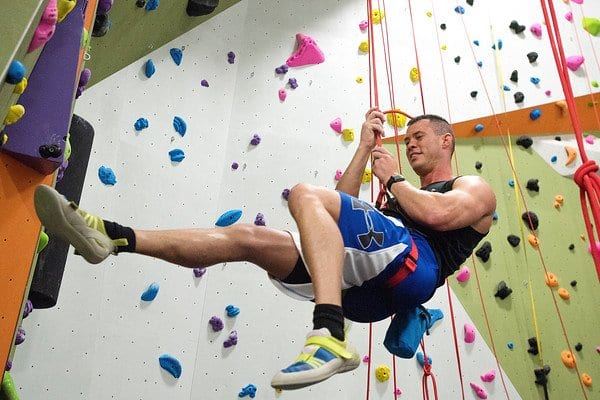 Owners Shawn Wilson and David Orchard are the head cheerleaders, welcoming each and every climber, giving them encouragement, and reaching out to make sure everyone is having a great experience. "We have seen such a sense of community grow over the very short time we've been open," said Wilson. "There have been so many different groups enter the doors, from nurses to local business owners, to students from our local colleges, and even from SFA."
All you will need to scale the walls is closed-toed shoes and a harness; other equipment is available for rent at their pro shop, including rock climbing shoes and chalk. You will be taught "how to fall safely" and then it's up to you to choose a route on one of the massive walls in the over 10,500 square foot climbing surface.
"Every five or six weeks we will change out the routes on the walls, so it becomes a whole new challenge," explained Orchard. "Our goal is to help people enjoy the sport that we fell in love with." There are more than 11 different levels of difficulty, with the lower levels designed specifically for kids. All children 13 and younger must be supervised, but on this Saturday, it's clear that families are in this together as the kids climb higher and the parents encourage enthusiastically from the mats.
Katy Kohls and Luke Kanclerz have already joined as members and "have climbed other places, but we love the social and family atmosphere here." said Kohls. "We get into the climbing zone, and it's almost like a time warp.  We turned around and we've been here almost all day, climbing, talking, and helping other climbers problem solve."
This sport is so much more than just climbing a wall. It's about endurance, problem solving and team-building. Groups sit at the base of a wall, pointing and gesturing to a fellow climber, trying to figure out the puzzle of where to position, how to climb, and the next step. A father acts as the belay for his young son as he encourages him not to give up and try again to get up to the top.
"This sport just has so many benefits," explains Orchard. "You don't have to be a superb athlete to participate, and it is great for all ages. We have a 4 year old climbing today with his mother, and we have a 70 year old man who has been climbing with us regularly."
Tyler Rock Gym is a great escape for birthday parties or corporate team-building events and offers memberships that include exclusive climbing hours, special discounts and even member get-togethers and special events (the latest member treat was a pancake breakfast.)
Corey Valverde and her 4 year old son, Izri, were having a blast, and Izri was totally fearless, scrambling up the wall at a fast pace. "We had heard about the rock gym opening" said Valverde, "and were so excited to have somewhere to exercise all year round that we could do as a family and have fun at the same time."
Bouldering is a different kind of climb; no ropes , just sheer determination and willpower. The bouldering walls are 15 feet high and have 80 different routes and angles for climbers to navigate. "There are a lot of different ways and types of climbs in this one gym," said Orchard. "Climbers that are very experienced have said it's a great challenge and workout and they keep coming back."
There are also a variety of different options to choose as far as time commitment. Climbers can purchase a one-day membership, a punch card or a monthly membership. The one day membership includes re-entry at any time, so you can climb, leave, and return at any time the gym is open for business. An all day adult pass (ages 13 and up) is $16.95, and kids 4-12 can climb for $12.95. Basic rental gear runs from $8 for harness and shoes, harness alone is $4, $5 for just shoes, and $10 for a complete kit of shoes, harness and chalk. If you don't feel like climbing, but just want to come in, encourage, and watch, it is free when you sign a waiver.
"We are just so thrilled to be able to offer East Texans a different way to spend their time," said Orchard. "The benefits of rock climbing, whether indoor or outdoor, are incredible and the opportunity to spend quality time with your family in a fun, friendly healthy atmosphere is a bonus."
Come and climb the walls at Tyler Rock Gym, located at 4580 Old Troup Hwy., Tyler. You can reach them at (903)705-0074 or at tylerrockgym.com or on Facebook at tylerrockgym
Hours are Monday-Friday, 12noon-10pm, Saturday 11am-10pm, and Sunday 1-7pm.