Pandemic-reprieve project turned publication promotes beauty of Earth and life
An inspirational coffee table book featuring artwork by Alexis Serio, MFA, professor of studio art at The University of Texas at Tyler, is now available.
What began as a monthlong pandemic-reprieve project created by the professor and her father two years ago progressed into an 85-page book featuring 34 oil paintings alongside poetry by Wallace Stevens (1879-1955), known as one of the greatest poets of the 20th century.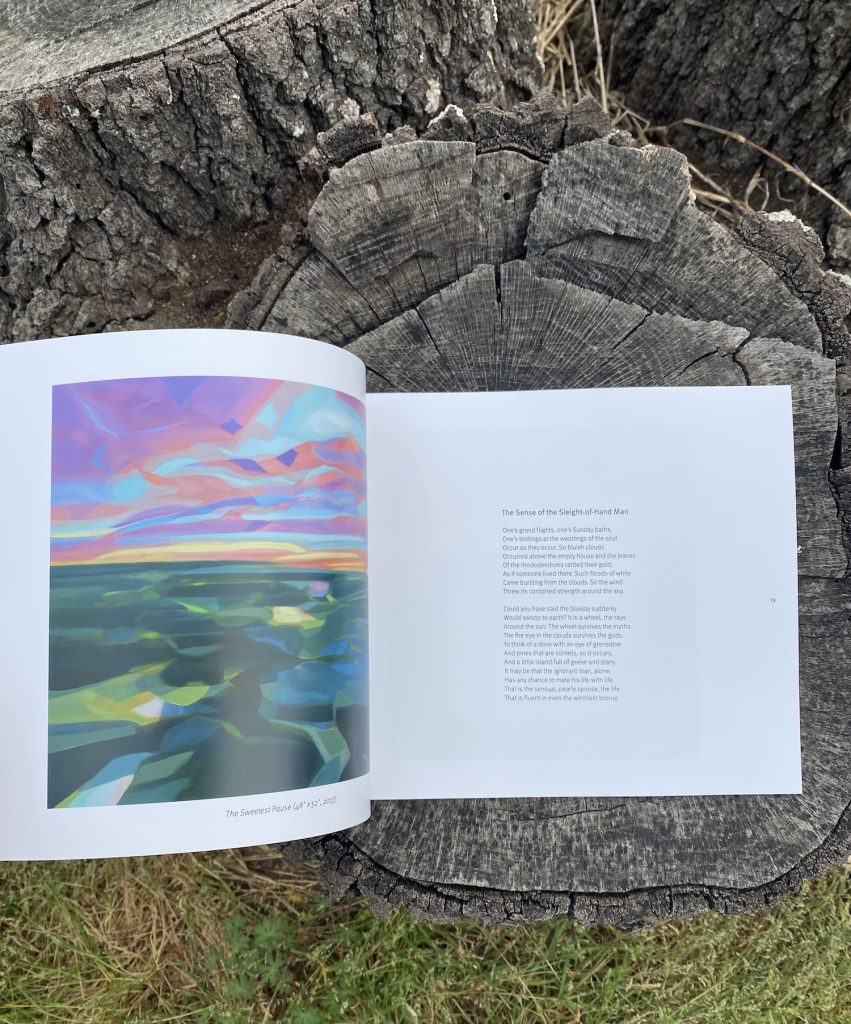 Published by New Perennials Publishing (NPP) of Vermont, "Perennial Earth: Poetry by Wallace Stevens and Paintings by Alexis Serio" is a conversation between a painter and a poet that speaks to the ways in which artists contribute to communities during challenging times as muses, expressive healers and care providers. Both poet and painter use the beauty of planet Earth as a setting for profound human reflection and feeling. Serio hopes the book provides readers peace.
"Since 2011, I have been the art editor of The Wallace Stevens Journal, a publication by Johns Hopkins University Press. In May 2020, during the brunt part of social lockdown, my father and former journal editor John Serio and I worked together to attempt to provide reprieve for our family, friends, and colleagues each day," said Serio. "We selected a Wallace Stevens poem and one of my paintings to match the mood and sent out a daily email for the course of the month, which we called, 'A Month of Poetry and Painting.'"
"One of the recipients of this email was Bill Vitek, editor of New Perennials Publishing, who thought it would be a wonderful book in keeping with the mission of New Perennials Publishing, and so he invited us to consider putting this book together," she said.
NPP is a nonprofit whose aim is to foster critical thinking about issues in ecology and the environment.
Glen MacLeod writes in his introduction, "The aim of these visual-verbal juxtapositions is to enhance the reader's appreciation of these two artists who, though working in different mediums, both base their art on the inexhaustible correspondences between the outer world of nature and the inner world of human experience."
The book is available in both print and digital form. Grant funding allows NPP to provide books in free downloadable format via their website. To purchase a book, visit alexisserioart.com. For more information, visit newperennialspublishing.org/.
Serio joined UT Tyler in 2004. Her work has appeared alongside artists such as Andy Warhol and Richard Diebenkorn in a show at the Delaware Center for Contemporary Arts. She holds an extensive exhibition record that includes shows at the Tokyo Metropolitan Art Museum in Japan, the Martin Museum of Art at Baylor University; and the Wichita Falls Museum of Art in Texas.
Serio's artwork belongs to various public and private collections including the University of Iowa HealthCare Systems and the Fox School of Business at Temple University. She teaches all levels and mediums of painting as well as a mural and landscape painting, drawing, and professional practices.
With a mission to improve education and healthcare outcomes for East Texas and beyond, UT Tyler offers more than 80 undergraduate and graduate programs to 10,000 students. UT Tyler recently merged with The University of Texas Health Science Center at Tyler (now known as UT Tyler Health Science Center). Through its alignment with UT Tyler Health Science Center (HSC) and UT Health East Texas, UT Tyler has unified these entities to serve Texas with quality education, cutting-edge research, and excellent patient care. Classified by Carnegie as a doctoral research institution and by U.S. News & World Report as a national university, UT Tyler has campuses in Tyler, Longview, Palestine, and Houston.