By Gini Rainey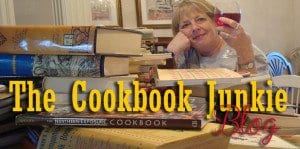 So, I've been sitting here, reading a book that was sent to me for review that is written in south Texas dialect from the 1920s, and I'm thinking, what would be better to write about today than "The Redneck Cookbook" by Lo'retta Love?  This campy little 128 page cookbook should satisfy anyone's need for mighty fine, down home cookin' – including the trimmins – according to the author.  The introduction, written by Lo'retta, divulges the purpose of this book published in 1997 by Black Dog & Leventhal Publishers, Inc.  Seems this collection was put together for Lo'retta on the occasion of her cousin Nadine's wedding to Dwayne and is filled with the recipes for the food served following the nuptials.
With the sound wedding advice that Lo'retta gives Nadine, remember that "cooking isn't something you measure.  It's something you feel.  Never be afraid to try something different.  If you don't have wine for a sauce, try a little Coca-Cola."  Keeping that in mind, I'm sure anyone who reads through this book will wind up with a permanent smile on their face.  Filled with disclaimers backed by knowledge gleaned from years of experience in the kitchen, just remember that "Black Bean Nachos might be a little messy, but are great for
entertaining if you aren't too fussy about your carpet."  Have you ever thought about using baby food as a time saver?  Well, there is a recipe for Fast Spinach Soup that calls for 2 large jars of junior baby food spinach.
In a section devoted to Chicken and Game Birds, Lo'retta shares a hen house full of great
ways to prepare chicken, dove, and wild turkey.  When was the last time you barbequed a chicken using peanut butter?  It just might be time for you to try it.  Oh, and if you don't feel like using your peanut butter on the chicken, she also has included the Elvis Sandwich that combines peanut butter, mayonnaise, and bananas on white bread.  I've heard that a lot of folks in the south like Fried Bologna Sandwiches.  For some reason that has about as much appeal to me as a Spam sandwich, so I've not tried that one.  Maybe I'm just not red-neck enough!  Nor have I understood the rationale behind a sandwich that has stuffing on it,  but I guess if I'm ever tempted, I could use Lo'retta's recipe for Truck Man's Sandwich that also calls for leftover turkey, gravy and cranberry mold on white bread.  If you're looking for a really simple sandwich to make, you might want to try Baby Sister's Favorite Sandwich – 2 slices of white bread, mayonnaise and potato chips.  And, then again, maybe not.
Actually, aside from the off-beat introduction, this little book is filled with some great sounding recipes and it probably would make a great wedding gift for some of your kissing cousins.  Anything to keep that new husband from having to eat spaghettios from a can would be a good thing!
So, back to that Fast Spinach Soup.  If you're a fan of spinach soup, this might become a go-to recipe for you.  All it calls for is 2 large jars of spinach junior baby food mixed well with 4 cups of chicken broth, 2 cups of homemade (or canned) white sauce, and 1 teaspoon of curry powder. Heat it in the top of a double boiler set over simmering water and garnish with 2 chopped, hard-boiled eggs, croutons, or a dollop of sour cream.  What could be easier, or more elegant, and who would guess that it all started out with baby food?