Wasn't That Just Yesterday?

By Gini Rainey
It seems like just yesterday that my daughter Beth came home from middle school and announced that one of her classes was going to put together a booklet of favorite recipes of the students' families.  Interestingly enough, she just celebrated another year around the sun yesterday, and as her older sister reminded her, she is on the downhill slide to 50!  At least she included a laughing emoji.  
So, there I am, cooking dinner, with her sitting across the bar from me asking where the recipe for what I was making (I think it might have been pepper steak) was so she could copy it down and take it with her to school.  Imagine her dismay when I tapped my head!  I could tell she felt like that was never going to work.  But I told her get a piece of paper and a pencil and we would figure it out together.  She may not even remember that moment in time, but seeing what a good and experimental cook she has become, perhaps what she learned that afternoon stuck with her.  Things like always, always taste what you are cooking, less is better when it comes to salt/pepper, your cupped palm will hold about a teaspoon, rub dry herbs between your palms as you sprinkle them into what you are cooking, and never be afraid to try something new.  
So, believe it or not, this memory was jogged by a cookbook, Top Secret Recipes Unlocked, written by Todd Wilbur
and published in 2009 by Plume Books/Penguin Books.  As I was flipping through it, it occurred to me that even though there are some pretty good recipes in it, I found it interesting that it also included recipes for Jimmy Dean® Breakfast Sausage, Kraft® Miracle Whip, Hidden Valley® The Original Ranch® Dressing, Fritos® Hot Bean Dip, and Lipton® Brisk® Iced Tea.  Just reading the Dressing recipe made me hyper-ventilate over the list of ingredients it called for.  I mean, if I'm going to the store to pick up all of that, why not just grab a packet of the mix? 
But, I will say the recipes included for things like Panera Bread® Broccoli Cheddar Soup, Popeyes® Red Beans & Rice, Boston Market® Butternut Squash, and Carnegie Deli® Classic New York Cheesecake sound pretty darn yummy and the ingredient lists aren't terribly daunting.  The cool thing about this book, and the others out there that have copycat recipes, is someone took the time to taste – really taste – the original foods and experiment in their kitchen to come up with the end product that is a pretty darn good second to the original.  That's turning cooking and your kitchen into a food lab – and I'm for that! 
One of the recipes that Beth and I saved for posterity was for my version of Pepper Steak.  First trim about 1 ½ pounds of round steak and slice paper thin (this is easier to do if the meat is slighty frozen) making the strips about 3 inches in length.  Dredge the strips in flour and brown in hot oil in a Dutch oven or a 4 quart pan. Mix 1 ½ teaspoon of garlic powder with 4 tablespoons of corn starch and blend with ½ cup soy sauce (I prefer Kikoman®) and 3 ½ cups water and pour over the beef strips.  Stir until well mixed and beginning to thicken.  Cover and reduce heat. Cut 1 large, white onion and 2 large bell peppers into eighths and add to the beef mixture.  You can also add a small can of drained sliced mushrooms and a small can of sliced water chestnuts.  Continue to simmer until the onions and peppers are cooked, but still a bit crunchy.  Serve over steamed rice.  This is some might good eating and so relatively easy to make, you might want to have the kids help cook it. 

Black History Month: Lectures & Author's Forum Feb. 18th-20th

TJC Black History Month events feature MLK film and African American authors' forum
Tyler Junior College will hold two informational events in honor of Black History Month.
Both events will be held in Room 1109 of Jenkins Hall, on the TJC main campus. Admission is free, and the public is invited to attend.
TJC Dialogues set Feb. 18
A TJC Dialogues event, set from 4 to 6 p.m. Tuesday, Feb. 18, will feature a showing of the award-winning documentary, "The Witness: From the Balcony of Room 306," a first-hand account of The Rev. Dr. Martin Luther King Jr.'s assassination on April 4, 1968, and the events leading up to that moment.
After the 40-minute film, TJC professor Dr. Bridget Moore will moderate a discussion. Refreshments will be served. The event is sponsored by Red Rock Historical Association and TJC.
TJC Dialogues is an occasional discussion series planned by a committee of TJC faculty and staff. It promotes tolerance, respect and understanding through civil discussion about socially pertinent topics.
TJC Distinguished Lecture Series set Feb. 20
As part of its Distinguished Lecture Series, TJC will host "African American Voices: A Writers' Forum" will be held at 6 p.m. Thursday, Feb. 20. A reception will follow the event.
The event will feature three authors:
The Rev. Rodney L. Atkins
The Rev. Rodney L. Atkins is founder and pastor of Victory Temple Church of God in Christ in Tyler and serves as library director of Jarvis Christian College in Hawkins. He was the first African American to be hired as a librarian for the City of Tyler and worked in that capacity for 25 years.
Throughout his life in East Texas, he has mentored youth, authored books, established observances of black culture, established Christian education institutes and celebrated U.S. military, among other projects.
A native of East St. Louis, Illinois, Atkins is a graduate of Northern Illinois University, Atlanta University and the Assemblies of God Theological Seminary.
Dr. Sharon Hill Cranford
A Texas-to-Kansas transplant, Dr. Sharon Hill Cranford comes with a diverse background. After a career in mental health, diversity training and education, interspersed with singing and writing music, Cranford co-authored "Kinship Concealed: Amish-Mennonite-African-American Family Connections."
The book came on the heels of the unexpected discovery of her Amish ancestry. She later followed up with a children's book on the childhood of her great-great-grandfather, Charley Mast, who, as a baby, was taken from his mother and sold into slavery.
Cranford is a widowed mother of two sons and grandmother of four grandsons.
She is a graduate of Texas Woman's University in Denton and resides in Wichita, Kansas.
Deedee Cummings
As a therapist, attorney, author and CEO of Make A Way Media, Deedee Cummings has a passion for making the world a better place.
All 11 of her diverse picture, poetry and workbooks for kids reflect he professional knowledge and love of life.
Colorful and vibrant, her children's books are not only fun for kids and adults to read, they also work to teach coping skills, reinforce the universal message of love, encourage mindfulness and facilitate inclusion for all.
Cummings has spent more than two decades working within the family therapy and support field, and much of her writing shares her experiences of working with kids in therapeutic foster care.
Using therapeutic techniques in her stories to teach coping skills, she also strives to lessen the stigma that some people feel in seeking mental health assistance.
Cummings resides in Louisville, Kentucky.

A Little Mystery for February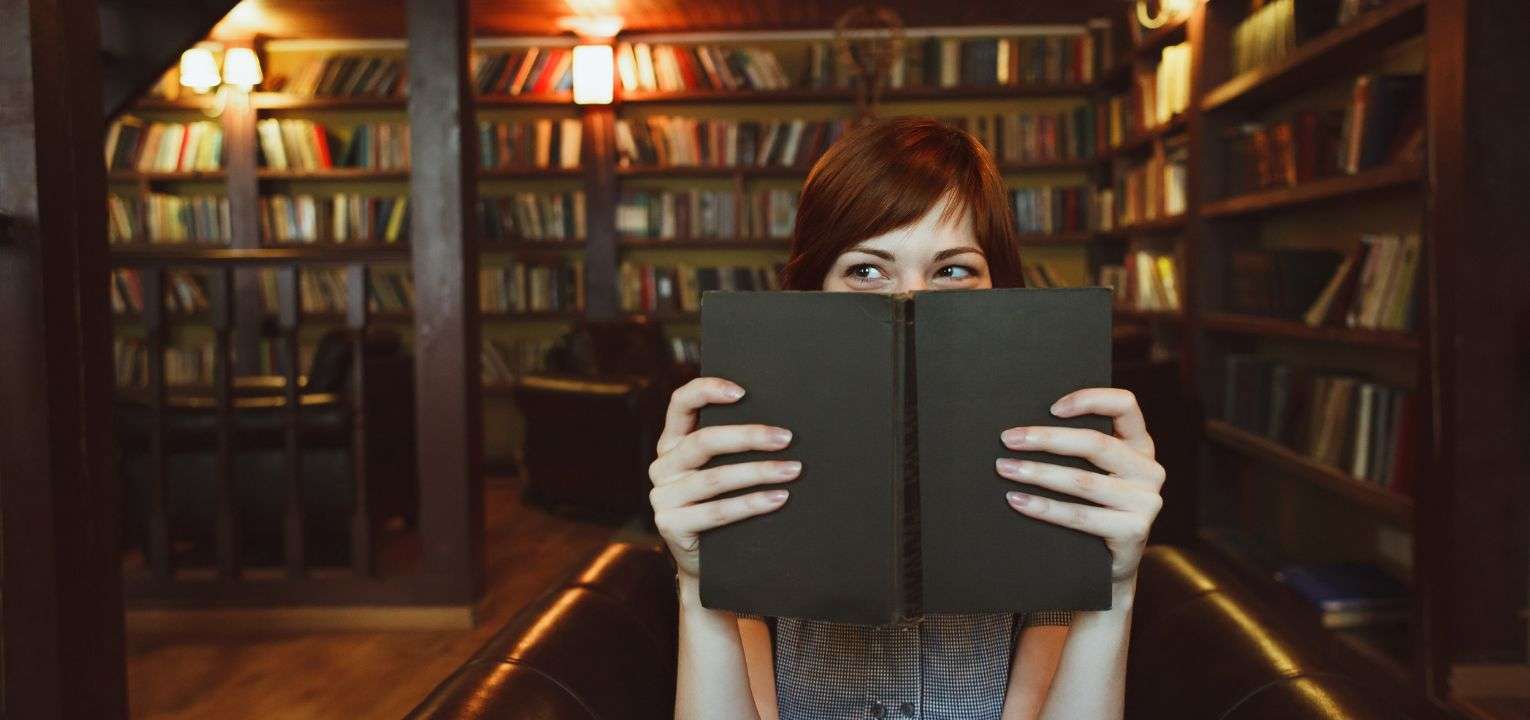 By Gini Rainey
An Anonymous Girl by Greer Hendricks and Sarah Pekkanen
An instant #1 New York Times Best Seller in 2019, this second novel by the same authors of The Wife Between Us, is a creepy, scary, psychological thriller.  Placed in Manhattan, the story centers around a young girl with a troubled past who gets sucked into an ethics study devised by a psychiatrist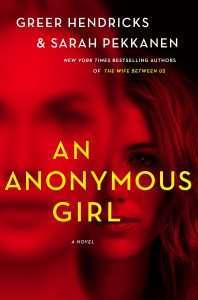 wanting to expose her cheating husband.
After being manipulated, lied to, and being presented with a skewed morality, the main character, Jessica, finds herself deep in a situation where the lines between the study and life become blurred and paranoia begins to sink its teeth in.
A page-turner? Oh, my, yes!  This is one book that starts off a bit slow, but gains speed the further in you get.  Easy to figure out the ending?  Not on your life.  The twists and turns the plot keeps taking will have you on the edge of your seat and not quite sure who to root for.
On my recommendation, grab a glass of wine, sit in your comfy chair, and get ready for a great literary ride through the psychosis of the deranged mind of this wife.  You will not regret it!  (you might want to bring the whole bottle of wine along for the ride!)
5 of 5 – Copyright 2019 – St. Martins Press
An Elderly Lady is Up to No Good by Helene Tursten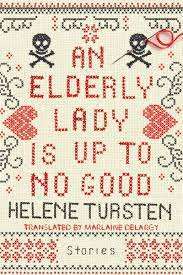 This charming little book, translated from Swedish to English by Marlaine Delargy, is a collection of five delightfully macabre short stories centering around the main character, Maud, and her dastardly deeds.  Maud is an unassuming, frail-appearing, little 88 year old lady who takes it upon herself to take out individuals who, for one reason or another, have fatally entered Maud's life.
While taking on the persona of an innocent, helpless old woman with the help of canes, walkers, and hearing aids, Maud is anything but helpless as she cleverly plots the murder of an individual in each of the five different short stories.
This is an easy read and provides a bit of humor to those of us who know the elderly, are related to the elderly, or are the elderly!  I just wish it had been longer, I was really beginning to enjoy the conniving antics of this charming, yet dastardly, lady.
5 of 5 – Copyright 2018 – SoHo Press


By Gini Rainey
I must apologize to anyone out there who might still be interested in reading my blog! I know I've been away a very long time and before that I was sporadic at best, but it wasn't my fault.  My muse just up and left me – and left to my own devices, well, you see what happens? Nothing!  Our family has been on a very bumpy ride for the past two years, beginning with my father-in-law's failing health and death at the ripe ol' age of 101+, followed by a rapid deterioration of my mother-in-law's mental acuity and death this past November at two weeks short of 98.  It seems like most of my spare time was spent with many trips to their home and the support of my husband and children. 
With the ensuing dismantling of their household and sale of their home shortly before Christmas, I think we all walked away from their house totally stunned with loss.  While there were times I felt like my mother-in-law didn't care much for me in early and middle marriage, the last year we had her, she never failed to light up and call me be my name when I came into the room or tell me that she loved me when I left. 
And even though there really wasn't anything of hers that I really wanted (after all I'm loaded up with memories), I walked away with one of her very few cookbooks (this lady kept most of her recipes in her head) "Recipes and Remembrances," a cookbook that was put together by First Baptist Oak Cliff, Dallas in commemoration of their Centennial Celebration.  One evening, as I was leafing through, it secretly hoping I would find something she had written in it (after all, isn't that what makes a cookbook even more special?), I found a recipe for Microwave Peanut Brittle.  Next to the recipe she had written "Good" and had indicated "made in a 4 cup Pyrex measuring cup." 
Then when my muse showed up this morning and kicked me in the pants and told me firmly to "get over it and get on with it," I decided that this would be an excellent cookbook with which to get back on track and this recipe might be a great thing for all of you football fans to whip up for Super Bowl Sunday! 
This recipe couldn't be easier and who doesn't love the crunchy goodness of peanut brittle?  It's hard to resist 'just one more piece' and it's oh so yummy!  So, to make this confection in under 15 minutes, put ½ cup white corn syrup, 1 cup sugar, ¼ teaspoon salt and 1 cup raw peanuts into a bowl (or as Martha said, "a 4–cup Pyrex measuring cup"). Do not stir.  Cook on high for 4 minutes in your microwave – then stir.  Cook on high for 4 more minutes and stir again.  Add 1 tablespoon butter and 1 teaspoon vanilla and stir. Cook on high for 1 minute and stir in 1 teaspoon baking soda.  Stir quickly as the soda foams; then pour onto a buttered cookie sheet.  Spread thin and let cool.  When cool, break into pieces.  Store in an airtight container and watch it magically disappear!