What's Hiding Behind the Little PINK DOOR (Gift Shop)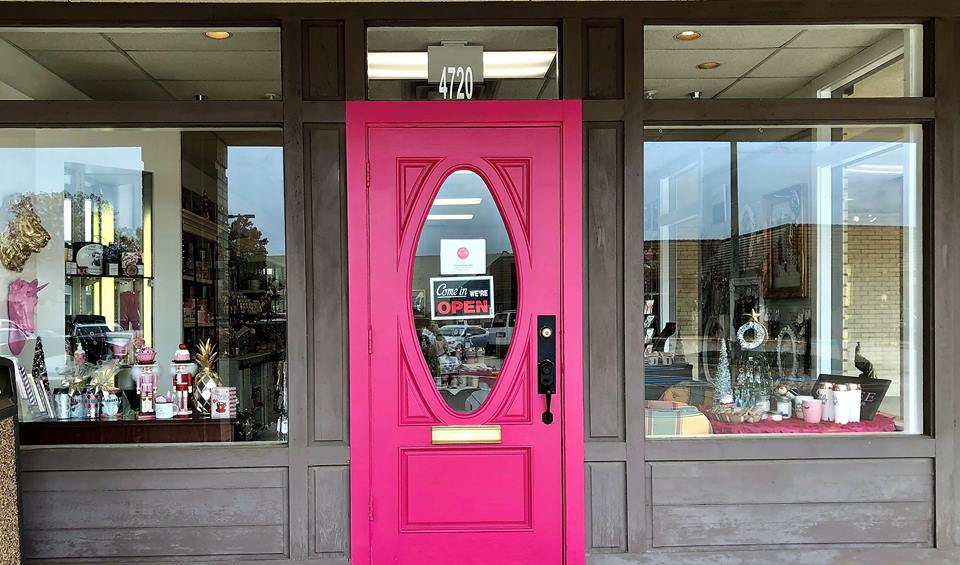 Pink Door Gift Shop:
A Unique & Creative Selection
By Barbara Greenbauer
Gift expectations are running high this time of year, with some folks searching high and low for that special gift that will produce oohs and aahs of delight.
Look no further than Pink Door Gift Shop, where you can find unique, one-of-a-kind, whimsical, and even humorous gifts. Spanking brand new (opened November 5th) in the Macy's Shopping Center, Pink Door is the brainchild and family project of Kristi Roberts, the energetic driver behind the vision.
The store features vintage, modern, and unique items that are arranged and displayed with energy, passion, and love.
"I've always wanted to own my own store," Roberts said. "Creativity has always been key in my life, and in the store I get to let my creative juices flow."
The store is chock full of bright delights with eye-catching pink signature tables displaying one of a kind wares from small lots and specialty selections. "We are not in this to compete, but to compliment," Roberts said. "We are hoping to provide customers with a unique, fun shopping experience unlike anything else in Tyler."
What's inside Pink Door will make your senses whirl and you will want to linger and check out the treasure trove of goodies. The seven different "departments" within the store feature everything from health and beauty to food and wine accessories.
One of the great perks of shopping at Pink Door is the prices and the variety. Prices are very affordable, with the highest item listed at $79. You can fill your holiday shopping list and treat yourself to a gift too!
What makes this shop unique is all about family. The store features the jewelry line "Jack of Hearts," the dream of Roberts' youngest son Jack, an entrepreneur in his own right. Jack's collection is made up of pieces collected from closeouts and estate sales, and is lovingly cleaned, repaired, and resold and is affordable to every budget.
Middle child Samantha operates as a buyer and keeps her eye on what's new and in style. Eldest son Matt is the Pink Door Web Designer and Programmer, with husband Bruce, lifting, carrying and supporting the store (when he's not practicing law.) Kristi is a proud grandmother, and the top store models are granddaughters Bethany and Hazel.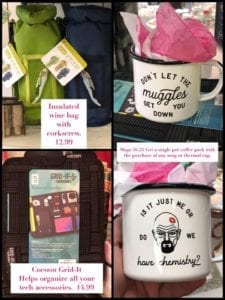 What's in a name? Pink Door has a mighty back-story and is a tribute to Roberts' mother and aunt who both lost their battles to breast cancer. Kristi is also a breast cancer survivor so the message is personal. "We hope it serves as a reminder for Breast Cancer Awareness and to get your mammograms," she explained.
So, what can you expect to find at Pink Door? First, an array of health and beauty products for the whole family, including salt and sugar scrubs to bum butter for babies. Selections are focused on environmentally-friendly and natural product lines. They also feature a line of vegan products, including a large selection of all natural deodorants. There are lots of great shower stuff too, including oils and rubs and aromatherapy roll-ons.
Home is where the heart is, and you can fulfill that sentiment at Pink Door. You can fill your wish list with everything from candles, wall art, wooden signs, and one of a kind art and striking prints.
New mamas will love the selection for babys, including some really neat plates, spoons, trays, wooden teething rings, and hand-crocheted items. Jack's jewelry line also sports fun pieces for the older ladies (older than four that is) that will make them feel like a princess.
Looking for the perfect gift for the man in your life? The store has an eclectic selection ranging from soaps, tools and trinkets, and a Gentleman's Pharmacy Male Pail. The favorite fun gift that Kristi puts together is entitled "The Man Bundle" and is a collection of tools and trinkets on one keychain: a perfect gift for survival in the car.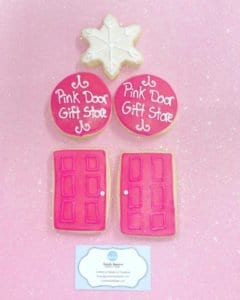 Coffee is king at Pink Door, and Kristi will help you find the perfect package, with off the chart blends and the funniest cups you will ever find. Donna Guthrie from Frankston was looking for a teacup for her church exchange. She found a real beauty in pink with graphic eyelashes, perfect for the occasion. "I love the selection," Donna said. "I am definitely coming back to take a closer look at the jewelry."
Tea time is the best time, and the store features infuser balls and chains, ceramic cat team trays, specialty teas, and single-use kettles.
The personal touch is what it's all about at Pink Door, and the gift packaging is out of this world. Kristi gift wraps every purchase and you will want to wrap your infused jellies and flavored jams in one of her specialty bags.
The Pink Door has a fantastic selection of greeting cards that are also unique from small vendors with limited printing. Taking a bottle of wine somewhere this season? Stop by the Pink Door for the perfect wine bag.
Kristi is all about customer service and making the Pink Door a fun shopping experience, greeting every customer personally and explaining the store layout. "We want everyone who shops with us to leave with a smile on their face," she said.
Make the Pink Door a stop for your seasonal shopping and all-year round.
Pink Door is located in the Macy's Shopping Plaza at 4720 S. Broadway in Tyler.
Store hours are Monday-Friday 10am-5:30pm, Saturday 10:30am-5:30pm, and closed on Sunday. Take a look on Facebook @pinkdoortyler, pinkdoortyler.com, or (903)630-5653.

June 29th: Cattle Barons' Gala To Feature Mark Chesnutt


June 14th
(8:30am-2:30pm)
Clays for the Cause
will be held at 6S Ranch, 8159 CR 313W, Lindale, benefiting the American Cancer Society.
Four person teams can enter for 100 clays per shooter.
Breakfast, lunch and refreshments will be provided. To sign up go to tylercattlebaronsgala.org.
The 32nd Tyler Cattle Barons' Gala will feature Mark Chesnutt, with Satellite Band opening, on June 29th. This event will be held 7pm-1am at Texas Rose Horse Park, 14078 Hwy. 110, Tyler.
Tickets are on sale at tylercattlebaronsgala.org or by calling (903)597-1383.
Come out and enjoy an evening of wonderful food, mainstream entertainment, gaming tables, live and silent auctions, and so much more. All who attend will enjoy their evening!
Cattle Barons says, "Cancer does not discriminate, and never will. Someday, we hope that cancer will be eradicated and, together with your support, we can all do our part. We also celebrate survivors, who possibly wouldn't be here today were it not for the actions of the American Cancer Society. While cancer is still ever present today, positive steps forward have been made and more will come, and for that, we thank you."
"As we embark on this journey, we are anxious to meet new supporters who will help us and the ACS combat cancer. On behalf of the 2019 Cattle Barons' Committee, we hope you will join us on June 29th, 2019 at Brunson Equestrian Center and experience the wonderful facilities of Texas Rose Horse Park for the Gala we have planned for you."
The first Tyler Cattle Barons' Gala was held in 1988. While much was known about this disease, much more was not.  To date, over $15 million has been raised locally to support both local and national cancer support services, including cancer research. Without the help and local support of past contributors, this would not have been accomplished. Your support is appreciated now and in the future.

5Ks, Runs, & More: July 4th, Freedom Fighter 5K
To add a walk, run, or biking event,
please go to CALENDAR.
July 4th: Freedom Fighter 5K – Back at Bergfeld Park, come and celebrate the 4th of July holiday with a 5K benefiting Boot Campaign. This year, you are given an opportunity to either give an additional monetary donation, purchase one of the patriotic, awesome shirts Boot Campaign offers at the event, or in their online store. Finisher medals and a free kids dash will be given. Visit Boot Campaign's online store at shop.bootcampaign.org. Registration is currently active at endurancecui.active.com or by emailing itri365meredith@gmail.com.
September 7th: 2019 Zero Prostate Cancer Run – ZERO is proud to partner with Urology Tyler, PA to end prostate cancer. The 2019 ZERO Prostate Cancer Run/Walk – Tyler features a 5K run/walk, 1-mile walk, Kids' Superhero Dash for Dad, and virtual Snooze for Dudes program. Stick around for the family-friendly post-race celebration. Run/walk participants will receive shirts, free food and prizes, and the opportunity to connect with others who are impacted by prostate cancer. To register go to facebook.com/events/150419065873530.
September 21st: Tyler Gold Run 5K – Join the run with a cause – to end childhood cancer! This year, they have added a 14K Gold distance in addition to the chip-timed 5K and untimed Family Fun Run! This will begin at Bergfeld Park in Tyler. September is Childhood Cancer Awareness Month, and The Tyler Gold Run 5K is a family event. Run or walk for a great cause: to raise money and awareness for Childhood Cancer awareness. All proceeds will benefit Childhood Cancer Families, both locally and toward research.Register at tylergoldrun.com.
October 12th: 2019 Corkscrew Wine Run – Registration is now open and ready for you to snag your spot to run a 5K, 10K, or Half Marathon at Kiepersol Winery! Runners will receive a participant shirt, finisher medal, and quite the after party featuring Kiepersol's best! A percentage of the race proceeds will benefit Pierre's Mane Mission, which supports Tyler's Breckenridge Village. For more info go to facebook.com/events/2103389469683714.
October 12th: Harvest Hustle 5K Lindale – The annual event is always fun for all ages. A portion of proceeds will benefit David Powell Food Pantry, LISD Foundation, Lindale Fire Department, and Lindale Library. For more info go to lindalechamber.org or facebook.com/events/2096137673785407.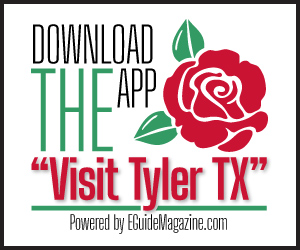 November 28th: 2019 Turkey Trot – The Tyler Turkey Trot was established in 2003 and continues to be a staple in the community on Thanksgiving morning. The event consists of a 5K and a Kids' Race, and is held at Racquet & Jog located at 5403 S Broadway Ave., Tyler. The Tyler Turkey Trot is a tradition for many Tyler area families on Thanksgiving morning who want to do something healthy and helpful. It's a great way to get some fresh air and burn calories before the big meal! For more details, visit tylerturkeytrot.com or email hello@tylerturkeytrot.com.
November 28th: Lindale Turkey Trot – Join for the first ever Lindale Turkey Trot this Thanksgiving! The 5K race will start and finish at EJ Moss Intermediate School on Eagle Spirit Drive. Bring your entire family and make this your new Thanksgiving tradition! To register go to facebook.com/events/830327720634429 or secure.getmeregistered.com.
December 1st: 2019 Tyler Half Marathon & 5K – This event will give athletes a tour unlike any other through Tyler. This race gives athletes a tour of the Rose City of Tyler with a finish at the iconic TB Butler Fountain Square in downtown Tyler. The 5k will also begin at TB Butler Fountain Square. A fantastic after party featuring terrific entertainment, food and adult beverages will be held. More information can be found at tylerhalf.events and be sure to follow The Tyler Half Marathon & 5K on facebook.com/events/1565352873583566.
December: Remembering Pearl Harbor 5K – Held at Tyler Joint Force Battalion, Tyler, this 5K will have a Pancake Breakfast, a sleep-in option, and the 5K Run. Register at getmeregistered.com. The Pearl Harbor Remembrance 5K run and 1-mile fun run will benefit the US Sea Cadets Tyler Joint Force Battalion.
December 7th: 2019 CHRISTUS Mother Frances Hospital, Jacksonville Jingle Jog 5K and Fun Run – Bring the family out to this fun holiday tradition, run with bells on (provided), and maybe even see Santa fly in on a helicopter! Register at tri365.com.

June 20th: Chuy's Gives Back to SPCA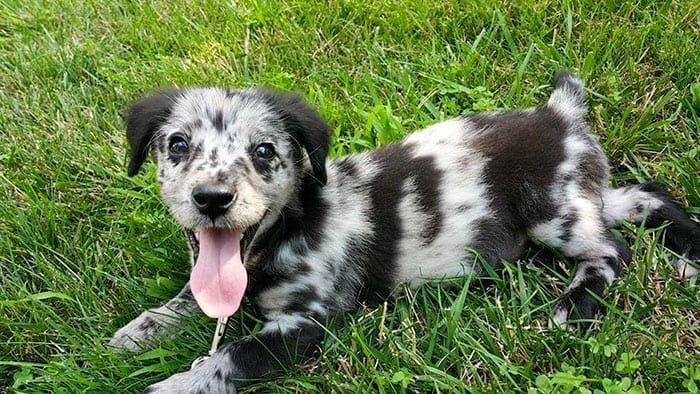 Weekly adoptions are held Saturdays 10am-4pm at the Adoption Center, 4517 Old Bullard Rd., Tyler. Please come and meet the adorable adoptables! Adoption applications are available at spcaeasttx.com. The mission of the SPCA of East Texas is to improve the lives of animals, alleviate their suffering, and elevate their status in society. Other events this month are:
June 6th, July 4th (6-8pm): Pints & Pups to benefit the SPCA at ETX Brewing – ETX Brewing Co. Pints & Pups to benefit the SPCA of East Texas occurs on the first Thursday of each month April-October. Bring your dog for this fun party on the patio. They are requesting a donation of a supply item needed for the care of the cats and dogs at the SPCA. Needed items include: puppy pads, IAMS Smart Puppy food, Tidy Cat instant action cat litter, collars of all sizes, leashes, towels, blankets, dog beds, toys and treats, cleaning supplies such as Clorox wipes, laundry detergent, paper towels, and Clorox bleach. The Porch at ETX Brewing Co. will offer free chips and salsa to those who bring a supply to donate. ETX Brewing is located at 221 S. Broadway, Downtown Tyler.
June 20th (11am-8pm): Chuy's Gives Back – This is a human only event.  Come to Chuy's, 5935 S. Broadway, Tyler, for delicious food, drinks and FUNdraising. A portion of the proceeds will benefit the SPCA of East Texas.
June 29th (1:30-3:30pm): Be a Foster Event – Join the SPCA of East Texas at Petco – Tyler to learn how you can be a lifesaver and become a foster! They will talk with guests about the SPCA's foster program, what to expect when you become a foster, and how fostering saves lives. Petco Tyler is located at 8966 S. Broadway Ave, Tyler.
July 21st (6-8pm): Pooches on the Patio at Roost – Join for a fantastic evening on the patio at Roost, 3314 Troup Hwy, Tyler! Bring your furry friend and enjoy delicious food and drinks while also helping out animals in need! A portion of the proceeds will be donated to the SPCA of East Texas. The Northeast Public Health District requires that all dogs be current on vaccinations and wear a current rabies tag. To help ensure all pooches will be on their best behavior, please refrain from bringing your unaltered pets to this event. Everyone is welcome! Doggie smooches and kisses are free.
August 15th, Pooches on the Patio will be held at Andy's Frozen Custard, 6106 S. Broadway. November 14th, the host location will be Potbelly's, 6995 S. Broadway, Tyler.
July 30th (5-8pm): Kawa's Fundraiser – Kawa's Hibachi Grill & Lounge, 1024 WSW Loop 323, Tyler,  is hosting a donation night. Come enjoy delicious food and drinks while also supporting a good cause! A portion of the sales will be donated to SPCA of East Texas. Please note: this is a human only event.