Pink Door Gift Shop:
A Unique & Creative Selection
By Barbara Greenbauer
Gift expectations are running high this time of year, with some folks searching high and low for that special gift that will produce oohs and aahs of delight.
Look no further than Pink Door Gift Shop, where you can find unique, one-of-a-kind, whimsical, and even humorous gifts. Spanking brand new (opened November 5th) in the Macy's Shopping Center, Pink Door is the brainchild and family project of Kristi Roberts, the energetic driver behind the vision.
The store features vintage, modern, and unique items that are arranged and displayed with energy, passion, and love.
"I've always wanted to own my own store," Roberts said. "Creativity has always been key in my life, and in the store I get to let my creative juices flow."
The store is chock full of bright delights with eye-catching pink signature tables displaying one of a kind wares from small lots and specialty selections. "We are not in this to compete, but to compliment," Roberts said. "We are hoping to provide customers with a unique, fun shopping experience unlike anything else in Tyler."
What's inside Pink Door will make your senses whirl and you will want to linger and check out the treasure trove of goodies. The seven different "departments" within the store feature everything from health and beauty to food and wine accessories.
One of the great perks of shopping at Pink Door is the prices and the variety. Prices are very affordable, with the highest item listed at $79. You can fill your holiday shopping list and treat yourself to a gift too!
What makes this shop unique is all about family. The store features the jewelry line "Jack of Hearts," the dream of Roberts' youngest son Jack, an entrepreneur in his own right. Jack's collection is made up of pieces collected from closeouts and estate sales, and is lovingly cleaned, repaired, and resold and is affordable to every budget.
Middle child Samantha operates as a buyer and keeps her eye on what's new and in style. Eldest son Matt is the Pink Door Web Designer and Programmer, with husband Bruce, lifting, carrying and supporting the store (when he's not practicing law.) Kristi is a proud grandmother, and the top store models are granddaughters Bethany and Hazel.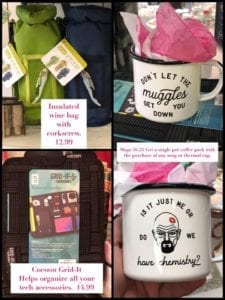 What's in a name? Pink Door has a mighty back-story and is a tribute to Roberts' mother and aunt who both lost their battles to breast cancer. Kristi is also a breast cancer survivor so the message is personal. "We hope it serves as a reminder for Breast Cancer Awareness and to get your mammograms," she explained.
So, what can you expect to find at Pink Door? First, an array of health and beauty products for the whole family, including salt and sugar scrubs to bum butter for babies. Selections are focused on environmentally-friendly and natural product lines. They also feature a line of vegan products, including a large selection of all natural deodorants. There are lots of great shower stuff too, including oils and rubs and aromatherapy roll-ons.
Home is where the heart is, and you can fulfill that sentiment at Pink Door. You can fill your wish list with everything from candles, wall art, wooden signs, and one of a kind art and striking prints.
New mamas will love the selection for babys, including some really neat plates, spoons, trays, wooden teething rings, and hand-crocheted items. Jack's jewelry line also sports fun pieces for the older ladies (older than four that is) that will make them feel like a princess.
Looking for the perfect gift for the man in your life? The store has an eclectic selection ranging from soaps, tools and trinkets, and a Gentleman's Pharmacy Male Pail. The favorite fun gift that Kristi puts together is entitled "The Man Bundle" and is a collection of tools and trinkets on one keychain: a perfect gift for survival in the car.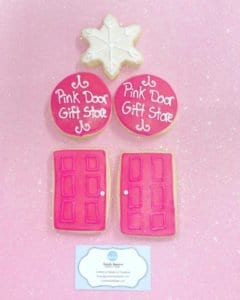 Coffee is king at Pink Door, and Kristi will help you find the perfect package, with off the chart blends and the funniest cups you will ever find. Donna Guthrie from Frankston was looking for a teacup for her church exchange. She found a real beauty in pink with graphic eyelashes, perfect for the occasion. "I love the selection," Donna said. "I am definitely coming back to take a closer look at the jewelry."
Tea time is the best time, and the store features infuser balls and chains, ceramic cat team trays, specialty teas, and single-use kettles.
The personal touch is what it's all about at Pink Door, and the gift packaging is out of this world. Kristi gift wraps every purchase and you will want to wrap your infused jellies and flavored jams in one of her specialty bags. The Sweet Bonanza game attracts players' eyes from the first few moments after launch due to its bright design. In the foreground, instead of the classic reels, there is a reel set with 30 cells. Behind this element, the space is filled with delicacies. All the details are clearly drawn, and the illustrations are quite spectacular. At the same time, nothing distracts customers from the main process of setting stakes, spinning reels and expecting generous winnings.
The Pink Door has a fantastic selection of greeting cards that are also unique from small vendors with limited printing. Taking a bottle of wine somewhere this season? Stop by the Pink Door for the perfect wine bag.
Kristi is all about customer service and making the Pink Door a fun shopping experience, greeting every customer personally and explaining the store layout. "We want everyone who shops with us to leave with a smile on their face," she said.
Make the Pink Door a stop for your seasonal shopping and all-year round.
Pink Door is located in the Macy's Shopping Plaza at 4720 S. Broadway in Tyler.
Store hours are Monday-Friday 10am-5:30pm, Saturday 10:30am-5:30pm, and closed on Sunday. Take a look on Facebook @pinkdoortyler, pinkdoortyler.com, or (903)630-5653.