What's on Your Reading List for Summer?
By Gini Rainey
"Little Fires Everywhere" by Celeste Ng
If you are interested in reading a book that has won nearly every award out there, then this is a must-read for you. Scheduled to be a series next season on Hulu, this page-turner follows the perfect-on-the-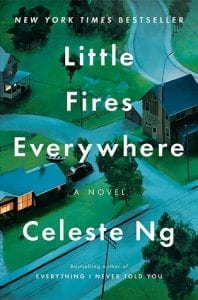 outside family as their life is shattered by a nomadic artist and her daughter who land in their neighborhood.
Written by the same author of Everything I Never Told You, Ng doesn't disappoint in the building of three-dimensional characters who can hold their own in the real world. With opposing family values creating social conflict after social conflict, this book is simply a book of contrasting human characteristics. While the topics of conflict were introduced gently, there is nothing gentle about the impact of they had on both families.
Although this book started out slow, it wasn't long before it turned into a can't-put-down page-turner. I found that I couldn't read this book without feeling anger, sympathy, joy, worry, hope, and loss. Little Fires Everywhere might be a fast read, but it is definitely an emotional roller coaster, so get ready for an excellent literary ride.
Rating: 5 of 5, Copyright 2017 – Penguin Books
"The Book of God: The Bible as a Novel" by Walter Wangerin, Jr.
If you're anything like me, reading the Bible straight through is nearly impossible. Studying individual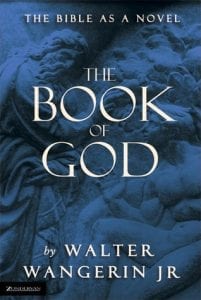 verses on my own time is easier, but leaves a lot to be desired as far as any kind of continuity. The Book of God was recommended to me by one of my pastors a few years ago as a means to provide me with a greater understanding of the Bible. Written in novel form, Wangerin helps to make the ancient men, women, and events come alive with vivid detail and dialogue.
I will admit that even though I love the language used in the King James Version, there are times when the lilting phrases make it difficult to comprehend and focus on the core messages. One of the greater bonuses gained by reading this version is the flow of the stories, especially when reading the Old Testament.
With this book, Wangerin has provided Christians and non-believers a better understanding of the history of the Bible in addition to the many translations and paraphrases of the Bible that are already available. He has taken what historians know about the lives of people in Biblical times and woven it with the historical books of the Bible and provided us with a new and intrinsic way to view the people of the Old and New Testaments.
Rating: 5 of 5, Copyright 1998 – Zondervan
"The Unmasking of Dr. Harrison Miller Moseley" by Stella Brooks
Are you a WWII history buff? How 'bout a Texas high school football fan? Are you interested in an aspect of Ft. Worth's Depression-era history?
If any or all of those topics catch your eye, you will get your money's worth of stories from the book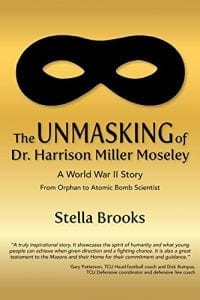 "The Unmasking of Dr. Harrison Miller Moseley" by Stella Brooks. It offers such unique nuggets of Texas and WWII history that has yet to be addressed.
Author Stella Brooks, in her first published work, achieves an informing and warm balance between biographical facts and connecting the reader to the characters.Similar to non-fiction biographies, this book is written in third person. The author does a great job connecting the reader with Miller's thoughts and emotions allowing the reader to watch the story unfold before their eyes.
It is obvious to any reader that this book was well researched and that much of the information was provided to the author through her first hand interviews with Dr. Moseley and his "brothers" from the Masonic Home. By the time the last page is read, it is clear this story was told not only with paper, pen and ink, but also with heart. It is a true account of Miller's life that could not be told in any other way.
From the author Stella Brooks, "His wife forewarned me that he had never discussed his life. He had given small morsels of information, but nothing more. But it was one of those small morsels that had me intrigued. I knew there had to be more to this man. Something was missing Expecting the same resistance, I knocked on his door. He must have felt instant trust because he spilled everything. Miller's wife said 'Stella, You have the magic key. Miller has never told anyone about his past, not even me.' Those close to Miller echoed the same. It was a miracle indeed. This book is a lifetime of silence unmasked. I will always cherish our friendship."
"The Unmasking of Dr. Harrison Miller Moseley" is a gripping story of faith, dedication, perseverance, and overcoming adversities in order to achieve greatness.
Rating: 5 of 5, Self Published