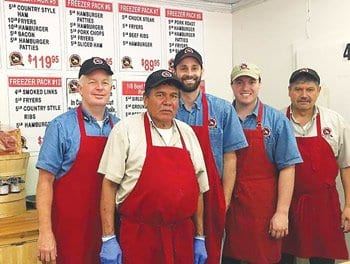 By Jessie Stevens
I've heard it from many of my friends, "It's almost hunting season!" This means nothing to me; I don't hunt, but I certainly love good quality meat – and fresh all-natural meat is even better. It has a different flavor, and there is just something great about knowing that you have the best available on your plate. It is even better if it was produced locally. Tyler has a few options, both fresh and available to you in a restaurant, where you can get the best around.
Country Meat Market
"Freshly cut meat from your local butcher shop" is the slogan, and it is also the reason that Country Meat Market has been in business for 62 years. According to them,"The Country Meat Market is a family-owned-and-operated butcher shop. We have been in business since 1954, and our shop offers the freshest meats in town. Originally established by Bud Morris, The Country Meat Market carries on Bud's tradition of offering fresh, hand-cut steaks and specialty meats. Although he has passed on, Bud's family continues to operate the business, and our store has been in the same location for more than 50 years."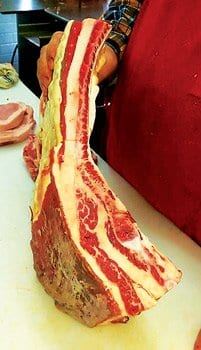 Quality meat is key, and Country Meat Market offers Black Label Reserve Beef, which is the finest beef available in East Texas. The Morris Family spent 10 years developing the specifications that ensure the most tender and flavorful beef you can buy. The history shows in the quality of each step. All of the beef is Angus/Hereford Blend, which are English breeds that are considered the most flavorful and tender. No Brahman or dairy influences are allowed, and ranchers and packers sign affidavits certifying animals' English heritage. This beef is truly Breed Specific, not just a color. Black Label Reserve grades are in the top 2/3 of Choice. This is as close to Prime as is available. Cuts available are Ribeye, Bone-in Ribeye, Tenderloin, Sirloin, and Brisket. All of these are fresh and cut by hand to your order. This beef is grass/grain vegetarian fed, and hormone and antibiotic free. Because they bring in the whole animal, all cuts are available from ribeye to all roasts, bone-in and boneless.
You can also find the freshest and most tender pork in all of East Texas at this butcher shop. Their most popular pork item is Country Meat Market's specially made bacon, which comes from a 60-year-old family recipe. It is a sugar cured and hickory smoked slab of bacon that they offer freshly-sliced daily. This is bacon like Grandma used to serve!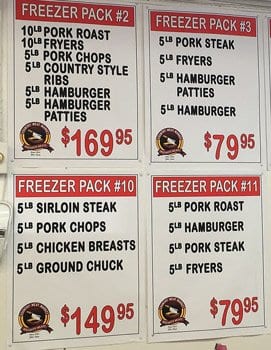 Additional pork cuts available include pork steaks, pork roast, center-cut pork chops (boneless or bone in), pan sausage and breakfast sausage (ground daily), baby back ribs, pure pork sausage links (ground in-house and available in German, Cajun, Regular, Italian, and Cheese and Pepper flavors).
"They cut [the meat] while you watch and package it however you want. This is what a meat market is supposed to be like. They have the best and freshest meat around!" said Bud Moone from Kilgore on a recent visit.
Country Meat Market has long been known for their unique and heavenly Specialty Filets. They are Bud's 41-year-old recipe made with the smallest tenderloins they can find, trimmed even closer to make sure it is only the most tender flavorful meat, then wrapped in sugar-cured, hickory smoked bacon creating a fantastic flavor. These are great on the grill, baked, or smoked. They come in 6-ounce and 8-ounce sizes.
They also offer a full line of natural chicken (boneless, skinless breasts, bone-in breasts, leg quarters, and wings) that are free of hormones and steroids and fed with natural feed that does not contain animal byproducts.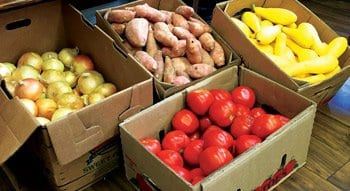 Country Meat Market has fresh produce, many locally created specialty items and all that you need to create a heavenly meal.
Check out their Facebook page (@countrymeatmarkettyler) for special items that they may carry in limited supply and specials.
Country Meat Market is located at 2308 E. Front St., Tyler. They are open Monday-Saturday 9am-6pm. Saturdays they serve their own meats cooked with local restaurant's favorite recipes. For more info call (903)405-3205 or go to countrymarkettyler.com.
What About Kabob & His Gyros
Located at 713 W. Southwest Loop 323, Tyler, nestled in a shopping center, What About Kabob (WAK) has expanded both its restaurant dining space and its menu. The new owners have made changes galore, and you will want to check this out.
WAK is now offering carry-out quality beef – Cypress Creek steaks and burgers to be exact! These are grass fed Angus beef – all natural, hormone free, antibiotic free, USDA dry aged awesomeness! All Cypress Creek meats come with WAK's signature steak butter, and all hand-made burgers come with your choice of burger toppers.
Just walk in and pick up what you'd like for dinner from their cooler or you can place your order online at shop.cypresscreeksteaks.com and pick it up locally at WAK.
Cypress offers Angus ribeye, t-bone, tenderloin, filet mignons, Porterhouse steaks, Berkshire, Red Waddle, Heritage pork; gourmet burgers and ground beef, Country-style ribs, roasts, half and full sides of beef and pork, and "Dog Lovers" raw bones, which remove trapped food particles from the teeth and assist in the prevention of plaque buildup and gum disease especially in the back molars. All products are USDA Choice or Prime, dry aged, and vacuum packed to preserve freshness and quality.

Sign up for WAK's VIP club and they will send you all kinds of deals, starting with a free order of Pita Chips and Tiki Sauce for a limited time. Simply text "KABOB" to 51660 to sign up.
For more info call (903)581-7971 or go to whataboutkabob.com or cypresscreeksteaks.com.
Lonesome Lady Ranch at Rose City Farmer's Market
Lonesome Lady Ranch is available at the Rose City Farmer's Market in the parking lot of Juls Restaurant thru November every Saturday 8-12 noon. They are currently selling chicken, lamb, and beef (ground beef, sirloin steak, stew meat roast) plus sausage and brats.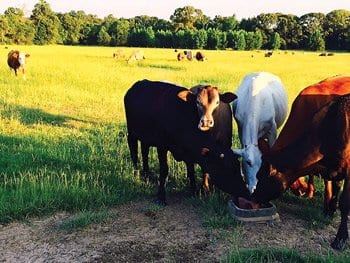 Lonesome Lady Ranch can't get much more local! It is owned by Alissa Rhodes. She says, "The ranch is run by me, with help from my mother and grandmother who moonlight as ranch hands. As a city-girl, born and raised in Houston, I never had much to do with animals growing up, but after learning about the disturbing practices America uses to raise animals now, I knew that I wanted to be part of a change. We're a local family farm in Tyler, Texas, raising pastured poultry, eggs, lamb, and grass fed cattle. Using sustainable rotational grazing management, all our animals are allowed to be on pasture 24/7 to ensure they have the highest quality of life while producing the most healthy and nutrient dense products possible. Our pastures are free of any commercial herbicides, and our animals are free of any added growth hormones, drugs, or genetically modified food used by the commercial food industry. Using these methods, we produce great tasting meat and eggs for your table!"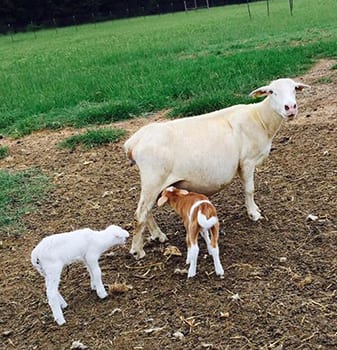 As well as being part of the Rose City Farmers Market, Lonesome Lady Ranch offers a share program called Community Supported Agriculture (CSA). This is a relationship between farms and the consumer that allows a seasonal "membership" in return for a monthly share of products from the farms. This allows you to support three different family farms in a way that lets them plan their livestock production for a more consistent market while providing you with the freshest and highest quality meat and egg products for your family. "This strengthens our relationships with the community and makes you an integral part of our business and family," Rhodes said.
Victory Farms of Alba, Texas provides the pork portion of the shares from their pasture-raised, non-gmo and non-soy fed hogs. Lonesome Lady Ranch of Tyler, Texas supplies the grass fed lamb and chicken, and eggs portion of the shares from the pasture-raised, non-gmo and non-soy fed, free-range chickens. Twin Pines Beef of Garden Valley, Texas, supplies beef from their 100% grass-fed, no antibiotics or hormones added Angus-cross cattle.
Shares will be delivered to drop-off sites in Tyler, Lindale, or Dallas or direct to your door once per month for a small fee and can be conveniently billed on a monthly basis. You can join anytime during the season and charges will be prorated. CSA members also receive first choice for rarer products such as lamb, turkeys, and artisan and cured meats and a 5% discount off all retail prices (excluding eggs) when added to their order through Lonesome's webstore, which is available to members.
Sign-up and be part at csa.farmigo.com/join/pineywoodsfarmalliance/fall2016.
You can pick up meats on the Lonesome Lady Ranch farm by appointment by calling (832)262-0745, e-mail to lonesomeladyranch@gmail.com, or signing up for their mail list at lonesomeladyranch.com.
Rose City Farmer's Market is held every Saturday 8am-12 noon in the parking lot of Juls located at 7212 Old Jacksonville Hwy., Tyler. They have an amazing roster of East Texas farmers and artisans. For more info go to Facebook at @rosecityfarmersmarket or go to foodcoalition.org.