I find myself these days having cravings like I have never had before. No, I'm not pregnant. I'm too old for that but my cravings are "of that caliber" at times. Today, I was craving Fried Rice of all things.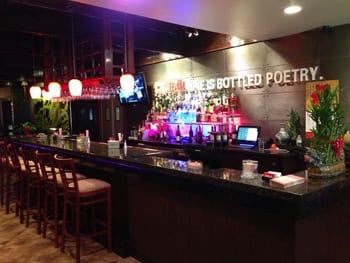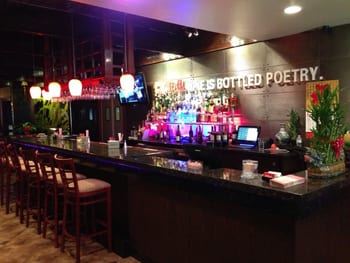 Cheng's China Bistro has really good rice, and their shrimp Fried Rice is my favorite. When you order their fried rice, it is a huge portion, loaded with lots of stir-fried shrimp, mixed veggies, and white or brown rice. Their Combo Fried Rice is good too and features shrimp, chicken. and roast pork. The portions are huge and always served freshly prepared at Cheng's.
Order the Lunch Special Monday – Saturday (11am-3pm). This comes with one Spring Roll or Egg Roll, your choice of Rice (Fried, White or Brown) and Soup (Egg Drop, Hot & Sour or Wonton Soup). To-Go Orders does not including soup. The Lunch Special has most of your favorite traditional Chinese entrees.
I love to dine-in at Cheng's. Their atmosphere is very relaxing and beautifully decorated with lots of art, glass lighted to create unique art sculptures of sorts, a nice bar and plenty of privacy in the booths.
"This is a high-quality restaurant [and a] perfect place for birthday party, wedding rehearsal dinner, family gathering, [or] date night. The interior is tastefully decorated, and the food is fresh with great portion sizes. The menu has everything and anything you would want from vegan to lobster, shrimp, pork, beef, chicken, etc.. The egg rolls are very large and tasty. The employees give outstanding service and are  very pleasant. Whether you desire to experience a real casino atmosphere you may play live dealer casinos online. It means a game with a human dealer and other players via camera. Find the top live casino games at https://exycasinos.in/live/ , those platforms are reviewed and licensed. Cheng's has Happy Hour daily and a lot of high-end choices – from well to Hendricks gin (a plus in my book) and weekly lunch specials must try."  –  Yelp, Laura M., McKinney, TX
You can order online at www.chengschinabistrotyler.com or have it delivered by Patriot Delivery.
Cheng's Bistro is located at 3300 Troup Hwy., Tyler, (903) 617-6896.
PS: They have really good, hearty, clear flavorful wonton soup too!