Why Did the Chicken Cross the Road?

By Gini Rainey
Today's blog entry was written by my "Guest Writer"  who, every so often, sends something along to me that is press worthy.  Today's blog is pretty darn good!
Why did the chicken cross the road?  So he could be a part of today's feature dish, Capellini with Sausage, Lemon and Basil.  But, I'm getting ahead of myself; I'll deal with that bird in a moment.
Today, I'm reviewing Flying Sausages, Flying Sausages, written by Bruce Aidells and Denis Kelly and published in 1995 by Chronical Books, is  a very interesting cookbook about how to make fresh poultry sausages and all the things that you can do with them.  "Wait a second," I can hear you now – "my Uncle Frank used to make sausage; it was a messy affair with lots of grinding and stuffing and meat hanging in a cooler for months."  Nope, that was your Uncle Frank and his cured pork – this is completely different.  For one thing, Frank's sausages required the use of nitrate curing salts, then stuffing into casing and drying for weeks or months.  The chicken and turkey sausages described here are fresh; you'll just mix uncooked ground chicken (buy it pre-ground or you can do it in your food processor) with fresh herbs.  These can be used as-is (made into patties or balls) or stuffed into sausage casings.  Your fresh sausages can be frozen or used immediately.  Either fresh turkey or chicken can be used in any of these recipes; turkey give a slightly deeper flavor.
Flying Sausages leads off with descriptions and directions to make seven basic styles of poultry sausages that are used in the ensuing recipes.   These include Southwest Green Chile (ground chicken seasoned with cumin, chili powder, cayenne, cilantro, onions and jalepeño – woudn't that be good with migas or in tacos?), Italian style (sun dried tomatoes, fennel, wine and garlic), a North Mediterranean Arabic style (with lots of garlic, turmeric, paprika, lemon zest, and mint) and a highly seasoned Chinese Black Mushroom style (an abundance of hot pepper, mushrooms, sesame oil, soy, garlic and green onion).
One of these is the Italian Sun-Dried Tomato Sausage.  Chicken sausages have been made in Italy for generations, and the variety of cooking styles and foods available along the length of the country mean that their sausages, too, take on different flavors. There's no absolute recipe for this; feel free to experiment and add ingredients that your family prefers.  In the north of Italy, aromatic spices, garlic and white wine flavor a more delicate sausage than is found in the south, where tomatoes, red pepper, red wine and a tablespoon of Romano cheese make a perfect accompaniment for a heavy red sauce and pasta.  We're going to make a style from North Italy, then show how it's used in a light, Springtime lemony pasta dish.  When you read through this recipe, you'll realize how easy it is to put together:
Northern Italian-Style Sausage With Sun-Dried Tomatoes
3 ½ lbs raw ground chicken or turkey (preferably thigh meat, ground with skin)
½ cup white wine
½ cup chopped sun dried tomatoes packed in olive oil
3 Tablespoons chopped garlic
2 Tablespoons fennel seed
1 teaspoon red pepper flakes
4 teaspoons kosher salt
1 Tablespoon freshly ground black pepper
1 teaspoons sugar
If you're grinding your own meat, pulse chunks in a food processor until roughly chopped.  Add remaining ingredients to the chopped poultry in a large tub or bowl and thoroughly mix with your hands.  Form golf ball sized meatballs or patties, freeze or use immediately.
Here's another recipe that uses the delicious fresh sausage mixture.  This is a light, Spring or Summer-inspired dish, where the fennel and tomato flavors in the sausage perfectly match the delicate lemon and basil of the sauce.  Use any type of light pasta – capellini (Italian for "little hairs") as here, or its slightly thinner version, "capelli d'angelo," which is – you guessed it, 'angel hair.'  Pair this with a crisp, chilled white wine for classic Northern Italian lunch.  Also – any type of "store-bought" chicken sausage can be substituted for the home-made recipe above, but I encourage you to try your hand at the sausage-making, too and take ownership of the entire dish!
Capellini with Sausage, Lemon and Basil:
1 lb dried pasta
1 Tablespoon extra-virgin olive oil
½ lb Italian Turkey and Sun-Dried Tomato Sausage
Zest of two lemons
5 Tablespoons fresh lemon juice
2 fresh basil leaves, shredded
5 Tablespoons fresh parsley
Salt and ground black pepper to taste
In a large skillet, sauté the sausage balls in olive oil for 4-6 minutes, breaking them up as they cook.  Add lemon zest, lemon juice, basil and parsley, and allow to cook for one minute to release the flavors.  Cook the pasta according to package directions to the al dente stage (about 5 minutes) and drain.  Then toss the sausage mixture into the pasta until well coated.  Season with salt and pepper and serve with Parmesan cheese.  After a bite of this and a chilled white wine, you'll almost be able to see the Italian Alps.
So, try your hand at making fresh poultry sausage!  I'm going to make the Arabic Mediterranean ones next and enjoy with pita bread, hummus, and thick yogurt.   I thought that Flying Sausages is an interesting read and an excellent introduction to an inexpensive and easy way to add some different spices to your cooking routine.   Who knows?  Perhaps you'll develop some favorites of your own!



By Gini Rainey
I must apologize to anyone out there who might still be interested in reading my blog! I know I've been away a very long time and before that I was sporadic at best, but it wasn't my fault.  My muse just up and left me – and left to my own devices, well, you see what happens? Nothing!  Our family has been on a very bumpy ride for the past two years, beginning with my father-in-law's failing health and death at the ripe ol' age of 101+, followed by a rapid deterioration of my mother-in-law's mental acuity and death this past November at two weeks short of 98.  It seems like most of my spare time was spent with many trips to their home and the support of my husband and children. 
With the ensuing dismantling of their household and sale of their home shortly before Christmas, I think we all walked away from their house totally stunned with loss.  While there were times I felt like my mother-in-law didn't care much for me in early and middle marriage, the last year we had her, she never failed to light up and call me be my name when I came into the room or tell me that she loved me when I left. 
And even though there really wasn't anything of hers that I really wanted (after all I'm loaded up with memories), I walked away with one of her very few cookbooks (this lady kept most of her recipes in her head) "Recipes and Remembrances," a cookbook that was put together by First Baptist Oak Cliff, Dallas in commemoration of their Centennial Celebration.  One evening, as I was leafing through, it secretly hoping I would find something she had written in it (after all, isn't that what makes a cookbook even more special?), I found a recipe for Microwave Peanut Brittle.  Next to the recipe she had written "Good" and had indicated "made in a 4 cup Pyrex measuring cup." 
Then when my muse showed up this morning and kicked me in the pants and told me firmly to "get over it and get on with it," I decided that this would be an excellent cookbook with which to get back on track and this recipe might be a great thing for all of you football fans to whip up for Super Bowl Sunday! 
This recipe couldn't be easier and who doesn't love the crunchy goodness of peanut brittle?  It's hard to resist 'just one more piece' and it's oh so yummy!  So, to make this confection in under 15 minutes, put ½ cup white corn syrup, 1 cup sugar, ¼ teaspoon salt and 1 cup raw peanuts into a bowl (or as Martha said, "a 4–cup Pyrex measuring cup"). Do not stir.  Cook on high for 4 minutes in your microwave – then stir.  Cook on high for 4 more minutes and stir again.  Add 1 tablespoon butter and 1 teaspoon vanilla and stir. Cook on high for 1 minute and stir in 1 teaspoon baking soda.  Stir quickly as the soda foams; then pour onto a buttered cookie sheet.  Spread thin and let cool.  When cool, break into pieces.  Store in an airtight container and watch it magically disappear! 

Donuts: My Favorite Food Group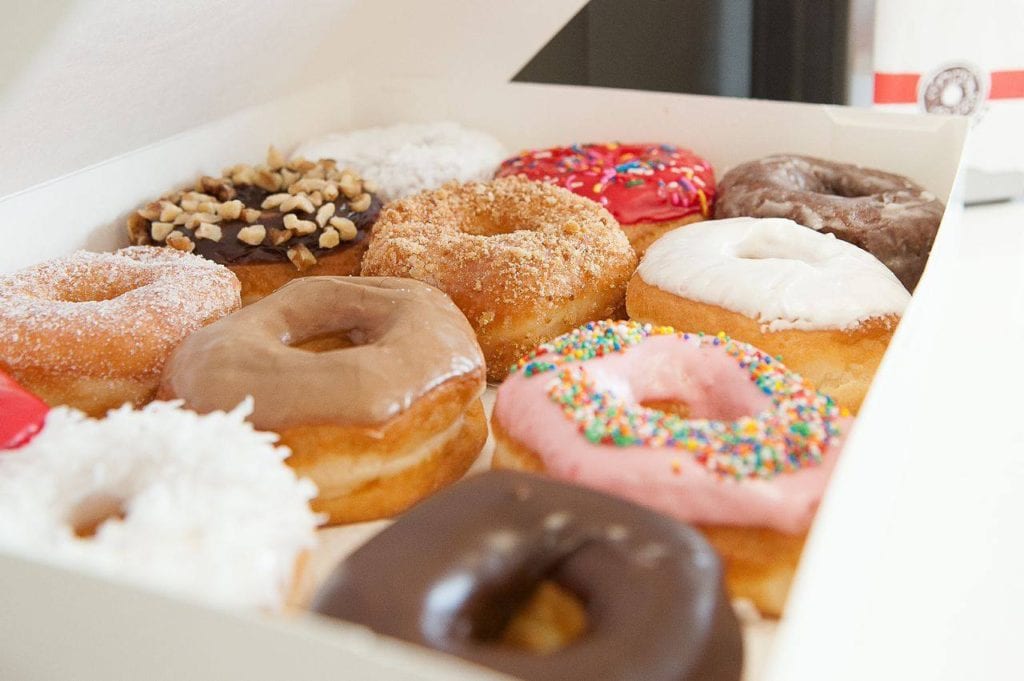 A Fork & Spoon Blog: Eating Donuts In Tyler TX
By Tena Jerger
I love breakfast. I love everything about breakfast, from donuts to  eggs to pastries – breakfast is, in my opinion, the most versatile meal and also the most tasty. I could eat "breakfast" twice a day with no problem.
One of my favorite breakfast foods is the All-American donut – glazed, creme filled, apple fritters, cake-style donuts – what's not to love.
Here are a few of my favorite haunts and my picks at each location.
The Donut Place, located right next to Green Acres Bowling Alley in Tyler, TX,  has the best glazed donuts I've had in a while. Their standard glazed donuts are slightly bigger than some other places too! Get a few dozen, trust me, you are going to want more than you'd normally eat.
Shipley's Do-Nuts, located ironically next door to Planet Fitness on the east Loop in Tyler, has a great selection but the Creme-filled donuts are pure heaven on earth. Stuffed full of thick marshmallow-style creme, then fried perfectly and glazed with a nice soft and slightly crunchy glaze, these "do-nuts" will make you happy. They also have a drive-thru but I try to walk there after my Planet Fitness workout. Two creme filled and a glazed is my Saturday morning reward for working out. It is total yummy in my tummy! 
While there, watch for the Devils Food Donut – if you are a chocolate lover, this is absolutely heavenly! Picture this: chocolate dough glazed donut filled abundantly with warm chocolate filling…it is every chocolate lovers "dream donut".
Apple Fitters are fantastic at Star Donuts, located on Broadway next to Bergfeld Park in Tyler. They are fresh, slightly crunchy on the outside yet doughy and soft on the inside, loaded with glaze and cinnamon. Oh, and they huge! What's not to like.
Sugared out? Star Donuts and Croissants, located at Troup Hwy. in Tyler has all the normal selections plus a unique boudin kolache. That's right, boudin sausage placed inside of the bread dough, then baked. It is a little spicy but not too much and the bread helps collect the, um, juices so that you never miss a bite of yumminess. These kolaches are big, served piping hot with a packet of yellow mustard.
Got a favorite? Comment below with your suggestions. I'd love to try it out….like, seriously, would LOVE too!
Forks & Spoons Blog: Poch's Rice Café, Tasty Soup and Eggrolls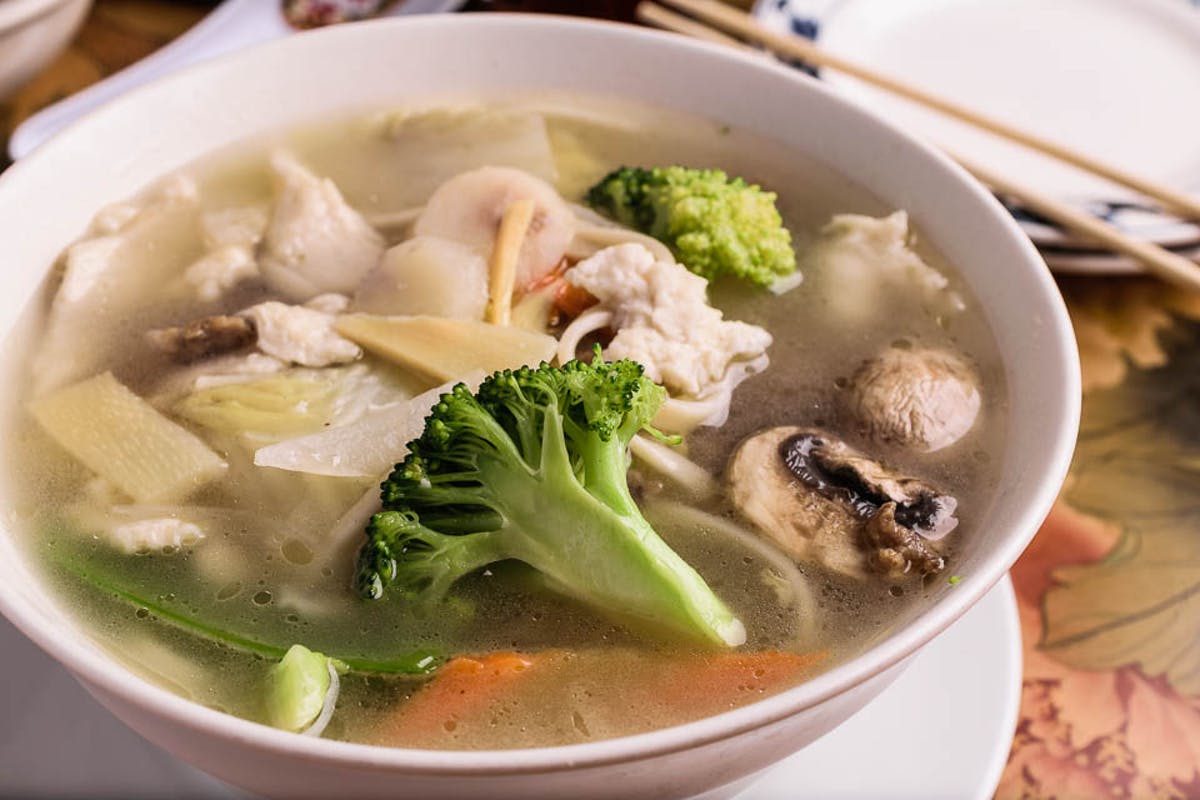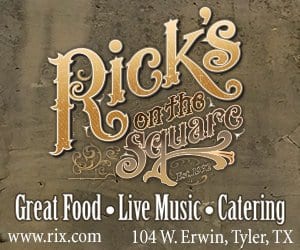 By Hungry Guest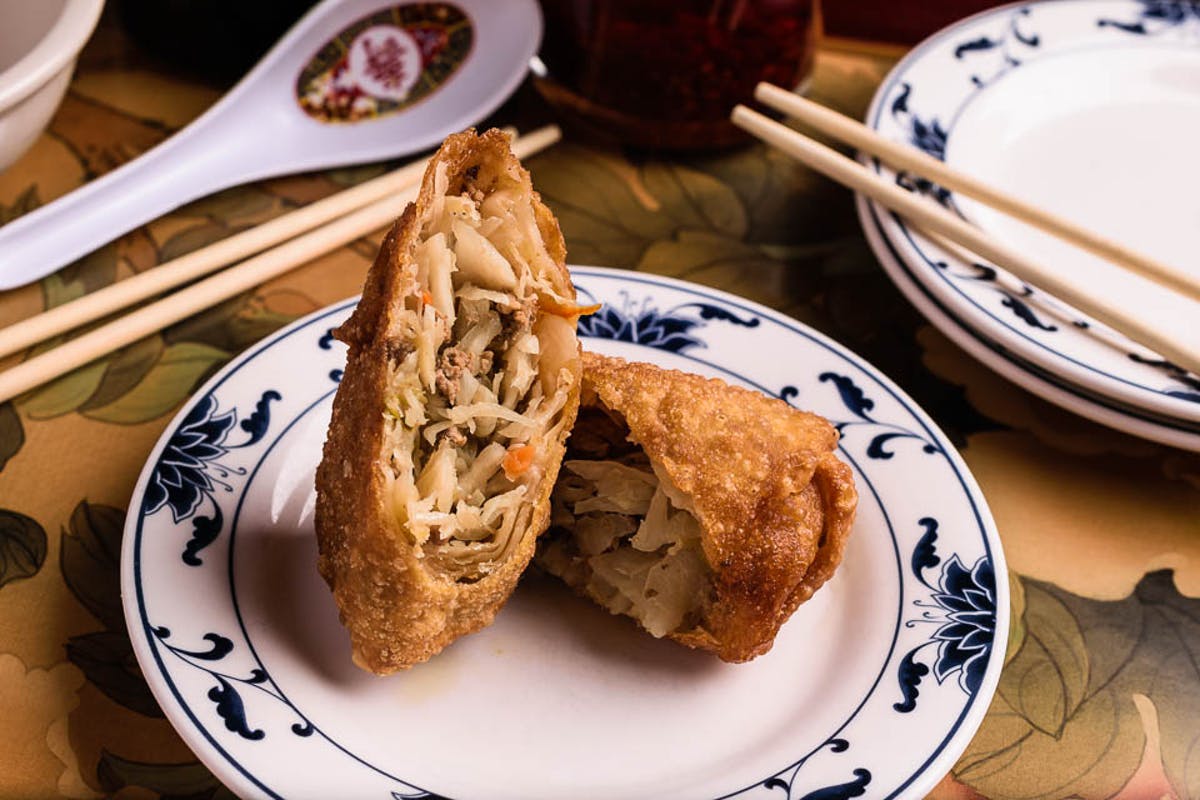 It's hard to choose a single restaurant dish to review; Tyler has so many good restaurants with so many good things to eat!  But one of my go-to lunch favorites is Peking Soup and an egg roll at Poch's Rice Café in the Tanglewood East Shopping Center.  Poch's Peking Soup is a bowl full of clean, understated flavors.  Starting with a clear vegetable-chicken stock that tastes like it's been simmering for hours, Poch's adds shrimp, chicken and small strips of beef, along with broccoli, carrots, snow peas, mushrooms, and water chestnuts.  The vegetables are barely cooked through, still retaining bright colors, crispness and fresh flavor that you'll enjoy with every bite.  The result is a warm, savory dish of lean protein and vegetables that fill you up, but won't leave you feeling like you killed your diet for the week.
Pair this with one of Poch's eggrolls (they're the best in town, the staff is quick to tell you!).  The eggrolls are a delicious mix of cabbage, onion, celery, carrot, and meat, wrapped inside a light pastry and fried just long enough to soften the ingredients and blend the flavors.  This aromatic mixture goes great with a little Chinese mustard or some of the sweet sauce that the eggrolls are served with.
So there you have it; one of my favorite lunch combos!  Try a bowl of Peking Soup and an eggroll at Poch's.  They're in Tanglewood East, at the corner of 5th street and Loop 323 East.  You may become a regular there, too!