It's Summertime at Tyler State Park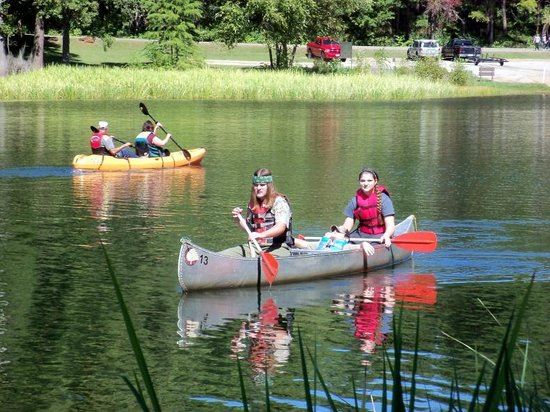 At Tyler State Park you can boat, fish, swim in the lake, hike, mountain bike, picnic, geocache, camp, birdwatch, and study nature.
Tyler State Park is located at 789 Park Road 16, Tyler. All events are free with a fee paid for admission into the park. Adults are $6 daily and children 12 years and under are free.
For more info go to tpwd.texas.gov/state-parks/tyler, call (903)597-5338, or email boyd.sanders@tpwd.texas.gov. Dress for the weather.
June 1st
10-11:30am: Dutch Oven Cooking: History in a Black Pot – Learn the basics of the fine art of historic camp cooking with cast iron! Meet at the Blackjack Pavilion.
2-3pm: Wildfood Walk – Learn to identify edible wild plants and how to prepare them. Many edible plants may be seen during this short hike. Learn about plant safety too.
June 5th
10-11am: "Lost" in the Forest Hike – Explore the definitions of what it means to be "lost in the forest." Learn how to keep from getting lost, what to do if you are lost and how not every kind of "lost" is a bad thing.  Wear sturdy shoes and bring water, and be prepared for about a mile hike through the forest. Meet at the Old Road Trailhead.
2-3pm: Kids' Wilderness Survival – Create a survival guide with hidden messages! Learn how to keep from getting lost, what to do if you are lost and how to make a handy survival pack! Meet at the Silver Canoe Park Store Patio.
3-4pm: Knotty-time for Kids – Learn some basic knots that every camper needs to know. Knots have "tied" together civilizations throughout history and they are still important today. Learn knots important for camping and one that can be a lifesaver! Meet at the Silver Canoe Park Store Patio.
June 6th
10-11am: Savannah Saunter – Treat yourself and rediscover the outdoors at a slow pace. Our goal is not the end of the trail, but to explore the Post oak Savannah. Dress for the weather, wear sturdy shoes, and be ready for a couple of hours of discovery. Meet at the Blackjack Nature Trail head.
2-3pm: Historic Games: Trap Ball – Play like your great-grandparents! Amazingly enough people used to play outdoors and with other people. Try out the games of trap ball, a precursor to baseball,  and discover they really did know how to have fun! Meet at the amphitheater.
June 7th
10-11am: Wildlife Walk – Come discover edible and useful plants and learn to identify edible wild plants and how to prepare them. Many edible and useful plants may be seen during this short hike. Learn about plant safety too. Meet at the Blackjack Nature Trail head.
2-3pm: Navigation Revelation and the Magnetic Race – It's a compass race! Learn to use a compass and a map for your navigation needs. Then try your new skills at orienteering, a map and compass race. Meet at the Amphitheater.
June 8th
10-11am: Sylvan Saunter – Treat yourself and rediscover the outdoors at a slow pace. Our goal is not the end of the trail, but to explore the forest. Dress for the weather, wear sturdy shoes, bring water, and be prepared for a couple of hours in the woods.
2-3pm: Wildflowers, Pollinators, and Predators – Bring your camera for this one! Discover the explosion of color in the Post oak savannah as prairie and woodland wildflowers bloom. We will also see colorful pollinators and the equally colorful predators that hunt them. Dress for the weather and be ready for a short walk. Meet at the Blackjack Nature Trail.

Ranch of Dreams, Fun, and Animals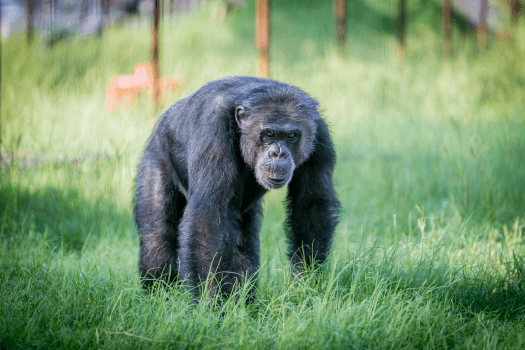 The Fund for Animals is the largest and most diverse network of animal sanctuaries and rehabilitation centers in the country. Now you have the opportunity to schedule a tour at the flagship sanctuary, the Cleveland Amory Black Beauty Ranch, right here in east Texas. This facility is a world-renowned animal sanctuary in Murchison, Texas that was founded in 1979 by Cleveland Amory, author and animal advocate. Cleveland Amory Black Beauty Ranch is located at 12526 CR 3806 Murchison, TX 75778. Tours this month are:
Regular tour individual adult tickets are $49, student/active military tickets are $39. Additional under 18 tickets are $20. Family package (two adults and four children) are $150. Children under 3 are free, as long as they can sit on your lap. All tours must be prepaid. Tickets are available at fundforanimals.org or call (903)469-3811.
Bored? Find something FUN to do…download our App!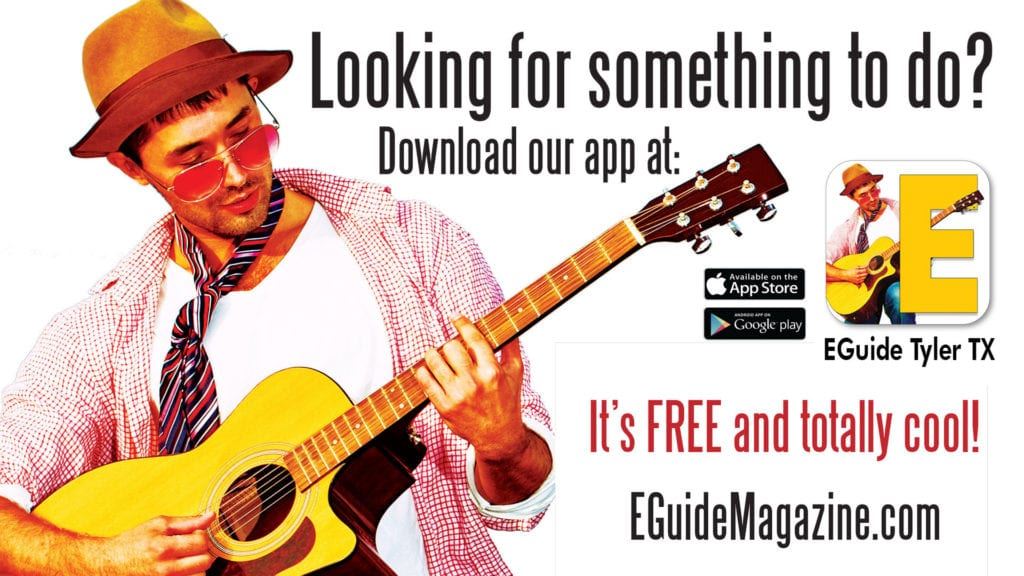 Looking for something to do?
Want to know who is playing live music around town?
What is "EGuide Tyler TX"?
"EGuide Tyler TX" is a FREE events app from EGuideMagazine.com, the #1 entertainment guide for Tyler, Texas and the nnortheast Texas region.
What can "EGuide Tyler TX" do for me?
With "EGuide Tyler TX" you can:
Find new places to eat and drink.
Get info about the best local live music going on daily
See what is going on today, this weekend, or next month
Find festivals, theatre, art, concerts and tons more
Enter to win fabulous weekly giveaways
The easy-to-use menu helps you find out what to do this weekend
…all at your fingertips….and it is FREE!
Download our free app "EGuide Tyler TX" here:


Date Night: From Fancy to Simple, Tyler Offers a Lot of Romance
By Holli Conley
In Tyler, the city of roses, it's not hard to find a romantic spot to take that special someone. Whether you're celebrating an anniversary or simply spicing up a free weekend, these are the best date ideas for fun, quality time with your significant other.
Paint A Pretty Picture
Locally at Pinot's Palette, located at 322 ESE Loop 323 next to Plato's Closet in Tyler, you and your date can paint together! The studio has really neat, two-part mirror pieces that transform upon completion into an intricate design. You can also complete your masterpiece right there in the studio by picking a frame to suit your style for $35, making it possible for you, the proud artist, to walk away with your creation ready to hang.
One small step inside the front door of Pinot's Palette and you will feel your creative fire burning and want to put palette to canvas. The large, colorful painting area is jammed full of workspaces just waiting for the next budding artists.
Something also really unique at Pinot's Palette is the opportunity to paint your pet. Send the studio your pet's likeness and they can laser it onto canvas, then you can finish the creation with paint in the studio.
A Night on the Town
Downtown Tyler is a great spot for a romantic evening. Start the evening with dinner at one of Downtown's restaurants. For a fine dining experience try one of Tyler's newest restaurants: Jack Ryan's Steak & Chophouse. Take advantage of the free valet parking and really wow your date.
There are also a couple of options for more casual dining such as Don Juan's on the Square.
Next, take in a show with VIP box seat tickets at the historic Liberty Hall. The box seats are the best seats in the house and will be a little more intimate for a date night.
End the night with a cocktail or dessert and live entertainment at Rick's or Jake's.
All of these are conveniently located within walking distance of one another and make for a great night out on the town.
Dinner and a Movie
You can never go wrong with dinner and a movie, but sometimes you're in the mood for something a little more exciting. Spice up this classic date idea with some of Tyler's unique theater options.
Grab a picnic dinner, lawn chairs, and watch a movie under the stars at SkyVue Drive-In Theater. This theater offers tickets for $6 per person and shows a double feature.
One of Tyler's newest theaters, Studio Movie Grill, is another interesting option for a movie night. Studio Movie Grill is a one-stop-shop for dinner and a movie. You can eat dinner while watching a movie, or have a dessert or cocktail while you watch. Studio Movie Grill also offers classic date night movies for $3 a ticket on select nights. Check their website for details.
Enjoy Live Music
Tyler comes alive with the tunes of good music around every corner. Whether you are interested in a specific music event such as the Red Dirt BBQ & Music Festival or listening to a local band, Tyler has a variety of acts to satisfy your musical tastes.
Some of our favorite places to catch local bands are Cork Food & Wine, Stanley's Famous Pit BBQ, XLN, and Republic Ice House – just to name a few.
Downtown Tyler offers several fun acts as well on the weekend at Jake's or Rick's. Or for a more classical night you might choose to see a performance by the East Texas Symphony Orchestra.
No matter if you want to dance the night away or enjoy a cocktail with music in the background, Tyler has what you're looking for.
Go on an Adventure
There's something awfully romantic about going on an adventure together, and there are plenty adventures to be found around town.
Try hiking, biking, camping, or water sports at Tyler State Park or one of Tyler's many public parks.
Runners might consider doing a color run or mud run together in the area.
Animal lovers can enjoy Caldwell Zoo or Tiger Creek Wildlife Refuge.
For the thrill seekers, try one of Tyler's newest attractions: One Way Out. If you are a fan of puzzles and problem solving, this game is for you. You will be locked in a room where your team will use clues, hints, and teamwork to escape before time expires. Working together to solve the clues is a great way for a couple to get to know each other better and build a stronger relationship.
Love Don't Cost a Thing
Let's be honest, dating can be expensive. Luckily, in a beautiful city like this, romance is not hard to find on the cheap.
Tyler is home to several free museums that would be great for a date. Visit the Goodman-LeGrand House & Museum or the McClendon House to tour these romantic historic homes.
For the history buffs, you might enjoy the American Freedom Museum just outside of Tyler in Bullard, or the Half Mile of History Walk in Downtown Tyler. While you're in Downtown, stop by the Gallery Main Street, which features a new exhibit of original art approximately every eight weeks.
Tyler also hosts several cheap or free events throughout the year. Events will include everything from movies in the park to concerts and art walks.
Finally, when talking about budget-friendly date options, we can't forget a stroll through the Tyler Municipal Rose Garden. With 14 acres, 32,000 rose bushes, and more than 500 varieties, this is the largest rose garden in the United States. The Rose Garden is free and open to the public year-round. This is probably the most romantic location in all of Tyler and a great place to bring your love.
With all of the fun options in Tyler, it's not hard to find exciting date night ideas. Whether you want an expensive night out or a date on a budget, these ideas will help. Sometimes it's fun to break away from the norm and try something new. With all these ideas, we encourage you to get creative and get out on the town with your significant other.