WorkHub to be Official Polling Location in South Tyler

Election season is upon us and a question on many people's minds is 'where do I go to cast my vote?' WorkHub, one of the largest coworking spaces in Texas, announces that they will be an official polling location in South Tyler.
WorkHub is a membership-based company that provides shared workspace for remote workers, small businesses, nonprofits, and startups in its 35,000 square-foot space located at 7922 S. Broadway Avenue in Tyler.
"2020 has been a time of constant adaptation to unexpected and unprecedented circumstances," said Yaziri Orrostieto, Chief Executive Officer of WorkHub. "It's opened my eyes to the fact that many brands talk about addressing needs within the community and creating positive change, but there is very little action. WorkHub is committed to being a provider of resources. It was a natural fit for us to offer our location as a space for Smith County residents to cast their votes."
20 voting machines will be made available at WorkHub for early voting through Election Day. To vote at this location, you must be a resident of Smith County, meet all the voter requirements for the state of Texas and bring a valid photo ID. Voter registration cutoff is 30 days prior to Election Day.
The voting schedule is as follows:
October 13 – 23 between the hours of 8 a.m. – 5 p.m.
Saturday, October 24, 7 a.m. – 7 p.m.
Sunday, October 25, 12 p.m. – 5 p.m.
October 26 – October 30 from 7 a.m. – 7 p.m.
Election Day, November 3 from 7 a.m. – 7 p.m.
For more information on your voter registration status, poll locations, early voting locations, and key election dates go to https://teamrv-mvp.sos.texas.gov.
ABOUT  WORKHUB 
Located at 7922 S. Broadway Avenue in Tyler, About WorkHub – WorkHub is a membership-based, co-working company that provides shared workspace for remote workers, small businesses, startups, and anyone dreaming of a professional, amenity-rich, and affordable work environment. WorkHub's mission is to use its space to build community, connections, and businesses. For more information on WorkHub, visit workhubtyler.com.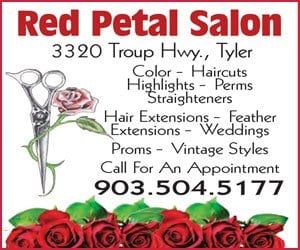 Blooms & Booms Tour: Tour The Pineywoods of East Texas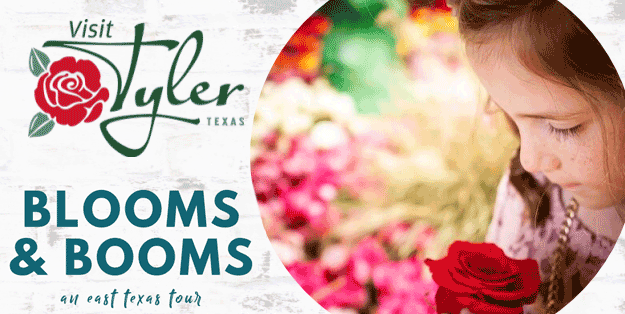 This is provided complimentary by Visit Tyler
Tour the entire Piney Woods area on this unique tour! Click the image to check out this great tour featuring Roseland Plantation, Historic Aviation Memorial Museum, shopping, Rose Gardens, American Freedom Museum, and tons more!
Travel to the piney woods of East Texas, and you'll find yourself in a place unlike any other in the Lone Star State.
Rolling hills, pine forests, and magnificent lakes can be found within the Texas Piney Woods region, where the warmth of Southern hospitality is alive and well. Stop and smell the roses at the largest rose garden in the nation, located in Tyler. Known as the Rose Capital of America, Tyler is a beautiful stop on this East Texas tour. Cruise the brick streets of the Historic Azalea District featuring miles of blooming azaleas and dogwoods, Then it's full steam ahead to Palestine. Home of the Official Railroad of Texas, visit the Victorian train depot, more than 1800 historical sites, and prepare for a little sensory overload when it comes to the flavors of East Texas. Henderson, voted as one of the "prettiest little towns in Texas," is another great stop on this East Texas road trip.
East Texas is a hidden gem and a great place for your next group tour.
And don't forget East Texas' boomtown, Kilgore, known as the "City of Stars," a nickname given to it because over 60 oil derricks that dot the Kilgore skyline, all topped with lighted stars.
Join us on this self-guided tour to see for yourself what everyone is raving about!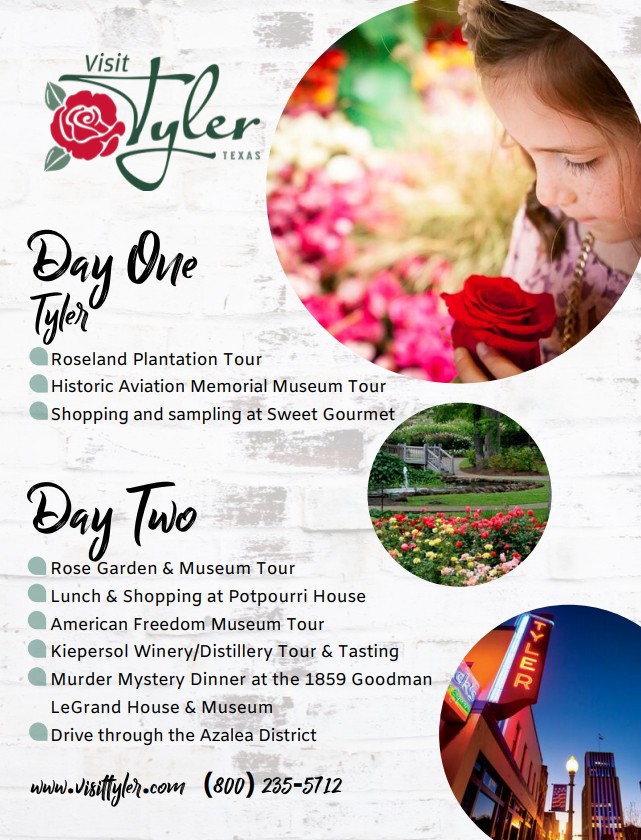 Visit Tyler TX & Smell the Roses with The Daytripper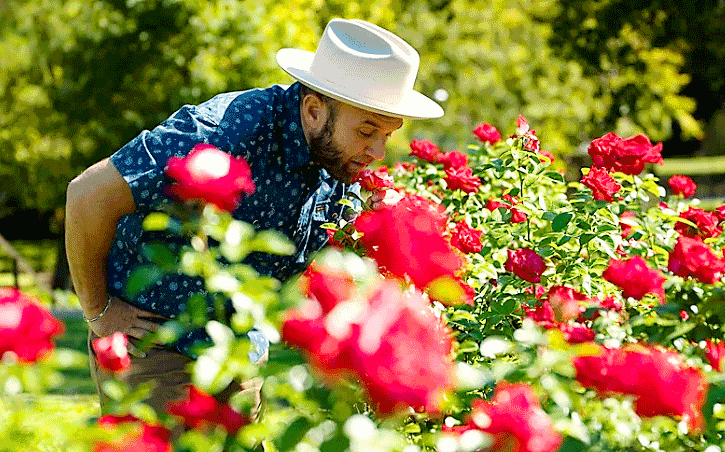 It's time to visit Tyler TX and stop and smell the roses. This East Texas town is famous for its beautiful flowers and annual Rose Parade…and that's not all its got.
The town is blooming with possibilities of things to do including the beautiful Rose Gardens, history, live music, beautiful lakes, and shopping galore. Plus, Tyler is a foodie paradise with scrumptious barbecue and those beloved Peanut Patties.
Explore the WILD side of town at local Caldwell Zoo. Don't miss the grave of one of the town's most beloved residents: Shorty the Squirrel in downtown! Visit Tyler TX and you will see the heart of East Texas!
See all this and more in the Visit Tyler, TX episode: thedaytripper.com/episodes/tyler and on EGuideMagazine.com's The Big Calendar of Events….

In this episode, Chet smells the roses with a stop to visit Tyler TX.  He eats some amazing BBQ, visits a creative craft brewery that revitalized downtown, and visits a beautiful state park.
About Tyler TX
Visit Tyler TX with its charming brick streets and you will find that there is something for everyone. For a city its size, Tyler has a large number of quality attractions for visitors (and locals alike) to enjoy.
Related Articles: Looking Arty: Murals Downtown Tyler, Have a Bloomin' Good Time in Tyler, Dining Guide for East Texas
Visit Tyler TX and you will find the largest city and county seat of Smith County. And, it is the largest city in Northeast Texas. Tyler was the thirty-eighth most populous city in Texas and 292nd in the United States.
The Beautiful Rose Gardens
Tyler is known as the "Rose Capital of America" (also the "Rose City" and the "Rose Capital of the World"), a nickname it earned from a long history of rose production, cultivation, and processing. Tyler TX  is home to the largest rose garden in the United States, a 14-acre public garden complex that has over 38,000 rose bushes of at least 500 different varieties. The Tyler Rose Garden is also home to the annual Texas Rose Festival, attracting tourists by the thousands each year in mid-October. Visit Tyler TX and you will find a wonderful world of beauty.

A Slice of American Pie: The American Freedom Museum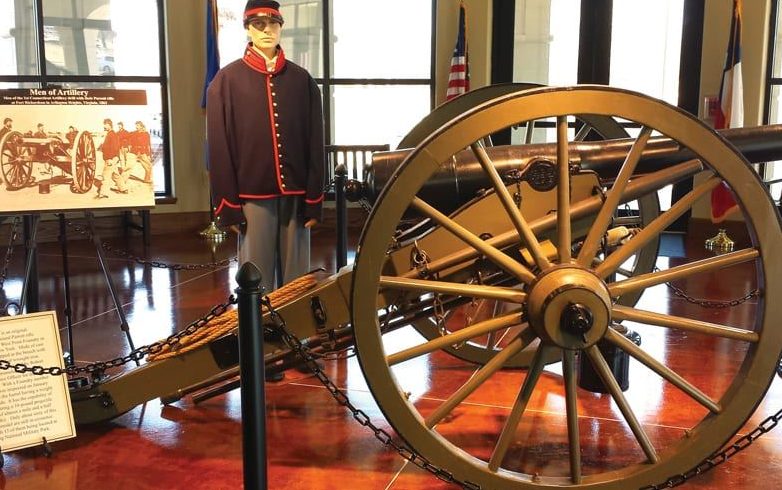 Written and Photographed  By A. C. Slaughter
Update as of 6/26/2020 – When the American Freedom Museum re-opens on July 1, 2020, all visitors to the Museum age 12 or older MUST wear a facial covering or mask while in the museum. Visitors who arrive without masks will not be granted entry to the Museum. 
The American Freedom Museum will re-open to the general public with a limited capacity of thirty visitors on Wednesday, July 1st from 1:00 – 3:00 p.m.
New regular Wednesday and Saturday public hours will begin Saturday, July 4th and will be available for two separate time slots of 10:00 a.m. – 12:00 p.m. and 1:00 p.m. to 3:00 p.m. They will be closed from 12:00 – 1:00 p.m. for cleaning. Reservations are recommended. Please call 903-894-5252 to speak with a staff member about making your reservation.
You can also make weekly group reservations for Monday, Tuesday, or Friday for groups of 15 or more during the allotted time slots of 10:00 a.m. – 12:00 p.m. or 1:00 p.m. – 3:00 when available. We require a minimum of 15 to schedule a group on non-public days.
The Museum is located on the campus of The Brook Hill School
1051 N. Houston St.   •   Bullard, Texas 75757  •  903.894.5252
---
There are few day-to-day rituals that remind us what life was like 50, 100 years ago. We surely do not get that good old fashioned feeling from television, internet or radio and yet the battles and wars of America, life of years gone by, have shaped our great nation into what it is today. As we move into the vast future of technology, we forget where we came from, what our roots are, and how our families struggled to get us here. It was not an easy road. It's not a pretty picture but it is a triumph of American spirit and worth remembering.
No better place to visit these memories than the American Freedom Museum in Bullard, Texas. Yes, that's right, Bullard Texas. What East Texans may not know is that there is a school, which houses a museum, that is tucked inside horse filled fields under bright open skies right here in East Texas. The location alone is as true as apple pie and that school is Brook Hill.
Created in 1997, Brook Hill is based on faith; a school conceived and run under the direction of a higher power. A 'calling' brought Brook Hill to life and founder Steve Dement says he "wouldn't change a thing." Of the 540 students, 80 are boarders and the student population represents over 15 countries worldwide. The idea for the school was created simultaneously with the idea for the museum. Who is to say which fueled the other but the result is a top-notch educational facility with a top-notch educational museum on site. The museum is only four years old but is already gaining national recognition and is the envy of history buffs and museum directors all over.
Steve Dement started collecting 25 years ago and his passion for history stays true. He is still active in the classroom as an upper-level history teacher at the school. Beginning with a trip to Virginia, Steve purchased a Civil War sword. His research on the sword led to stories that led to more research and more collecting and as they say, history unfolds itself right before our eyes. Dement says his high school history teacher opened his eyes. "He brought things to life." Steve's father also served as a catalyst for his passion. He was a sergeant in the Army, WWII, and his stories have made a great impact on the way Steve sees the past. These two very important persons helped shaped Steve Dement's love for history and his willingness to "pass it along to another generation."
Covering 15,000 square feet and 250 years of American history, the American Freedom Museum is a must-see. When you enter the building, an 1861 Parrot Rifle Cannon greets you. Surrounded by tall sunlit windows, you get the sense that this cannon is special and it is. On the first day of school, home football games and select holidays, this very real 895 pound cannon fires not a ten-pound cannonball but a black charge, loud, reminding us all that it once served in the War Between the States and once called West Point home before joining us here in East Texas.
Turning now to the left you enter the museum. Set up as a journey, the museum takes you through 250 years of our history, battle by battle, right up until the present day, ending with pictures and stories of soldiers currently serving. First, you will enter the Hall of Presidents. There are signed documents from every single president, Washington to Obama as well as pictures, letters, and newspaper reports. Starting with Roosevelt there are radio recorded voices of all presidents since, spoken faith-based statements that support our country. There is even a lock of George Washington's hair.
You will be immediately amazed at the care and thought that has gone into the installation of the museum. The lighting is accented. Shadows give you a sense of yesterday. Benches are scattered throughout so that visitors may sit and reflect, or in the case of our future generations, take in and learn. Music for each section is timely and specific and even the color of the walls changes from scene to scene guiding you through the maze of memories. Maps, muskets, flags, documents, instruments, weapons and clothing, newspaper articles, written curriculum, propaganda posters and political cartoons are among the myriad of momentous memorabilia.
Real-life scenes with uniformed mannequins pepper the tour and help create a sense of 'being there.' Nestled inside the Hall of Freedom is a C-47 paratrooper plane, a favorite among students. Visitors can enter the plane and experience what is was like to fly with flight sensation programmed into the exhibit. Also in the Hall of Freedom is an Army Jeep and a Vietnam helicopter. The story goes that while the plane fit through one of the windows, the helicopter would not, therefore the museum decided to place the helicopter first, before beginning construction, built a box around it, then completed the museum working around this incredible machine. A machine so remarkable you must see it to believe it. And once you see it, you will understand.
The American Freedom Museum is filled with fascinating facts. Stories of brothers separated in war and brought back together years later on a deserted island, a blanket which was donated by a local woman after her husband passed, which was known to cause itchiness to whoever wore it only to discover later that it was made from human hair. Women's uniforms selected for the collection arrived with their makeup compacts, surprisingly, still in each one. There are also samples of silk that was once a parachute collected and used by women to make wedding dresses. All of this is within these walls.
Stories of hardships and stories of triumphs are all caught under this one roof. All of this and more is on display and all these memories share one common thread; that our great country was based on faith and the men and women who got us where we are today fully believed in every cause they fought for. There is no escaping the emotion, the power of war. Even for those who have not experienced it first hand, this collection, the set-up, the thought behind it, reels you in and commands respect.
Located about one mile past the Bullard, Texas sign, off Old Jacksonville (1051 N. Houston St., Bullard, TX 75757), Brook Hill School and the American Freedom Museum are an incredible blessing for East Texans. Their in-depth age and grade-specific tours and commitment to educating our youth is unparallel in this area.
You can contact Jan Hommel, Museum Director, to ask about group tours. Groups of fifteen or more are by appointment only, Monday, Tuesday, Thursday or Friday. The museum is open to the public Wednesday and Saturday 10am-3pm.
For more information on admission and tours please visit americanfreedommuseum.org or call (903)894-5252.
Don't wait to visit this incredible museum. Once you go, you will return, as it is our duty as Americans to stand proud of what we are and where we've come from.
God bless you East Texas and God bless America.