Moss: "Where Flowers are Fair"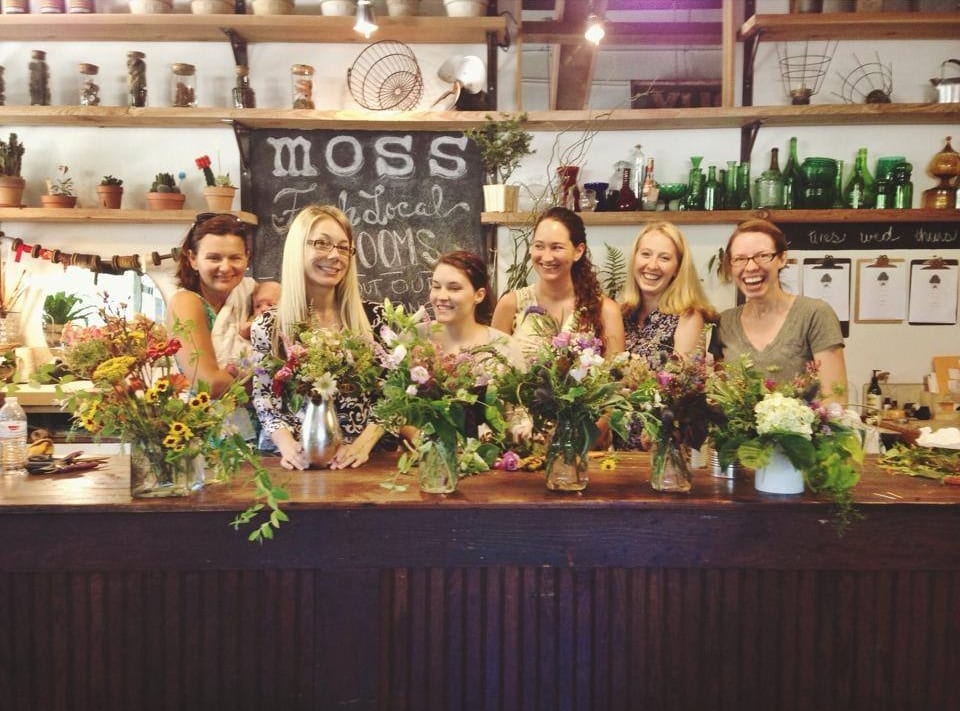 Moss-"Where Flowers are Fair."
By Barbara Greenbauer
Imagine a business that creates floral works of art, that combines the heart and thoughtful mission of fair trade flowers.
In the heart of Tyler, two women are creating unique and earthy arrangements that are works of art within themselves. The mother-daughter team of Paige McGuffey and Meagan Lissner are owners who work in tandem, relying on each other's strengths to provide East Texas with a new kind of florist.
Recently expanding from a 1,300 square foot space to their new current location – encompassing 4,000 square feet, located on Broadway Downtown – Meagan says, "We now have the space to really showcase all we can do and offer more classes and hands-on plant experiences." The shop is indeed a family-run business. Front and center is Meagan's great-great grandfather's countertop from his grocery business, where the magic is created. "The front counter is almost like our own bar," explained Meagan. The client can place an order, talk and watch and give input while we mix up our elements into a bright and beautiful concoction."
There are lots of philosophies and visions woven into this flower business. When asked about the distinctive name, "Moss: Where Flowers are Fair," Meagan responded "I just adore everything about the moss plant itself; it is so lush and gorgeous. But over and above that, the literal meaning for the word 'moss' is charity and is also the symbol for maternal love."
Owning and operating a small business involves not only hard work and long hours, but for Moss, everyone is involved. From Meagan's grandmother, to her husband and three kids (aged 5, 7, and 9), the whole gang is involved in this one-of-a-kind business. "You really have to be passionate and love people," said Meagan. "It is worth all the time and investment to be able to do what we love. It can be a balancing act, but we all pitch in and make it work."
Most folks won't be familiar with the term fair trade flowers, but it is at the heart and soul of everything they do. 80% of the world's flowers sold in the U.S. are grown in Latin America, South America, and Africa where female workers are often exploited to keep costs low, leading to severe abuse and mistreatment.
Fair trade creates a sustainable business model that guarantees social justice for the workers, and certified fair trade flower farms ensure the safety and good conditions for workers, which are typically vulnerable young women."It can be difficult to find sources and farms that are certified, but we do our research, and our mission is to support something greater than ourselves," explained Meagan. "We want to educate others to the plight of the workers and how we can make a difference."
The arrangements that are created and designed at Moss are unique and no two are ever the same. The team hunts for seasonal and unusual flowers to create masterpieces that will hav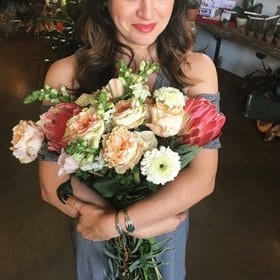 e everyone in awe. "We want to create a piece that reflects you and in that way is totally unique in itself," Meagan explained.
Client Amy Harbottle Carter said,"Their creative, organic, and vintage vibe is my favorite. Not only does Moss have gorgeous fair-trade florals, I can't get enough of the shop's collection of house plants, décor, gifts, and locally-made products. It's reassuring as a consumer to know that shopping there is also an investment in an ethical and meaningful mission."
You can play a huge part in the process at Moss. Come in with your dream and they can help make it happen. Bring in your favorite vase, pot, or container, and they can help you create a beautiful floral takeaway for your home, right then and there. Moss is known for their unique gift boxes, filled with coffee, treats, and succulents that will wow the lucky recipient.
Moss will work with you with blooms for your big wedding day, baby shower, corporate event, anniversary, or just a special gift to say thank you. Moss also has classes on all kinds of hands-on projects listed on their website at welovemoss.com. Grab a friend and come play with flowers!
Wandering through the shop is a feast for the eyes, with everything from fig trees, cacti, succulents and local pottery to geodes for terrariums and air plants.
Moss delivers locally, and gathers, forages, and hunts for local seasonal flowers that will really make your arrangements spectacular. They are truly excited about new ideas and visions, and will work with you through a consultation to pin down styles and colors, incorporating your favorite florals as well.
Frequent client, Traci Dixon sums up Moss,"I love the people and the heart behind this wonderful business. They are fabulously talented in handcrafting the perfect floral and greenery pieces with depth and character for everyone that walks through the door."
They truly do design arrangements the way nature intended them to be. When you choose to shop at Moss, you will always get a thoughtful creation that is anything but typical.
For more information, call (903)787-8822 or go to their website at welovemoss.com. You can also find them on find them on Facebook at mosswhereflowersarefair.
"Moss: Where Flowers are Fair," is located at 237 S. Broadway in Tyler. They are open Monday-Friday 10am-5:30pm, Saturday 10am-3pm, and closed Sundays.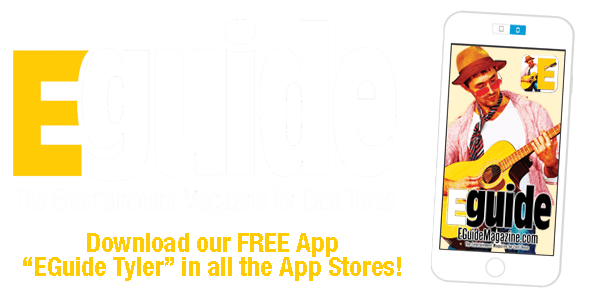 SAVE TONS on Pet Microchips This April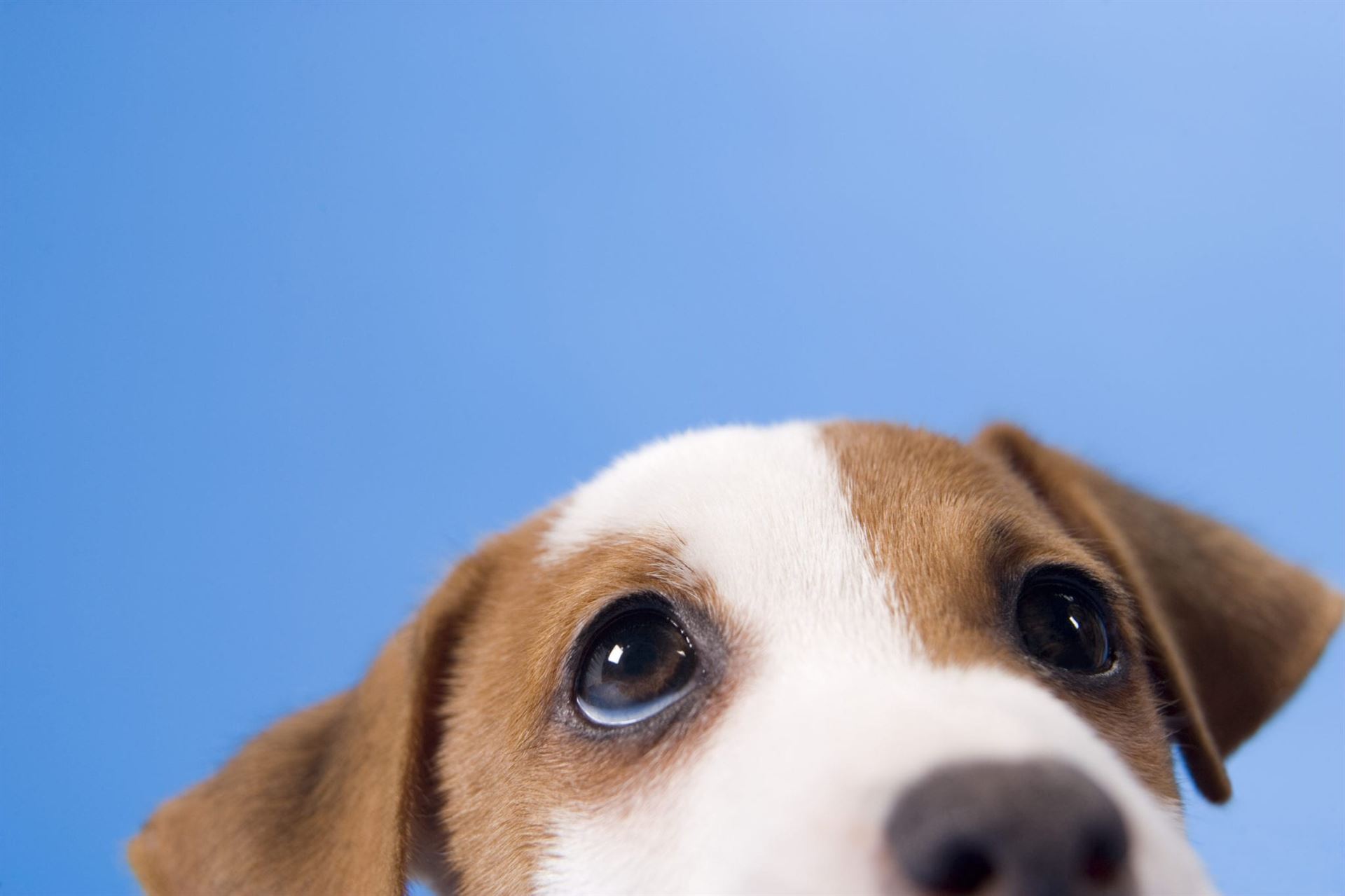 $5 Pet Microchipping in April
The Tyler Animal Shelter is offering discounted microchipping prices of $5 through the month of April, plus a one-day discounted rabies and microchipping event.
This year, the $5 microchipping is through the month of April at our 4218 Chandler Hwy location, not 3393 W. Grande.
The Rabies Vaccination and Microchipping Clinic will be April 26th at Fun Forest Park, 2000 N Forest, starting at 6pm.
"Filling out the paperwork takes longer than the actual microchipping," said Shelter Manager Shawn Markmann.
"If your dog gets lost or gets picked up, then you have an identifier to get your pet back to you, and if your animal is stolen it also helps retrieve ownership," Markmann said, adding that all of the animal control officers have microchip scanners on their trucks to help find the owner before they go into the shelter.
The Tyler Animal Shelter also is accepting donations to help the pets in their care. Dry pet food is accepted as part of its pet food bank program, which has given out 1,500 pounds of food since its inception. The food is given to families who want to give up their pets because they cannot afford to feed them. Other donations needed include white towels of any size, stainless steel food bowls, and hard rubber chew toys, similar to the Kong brand toys.
Calling All Poets, April 21st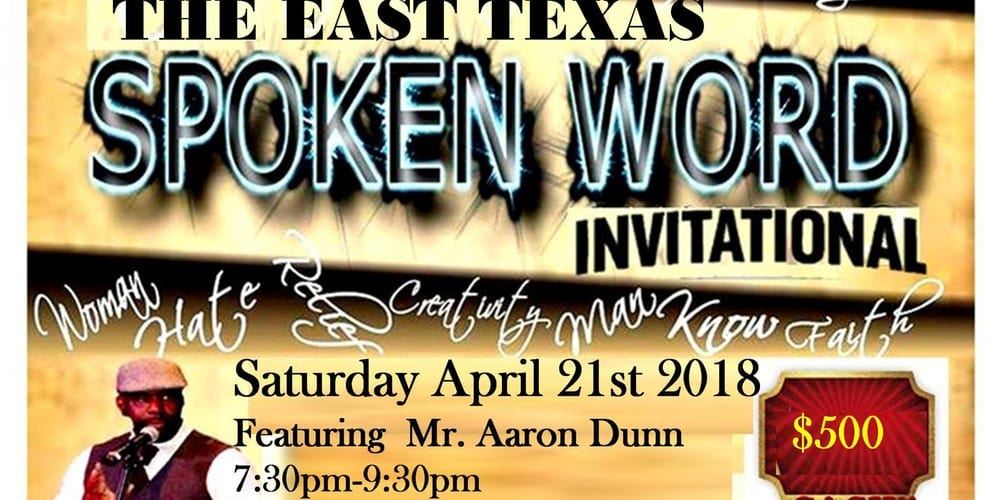 The East Texas Spoken Word Invitational Competition
The East Texas Spoken Word Invitational is an 'East Texas poets only' competition and will be held Saturday, April 21st, 7:30-9:30pm at El Guapo Records, 257 S. Broadway Ave., Downtown Tyler.
On this night, come celebrate International Poetry Month in a family-friendly space. At this collective community gathering, the featured poet will be Aaron Dunn, author of the new collection "Poetry For Your Sake." Aaron will be reciting works which will be available for purchase.
There will be 12 poets selected for his annual spoken word event. Prizes will be awarded. Poets can enter the competition for $10. There is free admission for any audience member.
Tickets are available at eventbrite.com > East Texas Spoken Word Invitational. To participate, you must have an eventbrite ticket.
Seating is limited. For more info call or text (972)704-5001 or go to mikeguinn.biz.
Horror & Paranormal Conference Held April 20th-21st
Horror & Paranormal Conference & Psychic Fair to be Held April 20th-21st
This year's annual Horror & Paranormal Conference & Psychic Fair is coming to town April 20th-21st, and it promises to be even bigger and better than ever.
Held at Staybridge Inn & Suites, 2759 McDonald Rd., in Tyler, you can experience everything from ghosts, to Bigfoot, to UFO's, to psychic readings – everything can be found at this hugely popular event.
New and returning guest speakers make this an event one to remember. Come satisfy your curiosity or add to your current knowledge. You will have the opportunity to meet the established stars, the up and coming stars, and of course, experience astounding psychic readings and galleries that will be going on.
April 20th kicks it all off with a VIP dinner with the stars. This event will also include some light ghost hunting plus a movie screening. Be sure to  experience the speakers and vendors all day Saturday, the 21st, and a psychic gallery that evening, followed by an all night ghost hunt at multiple locations. VIP ticket holders get early access with free coffee and donuts, front row seating, super stuffed goody bags, a special free tarot or rune reading by special guest Alexis Jones, access to a free movie of your choice Friday night at Hollywood Theaters, free dinner at Athena's Greek Restaurant on Friday night, and free admission to the psychic gallery on Saturday night. These tickets are very limited, so get yours early.
Guests include Scott Gruenwald, Trana Simmons, Marie Davis, Rosa Ramirez, Mike McCaskill, Jeff Hurley, Dr. Heidi Hoke, Ashton Rogers, and more.
Throughout the day there will be tarot readings, astrology readings, angelic guide connection sessions, psychic rune card readings, hypnotherapy demos, medium readings, mind clearing and energy balancing sessions, reiki healing, and photo ops.
The full itinerary as well as tickets are available at toursoftyler.com. Tickets are $15-$60.