2023 Edom Art Festival:
A Celebration of Art and Life!
Edom Craft Community, a 501c3 nonprofit
October 14-15, 2023 |  10am-5pm
Two Days of Art, Food, and Music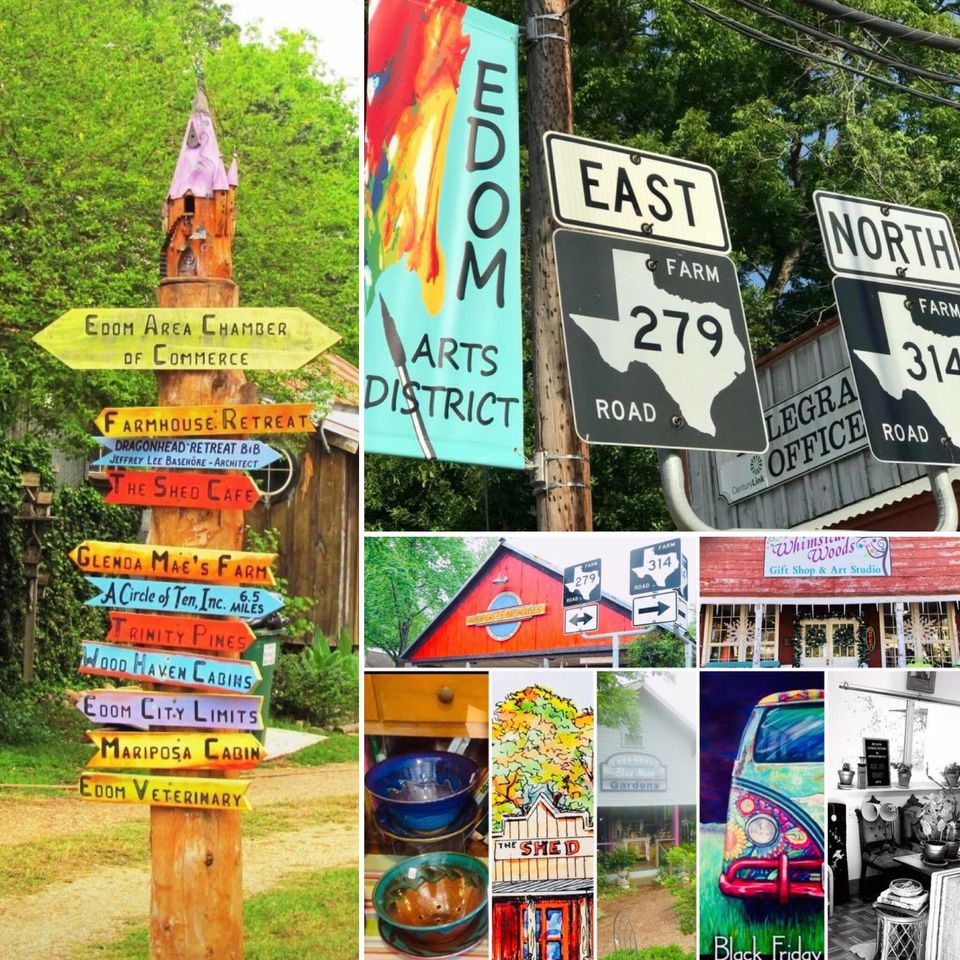 Visitors relish the ambiance and flavor of the Edom Art Festival, in the meadow behind the artists' studios located in the center of this tiny hamlet. The relaxed atmosphere lends itself to great conversations with exhibiting artists, which is impossible in a large city event. Here you will find jewelry, pottery, photography, sculpture, baskets, woodworking, glass, and original garden art. Shop for one-of-a-kind pieces of clothing, paintings, handmade journals and mixed media creations made from recycled materials. Watch a blacksmith demonstrate his skill at the forge, and perhaps a potter at the wheel, or a raku pottery firing demonstration.In addition, in the Wine Garden under the trees, we will be sharing the music of some great acoustical singer/songwriter musicians along with the offerings of a few of our local wineries in a setting to sit and relax, and delish handmade chocolates to pair with your wine.
Great food is available from local vendors with culinary treats such as Cajun gumbo, homemade sorbet and gourmet small batch ice cream, to frothy root beer and corn dogs, barbeque and pork sandwiches, and wonderful food trucks for all your dining pleasures.
The festival provides fun for all, with a kid's area to express themselves with art. They can take their masterpieces home with them, or donate them to become part of the festival gallery. Painting and murals from previous years adorn the grounds and entry.Free parking is provided behind the festival, and paid parking at the Methodist Church is a fundraiser. Handicap parking is available just west of the entrance at the corner of FM 279 and FM 314. Dogs are also welcome as long as you clean up after them.
50 Years and Still Going Strong
The Edom Art Festival began in 1972, after the first artist Doug Brown moved into town and started the artists' mecca. By inviting fellow artists to participate, it has been well attended all of these years as an invitational and now a juried festival, known for having only high quality, original art and craft. Today the festival is sponsored by the Edom Craft Community and is produced by the artists in town, making it truly unique. Our resident artists are busy creating for months to prepare for the weekend when our population of 350 swells to thousands.
The Artists
The 2023 Edom Art Festival Artists are being released on EAF Facebook page and include:
Debuting in Edom this year is gourd artist Ann Harris from Pattonville, TX. After thoroughly cleaning the gourds inside and out, acrylics, alcohol dye, and pastes are applied for color. Sometimes carving and textural materials such as pine needles, stones, leather, and metal are added for embellishment. Prices: $45 – $450.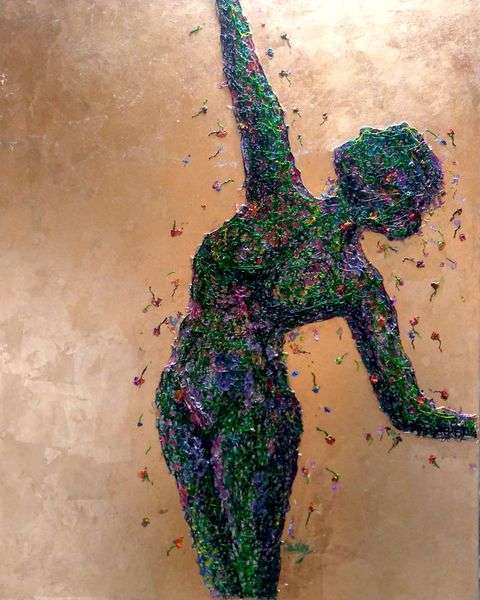 Stephen Hackley from Richardson is a new artist to Edom in 2023. His 2 dimensional art focuses mainly on copper, either on canvas or images on copper sheet work. The copper is forced to oxidize and also employs heat, hammering, dyes, stones and paint. His mixed media work can be showcased in either interior or exterior locations. They are great statement pieces for your home, outdoor space, or office. Prices: $49 – $3,200. See more at
www.hackleyfineart.com.
Mike Grafa from Austin returns to Edom this year with his wheel-thrown and slab-built porcelain pottery. Multiple glazes and techniques add interest and distinction to his functional pieces. A beautiful addition to your pottery collection. Price range from $30 – $300.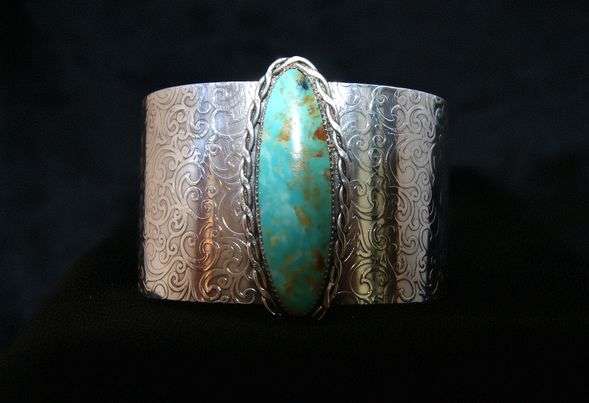 Artisan jeweler Mary Geisler uses traditional metalsmithing techniques constructed primarily in sterling silver. The metal may be patterned or textured. Precious and semiprecious stones are sourced internationally, and chosen for the story they tell when incorporated into the jewelry. Mary's elegant work is collected by many. Prices: $80 – $500. See more at
www.marygeisler.net.
Cindy Fuqua, aka Cindy the Potter, has participated in the show for many years. Her extremely affordable stoneware and pottery are favorites of many. Her Raku horsehair pottery (pictured) is an interesting process which she is happy to share. Prices: $5 – $300. See more at:
www.Facebook.com/cindythepotter/
.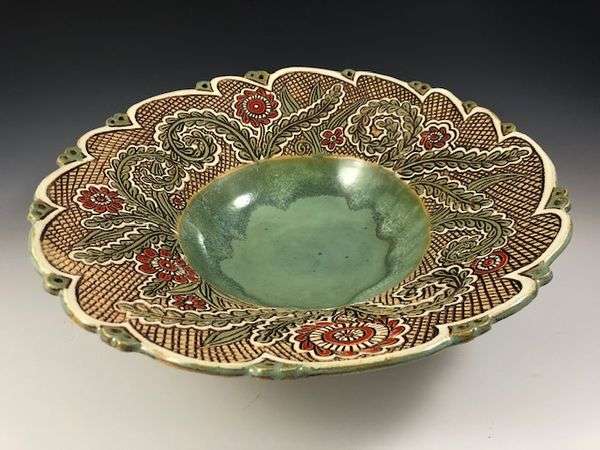 Potter Barbara Francis returns to Edom this year with her incredible stoneware which is thrown or hand-built. What sets her work apart are her decorative elements which include sgrafitto (hand-carving and piercing), sprigging (added relief) to create texture and interest. Each piece truly is one of a kind and functional as well as decorative. Price range: $10 – $265. See more at:
www.barbfrancispottery.com.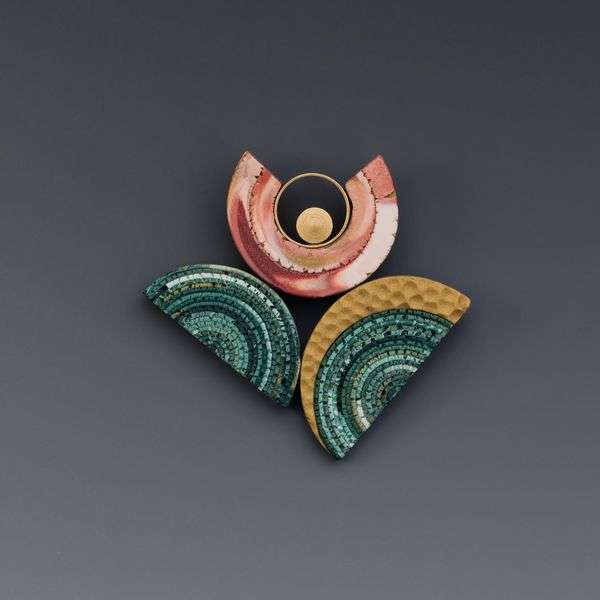 Eugenia Finkler of Eva Andre Design, is a polymer clay jewelry artist whose designs are inspired by nature and architecture. Her slogan is "Urban Jewelry for a Tribal Soul". She fashions jewelry to convey dynamics, freedom, and elegance because this is what living in the modern world is all about. Her pieces can easily transition from an evening gown to a casual outfit. Prices: $25 – $600. See more at: www.evaandredesign.com.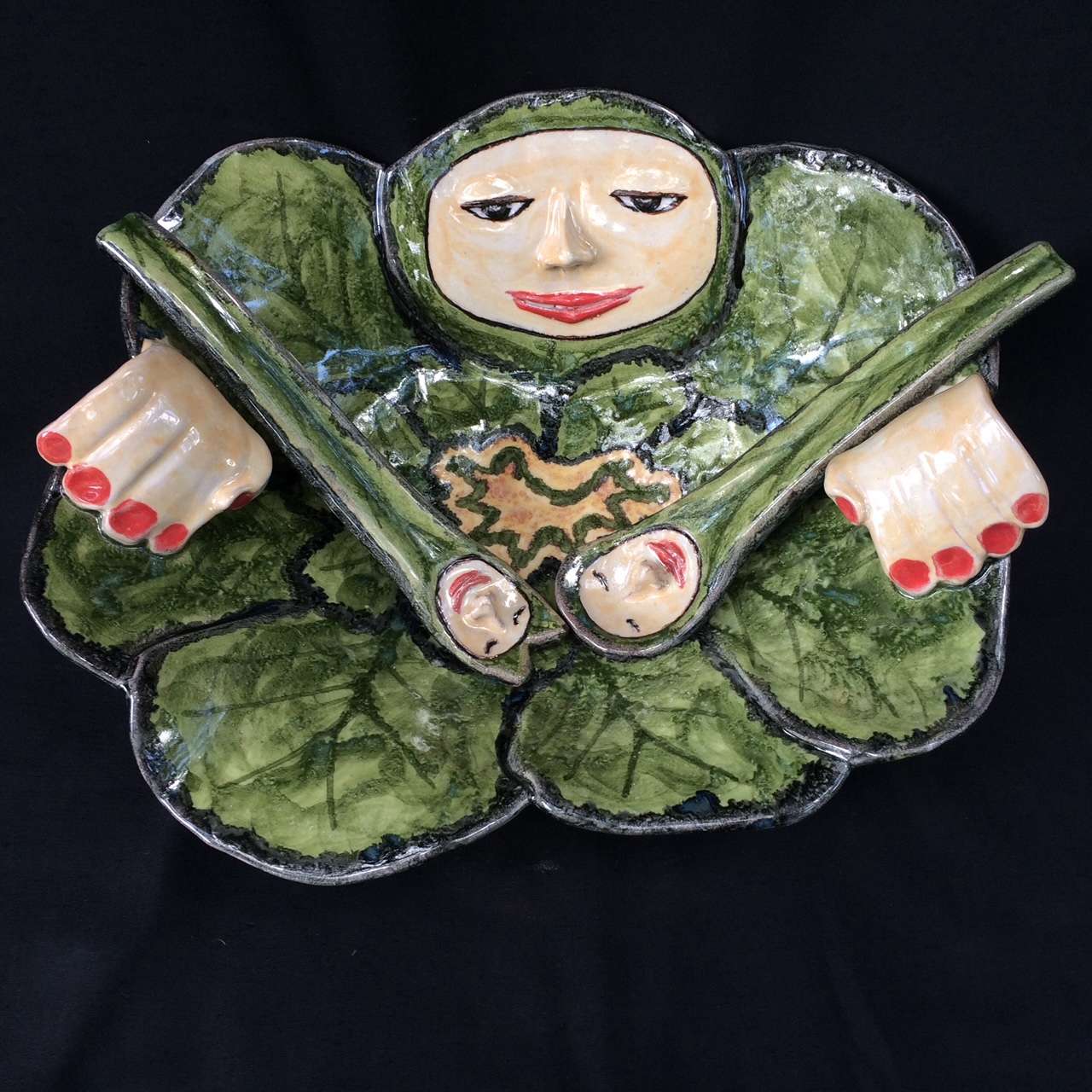 Ann Feldmeir of Clay Hearts Pottery hand builds functional earthenware with coils and slabs, pinched, paddled and scraped smooth. Her lovely pastel colors complement home and office. Her vases, platters and bowls are useful as well as beautiful. Prices: $30 – $300. See more at
www.clayhearts.com.
Husband and wife team Dan and Lori Dudley of Dirt on Your Skirt Studio, are crowd favorites in Edom for their unique ceramic sculpture. Wheel-thrown and hand-built, their original work showcases both of their talents and their willingness to be silly. Dan's background in animation coupled with Lori's love of nature generate the fun-loving, colorful, unusual pieces in their collection. Prices: $15 – $400. See more at www.dirtonyourskirt.com.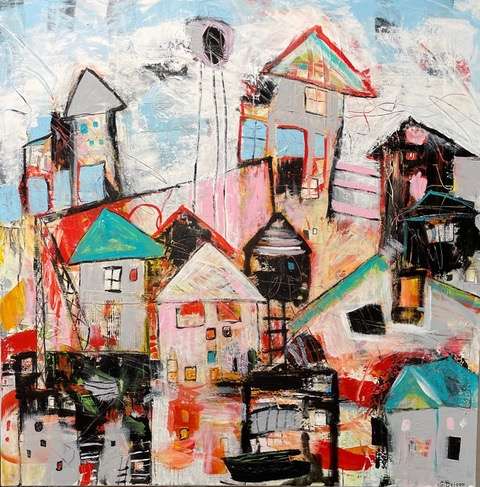 Gail Delger's mixed media paintings, in acrylics and collage on canvas and cradled panels, showcase her whimsical nature. She sometime attaches 3-D objects to the top of the artwork for more interest. The range of her work gives a glimpse of both her passion and talent and her sense of humor as an individual. Prices: $48 – $1,500. See more at: www.gaildelger.com.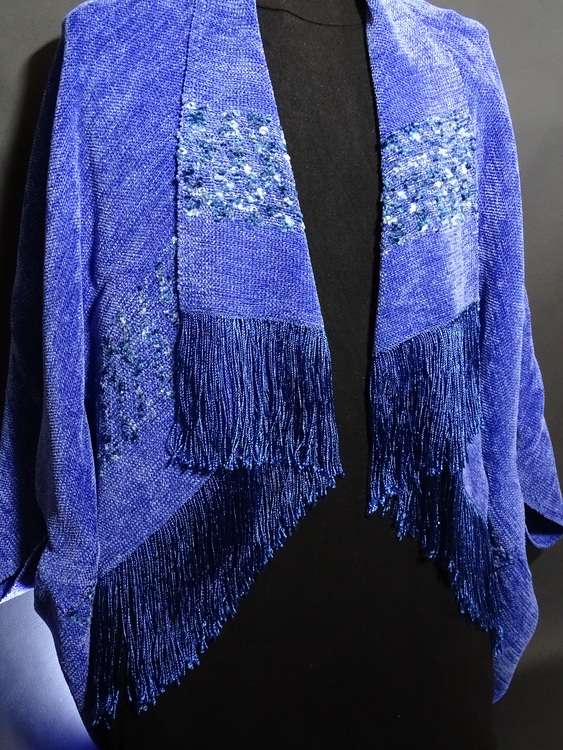 Master weaver Patricia Day has joined us for many years in Edom. Her loom-woven garments are designed with color, drape and texture and will sing on the wearer. Both wearables and home décor items bring the beautiful colors of nature to your home and life. Prices: $18 – $600.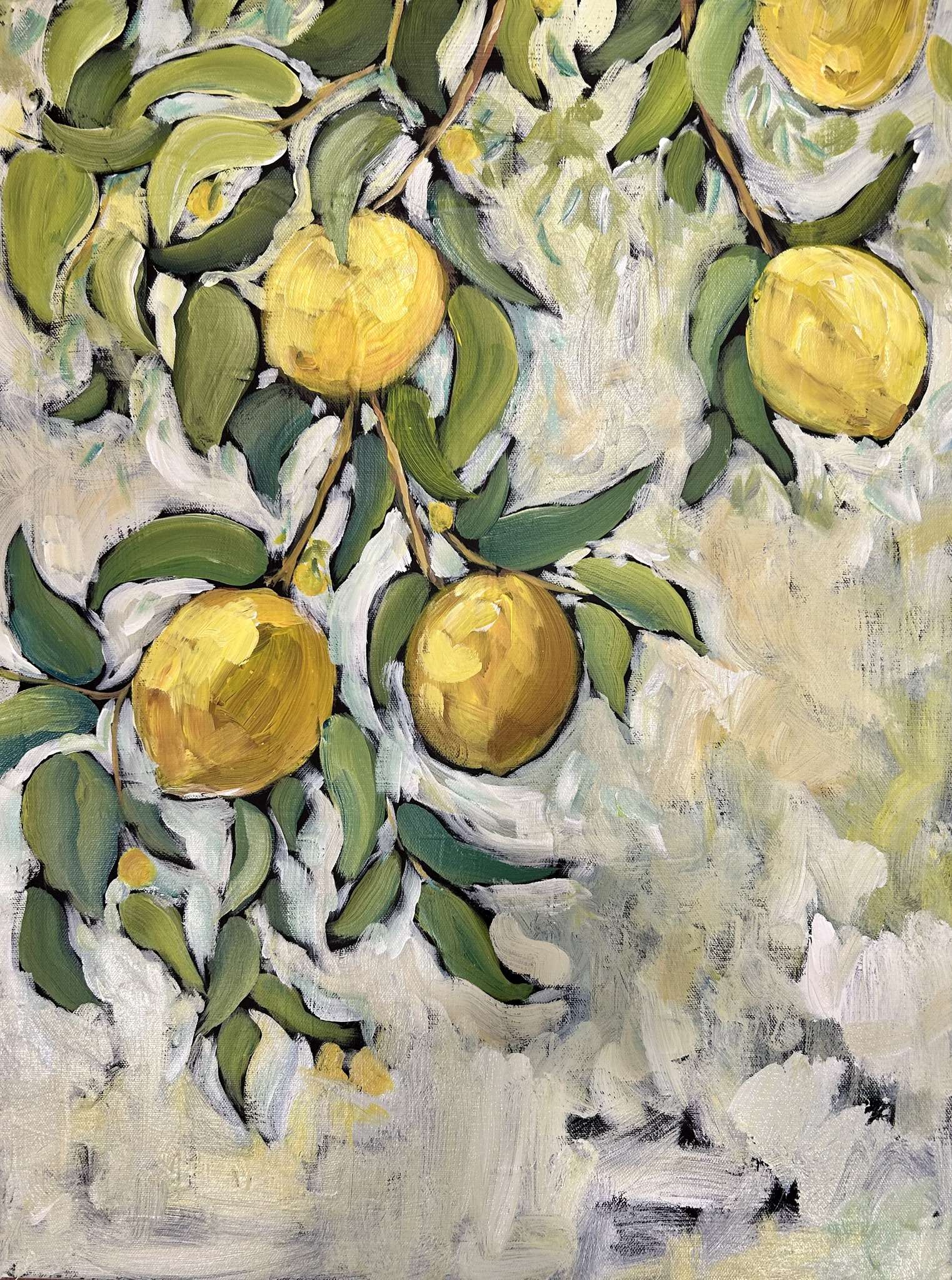 Another new artist to the festival this year, Wendy Davis, from Waco, paints with reverence the temporal moments of nature, whether on a trail, in a garden or traveling. She keeps her painting loose and brushy, striving to create colors that are vibrant, bringing each piece to life. Prices: $40 – $2,000. See more at www.wendymichelledavis.com.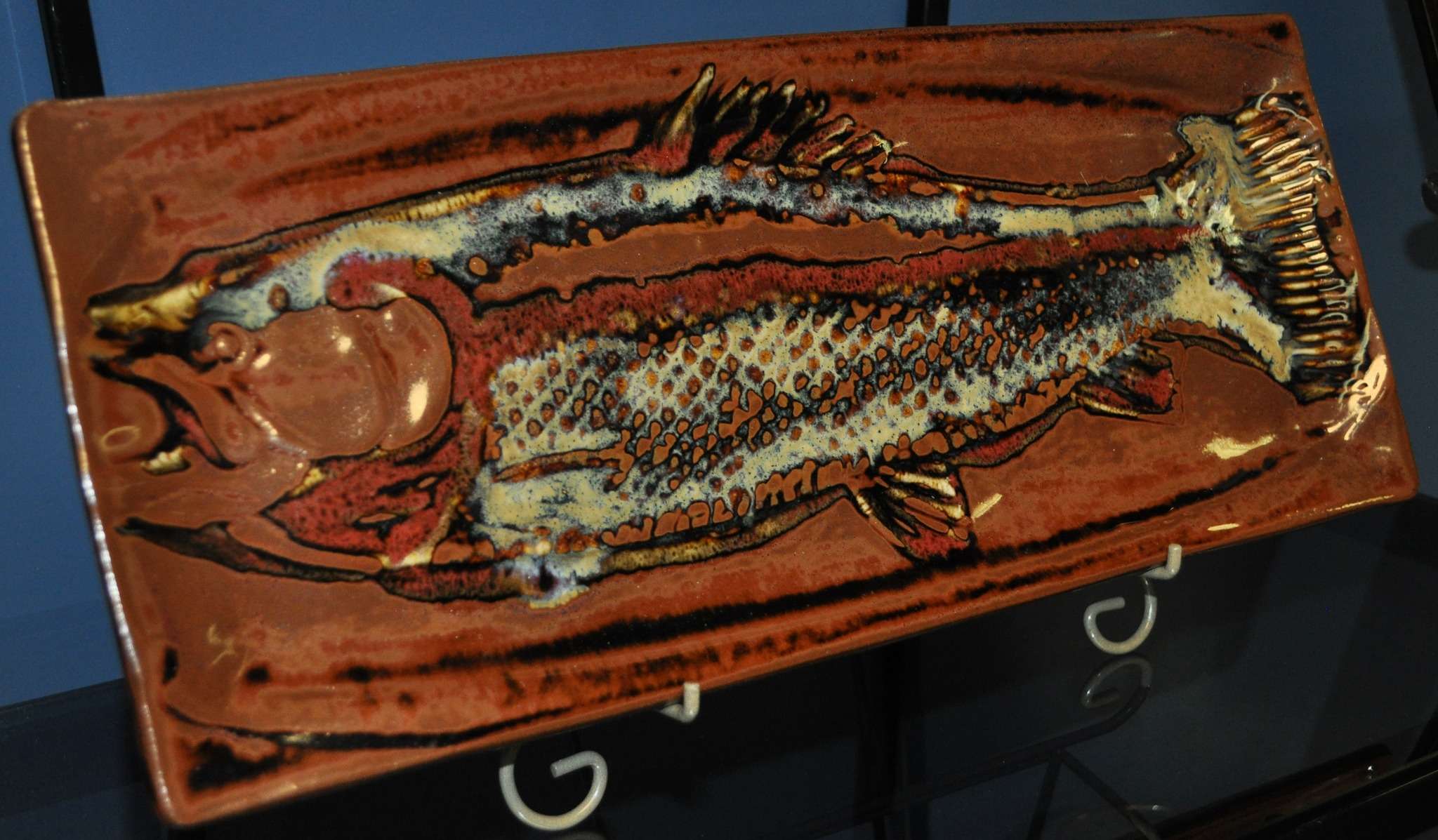 We are pleased to welcome Jeff Clement in his first year at the Edom Art Festival. A Tyler potter whose studio is Adjusting Sails Dirtworks, he produces both functional and decorative pieces that are wheel-thrown and hand-built. Prices range from $15 – $300. www.facebook.com/adjustingsailsdirtworks/
Glass artist Cindy Cherrington creates paintings without the use of paint. She forms landscapes and florals using powdered, crushed and cut pieces of glass layered and kiln-fired. The technique is called "Frit Painting". Each piece takes from 2 to 10 days to complete, in its detailed and consuming fashion or design. Prices: $50 – $2,200. See more: www.CCCreates.com.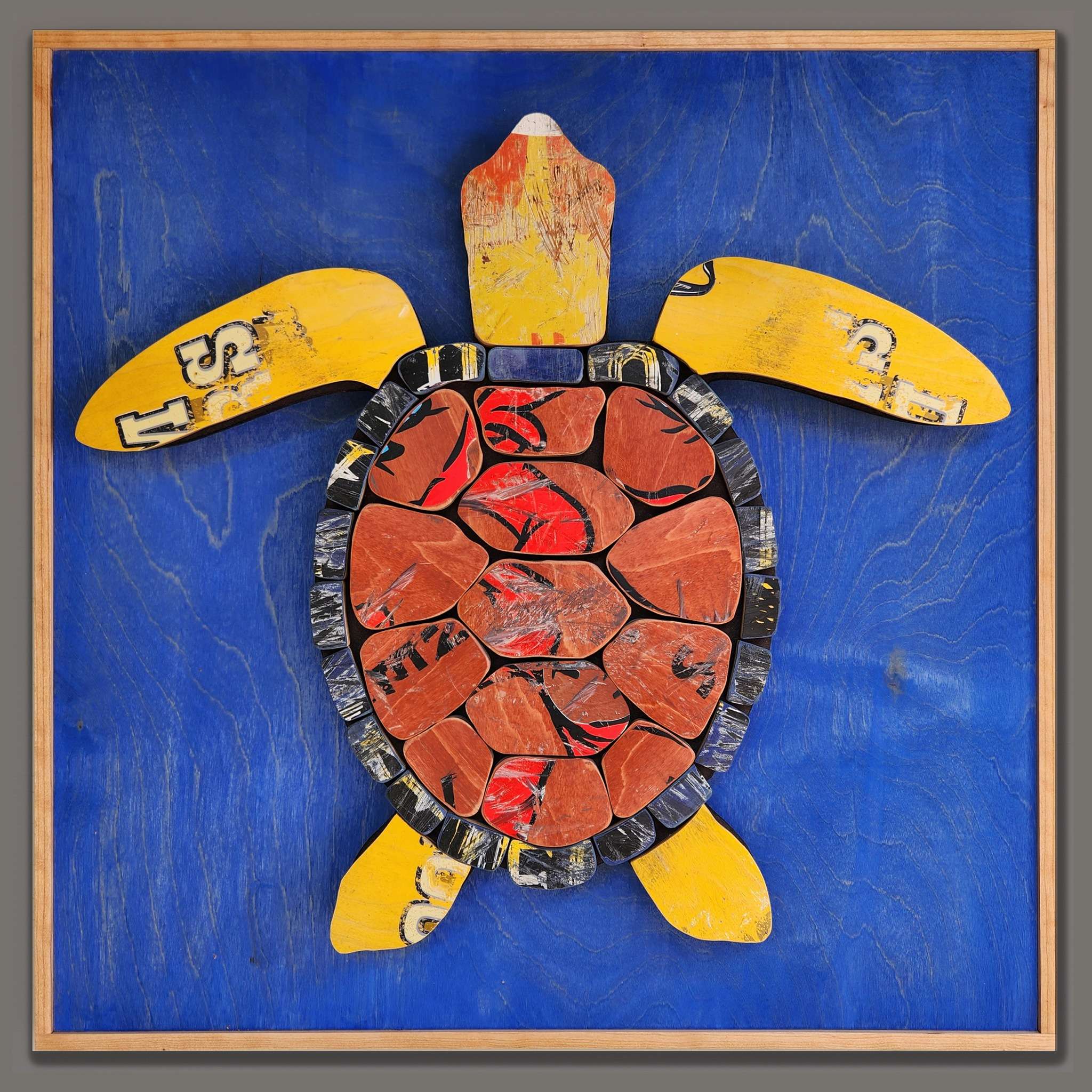 New to Edom for 2023, Steve Chalson, mixed media artist, is literal or abstract, functional or funky, depending on the day. His "no-waste" principles are informed by sustainable design values. Skateboards, off-cuts of slabs and remnants of furniture create his mid-century modern style. What he truly loves is wood, with a dash of left-brain engineering. Prices: $85 – $565.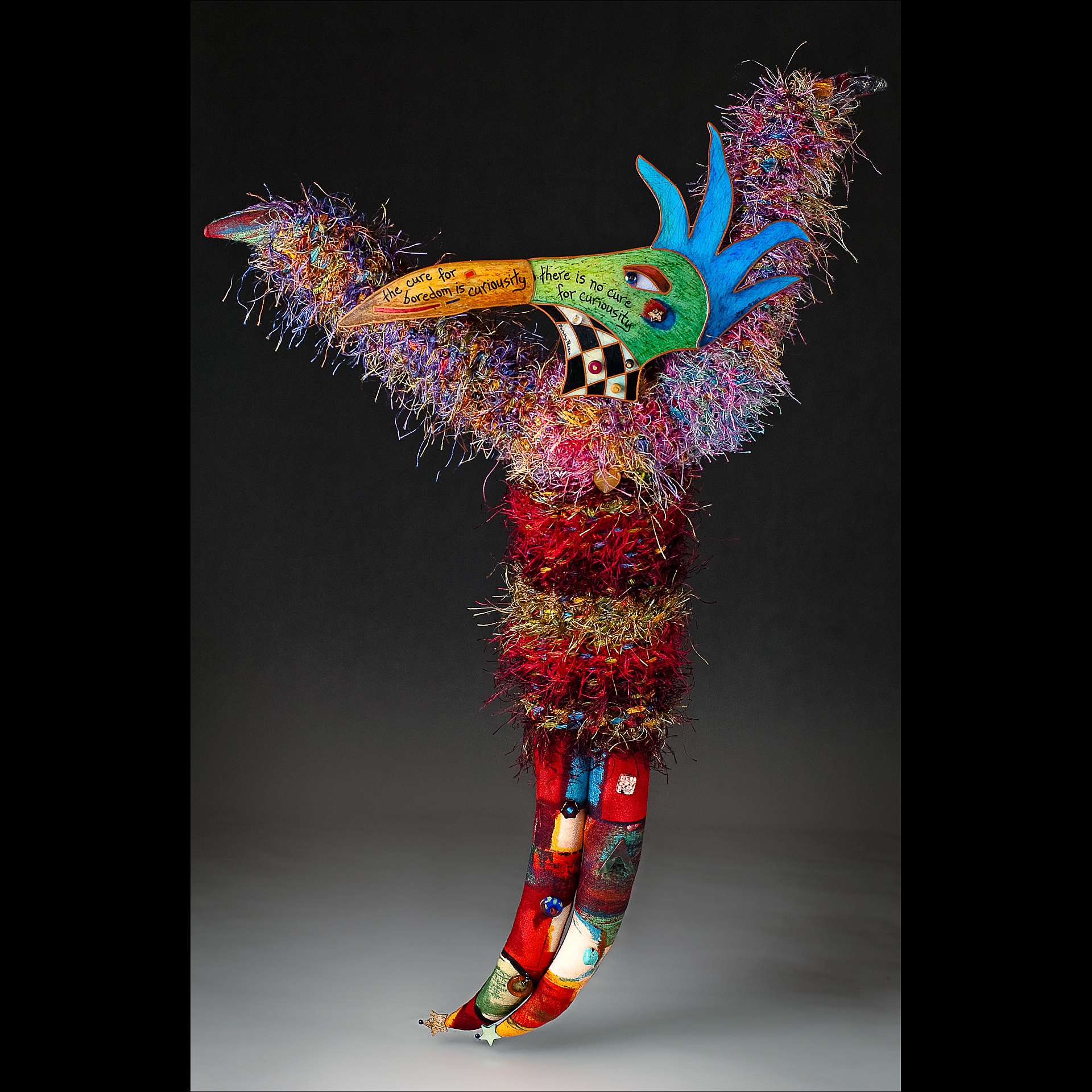 Fiber and mixed media artist Jan Byron creates her soft sculpted figures first with inspiring words on a face, then bodies stuffed with fiber, all embellished with stones, glass, metal and fiber. Her pieces are empowering, encouraging and whimsical. They completely reflect who she is. Prices: $48 – $225. See more at www.artbroad.com.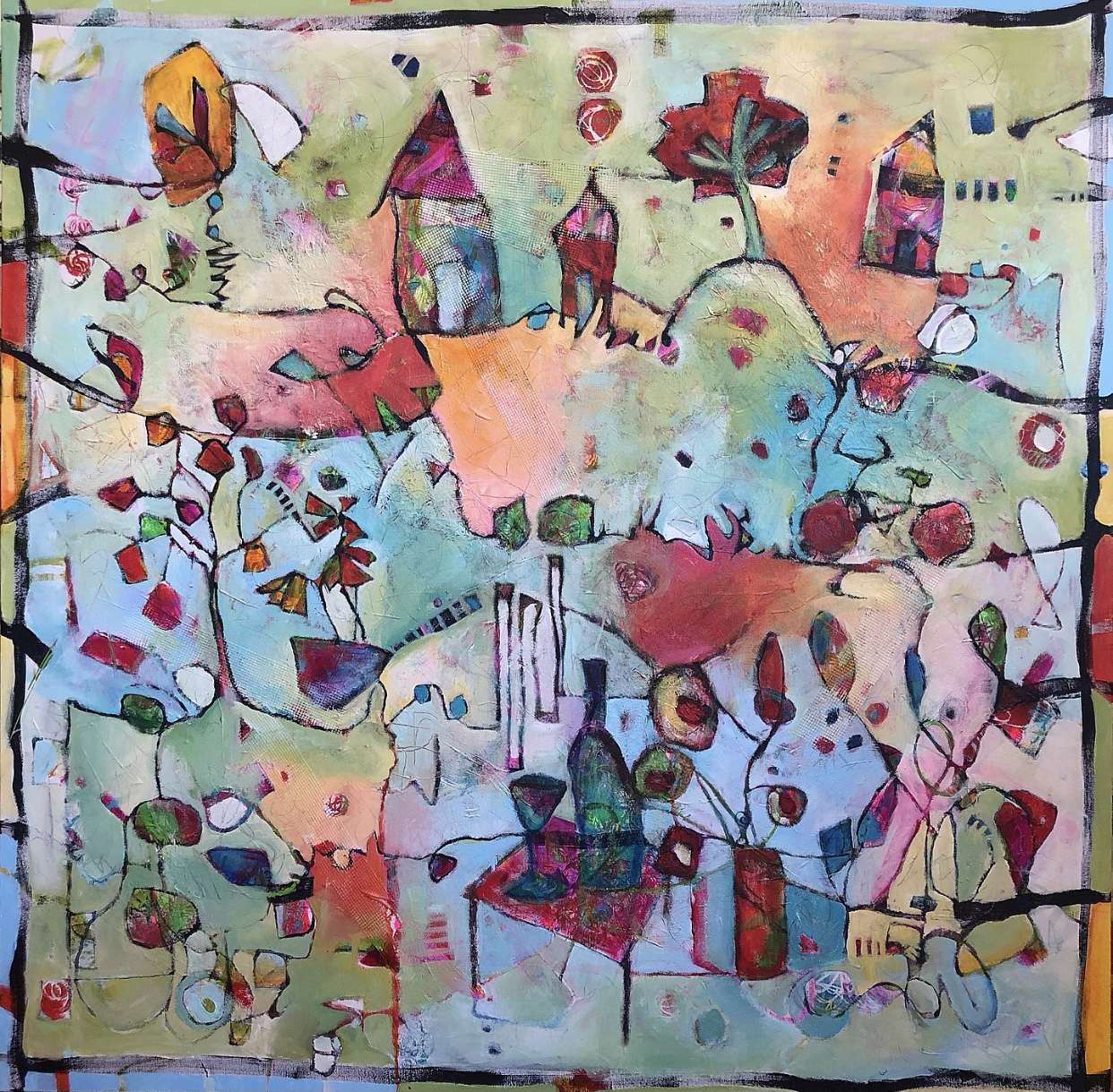 New to the festival this year, Dana Brock from McKinney, has a fascination with lines, shapes and colors. Some paintings begin with a purpose and most often evolve through layers. Lines are drawn with her non-dominate hand, creating imperfection. Prices $30 – $2,400. See more at www.danabrockart.com.
Plus many many more!
A Little History
Early in 1972, potter Doug Brown relocating from northern California, came to a stop sign, looked around and discovered the charm of Edom and its potential for an artist community.  He was a great believer in "build it and they will come", and a visionary of his time. He was able to scrape together enough cash to purchase a row of buildings in downtown Edom, along with several acres of land behind the storefronts, thus birthing his dream of forming a group of professional artists into a community.  He hung out a shingle that said "Potters Brown",  and his wife Sharon, a jeweler did the same, and soon a number of kindred spirits joined the colony and the Edom Craft Community was born.
Shortly after setting up shop in Edom, there were 2 people that need to be recognized for their patronage and generosity toward the community and to Doug, and that is Imogene and Wilton Fair, a wealthy oil family from Tyler.  The Fairs, particularly Mo, as she was called, took a keen interest in the artists, even so far as offering land outside Edom for Doug and others to build houses. Having influence in the social circles of Tyler, the Fairs brought business to Edom with their patronage which certainly helped with the establishment of the talents.
Doug seemed to have an intuitive sense about bringing people of like minds together.  He was a gentle soul,  that would foster the space and just let things percolate on their own without an iron hand in a very organic way.  He guided by example.
And come they did, filling up the storefronts, and later that year a bevy of artists assembled and plans were made for the first Edom Art Fair in the fall of 1972, on the acreage behind the shops. The sole purpose was to promote a place for the appreciation of the arts and to provide much-needed financial rewards for the artists.  Prominent artists from around Texas and adjacent states participated in the event which drew 4000 visitors.  This preceded social media by years, which is astounding, and the numbers increased along with artists over the years and the momentum carried from there.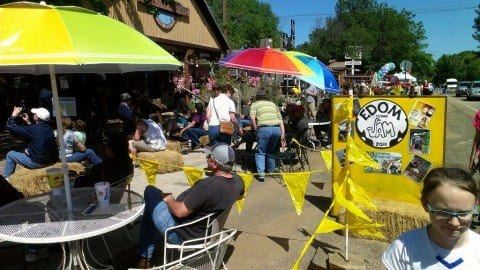 The festival gave Edom status in many art circles in the 1970's, word quickly spread and attracted other artists wanting to be included.  The press was abundant, for what a great story this made of a small town brought back to life by an influx of artists, and as Doug said,  " You just can't buy advertising like this!", and they never had to in those days, and much thanks need to be given to the Dallas Morning News for the many articles focused on the community.
Local Edomites, all 201 of them, while they had been living here all along, felt a bit spurned and angered that their town was being called a "ghost town" until the artists came, and by all the attention and fame of the newcomer "artsie- crafties", and activity.  It was not an easy road for the artists to ingratiate themselves with the locals, and many times it felt as though the line had been drawn down the center of the street, even to this day around election time it still feels much the same when things get spirited, but peace has been found after all of these years, and the influx into the local economy certainly helps. Revitalization helps everyone, and what is good for one is good for all.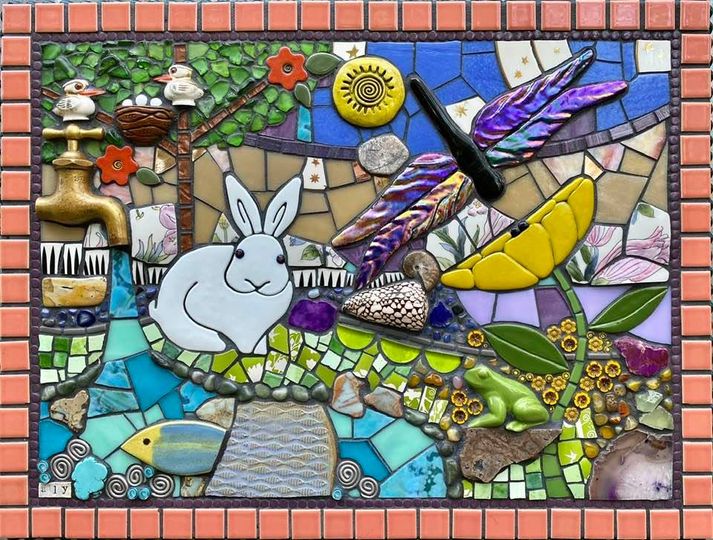 Originally the festival was by invitation only, and artists clamored for an invite over the years, when in 1993, it became a juried event, open to all applicants for submission, then artists chosen by a selection process which is how it remains to this day.  The Edom Art Festival is perhaps the longest-standing event of its kind in the state of Texas, being that it is solely produced by artists.  Although some of the founders have departed this earthly plane, Doug Brown and Marty Zewick the most recent in 2020, and others living elsewhere, Doug's wife Beth Brown remains at the helm as director with the assistance of Zeke Zewick, Edom's longest-standing resident artist of over 40 years.  Together with the help of other local artists and a slew of volunteers, it comes to life and remains much as it was 50 years ago.
It is a small festival by metropolis standards, but it fits the town, intimate where customers can chat, great food and local wine, listening to singer/songwriters.  There is a purpose to keep it a small festival, bigger does not always mean better.  You will still find potter Randy Brodnax demonstrating his raku firing as he has for many years, and Lonnie Robinson at the blacksmith forge pounding metal.  The crowds have swelled over the years, and it is hard to imagine how many lives and generations that the event has touched.  Children brought here in the 70's, are now bringing their children and grandchildren.  There have been family reunions meeting on the grounds, sharing a picnic, and what a great way to introduce the generations to art and this special lifestyle chosen by so many creative souls.
Edom seems to be a place on this earth where there seems to be a convergence, where the spiritual, creative, and magnetic energy is felt strongly.  It is a subtle thing, but if you keep still you can feel it, most times it can be as simple as the fact that you know that you felt good when you were here and you want to return and bring your friends.  Beth Brown on her first time to exhibit at the festival in 1990 felt it as she was driving into town for the first time.  "I was struck by the beauty and the energy drew me like a magnetic pull, and I thought, I need to find out more about this place."  She was looking to relocate somewhere smaller than Dallas but still with a community of artists, and a year later she was living in Edom, and married Doug Brown.  "I think Doug felt the pull as he rolled to the stop sign many years ago. He had an extraordinary gift for bringing people together, he knew if he provided the space they would come, and he knew this was the place to do it."
Zeke and Marty Zewick of Zeke and Marty Studio felt it as well.  They heard about the community and wanted to be a part of it, and after arriving in Edom in 1976, alongside Doug, helped to produce the festival until 1991.  Weaver Judy Pritchett, the long-passed original member of the Edom Craft Community, raised a family in Edom, whose children now with adult children going on 3 generations strong, still think of the town as a mainstay in their lives, with son-in-law Michael Smith being a resident chef of several establishments in the area.  Joe Pritchett says, "The artists' job is to interact and inspire, and Doug Brown was a master at this."
David Traub originally from New York, found himself in Edom in 1972, wanting to pursue the craft of blown glass.  He was welcomed with a space to do so and the community to motivate and foster that creativity and determination.  David says that for him, Edom was like the American Dream, a place to explore your craft and the perfect spot to try and eventually succeed, a place to learn your craft.  Many years later, David is a master glass artist working in Wanganui, New Zealand.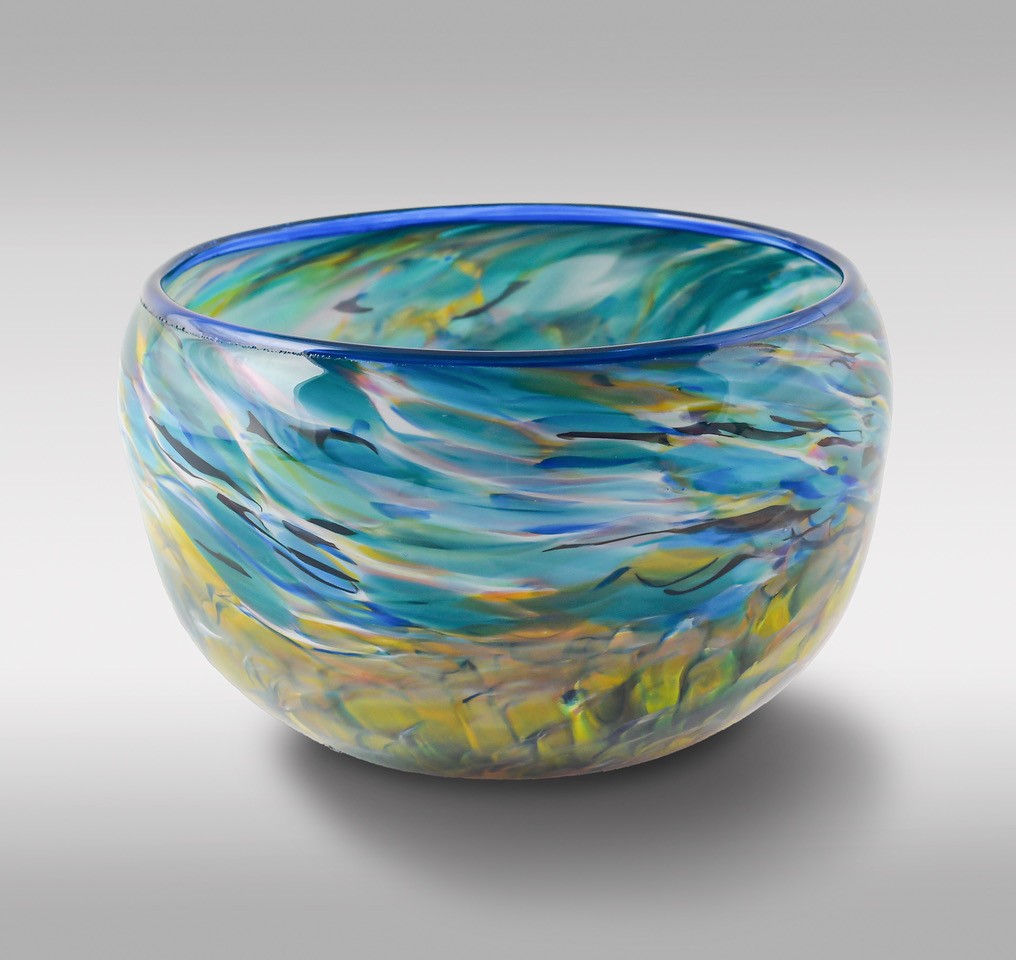 Longtime friends of the Browns, Howard and Patty Harvey arrived from California to Edom in 1972, following Doug's invitation, and proceeded to build a home and have a woodworking business in town. Howard built several homes around the Edom area. This was never a town of lazy "hippie" artists, these groundbreakers were serious about their craft, and worked long hours perfecting it. Suzanne Ray, one of the first jewelers in Edom said in 1974," We're not really a colony, or anything else.  We're each very independent and strong individuals and everything we have done here in Edom has been a spinoff of all of us wanting our own studios in a stimulating work environment."  This proves that it takes a team to make the dream.
Judy Weiser, a photographer now living in Canada said of the first Edom Fairs, "I sold many photographs, but more importantly often bartered my photos for lots of pots, mugs, blown glass, and all kinds of other items, most of which I still have."   Mr. Zewick says, "It was a labor of love, a way to help our friends to make a living, which is what it is all about."  The goal still remains that to this day, there is no outside organization that benefits, there is no admission fee, and booth fees remain as low as they can be to cover costs, but with no free advertising anymore and costs rising, it does remain hard.  Beth Brown adds, "We are surely looking for sponsors to help defray costs and the donations to our non-profit are tax-deductible, so those are most welcome."  Please visit the website or email for those opportunities to give.
So it must be said that some things never change, in Edom they do slowly resist change, but they also know that change is sometimes a necessity to thrive.  Finding those younger artists to move into town is always a mission, but imperative to the prolonged success of the town.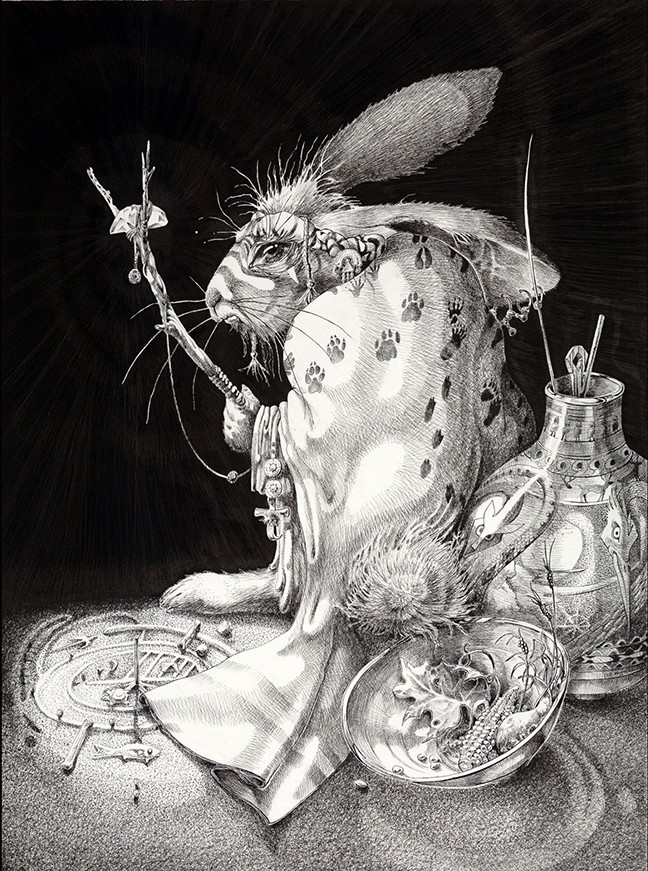 The non-profit, Edom Craft Community, is still going strong, the old guard is fading, but there is a next-generation settling in.  Potters Brown is under new ownership and reinventing itself as a clay collective exposing folks to the joy of clay with classes, and younger artists are finding their way here.  Growth is always cyclical, but new artists and makers are finding satisfaction in a way of life that was established many years ago.
So when you attend the Edom Art Festival know the history of those who came before, and that they are still here to inspire, invigorate, and fuel creative energies.  What a great thing to have available a place and an event, where you can shop and support the arts and the artists, where you can give gifts born and created of love to others, to meet the artist and establish that connection like you will never get online or in stores.  The world is realizing what is important these days, connections, beauty, joy, living an authentic life, loving what you do, and also supporting those trying to make their dreams come true.  We all need beauty in our lives, we all need art in our lives and self-expression, whether expressed by creating or by decorating your home with beauty created by others.  The time for supporting the arts has never been greater.
Doug Brown was a humble man full of many sage words of wisdom sometimes hilarious, as anyone who knew him will tell you, but one of his favorites to describe his accomplishments of fulfilling his dream was, "I am like the peanut organ grinder, I don't want to set the world on fire, I just want to keep my nuts warm."    What a proud legacy to leave for the town of Edom.
Come and celebrate 50 years of Edom.