For more events, check out EGuideMagazine.com's BIG CALENDAR!
---
Post by travelawaits.com
Located as far east as you can go trailing alongside the border of Louisiana and all the way down almost to Houston is the Piney Woods Region of Texas. Five state forests and four national forests mean tons of camping opportunities. Favorite things to do in this part of Texas are hiking, fishing, paddling the river, and camping, then the next day — repeat! The Piney Woods is like nothing else you'll see in Texas. To me, it's the most favorable of all regions with its thick pine trees, beautiful oak trees, timeless woodlands, and rich forests. I always love traveling to this area because of the unforgettable scenery.
Though I haven't actually camped at every place on this list, I have traveled many miles near and far in this area. You'll no doubt be satisfied anywhere you choose to camp, and you'll also find wonderful outdoor things to do and beautiful campgrounds in the Piney Woods of East Texas on this list.
Excerpts….
2. Tyler State Park
One of my most memorable times camping at Tyler State Park was when I took my son and niece when they were both eight years old. We stayed in a screened cabin and slept on cots that were provided. The kids fought the entire time they were kayaking on the lake, but we still had fun, and they were pals afterward. Campsites in this state park are nestled in the deep forest, and though it can get quite humid at times, especially in the summer months, the scenery and ambiance are quite enjoyable.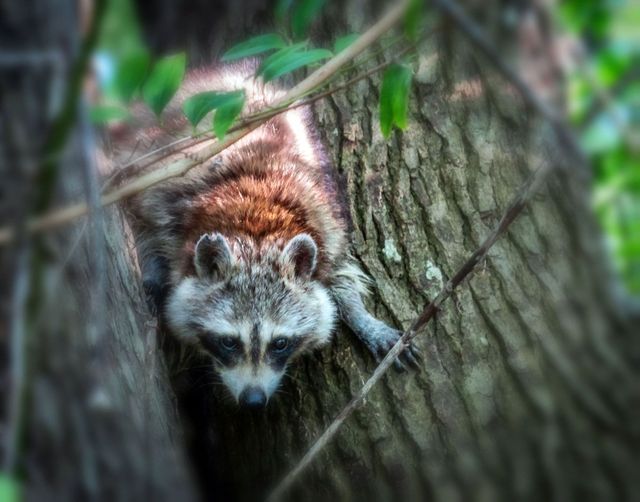 Check out this sneaky raccoon in the Tyler State Park – Texas Parks and Wildlife –

Besides raccoons, Tyler State Park is home to a number of East Texas animals, including white-tailed deer, squirrel, fox, coyote, and opossum, plus many more!

Download our brand new, FREE Adventure & Outdoor pass. It's a scavenger hunt of sorts. Every time you check into one of the adventure sports, you get closer to qualifying for a grand prize drawing. Download the pass & find out more: www.VisitTyler.com/Adventure-Pass. On your next trip to Tyler, Texas, make sure to stop by Tyler State Park and say "hi" to some of the locals. Photo by Larry Golden shared from Texas Forest Trail Region
Pro Tip: When in Tyler, the Tyler Municipal Rose Garden is a must-see. The peak seasons for beautiful rose blooms are October and mid-to-late May. If you're in the area in October, you may want to see about attending the Texas Rose Festival. I hear it is wonderful.
3. Lake Palestine Resort
I have many ties to Palestine, Texas. My papa lived there for many years, and we visited him at least every other month when I was a little girl and well into my twenties. He told me once that I was his favorite granddaughter and hoped to see me do great things in life. Depending on what type of camping you like to do, Lake Palestine Resort has an RV park and many camping options in lodges and cabins right on Lake Palestine. Boating and fishing are big-time sports there.
9. Jellystone Park At Whispering Pines
Okay, grandparents, get the grandkids together for a happy reunion and take them to Jellystone Park at Whispering Pines, located just outside of Tyler, Texas. It's a year-round family resort with a Yogi Bear theme. This is a fun-filled camping experience all grandparents need to do with the grandkids at least once! Though I've not camped here, my grandson has with the other side of the family. I did take him and picked him up, and I have to say, I wished I had been invited! The cabins are quaint, but the outdoor fun I saw was even better. Kids were jumping on this outdoor balloon-type thing, swimming in the pool, and playing on the playground. I'd say the best time to go is in the summer.