It's that time of year – time to celebrate patio season by sitting outside and enjoying a patio. From garden atmospheres to cocktail bars and restaurants with expansive outdoor spaces, these establishments offer al fresco drinking and dining along with the opportunity to soak up some vitamin D.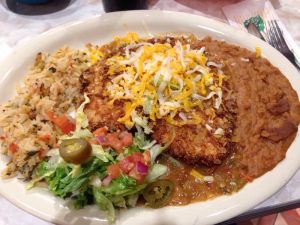 Whether you are about grabbing a drink or just enjoying a meal and the cool spring atmosphere, Tyler has something for your tastes.
If you are seeking breakfast, brunch, afternoon cocktails, or a nice relaxing dinner, a local patio is a great place to spend the cooler springtime. Before it gets too hot, check out some of our reader's favorite fun patios in Tyler.
Chuy's Mexican Eatery (5935 S. Broadway, Tyler (903)509-2489) – Serving "big as yo' face" burritos and other Tex-Mex dishes, Chuy's is a great place to unwind after work.
The Elvis Green Chile Fried Chicken is to die for!
Happy hour specials include drinks and food as well as a free chip bar inside in the bar area. The patio is covered by a palapa and has wind windows and fans which makes it nice year-round. Also, large groups can easily sit outside on the patio. Inside is a fun, kitschy, Elvis-heavy setting.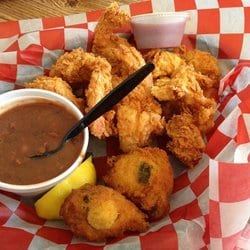 The Catch (1714 S. Beckham, Tyler, (903)596-8226) – The cajun-inspired menu at The Catch brings locals and tourists in by droves and the outdoor patio is a great place to stretch out and enjoy a huge pan of boiled crawfish.
This no-frills, laid-back seafood restaurant's covered patio has picnic-style tables, ceiling fans that will protect you from the wind and sun. The Admiral's Platter is great to share family-style at the table.
All of the dishes come with huge portions with the plates are piled high. The shrimp po'boy rivals New Orleans with large fresh fried shrimp and remoulade sauce all combo'd to make a great sandwich.
Dakota's Chophouse (4803 Old Bullard Rd., Tyler, (903)581-6700) – Dakota's offers choice steaks, seafood, and global wines served in a sophisticated but never stuffy setting inside, but if you are wanting something more casual, we suggest sitting outside on the lovely patio. Live music makes for an overall enjoyable experience. It doesn't get better than relaxing at Dakota's on the patio on a Saturday night. Oysters Rockefeller are some of the best we had.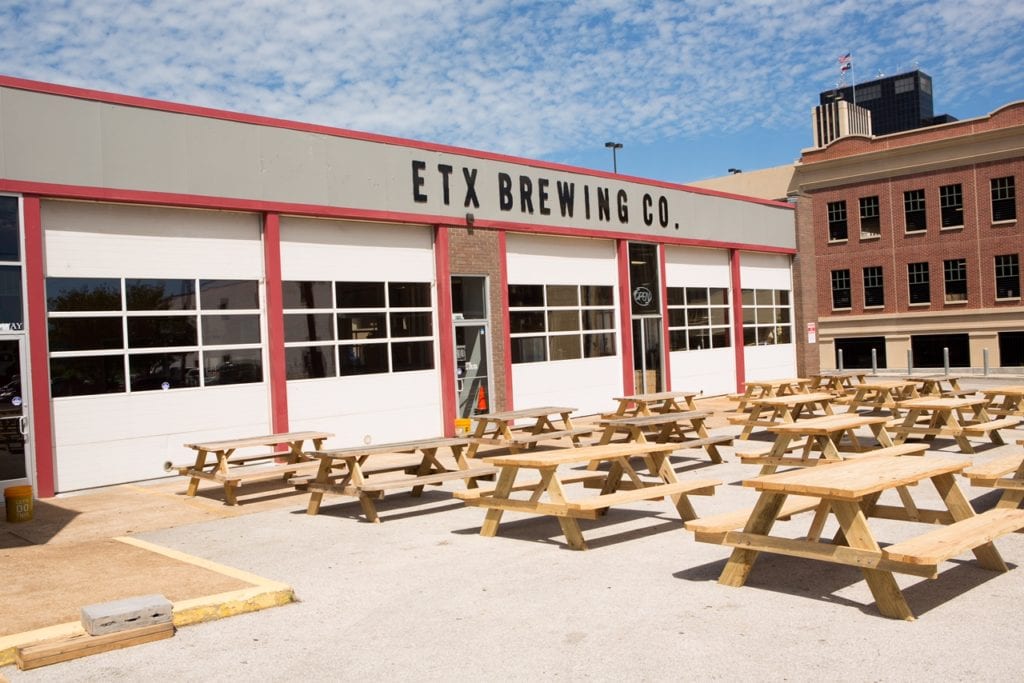 ETX Brewing Co. & The Porch (221 S. Broadway, Downtown Tyler, (903)630-7720) – ETX Brewery has been open for a while offering craft beers, tables inside, picnic tables outside, and a wonderful atmosphere reminiscent of the Austin vibe.
When it's warm outside, they will open the garage doors to combo the two spaces, making it expansive and open.
Now, The Porch, located next door to ETX Brewery is open serving food with a unique menu to accompany ETX's Brewing's locally-made craft beers.
The on-site brews are often seasonal so try them all with a "Flight." We love the Brick Street Blonde (a classic American blonde ale that is light, crisp, and lightly hopped with a mild maltiness), the Downtown Cherry Brown (a brown ale bearing notes of tart cherry), Hitching Post (a mellow amber ale with a faint caramel influence), and the rich Coffee City Stout (a dark beer made with a little locally roasted coffee and Belgian chocolate).
The Grove Kitchen & Gardens (3500 Old Jacksonville Hwy., Tyler, (903)939-0209) – "Where all ages can come to play outdoors!" You can dine outside, in the main dining area, or try their barbeque in its own building,
The Smoke Shack. Upon entering, you'll see a large fire pit, lots of trees, and tables of all sizes located all around – some in the shade, some under umbrellas, and even some in the sun.
There's comfortable cushioned couch-style seating as well. Most nights there are musicians performing. All of this creates a nice isolated outdoors feeling even though you are still in town.
There is also a gated roomy, kid-friendly lawn area for your kids to run off some of that energy.
Stanley's Famous Pit BBQ (525 S. Beckham, Tyler, (903)593-0311) – Where all the cool kids go! This unpretentious barbecue joint and bar offers open outdoor seating, excellent barbecue, live music, and happy hour Monday-Friday and all day on Wednesdays.
The menu has beef brisket, ribs, chicken, turkey and sausage, as well as stuffed potatoes and Frito pie. The famous Mother Clucker (smoked chicken thigh meat with spicy mayo, cheddar and fried egg on jalapeno cheese sourdough) as well as the morning specialty, the Breakfast Brother-in-Law (a grilled hot link with cheese and scrambled eggs on a bun) are good choices. There's live music on most Fridays, a list of delicious cocktails, and it is best enjoyed at a picnic table outside in the sun.
Stanley's patio is covered with sunshades to help keep things cool.
Republic Icehouse (3807 University Blvd., Tyler, (903)504-5860) – This bar and restaurant has a large patio that accommodates both small and large groups with picnic tables and quaint small cafe-style tables.
Most nights they have live music inside. There are TV's everywhere if you are wanting to catch a game. Outside is more quiet and intimate.
Republic's pizzas are great, their burgers are on point, and the beer is always cold.
Rick's on the Square (104 W. Erwin St., Downtown Tyler, (903)531-2415) – Rick's features southern seafood and steaks in a vintage, brick-walled space with a patio and live music on weekends. Happy hour is offered weekdays.
Villa Montez (3324 Old Henderson Hwy., Tyler, (903)592-9696) – The Latin-inspired menu offers seafood and meat dishes, plus comfort classics, all presented in the swanky old-world charm atmosphere of a hilltop mansion.
The huge deck is a great place to have a casual meal outside among the treetops.
You will not have a care in the world when you leave this expansive balcony-style outdoor area. The Chimichurri Steak, sea bass, and margarita shrimp are delicious.