Chris Wallace & The Delta Blues: Delivering The Goods
By Johnny Griffith
There are voices…then there are voices. The kind that reaches down into your soul, grabs it, and pulls it out through your ears by sheer will. The kind that the blues gods reach down and bestow upon an individual very rarely, and even then, most don't know what to do with the power of such a gift.
That's Chris Wallace and The Delta Blues!
Originally from East Texas, Wallace picked up the guitar at an early age and spent most of his formative years listening to such blues essentials as Buddy Guy, BB King, Muddy Waters, Howlin Wolf, Taj Mahal, and many others. Along the way he discovered he also had a voice that could call down the thunder and the lightning which, when combined with a natural blues guitar talent, created an experience that one must witness in person to fully appreciate.
Wallace eventually joined forces with three other equally gifted musicians and formed The Delta Blues and they've been burning up stages in the area ever since. The band is comprised of Robert Cheek on drums, Garland Moore on bass, and Steve Howell on lead guitar. Their bio page reads like something out of a comic book, with these cats as the obvious heroes of the story.
"Chris is from East Texas originally. He got into music early at the age of 5 or 6 when he started learning to play guitar. Chris is usually spending time with his wife and 2-year-old daughter when not doing music. His influences are Buddy Guy, BB King, Muddy Waters, Howlin' Wolf, Taj Mahal, and so forth."
Robert Cheek is originally from Mabank, Texas. He moved to the Tyler area to pursue an education in music as a percussionist at University of Texas at Tyler. He first got involved with music by joining band in the 6th grade. He taught drums and percussion as an assistant band director at Frankston ISD in Frankston Texas. "Music has always been a hobby and a passion so I turned it into a career. Other than that, I spend my time with my wife Brandi and three boys Tristan, Walter, and Adrian." Roberts influences are Levon Helm and The Band, Benny Greb, Carter Beauford, and Stewart Copeland, just to name a few.
Steve Howell has been playing guitar since he could hold one. Classically trained in music, and a music teacher at Rockwall Schools, he has brought a great amount of  knowledge to the group. Steve has a passion to write songs which is great, because The Delta Blues has a lot of things coming for 2018 in that regard. He loves everything music. Steve's influences include Son house, Robert Johnson, Muddy Waters, Billy Gibbons, and the likes.
Garland Moore was forged out of what can only be considered pure grit, raw talent, and brilliant Irish whiskey. Learning to play guitar with his friends and jamming in the funky bars in and around Waco, "G-Mo" made the move to bass and never looked back. He earned his stripes through various musical excursions in the 60's, 70's, 80's, 90's and onward thru the fog. In his free time, Garland loves to shoot his guns, fish, and restore classic cars. His influences are Carol Kay, Harvey Brooks, Ray Brown, Bob Mosley, Edgar Mayer, and Donald Dunn.
I recently sat down with The Delta Blues to get a better idea of how they came to be and where they are going:
Johnny: How did the band meet?
The Delta Blues: Chris and Garland ventured in other project together for several years until finally landing Robert and Steve today that create a sound like no other "blues" band around.
Johnny: Why "The Delta Blues Band?" Was there intent with the name selection, or did it just sound catchy?
The Delta Blues: There was intent on the name and we had many to decide from along the lines of "blue or blues something another," but the Delta Blues Band stuck with us, so we just rolled with it.
Johnny: Why that style of music? It's certainly not a style that gets the most real estate on stages around the area. What led you to your sound?
The Delta Blues: We all love the blues and what it represents. Our foundation is blues but it's kicked up a notch. So even though blues isn't a huge market here, we didn't want to play one certain style just to get gigs. Chris' vocals and style of playing is really the center of our sound. He has that 'bigger than life' voice and stage presence that captivates an audience. His upbringing is as blues/rock/country as it gets. His dad is a prominent musician in his own right and the blues just seem to run in Chris' blood. Mix that with the awe-inspiring talent and experience of Steve and Garland playing guitar and bass, with a little simple groove and shuffle from Robert on drums, and you got The Delta Blues.
Johnny: Who are some of the significant influences musically for the band?
The Delta Blues: Buddy Guy is a big one for our front man Chris.  He makes the shows fun and entertaining for the crowds. We just love any band that puts on a show when you see them live. For us, we can hear the music on a cd at the house but if you can't put the mojo on the crowd then you are doing it wrong.
Johnny: What was your first gig as Chris Wallace and The Delta Blues Band?
The Delta Blues: The Purple Pig on 155 was our first gig as CW and the DB Band. That was our knocking the dust-off gig as they say. It was a small gig maybe 30 to 40 people. We had a great time. Mighty fine BBQ too!!!
Johnny: In an area that is traditionally dominated musically by country and rock acts, have there been any challenges getting gigs and building a base for a blues band?
The Delta Blues: There is a challenge getting it up and running. In the beginning stages it is tough to get gigs. But, once the show is over we always get welcomed back. There are a lot of places around here that need to hear us. We put on a hell of a show. It's getting these clubs now days to take a chance on something different that's challenging
Johnny: Are you guys typically local to the East Texas area or do you venture out into other markets at this point?
The Delta Blues: We've stayed pretty local, but I think we'd all be willing to travel some. It would depend on if the situation was right all around and we all agreed to it. We generally make gig decisions as a group. We clear everything through each other. For instance, pay, lodging arrangements, and schedules would all have to line up to everyone's expectations before taking on any gig no matter the distance.
Johnny: What has been the most memorable gig for the band to this point?
The Delta Blues: We must give XLN a shout out. When the DB Band plays there, it's just pure chemistry between us and the crowd. We always bring the house down and have a few people that love to get up with us and sing. We want every gig to be memorable for our audience. You get people involved and engaged in your show and they take it home with them. But our motto is "We give our all whether there are 3 people in the crowd or 300" But if we happen to get the 3, that gives us a chance to really mold any new songs we have never done live or just put on the one hell of a Jam.
Johnny: What does 2018 have in store for The Delta Blues? Any projects or tour plans?
The Delta Blues: We are working on an all original CD now. We have 5 or 6 great tunes so far. We want to do about 10 songs for this CD. We are hoping that the CD will help us move to more gigs to keep us steady through the year.
Johnny: For new fans, what can they expect at a show with The Delta Blues?
The Delta Blues: For our new fans, you can expect to have a good time. When people go out to a bar or club they want to hear songs they know. We can read the crowd quick and with our extensive set list we can mold it to anyone in the crowd. It doesn't matter if you like country, rock, rap, blues, or catchy TV show theme songs we will deliver an experience that makes you want to come back and see us.
Chris Wallace And The Delta Blues can be found at: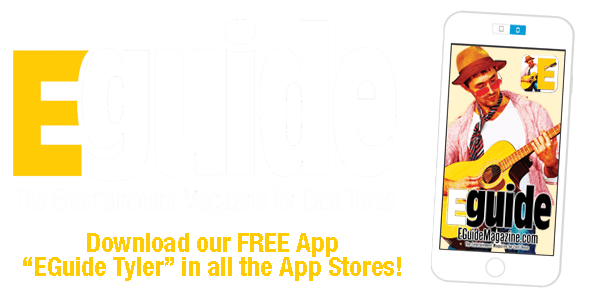 EGuide Magazine's Gig Guide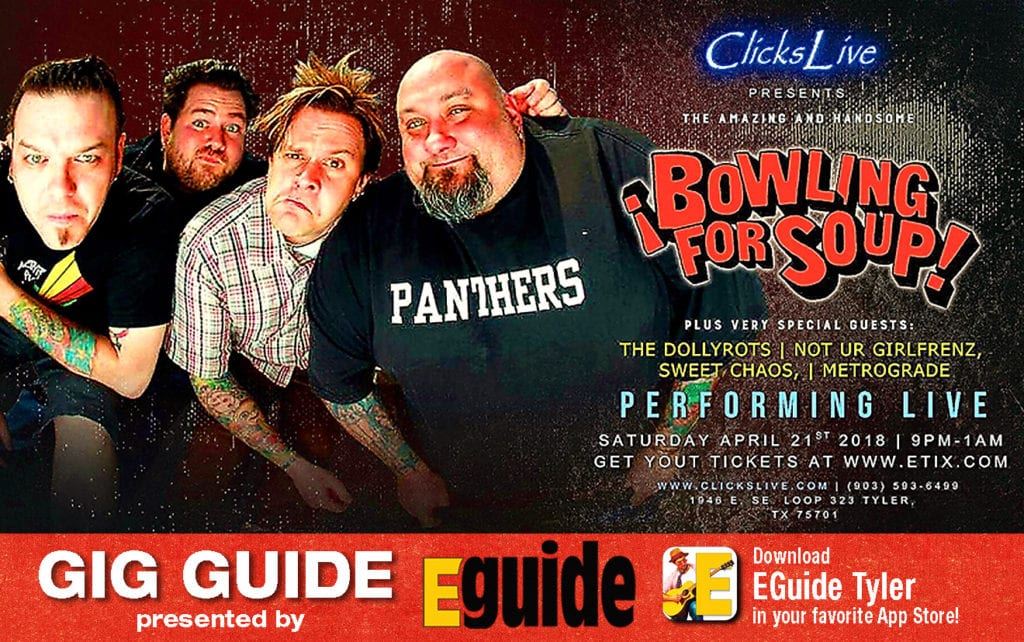 April 21st: Mouse and the Traps and Bowling for Soup
Upcoming Concerts
April 21st (8pm) – Mouse & The Traps – After more than 50 years together, Mouse & the Traps continue to be one of the best examples of "Texas Rock & Roll." Formed in Tyler, Texas in 1965, Mouse, Nardo, Dave & Larry continue to give the public just what they want – great rock and roll. Whether you remember "Public Execution," "Hit the Bricks," or not, Mouse & The Traps has something for everyone. Tickets are $20-$25.
April 21st – Bowling For Soup at Clicks Live (8pm) – American pop-punk band Bowling For Soup emerged in Wichita Falls, Texas in 1994, but have since relocated to Denton Texas. Tickets are on sale at the door for $19, and may be purchased in advance online for $15 at etix.com.
Blind Pursuit: Chasing Dreams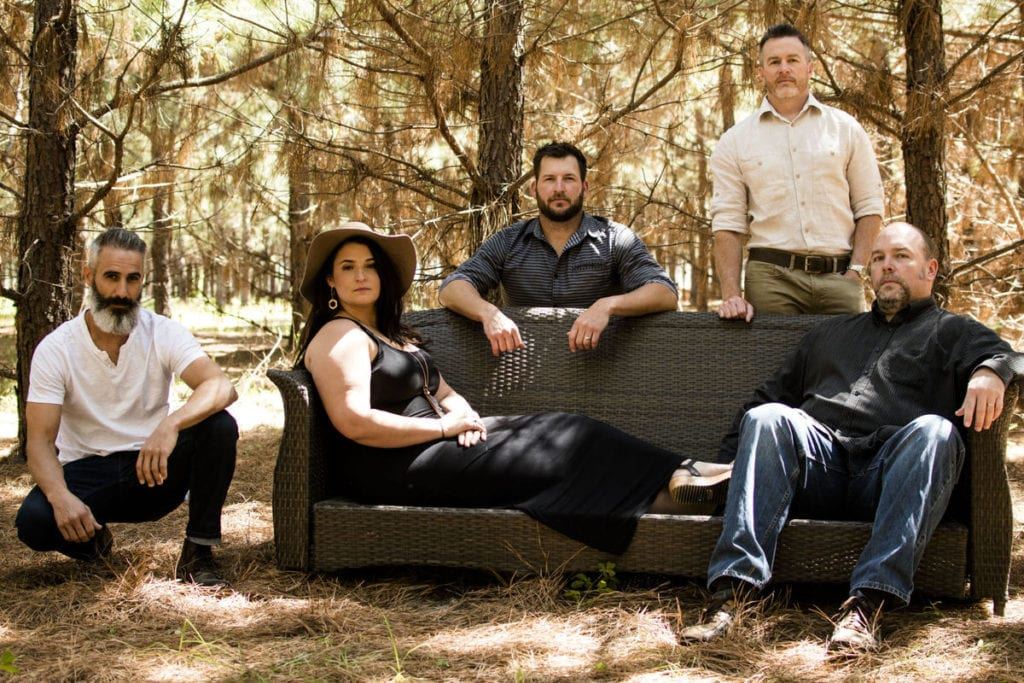 By Johnny Griffith
In science, there is a phenomenon known as the Butterfly Effect which states, that in a complex system, small changes in one place can have a larger effect elsewhere. This is best illustrated in the hypothetical example of a butterfly flapping its wings in Mexico and causing a hurricane in China.
A more practical example of this would be the formation of the band Blind Pursuit, based out of Palestine, Texas. An amalgamation of sound and styles brought to the table by each individual member, Blind Pursuit is the end result of five people from different backgrounds and geographical origins ending up in a small town in East Texas and magic happening.
Hailing from Southeast Louisiana, Maine, Cayuga, and Harmony, the odds of these five people interacting were astronomical, but small changes had large effects and Blind Pursuit has been a staple in the east Texas music scene for three years now. We recently tracked them down to get to know them just a little better.
Johnny: Blind Pursuit has been playing gigs around East Texas since 2015. What was the genesis of the band and what is the current line up?
Blind Pursuit: Our first show was February 28th, 2015 opening for our good friends Blacktop Mojo at Click's Live in Tyler.
Our current lineup includes Marc Mitchell on drums, Craig Jones on bass guitar, John Reed on lead guitar, Katie Reed with lead vocals, and Michael Jones on lead vocals and acoustic guitar.
Craig and Katie hail from Cayuga, Texas. John was raised right down the road in the Harmony Community just outside of Palestine. Marc migrated from the great state of Maine; and Mike spent most of his time about 45 minutes southwest of New Orleans, Louisiana. He has been in Texas since 1998 and spends his time filling in behind the bar at Pint & Barrel Drafthouse in Palestine, and working construction. He met John and Katie again in 2013. John and Katie own Reed Construction where John builds custom homes and Katie does interior design. Craig owns Oak Floor Supply in Tyler, Texas and Marc is in marketing and communications and sometimes moonlights at the Appleton Coffee House.
Johnny: How about the name – there's a lot to be said in that name. What does it mean to the band and where did the idea come from?
Blind Pursuit: The name Blind Pursuit stems from the belief that we are all pursuing something, whether it be chasing dreams, running after love, or following your passions; at some point, it takes a blind leap of faith to achieve something truly great. In all actuality, we started with the word 'Pursuit' and since we had no idea of how or where we were going or how to get there, 'Blind' seemed like the obvious choice.
Johnny: Blind Pursuit has a pretty eclectic mix of sounds in your catalog but how would you describe 'your' sound?
Blind Pursuit: Wow! That's a great question, one that we've been asking for quite some time. We play what we love. We are a varied group of musicians with different musical backgrounds and tastes, and we play what we would like to hear if we were sitting in the audience. Our own sound stems from songwriting, which is mainly done by our lead singer Michael, and so it definitely has a soulful, emotional style to it, and has a layered Indie rock feel. You can hear a little bit of our southern influences layered in as well as the obvious differences of having two lead vocalists. So if you wanted to pigeonhole us into a specific genre, I would say we fall into the Indie Rock genre, just because it encompasses such a wide variety of sounds and musical stylings.
Johnny: How much of your show is covers versus originals these days?
Blind Pursuit: After the release of our debut album "Offramp," we do about ¾ covers and the rest originals. New material is constantly being added and we hope to shift the number of originals to a larger segment of the show.
Johnny: About how many shows does the band try to play a month?
Blind Pursuit: We're currently averaging five shows a month but we are always looking to add to that.
Johnny: Are most of the gigs in the east Texas area or do you travel out of the area?
Blind Pursuit: The majority of our shows are in East Texas. We do travel to north and central Texas on occasion and we are hoping to broaden our travel radius this year.
Johnny: What are you most proud of as a band?
Blind Pursuit: Our album, without a doubt. We feel like it is such an outpouring of who we are and our evolution over the past couple years. It's like we have given birth to our own child. So much love, nurturing and hard work has gone into this project. Our resources and time have been singularly focused towards this and we could not be prouder of how it has turned out. We worked with so many great musicians and our Producer, Phillip Moseley was a great asset. They have been invaluable in helping us birth this album.
Johnny: What has been your favorite moment, on stage or off, as a group so far?
Blind Pursuit: I think it has been a thousand small moments of connection with our fans. We've heard stories where our songs touched someone going through a divorce, or something we sang really resonated with someone going through a tough time, and you just stop for a second after the mad rush and adrenaline goes away, and you think about how you're affecting people and the connections you're making. When we see people singing along with our songs, grabbing their person and dancing, when you see an emotional reaction – that's the good stuff, the reason we do what we do.
Johnny: What is in the works for the year?
Blind Pursuit: We've got another handful of songs and hopefully, that will translate into a new project as well. Whether the next step is an EP or a full-length album is yet to be determined.
Johnny: What's in the water down in Palestine, between Blind Pursuit, Blacktop Mojo, Kolby Cooper, and others… seems like Palestine has become a serious music town. What's your take on it?
Blind Pursuit: Every once in awhile, "magic" happens in the most unlikely of places. If you've seen the documentary on Muscle Shoals and the music that came out of that small studio in Alabama, then you kind of have insight into the madness behind the magic.
All these acts from Palestine are backed by the most awesome community of people who rally behind us and get the word out, grassroots style. The people here truly love music and they believe in us, or we wouldn't be able to do what we love. We have a connection, not only through the town we're from but through our producer and the studio we've all recorded at, Audioworx.
Johnny: What experience do you hope first timers will have at a Blind Pursuit show?
Blind Pursuit: Someone recently left a review on our Facebook page that sums it up perfectly: "Bet you will leave their concert feeling like your soul is a little more free than when you walked in." We hope that everyone will leave feeling a little lighter and a little more connected to their fellow man. In a world where we are bombarded with distractions, we hope people can come and reconnect and feel more human than when they came in. We hope the love and passion that we have for life and music can be felt and translates well to concert goers.
Blind Pursuit can be found at facebook.com/Blindpursuit and blindpursuit.com.