A Spiritual Journey of a Great Artist and Peacemaker: Ruth Drayer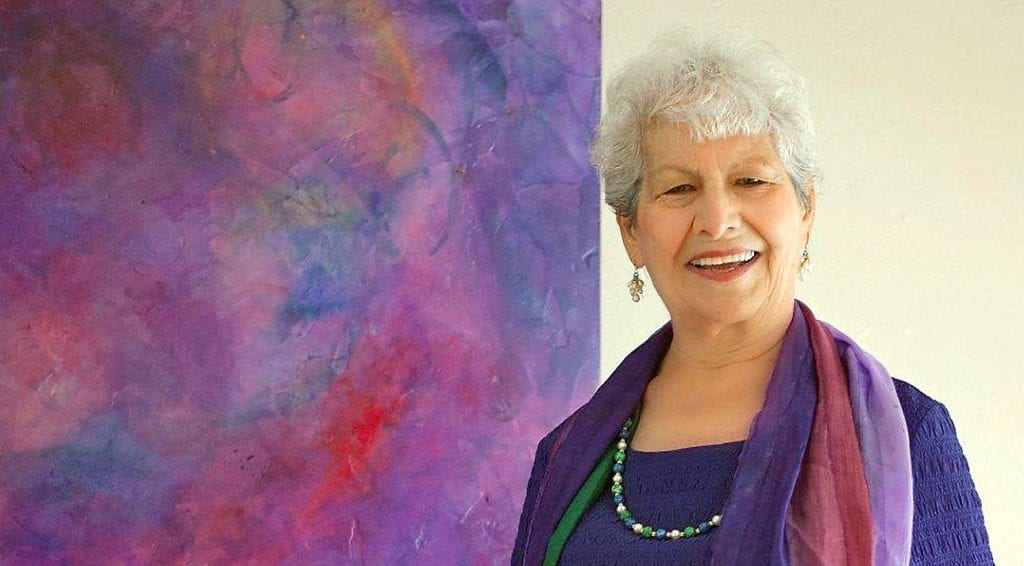 "There is only one corner of the universe you can be certain of improving, and that's your own self." – Aldous Huxley author of "Brave New World"
By Derrick White
"Where there is peace, there is culture; where there is culture, there is peace." – Nicholas Roerich.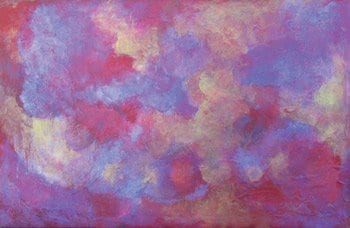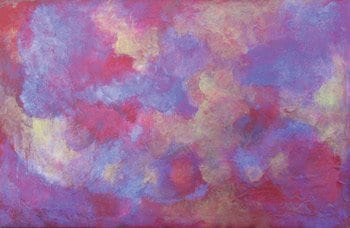 I believe people come into your life for a reason and one of the biggest blessings of being an educator is how many lives cross paths with my own. I was privileged enough to meet and befriend a Tyler Junior College student a few years ago and I have to say, if more people on this seemingly imploding planet were more like Ruth, things would be a lot better. Take my word for it. Local east Texas artist, author, numerologist and peace advocate Ruth Drayer has a warm, positive personality, an inner glow, and an eclectic background built from life experiences not formal education. She always knew she was an artist even though her early home life was, in her words, a battlefield and wasn't conducive to creativity. She says she spent most of her early childhood hiding. When Ruth began college in Washington, DC, where she had grown up, she intended to teach art but instead she quit school and married a sailor whose life happen to cross her path. By the time her husband was discharged from the Navy and enrolled in medical school, Ruth was working full-time and was the mother of two children. Still she continued artistic pursuits and worked to brighten their home with color.
Years later, with four kids and a husband starting his private medical practice, Ruth took a local Continuing Education ceramics class and learned to work in clay. Ruth enrolled at the University of Texas at El Paso and took several art classes, and that's when the magic happened. Unfortunately, then came turmoil. Ruth's family experienced divorce. "I had to go to work in a florist shop and was trained to do weddings, and I learned the rules of design and discovered I had a natural gift for color," states Ruth. She remembers, "My life became very hectic after my divorce."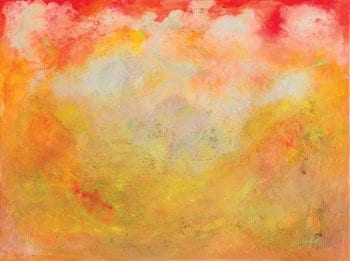 "As you simplify your life, the laws of the universe will be simpler; solitude will not be solitude, poverty will not be poverty, nor weakness, weakness." – Henry David Thoreau.
Later, living in Santa Fe, New Mexico, Ruth owned an art gallery, managed another gallery, wood-burned designs on sheepskin coats, studied interior design, created rock gardens, and then traveled to Europe. "In Italy, I saw the great value of knowing art history as I recognized so many things I'd studied. I went to many museums, churches, and galleries throughout Europe, and by the time I got to see some of the work of the French Impressionists, I understood the controversy they had created with their brush strokes visible all over their canvases instead of the exact, precise, smooth brush strokes of earlier painters. I then studied color healing, color theory, and read everything I could find on color," says Drayer.
It was in Italy Ruth realized she could put up with any inconvenience if there was beauty around. "This idea drew me to the work of the Russian visionary artist Nicholas Roerich, who believed beauty speaks an international, global language. If people were educated to the importance of art, we could all live in a world of peace. He was called a master of color and during the next 15 years I researched and wrote his biography, 'Nicholas & Helena Roerich, the Spiritual Journey of Two Great Artists & Peacemakers.' I saw many of his 7,000 pieces. It was his use of color that fascinated and inspired me most," asserts Ruth. Nicholas Roerich established the peace pact, an international agreement allowing any nation to protect its cultural or artistic heritage with a symbolic banner, the Banner of Peace. The pact states, "Educational, artistic, and scientific institutions shall be protected and respected by belligerents without any discrimination. Thus, any site of cultural activity around the world can fly the Banner of Peace to declare neutrality, independent of combatant forces, and protected by international treaty."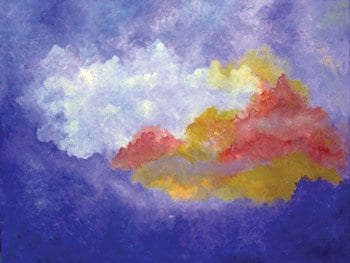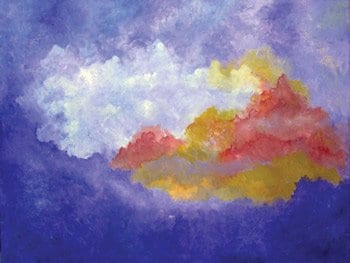 After writing and publishing a book on the Roerichs, Ruth began to find peace and tranquility in painting. She was drawn to non-representational art. "I wanted permission to paint without knowing what I was doing," she says. Ruth adds, "It's all a voyage of discovery, just like life."
Ruth Drayer works in acrylics and builds up layers on the surface of the canvas. She uses texture to add extra elements then paints a spiritual symbol or word like love, peace, harmony, etc. which then gets masked and hidden. "Painting has opened another world for me. My art allows me into dimensions I'd never reach in any other way. I'm still fascinated with color, and I get very involved with each brush stroke and how it interacts with the one next to it. It has been so fascinating to see how much my work grows with a life of its own. I see my earlier work and wonder how I did it and wish I could do more, but I've never been able to reproduce anything I've already completed," states the artist.
Artists who influence Drayer include Stanton McDonald Wright (American, early abstract painter), Nicholas Roerich (the aforementioned Russian painter, writer, archaeologist, theosophist), Wassily Kandinsky (Russian painter, art theorist and groundbreaker in purely non-representational painting), and Marc Chagall (Russian-French artist and modernist known for his color and dreamlike images).
"I'd say the most important advice I could give is to paint and create for you. When I began, I called my works 'no thing' (no object) paintings and I was embarrassed about what people would say when they saw them, and I shared them with very few. But when I had 12 completed, I had my first art show. My favorite compliment was from an artist friend who said I painted 'nothing' better than anyone she'd ever seen," beams Ruth Drayer, artist and peacemaker.
Check out this artist of visions and dreams at www.ruthdrayer.com or find her on Facebook while you still can before she moves back to New Mexico to paint, live, dream, and receive love and support from her community.
"He who lives in harmony with himself lives in harmony with the universe." – Marcus Aurelius.
* Obviously a borrowed title.
Peace out!
.

Lauren Pitre: Inside the Artists Studio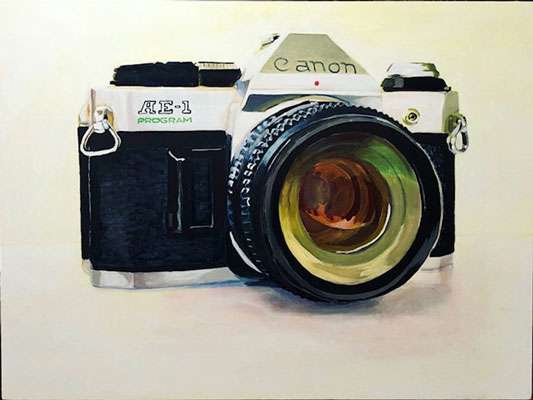 Painting the Town: Lauren Pitre
Derrick White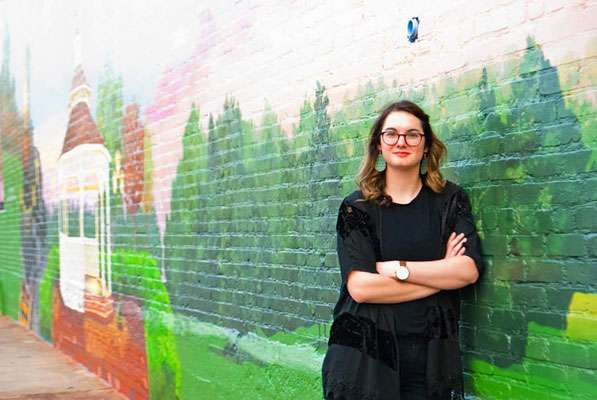 "I can say without a doubt art has brought me confidence. I always struggled with confidence growing up but it seems after each milestone I pass within my art career I gain more confidence, in particular with my murals," affirms local artist Lauren Pitre. You may have experienced Lauren's work even if you were not aware of it at the time. If you've been to the Longview Mall, downtown Mineola, The Discovery Science Place in Tyler, or the Lindale Candy Company, you probably noticed her dynamic and engaging murals. Lauren received her Associate's degree in Art from Tyler Junior College and received a Bachelor's degree in Fine Art from the University of Texas at Tyler, focusing on painting. She prolifically creates beautiful and enchanting still lifes of antiquated objects but during her time at UT Tyler she gained experience in painting murals. Now murals and commissioned portraits are Lauren's full-time job.
"The Importance of Community Murals" is an online article from the website productcare.org stating, "From the 30,000-year-old animal murals in France's Chauvet-Pont-d'Arc Cave to Banksy's Balloon Girl, murals have been part of our cultural landscape for thousands of years. Community murals are a mode of expression for artists in every graphic style imaginable: abstract, photorealistic, surrealist, expressionist and graffiti, to name just a few. Most recently, murals have become community centerpieces bringing people together to celebrate the heritage and history of their home. They create vibrant neighborhoods people want to visit and live. Murals attract new local businesses, help bring customers to pre-existing locations, and boost the economy of an area. Murals encourage people to slow down and admire your surroundings. Part of slow living involves appreciating our surroundings and their beauty. Murals create important conversations and expand thought. They also act as collective thought spaces. A great example of a dialogue-provoking mural project is American artist Wyland's Whaling Walls. Over a 30 year period, Wyland painted 100 life-sized whale murals across the globe to help people appreciate our oceans through art."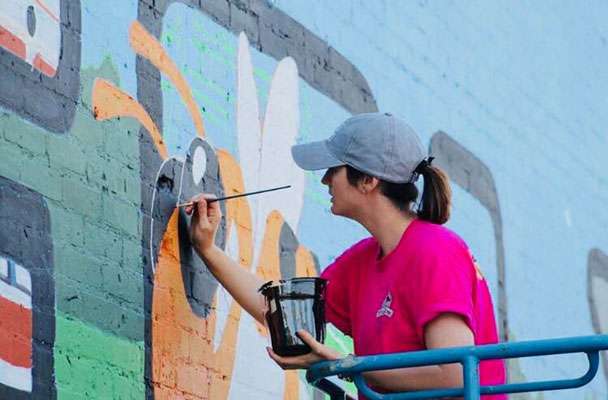 Lauren has an excellent painting skill set, creating works quite capable of attracting and holding the viewer's attention while provoking conversation and thought in her murals as well as her fine art. "My vintage still lifes are mostly painted on wood panels with acrylic paint. I use wood panels so I can get more layers and am able to lightly sand between coats to get a smooth surface I like. Acrylic paint works best with the wood. It dries quick enough to get more layers of detail," Lauren describes. She adds, "The style of my pieces is realistic with an exaggerated use of color as well as the background behind the objects. Typical objects I choose to depict are old cameras, clocks, books, and radios. As far as commissioned portraits and murals I tend to stick to realism as well, depending on what the subject matter is, along with the look and design of the surrounding area I will use a specific color palette directed towards a particular style." 
Lauren grew up always drawing people and facial portraits. After she graduated high school she began working at a local Goodwill store. It is there her fascination with distinctive items began to take hold. Lauren explains, "I enjoyed seeing different objects from different decades, mostly old cameras and clocks. One of the Goodwill tasks specific to me was creating displays for end-caps, toppers, and windows and I usually ended up using the older items, to give them a new life. I decided to collect these vintage items and make still lifes of them and paint them. Another one of my jobs was to paint the outside of the windows for holidays and special sales, the more I did them the more elaborate they became. It was then I felt this was where my path as an artist was truly starting."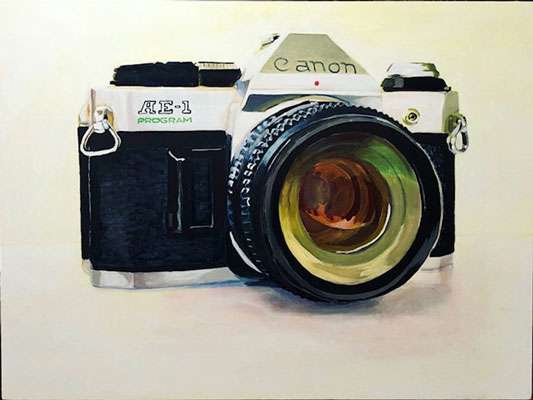 Lauren took a mural painting class at UT Tyler with Professor Alexis Serio Hughes: "We planned out and painted one of the exterior walls of the Discovery Science Place in Tyler over the span of one semester. After that semester I was hooked. I spent a later semester working on a mural there at UT Tyler in the Biology building. I was able to come up with a design, color palette, and work schedule, as well as assigning tasks to the three of us working on the mural," she states. 
After graduating, Lauren was able to start her first large commissioned mural downtown in her own hometown of Mineola. Soon after she completed the mural in Mineola, she was commissioned for multiple murals in towns around East Texas. "As an introverted person, I never really saw myself branching out and doing large projects like city murals, but art has given me the confidence to do things like that. Although art has given me the confidence to branch out and do large projects around our region, it brings problems along with it, like talking to people, in particular groups of people. I can say the path to get my degree in art helped me tremendously in preparing to speak in front of people but I have noticed, as an introvert, it takes a while to get over. However, after speaking in front of crowds a few times I have come to see it gets a little easier each time," describes Lauren.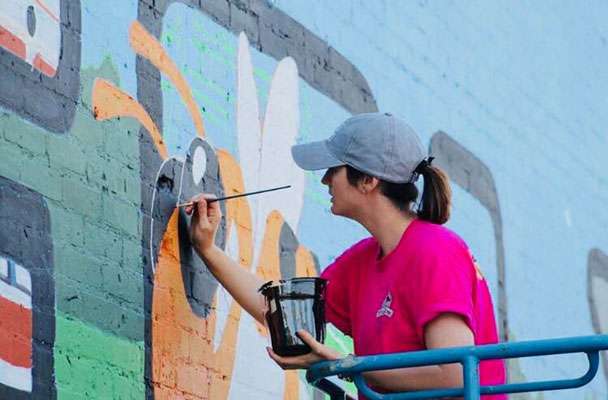 Lauren finds inspiration in the work of other artists like Christopher Stott (contemporary still life painter). She states, "He uses a lot of vintage objects in his work and highlights all the formal qualities of the objects I find most interesting, like contrasts in surface texture in vintage cameras and the shadows they produce. He adds non-vintage objects like wooden chairs and pencils in his pieces, which add another element of contrast." Lauren concludes, "I also have a favorite muralist, Anat Ronen, who does a lot of work throughout the Texas area and surrounding states. She is a massive inspiration to my mural work; keeping up with her and her work pushes me to keep expanding my work throughout East Texas." 
For more information and to see examples of her work on Instagram, check out: @artbylaurenpitre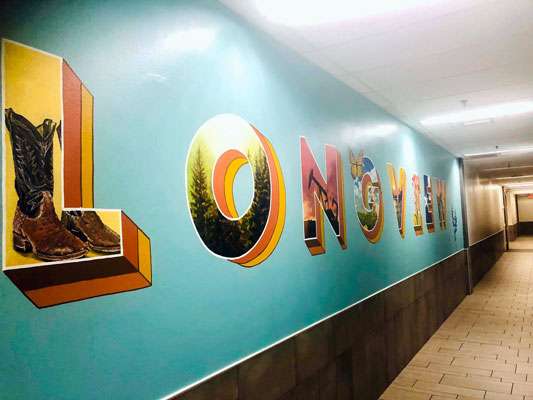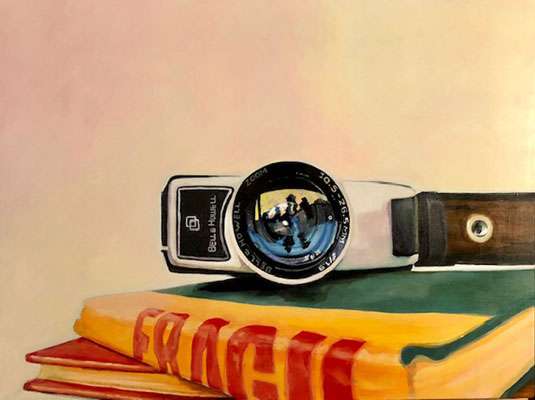 For the Love of Art: Art Events, Classes & Exhibits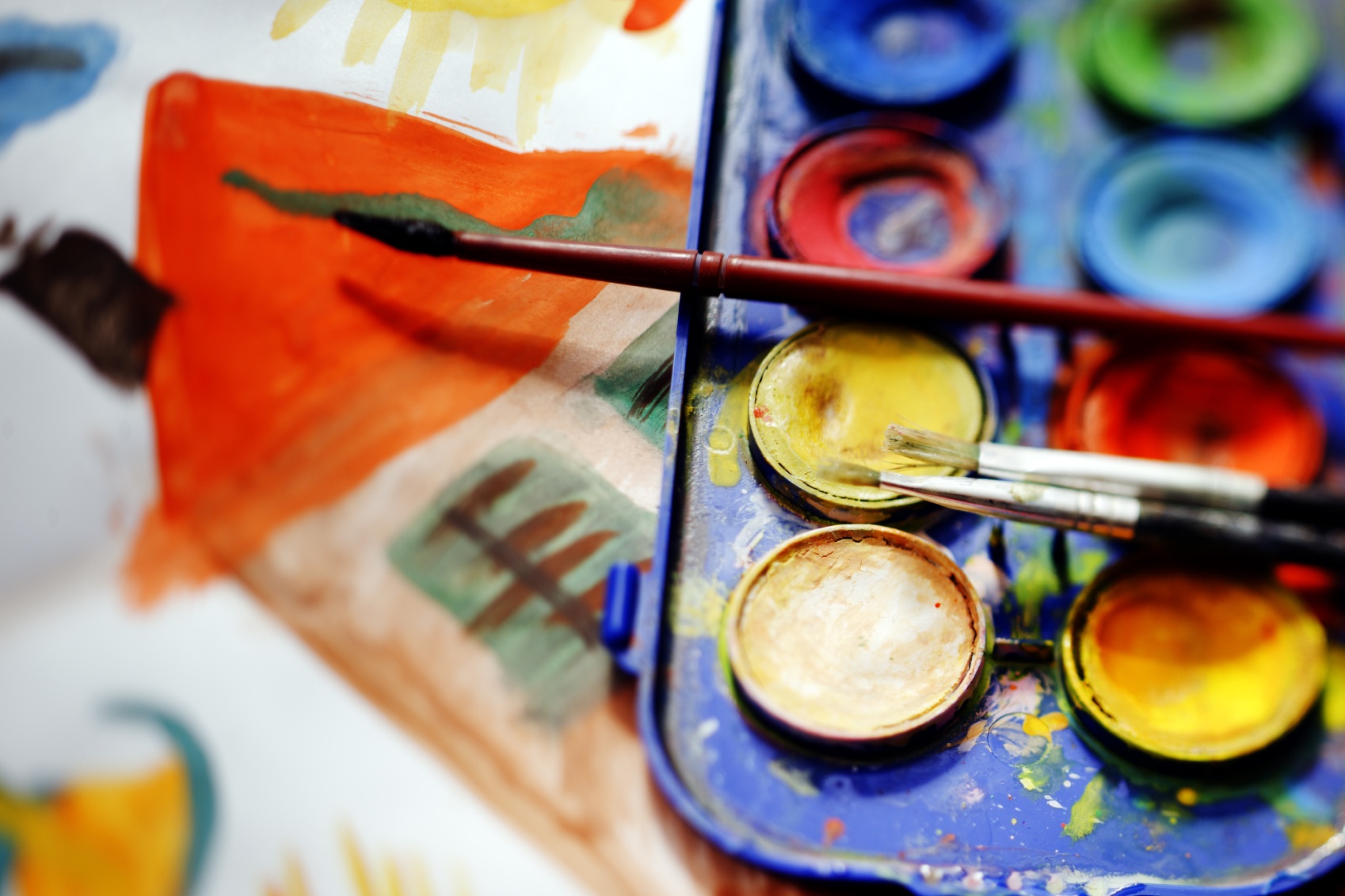 Discover your inner artist by taking a fun class ! These are for all ages and all experience levels!
For more events, check out EGuideMagazine.com 's entire



Robert Langham III: Inside the Artist's Studio

Inside the Artist's Studio:
Four Corners, Robert Langham III
By Derrick White
The Anasazi were Ancestral Puebloans, an ancient Native American culture existing about two thousand years ago in what is now the Four Corners region of the United States (southwestern corner of Colorado, southeastern Utah, northeastern Arizona, and northwestern New Mexico). They are thought to be the ancestors of later tribes like the Hopi. Religiously, they were polytheistic and had faith in many gods relating to nature (i.e. a rain god, a sun god, as well as good old mother earth). The Anasazi held many of their religious rituals and political meetings in dark or dimly lit underground rooms called kivas. There was a kachina belief. The central theme being an existence of life in all the objects of the universe and everything having a spirit or lifeblood, and that mankind must cooperate with these forces or fail to survive. This is not unlike the ancient Greek belief of daemon creative spirit guides. The Romans later changed the name to genius in the context of someone artistic, who was not thought to be a really intelligent person but rather had found favor with a disembodied essence who would assist with delivering ideas and the execution of the work.
"I'm beset by ideas, swarmed by ideas, hived, hounded. They pop into my head. They arrive on a piece of trash blown down the street or seep from the edge of a shadow. They pursue me in dreams and arrive during conversations, meals, baths, silence, sex, at 72 mph on the highway, they appear. They lurk in trees, closets, boxes, corners, elevators, concrete, dirt, space and in the pocket-lint of my jeans. Seductive or repellent. Arrowing, cascading, collapsing like lost children and salesmen. They fall from the sky, spurt from a shower head in places public and private. They keep no schedule, crowding in without appointment or announcement, elbowing, jostling through the press, caring neither for consciousness nor condition. Oblivious to budget or schedule, 10,000 angelic demons, seeking me, seeking me always," states local artist Robert Langham III.
Robert comes across as a shrewd and relaxed guy. I can easily imagine him in New Mexico having a deep philosophical conversation or maybe just hanging out and having a beer with Terry Allen (an outlaw, autonomous artist working in a diverse range of media including music, sculpture, painting, and video and who, it is worth mentioning, has a song titled Four Corners). Robert Langham is a fine art and commercial photographer and some of his works are mystic, while others are ghostly and reminiscent of cyanotypes, a photographic process generating a cyan-blue image. His subject matter seems to twirl and move in an unworldly, spiritual way: the blue being there to calm the viewer down, to help quiet the mind while the eyes look and the intellect wonders. Some works involve multiples: pieces of items both organic and man-made, stacked, melting, bundled, bound, attached, or whirled in a tornadic force. Other photographs have animals presented not in their natural habitats but instead in an encounter with mankind. 
Robert achieves these shuffling still-life photographs not with a computer but by using long-established traditional film, camera, and darkroom techniques. He uses big roll film and sheet film in large cameras. He composes visual dances with multiple exposures and controlled trickeries. Robert Langham shows viewers how ability, artistry, and patience are essential to composing filmic captivations. When one views his images, it is easy to believe they too have some sort of kachina – a sense of life in these inanimate objects happening to shift and cavort with an unseen life-force and reminding us of all the connections in our world and objects; or the manipulation of nature, which were at one time human concepts and thoughts, asking how are we to collaborate and persist together.
Langham earned a degree in photography and art from Sam Houston State University. He has taught at both TJC and Sam Houston. What started Robert down the path of becoming an artist was that, in his words, "I was seduced and then betrayed by an older woman," but art has brought purpose and understanding to his life. He explains, "It is the search for truth, isn't it? Art becomes the refining of one's self, the piercing of veils, and the shedding of layers. Art is the way you walk in the world. You soak yourself in your subject matter and then an idea appears, a new idea. Maybe it is a new stupid idea, but it is new. You somehow failure it into the world and all of a sudden, like snapping your fingers, something new exists. It is a miracle. When you look around yourself in the world almost everything you see is not most importantly a physical thing, it was someone's idea first. I am a little tender and adoring of new human ideas and the sheer adventure and exhilaration of the process. It's fun." He adds, "Anything worth doing is worth doing badly, at first. If you can't embrace, anticipate, celebrate, and enjoy failure you are going to have a rough time with art."
Robert Langham III gets inspirations from his daily life and all he encounters. He likes the early work of Man Ray (American visual artist and photographer contributing to both the Dada and Surrealist movements of the early 20th century). Robert advises, "I look at other media besides photography. Never look too much at your own media. If they are good, they drag you off to their lair and eat you. If they are bad, it is a waste of time. Look at something else." He continues, "My best advice is to find your subject matter and look at it. I look at paintings but mostly enjoy ones not made from photographs. I like paintings from the artists' imaginations." Robert visited the recent Claude Monet exhibition at the Kimball Museum of Art in Fort Worth twice and says he got photographic ideas from the show. He states he is crazy about the Anasazi and also likes Inuit and Pompeian art.
I like this idea of the Anasazi of all things and people being connected, and the reverence they had for nature, objects, and our earth. Robert's photographs of pirouetting feathers remind me of their philosophy and I wish we could all cooperate more with all things, all people, and good old mother earth… and perhaps survive. But sometimes I worry the four corners reference actually comes from Revelation 7:1, "I saw four angels standing at the four corners of the earth, holding back the four winds of the earth to prevent any wind from blowing on the land or on the sea or on any tree …four angels given the power to harm the land."