A Spiritual Journey of a Great Artist and Peacemaker: Ruth Drayer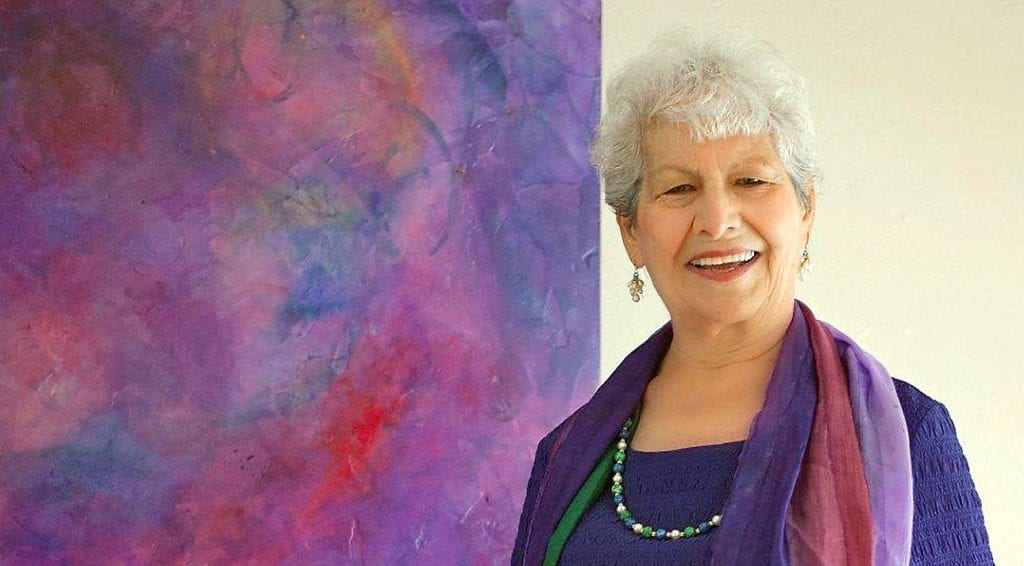 "There is only one corner of the universe you can be certain of improving, and that's your own self." – Aldous Huxley author of "Brave New World"
By Derrick White
"Where there is peace, there is culture; where there is culture, there is peace." – Nicholas Roerich.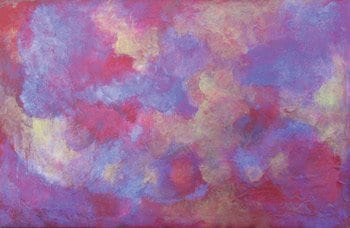 I believe people come into your life for a reason and one of the biggest blessings of being an educator is how many lives cross paths with my own. I was privileged enough to meet and befriend a Tyler Junior College student a few years ago and I have to say, if more people on this seemingly imploding planet were more like Ruth, things would be a lot better. Take my word for it. Local east Texas artist, author, numerologist and peace advocate Ruth Drayer has a warm, positive personality, an inner glow, and an eclectic background built from life experiences not formal education. She always knew she was an artist even though her early home life was, in her words, a battlefield and wasn't conducive to creativity. She says she spent most of her early childhood hiding. When Ruth began college in Washington, DC, where she had grown up, she intended to teach art but instead she quit school and married a sailor whose life happen to cross her path. By the time her husband was discharged from the Navy and enrolled in medical school, Ruth was working full-time and was the mother of two children. Still she continued artistic pursuits and worked to brighten their home with color.
Years later, with four kids and a husband starting his private medical practice, Ruth took a local Continuing Education ceramics class and learned to work in clay. Ruth enrolled at the University of Texas at El Paso and took several art classes, and that's when the magic happened. Unfortunately, then came turmoil. Ruth's family experienced divorce. "I had to go to work in a florist shop and was trained to do weddings, and I learned the rules of design and discovered I had a natural gift for color," states Ruth. She remembers, "My life became very hectic after my divorce."
"As you simplify your life, the laws of the universe will be simpler; solitude will not be solitude, poverty will not be poverty, nor weakness, weakness." – Henry David Thoreau.
Later, living in Santa Fe, New Mexico, Ruth owned an art gallery, managed another gallery, wood-burned designs on sheepskin coats, studied interior design, created rock gardens, and then traveled to Europe. "In Italy, I saw the great value of knowing art history as I recognized so many things I'd studied. I went to many museums, churches, and galleries throughout Europe, and by the time I got to see some of the work of the French Impressionists, I understood the controversy they had created with their brush strokes visible all over their canvases instead of the exact, precise, smooth brush strokes of earlier painters. I then studied color healing, color theory, and read everything I could find on color," says Drayer.
It was in Italy Ruth realized she could put up with any inconvenience if there was beauty around. "This idea drew me to the work of the Russian visionary artist Nicholas Roerich, who believed beauty speaks an international, global language. If people were educated to the importance of art, we could all live in a world of peace. He was called a master of color and during the next 15 years I researched and wrote his biography, 'Nicholas & Helena Roerich, the Spiritual Journey of Two Great Artists & Peacemakers.' I saw many of his 7,000 pieces. It was his use of color that fascinated and inspired me most," asserts Ruth. Nicholas Roerich established the peace pact, an international agreement allowing any nation to protect its cultural or artistic heritage with a symbolic banner, the Banner of Peace. The pact states, "Educational, artistic, and scientific institutions shall be protected and respected by belligerents without any discrimination. Thus, any site of cultural activity around the world can fly the Banner of Peace to declare neutrality, independent of combatant forces, and protected by international treaty."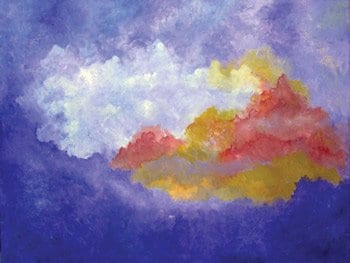 After writing and publishing a book on the Roerichs, Ruth began to find peace and tranquility in painting. She was drawn to non-representational art. "I wanted permission to paint without knowing what I was doing," she says. Ruth adds, "It's all a voyage of discovery, just like life."
Ruth Drayer works in acrylics and builds up layers on the surface of the canvas. She uses texture to add extra elements then paints a spiritual symbol or word like love, peace, harmony, etc. which then gets masked and hidden. "Painting has opened another world for me. My art allows me into dimensions I'd never reach in any other way. I'm still fascinated with color, and I get very involved with each brush stroke and how it interacts with the one next to it. It has been so fascinating to see how much my work grows with a life of its own. I see my earlier work and wonder how I did it and wish I could do more, but I've never been able to reproduce anything I've already completed," states the artist.
Artists who influence Drayer include Stanton McDonald Wright (American, early abstract painter), Nicholas Roerich (the aforementioned Russian painter, writer, archaeologist, theosophist), Wassily Kandinsky (Russian painter, art theorist and groundbreaker in purely non-representational painting), and Marc Chagall (Russian-French artist and modernist known for his color and dreamlike images).
"I'd say the most important advice I could give is to paint and create for you. When I began, I called my works 'no thing' (no object) paintings and I was embarrassed about what people would say when they saw them, and I shared them with very few. But when I had 12 completed, I had my first art show. My favorite compliment was from an artist friend who said I painted 'nothing' better than anyone she'd ever seen," beams Ruth Drayer, artist and peacemaker.
Check out this artist of visions and dreams at www.ruthdrayer.com or find her on Facebook while you still can before she moves back to New Mexico to paint, live, dream, and receive love and support from her community.
"He who lives in harmony with himself lives in harmony with the universe." – Marcus Aurelius.
* Obviously a borrowed title.
Peace out!
.



Sept. 21st: Trout Fishing in America Peace Concert
The 6th Annual "Art Of Peace – Tyler" is September 14th-23rd. Come out and celebrate Peace and Community spirit.
The 8th Annual Art of Peace festival has grown from an afternoon of programs to a week long series of peace-activities and programs throughout Tyler. This is a community-wide event to celebrate the United Nations International Day of Peace (officially on September 21st) and to encourage community spirit. The aim of the Art of Peace – Tyler is to promote a spirit of cooperation and community through fellowship, dialogue, music, poetry, and art.
By date, here are the events planned for this year's festival events. All events are free unless noted.
Friday, September 14th
Honk for Peace, 12 noon-1pm
Downtown Square in Tyler
Every Friday on the Downtown Square in Tyler, a group of people dedicated to peace hold signs encouraging us to wage peace and not war. The Art of Peace is proud of their weekly vigil and this year, we are going to join them. Make a sign of your own and join the group to promote peace in Tyler.
Saturday, September 15th
Day for Kids, 10am-2pm
Boys & Girls Club of East Texas at Southside Park – off the Rose Rudman Trail, Shiloh and Donnybrook- Tyler, TX
Visit the Art of Peace – Tyler booth at the annual Boys & Girls Club of East Texas Day for Kids. Bring your family for interactive art projects and write peace messages on boards for the next Habitat for Humanity of Smith County home.
Monday, September 17th
Peace Meal, 6:00pm
Tyler ISD Career and Technology Center, 3013 Earl Campbell Pkwy., Tyler, TX
Celebrate Peace by joining community members, peace advocates, and new friends for an open table meal and uplifting program to celebrate peace! Dinner will cost $12 per adult and $8 for college students and younger. Space is limited.  You may register and pay for your seat on tylerpeace.com. If financial assistance is needed for this event, please send a private message through the contact page on the website. Spread the word around and help grow this wonderful event!
Tuesday, September 18th
Meditation: Bridging the Heart-Mind Divide, 5:00-6:45pm
Tyler Public Library – Taylor Auditorium, 201 S. College, Tyler, TX
Take time to explore inner peace at this inspiring Art of Peace presentation, followed by a session of Heartfulness Meditation led by UT Tyler instructor and meditation trainer Gayathri Kambhampati. This event is co-sponsored by the Tyler Public Library.
Tyler Talking Together, 7-9pm
The Foundry Coffee House – 2nd Floor, 202 S. Broadway, Tyler, TX
Promote peace through relationships.  Come have meaningful conversations about race.  Participate in facilitated activities with people from different backgrounds and races.  By getting to know fellow Tyler residents, we help to dispel stereotypes and fears to build strong, supportive communities for all residents.   Come prepared to share your stories and experiences through conversation. This event is co-sponsored by Tyler Together Race Relations Form.
Thursday, September 20th
Songs of Peace, 6:30-9:30pm
Stanley's Famous BBQ, 525 S Beckham Ave., Tyler, TX
Enjoy an evening of great BBQ and live music, while you get to know local peace advocates at one of Tyler's favorite gathering spots. Dinner will be on your own. Music will be provided by: Eric Mosley, Connie Mims Pinkerton, Eric George
Friday, September 21st
Peace Pole Dedication, 12 noon
Rose Rudman Park, 450 Shiloh Rd., Tyler, TX
Commemorate the U.N. International Day of Peace by helping dedicate the 2018 Art of Peace annual Peace Pole being installed at Rose Rudman Park. The program includes interfaith prayers, songs, readings and messages of peace spoken in a variety of languages. The peace pole is co-sponsored by the Unitarian Universalist Fellowship of Tyler and artist Kerian Massey.
2017 – Tyler Peace Pole may be seen at Bergfeld Park.

2016 – Tyler Peace Pole may be seen at the Woldert Park next to the Glass Recreation Center.

2015 – Tyler Peace Pole may be seen at the Duane Andrews Peace Garden at the St. Paul Children's Foundation.

2014 – Tyler Peace Pole may be seen at the Tyler Rose Garden. It is currently being replanted.
All of the current Peace Poles have been lovingly donated by the Unitarian Universalist Fellowship of Tyler. If your church or business or school would like to place a Peace Pole, please let us know and we would love to add it to our list of poles in the Tyler area.
Peace Concert: Trout Fishing in America, 7pm
Liberty Hall, 103 E. Erwin, Tyler, TX
Celebrate Peace Day with uplifting entertainment by the award-winning musical duo, Trout Fishing in America. Their delightful performances speak to young and old alike, with a blend of music and storytelling, sprinkled with trademark humor. This is music for people who take their fun seriously. Four-time Grammy award nominees, Trout Fishing in America has been performing music for 3 decades that get kids and adults alike singing and bouncing along. In addition, they also delight children with their arresting physical appearance: Ezra Idlet stands at a whopping 6'8″ tall, and Keith Grimwood remains roughly 14 inches shorter than his bandmate. With songs like My Hair Had a Party Last Night and When I Was a Dinosaur, Grimwood and Idlet are "the Lennon and McCartney of kids music" – Kathy O'Connell, NPR.
After the concert, we will form and photograph our annual Art of Peace LIVING PEACE SIGN on the DOWNTOWN SQUARE. The concert is co-hosted by Liberty Hall. Tickets are available for purchase online at tylerpeace.com.
Sunday, September 16th-23rd
"Peace" Art Exhibit
Tyler Museum of Art, 1300 South Mahon Avenue – Tyler (on campus of TJC)
"Our 2018 Art of Peace visual art exhibit is presented in cooperation with the Tyler Museum of Art, where selected art will be on display from September 16th–23rd. The exhibit is free and open to the public during museum hours; Monday through Saturday 10am-5pm, Sundays 1-5pm.
"Apertures of the Mind: Works by Abhidnya Ghuge" at TMA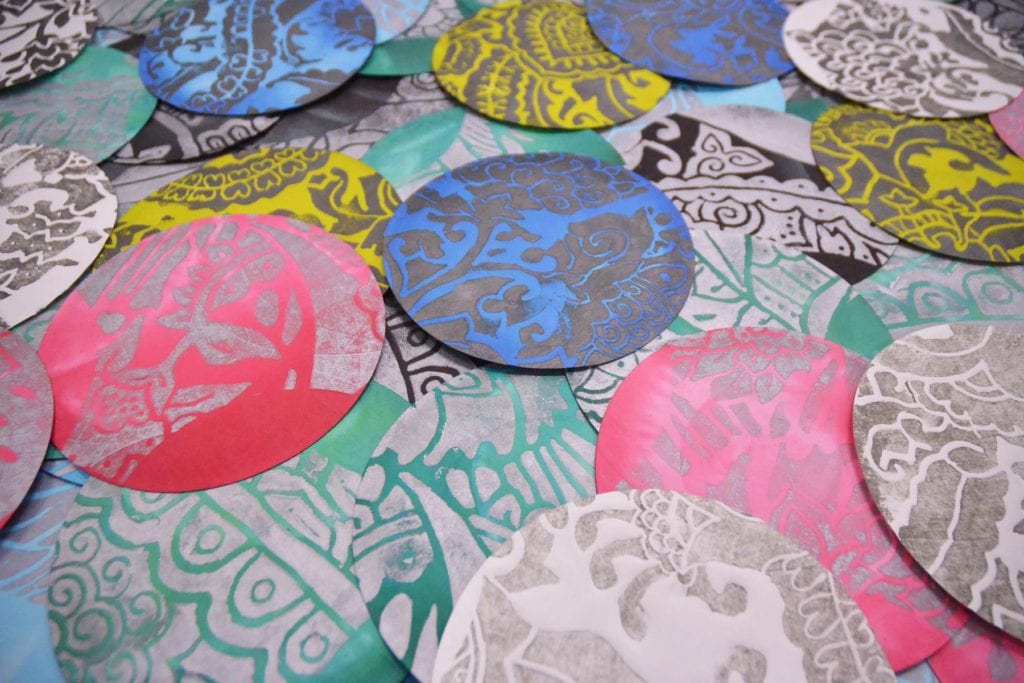 This Month at Tyler Museum of Art, Tyler TX
The Tyler Museum of Art (TMA) is located at 1300 S. Mahon Ave. on the Tyler Junior College main campus.
Regular TMA hours are 10am-5pm Tuesday-Saturday, and 1-5pm Sunday. The Museum is closed Mondays and most major holidays.
For more info call the museum at (903)595-1001, tylermuseum.org, or email info@tylermuseum.org.
"Apertures of the Mind: Works by Abhidnya Ghuge"
The Tyler Museum of Art is proud to present the first large-scale museum exhibition of an emerging East Texas talent with "Apertures of the Mind: Works by Abhidnya Ghuge" from September 7th-December 2nd. Admission is free.
Born in India, Ghuge is a multidisciplinary artist who lives and works in Tyler. She is currently an Adjunct Professor in the Department of Art and Art History at the University of Texas at Tyler. Inspired by a blend of Indian henna designs and imagery from her previous medical profession, Ghuge's work explores themes of community, time, and value.
"Apertures of the Mind" features hand-carved woodblocks, ink and gouache drawings, and mixed media wall pieces. The exhibition also will include a site-responsive installation constructed out of woodblock-printed paper plates. Ghuge's work has been featured in solo and group exhibitions throughout the United States. Her work can be found in public and private collections in India, the United Kingdom and the United States.
Support for "Apertures of the Mind" is provided by Collectors' Circle-Gold Sponsor Sheryl Rogers Palmer.
Members and special guests are invited for a first look at the exhibition during the Preview Reception from 5:30-7pm Thursday, September 6th at the Museum.
"This & That: Recent Acquisitions"
The Tyler Museum of Art was the recent beneficiary of an extraordinary opportunity to bring back more than 30 works dispersed from the Permanent Collection of The Contemporary Austin. This will be on exhibit September 30th-January 6th, 2019.
Family Days: September 8th, October 13th, November 10th
Free admission, interactive art projects, light snacks and a festive atmosphere for all ages are on the menu from 2-4pm the second Saturday of each month with the Tyler Museum of Art's Family Day.
First Friday: September 7th, October 5th, November 2nd
The first Friday of each month, the TMA offers a full day of free admission plus guided tours of its spotlight exhibitions at 11am. From contemporary Texas art to Hudson River School to Andy Warhol, each tour is unique.