By Johnny Griffith
Spend more than five minutes around Brian Chance, and you'll quickly realize that this isn't a guy who, despite his last name, leaves things up to chance, but rather hangs his hat on natural talent, some hustle, and good old-fashioned hard work. The leader and frontman of the eponymous Brian Chance Band, Chance didn't show an interest in music early like many of his peers in the East Texas music scene did, rather he discovered the bug late and is making up for lost time.
Born in Palestine, Brian was raised in Jacksonville and has based the BCB there. Like many from this area, Chance went into the oil field after high school but after a while decided even though the money was good, there was something he was missing. Feeling a calling to have a more direct connection to people, he attended TJC and studied biology, eventually graduating with an Associate's Degree with plans to become a Physician's Assistant when life took a right turn.
Having never really taken an interest in music or singing in high school, Brian was one day encouraged by a friend to get a guitar overhearing Chance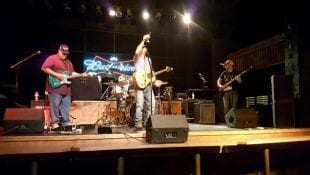 playing around. Eventually, Brian did buy that guitar, started teaching himself to play, and worked up to writing music within a few months. Wanting to hone the craft, Brian would start going to concerts and taking notes on different styles in an attempt to not just be a musician, but an entertainer who could reach people from the stage. Fast forward four years, and Brian is now a full-time musician, working part-time gigs during the first half of the week until the weekend, and the next gig arrives for one of East Texas' up and coming bands. I stopped in to get a little info on Brian and the band to share with the readers this month.
Johnny: At what point did you decide that this crazy new music thing was something you wanted to do full time and pass up a more traditional career at this point?
Brian: After I wrote a few songs and made some money on some gigs, I wanted to do it full time, but it was hard because I had no connections or anything since I started so late. I decided to try to make my own luck and just hustled as hard as I could with it. I found a really good band that believed in me, had an amazing support system at home, and worked my butt off to buy, sound, guitars, merch, and recordings all on my own.
Johnny: Who are your current band lineup and a brief background on them?
Brian: The lineup in my band right now is Ryan Wellman (lead guitarist) from Chandler, Kelly Kahea (drums) from Bullard, and Seth Hoar (bass) from Tyler. All together we have about 40 years of experience but have only been together as a band for a little over a year.
Johnny: Who would you say your musical influences have been to this point?
Brian: I have always been fascinated with music and the old outlaws like Waylon, Paycheck, Willie, Jones, and even grew up on Kurt Cobain and loved watching documentaries about them and how their songs made you feel. Music is a therapy and helped me deal with a lot so I wanted to help others.

Johnny: With that wide of a range of influences, how would you describe your music?
Brian: Our music could be described as Texas Country and nowadays that's a broad definition, but I like to think of us as a Texas southern rock band.
Johnny: I've heard you guys recently had an album release?
Brian: Yes sir! We just released our first album "Goodbye So Long," and it is out now for digital downloads on all platforms.
Johnny: With you and the band trying to do this full time, how many shows a month are you guys currently playing?
Brian: We normally play 2-3 shows a week because the band has day jobs and families so I try not to push them too hard but also try to stay as steady as we can.
Johnny: What are some of the challenges that come with devoting more time to playing gigs and traveling?
Brian: The biggest challenge to me is making sure everything is lined out and try to plan ahead. It seems like something always goes wrong or someone is late so just trying to stay prepared and be ahead of everything and keeping up with everything myself is a challenge, between social media, designs, booking, public relations, sponsors, merch, and so much more, it can be a hassle.
Johnny: Most every full-time musician has had to start with a good support base. Who has been your's to this point?
Brian: My biggest support base so far has been God and my family. I and the guys all get together and pray before every show and try to keep Him number one, and our families are one of the main reasons we keep going when it gets hard. They help us out and lift us back up so it's a huge blessing to have a family like we have.
Johnny: Every journey has memories. What has been your best one to date?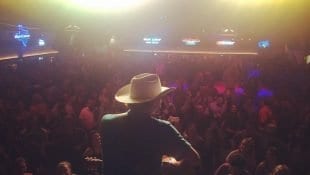 Brian: The most memorable gig to date has to be between opening for Eli Young with 1,400 plus people there or opening for Parker Mccollum in College Station to a sold out crowd at the Tap. The energy in College Station was the best I've felt in a while and made us fall back in love with music and our fans all over again. It was one of those shows that reassured you that you were doing what you're meant to do.
Johnny: What's your favorite cover song the Brian Chance Band does that nobody else is doing? What's your favorite original right now?
Brian: My favorite cover song we are doing right now is probably "Goodbye Earl" by the Dixie Chicks. I know it's an unusual choice, but we put our own twist to it, and it always gets people's attention with a reaction every time. Me and the band's favorite original song we play is "Tired." It is just raw and true and gets the college-age fans going. They love the upbeat vibe and catchy lyrics that kinda grab ahold and forces you to sing it, even a couple of days later.
Johnny: Let's say I'm out on the weekend looking for a live show to enjoy. What sets The Brian Chance Band apart from the other options I have?
Brian: What I think sets us apart from other bands is our energy and just how all my guys are. You won't find us sitting backstage to ourselves or anything like that. We are typically out mingling, talking, and interacting with people before, during, and after the show. We are upbeat, and you'll want to dance and sing along and just let loose and leave all your worries at home or work, which is what music is all about.
Johnny: What's next on the horizon for the Brian Chance Band?
Brian: The next thing on the horizon for the Brian Chance Band is to just keep on keepin' on. We are going to start on our new album with some new artists and try to expand out of Texas and even into parts of Texas we haven't reached yet. Hopefully, we have a 5th band member joining us pretty soon that can play some keys and guitar as well to add a little more depth in our lineup.
Johnny: What's your proudest accomplishment so far in your career as a musician?
Brian: My proudest accomplishment is my new album "Goodbye So Long." I watched my guys pour out their heart and soul on it while they played and just some of the songs on there are what I was going through at the time, and we did it all ourselves so it's super rewarding watching people sing along to something we all created.
Be sure to check out the Brian Chance Band online for updates, new music, and upcoming shows at facebook.com/brianchanceband and reverbnation.com/brianchance.