\For more events, check out EGuideMagazine.com 's entire


Wondering what is showing at the Cowan Center?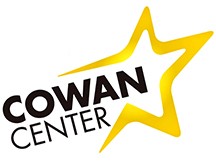 "This is our 24th Season! We can't believe it either! We promise to have lots of great talent again and will be gearing up as we celebrate a quarter of a century soon. Over the next 2 years we will be developing programming for new target audiences and upgrading our premiere venue known across the state and beyond as a magnet for amazing artists and shows."
All events are performed in the Cowan Center located on the campus of The University of Texas at Tyler, 3900 University Boulevard – FAC 1120 in Tyler, TX (Google Map).
QUESTIONS? Call (903)566.7424. More information and TICKETS can also be found at CowanCenter.org. Watch for announcements on Cowan's Facebook and Twitter pages too.
Upcoming acts are: