There is a lot going on in the art community around Tyler, TX. Here are some of the beautiful murals that are located in #downtowntyler. Take your photo with one (or all) of them and tag #HaveFunMakeaDifference.
"Eyes of Tyler"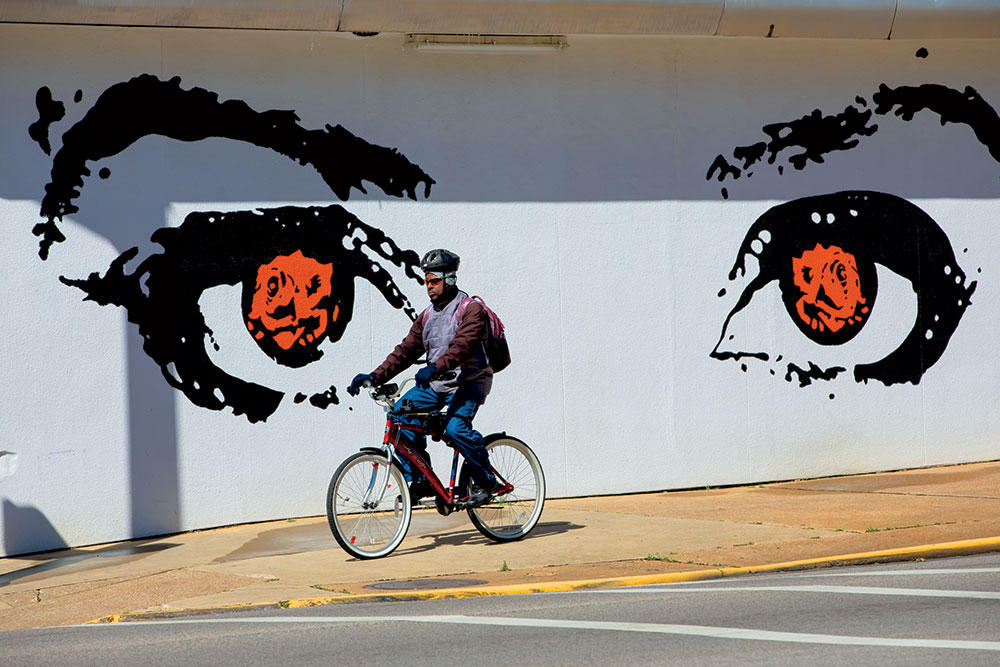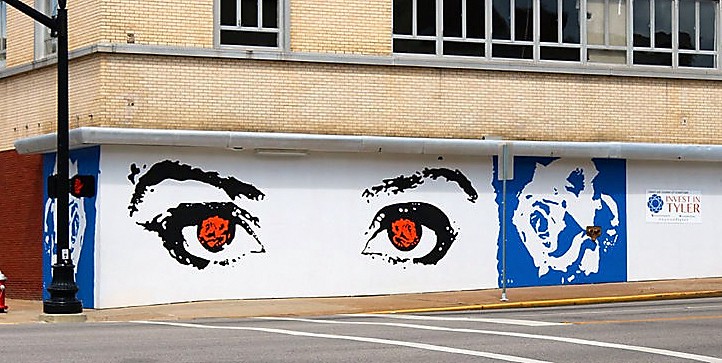 Located at the corner of Elm Street and Broadway Avenue just south of the Downtown Square, #tylertx alongside the Lindsey Building. Painted by Dace Lucia Kidd in 2017, Dace said, "My image, 'Eyes of Tyler,' is inspired by the concept of shared beauty. It is intended to communicate that there is beauty within all of us if you just look. My goal is to encourage everyone to create what is next in their life, to search for what is beautiful within everyone, while being aware of the beauty in Tyler, and particularly in the downtown area."
"Wings of Tyler: Welcome!"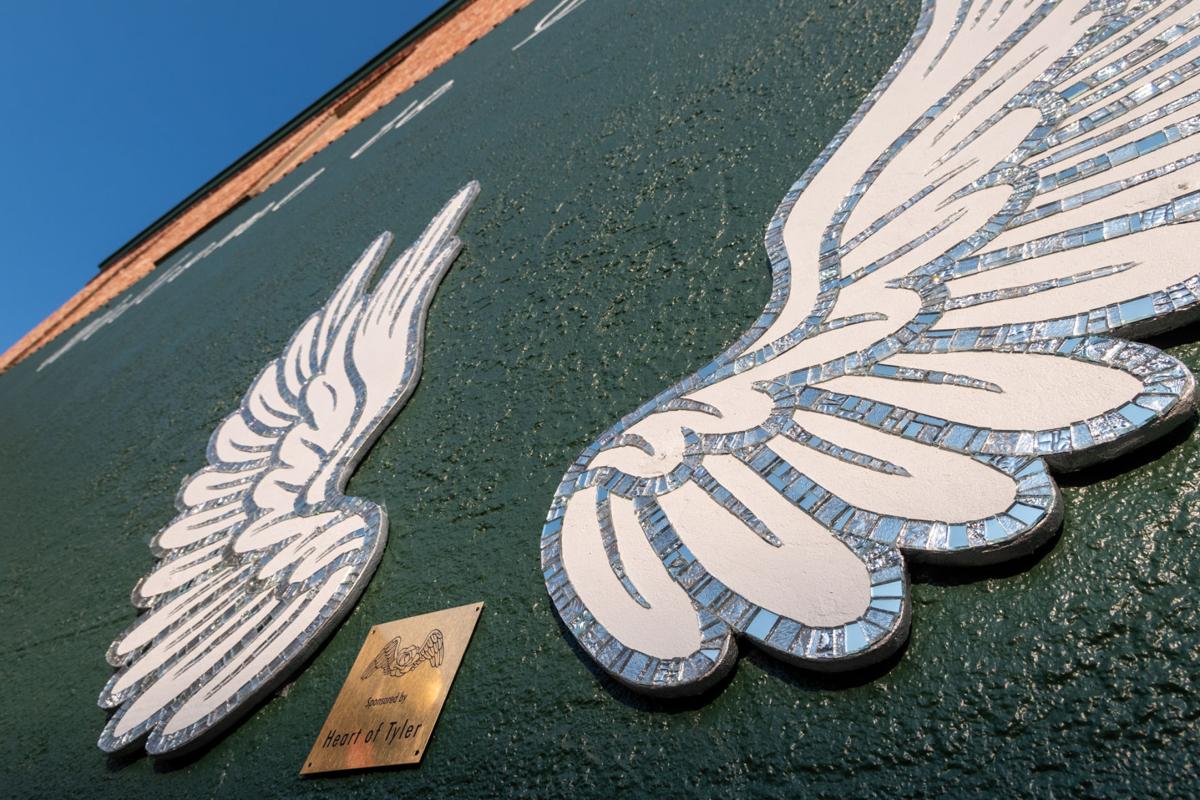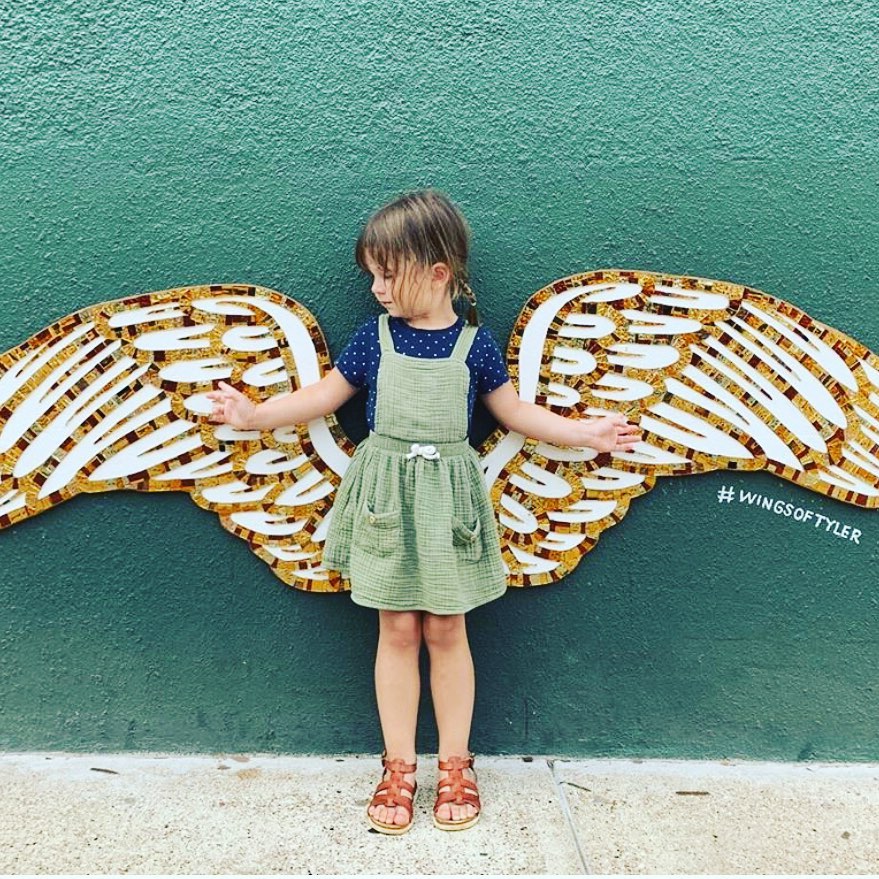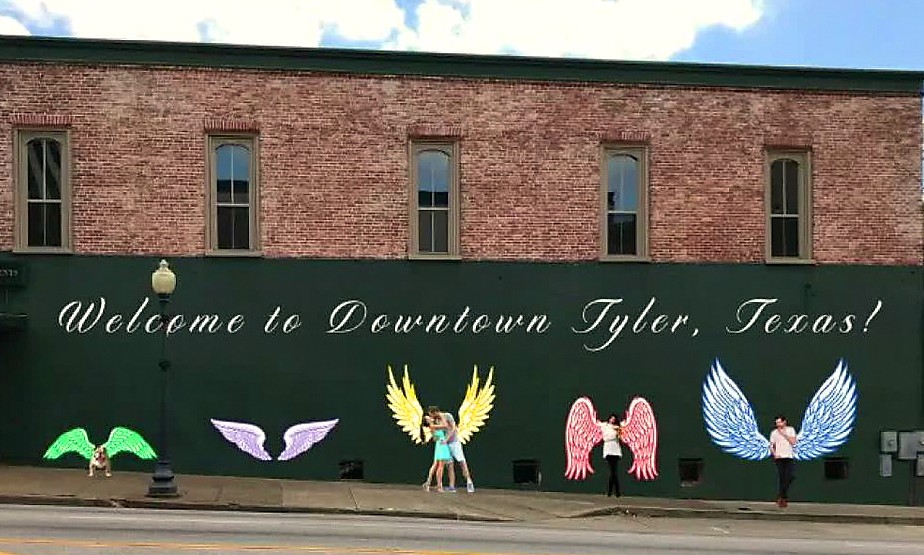 Wings of Tyler is a project by local artists Cassie Edmonds and Dace Kidd.
Wings of Tyler is a mural on the exterior wall of a building leased by Edward Jones Investments on the southeast corner of Broadway Avenue and Erwin Street. The art faces west, which is Broadway Ave., just a few feet south of the downtown square.
According to the artists' rendition, there is five sets of wings painted at various heights and lengths along the wall, allowing individual or group photo opportunities. The wings are finished in Venetian mirror-glass.
The idea is to make the wall "the most photographed" spot in all of East Texas, Dace Kidd explained. "Somebody can bring their pet, their kid, somebody disabled, groups of photos; two groups of people will be able to pose in front of the wings," said Kidd.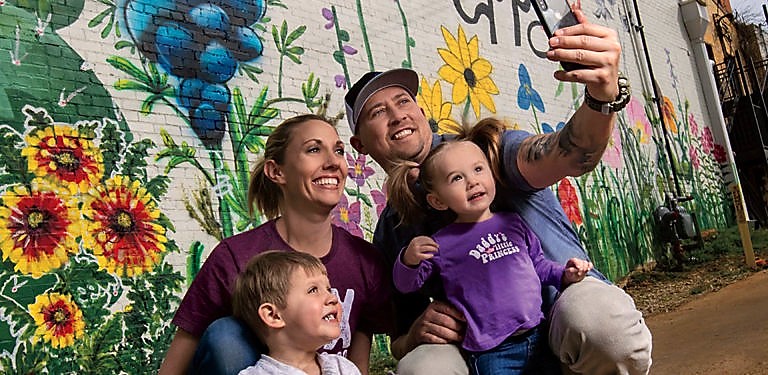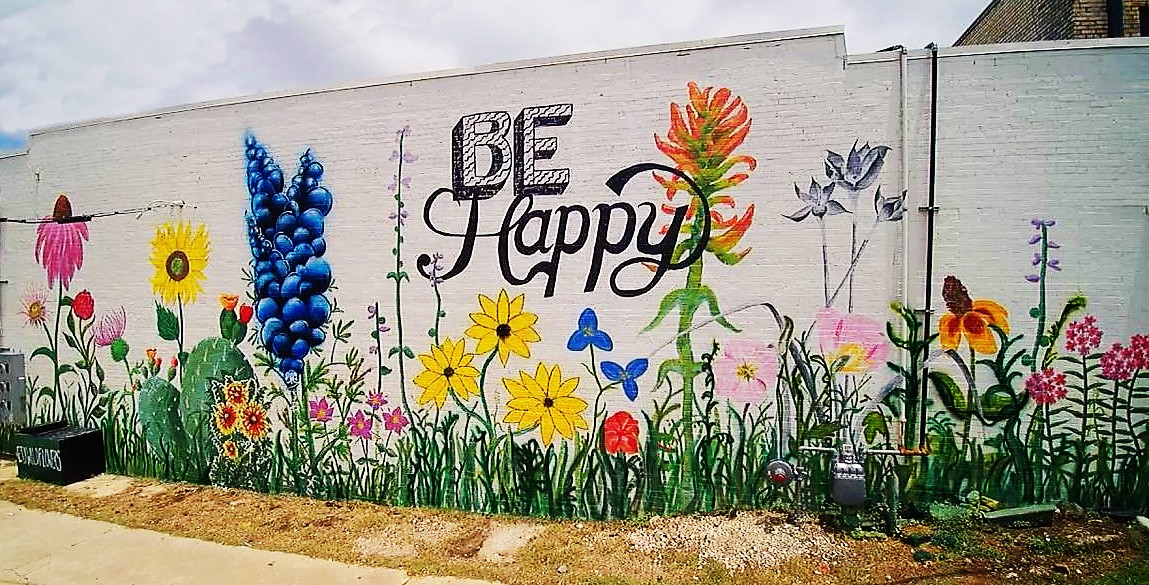 Tyler native Lindsay Boone led the project. She says there are at least eighteen different East Texas native wildflowers on the wall because she wanted people to "see something that looks familiar." In addition to the flowers, "Be Happy" is inscribed in the center.
Annie Gilstrap with the ETX Brewing Company says the tag line for ETX Brewing company is 'Beer Happy,' so it was an easy decision to shorten the line to 'Be Happy.' "You can't look at the wildflowers and not be happy, they just bring a smile to your face because they're just joyful and bright," said Gilstrap.
The 13 artists involved include Lindsay Boone, Mikayla Willis, David Maldonado, Kate Googins, Tyler Shelton, Justin Fasulo, Rady Randall, Becky Martin, Maddi Travis, Jennifer Vaughn, Julianna Wynn and Chasity Erbaugh. The artists ask that if you take photos with or of the mural, that you use #ETXWildflower when sharing on social media.
---
---
"Peace Mural"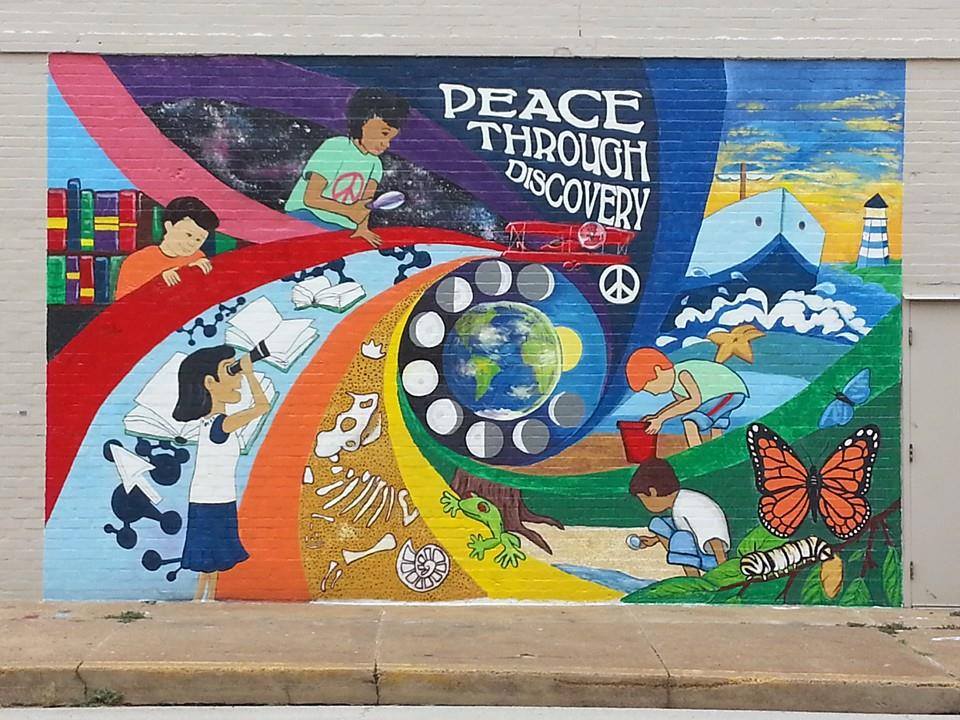 How do East Texans celebrate Peace? With art, film, poetry, conversation, joyful gatherings, worship, photography, meals, dance, shopping, community service, children's activities, and peace pole installations….and at the Peace Mural, located at 308 N. Broadway next to Discovery Science Place in #downtowntyler. Find out more at tylerpeace.com.
"Discover Art"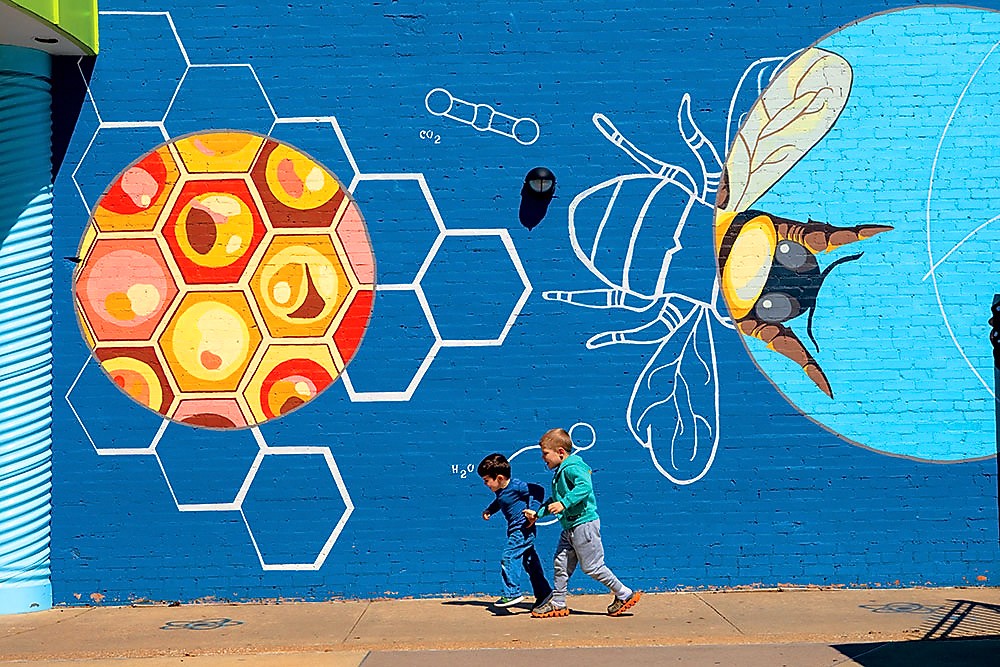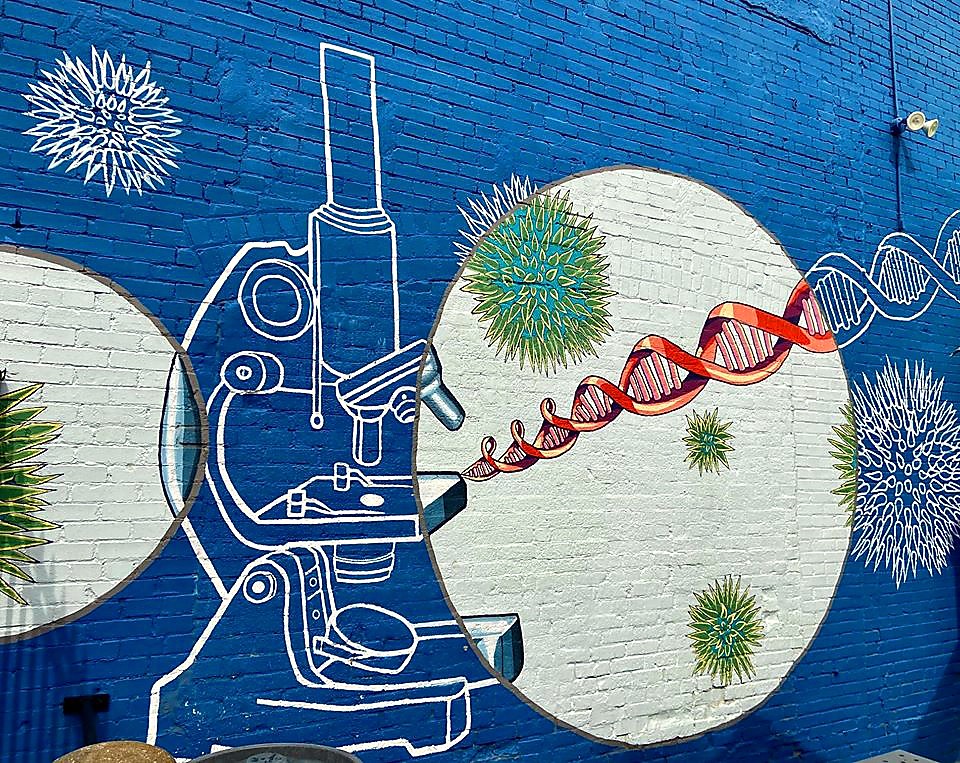 "Spread a Little Kindness…And Cake"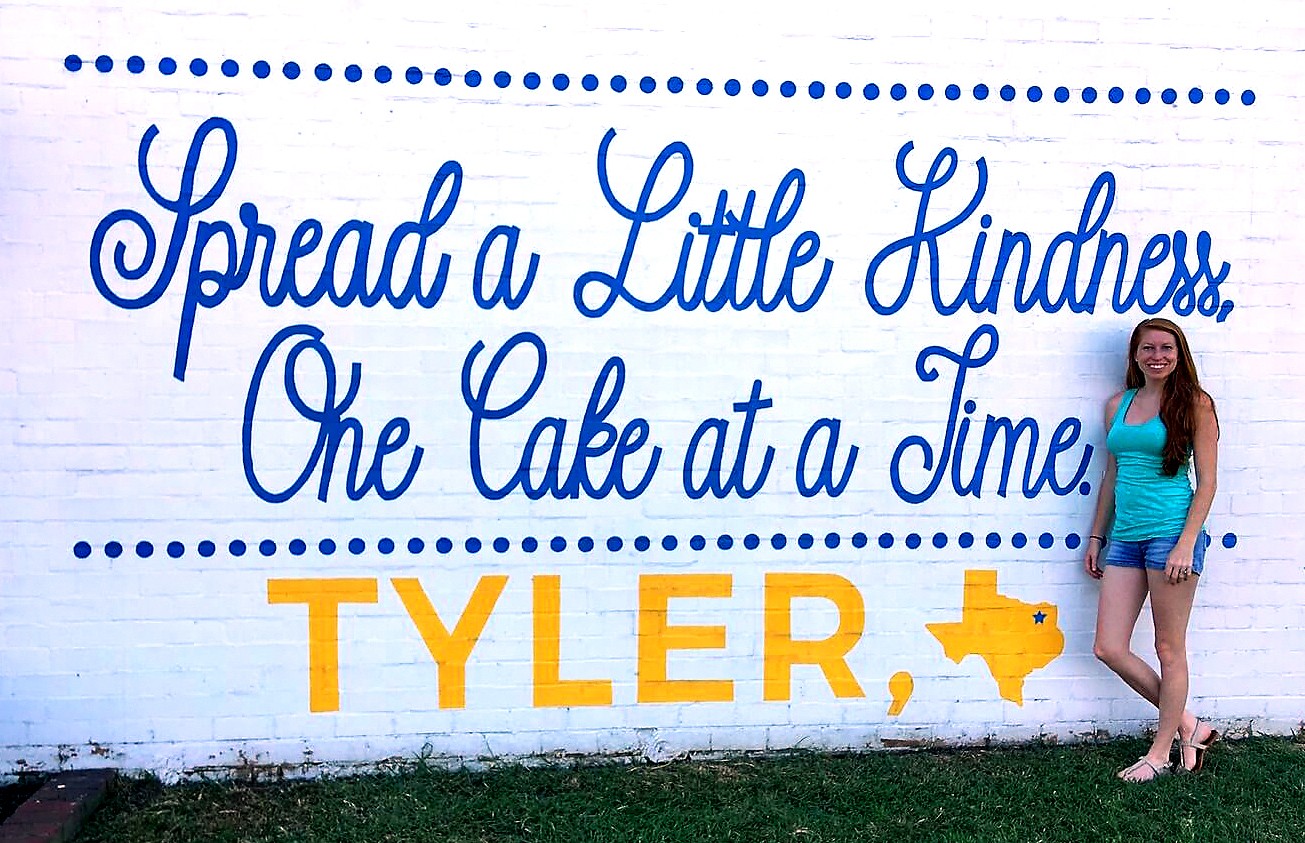 This cool mural is located on the east wall of Janie's Cakes, 308 E. Front St., Tyler.
"At Janie's Cakes, we make an old-fashioned pound cake. And the tagline that we use on a regular basis is that we want you to spread a little kindness one cake at a time. So it was a natural thing for us to paint this on a wall of our building," said Janie Clapp, owner.
"Like all good Southern girls, Janie learned baking and meal making from her great-grandmother. 'Papu,' as Janie called her, made every lick of her baked goods from scratch using plenty of real cream, real butter and real cane sugar. That little slip of a girl grew up to be quite a cook in her own right. After honing her skills at the Culinary Institute of America in Hyde Park, New York, Janie returned to Tyler, Texas, where she opened Janie's Cakes in 1987. Today, Janie makes every pound cake the same way she made her very first: from all-natural ingredients, farm-fresh eggs, real creamery butter and with a huge dollop of her great-grandmother's abiding love."
They make 26,000 pound cakes a year, in a variety of sizes with different fillings, enjoying busy seasons like the holidays and Mother's Day. Check out their unique story HERE.
"Three Music Legends from East Texas"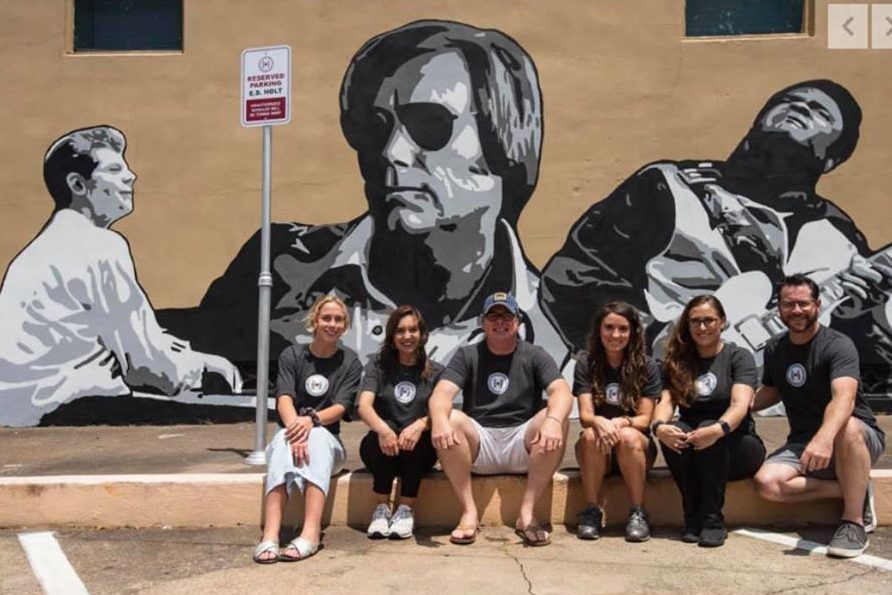 Located 119 University Place, the mural features three local music legends: Van Cliburn of Kilgore, George Jones of Saratoga, and Freddie King of Gilmer. The mural was created and painted by Holt Creative Group of Tyler.