Written and Photographed by Barbara King
The pins are crashing, folks are high-fiving, and the atmosphere is loud and energy-filled. It's League bowling night at Green Acres Bowl in Tyler, and all 32 lanes are jam-packed with bowlers eager for competition.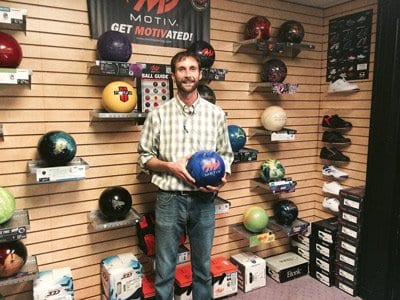 The alley is a Tyler treasure, open since 1957. It has been a favorite for families, date nights, and league competition.
Gene Goldsmith, one of three brothers who own the alley says, "Bowling has been in my blood since I was three years old and threw an undrilled ball down these same lanes. The great thing about the sport is that you can play, have fun, plus exercise. You can take it as seriously as you want and enter competitive tournaments, or simply bowl for fun."
The benefits of bowling are plenty – from burning calories during a rousing game, to strengthening and toning muscles, increased heart and respiratory fitness, to speeding up of metabolism. Most bowlers will tell you the best thing about the sport is the social aspect of being on a team, and the healthy competition.
After five decades of family entertainment, the alley has recently undergone a facelift. It is totally non-smoking and is new and improved throughout. Manager since 2013, Andrew Turner points out the new flooring, additional seating areas, TVs for sports viewing on every lane, and new graphics as bowlers arrive and greet their team members.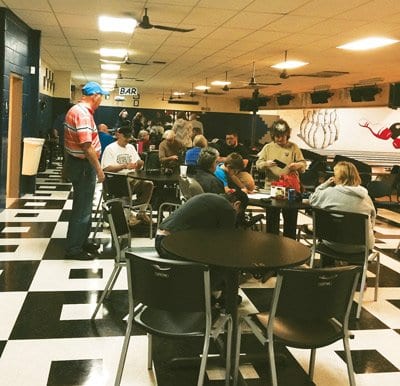 "We've made some cosmetic changes," said Turner, "but we never want to lose the small town feel of the alley and its history in Tyler. We don't have aspirations to become a huge event center, we just want to give everyone a great experience with the best customer service and reasonable prices. We have lots more of exciting changes planned in the upcoming year as we continue to make the alley better than ever. We will [always] strive to maintain the personal touch, and the family-friendly environment is most important to us."
Thirty-two lanes for bowling action are available, along with bumpers for the kids, and an arcade area. You can sit and watch the game with full service food and beverage lane delivery. The newly extended snack bar features hand-made hamburgers, sandwiches, pizza, chicken wraps, quesadillas, and nachos.
The brand new pro shop provides equipment and accessories to take your game to the next level, including drilling of new balls, ball cleaning, polishing, and re-surfacing.
The adults in your group can enjoy a beverage or a game of pool in the 11th Frame Club which also hosts live music, line dancing lessons (pay as you attend for $5) on Monday and Wednesday nights, and karaoke on Friday nights. The full service bar and dance floor is just the place to unwind after a game.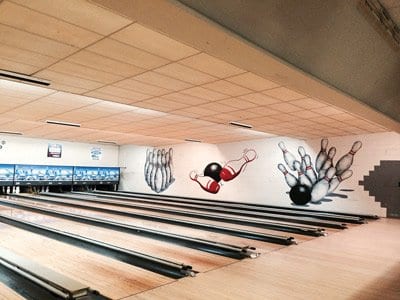 The alley is all lit up with glow bowling Thursday-Saturday nights, and Thursday nights is a deal with "all you can bowl" for $10, 9pm-12 midnight.
Sandra Graham, from Tyler ties up her bowling shoes and gets ready to join her team, "Spare Us." "I've been playing in this league for 25 years and I love being with these folks, laughing, and having fun. I play Tuesday and Thursday nights, and also on a ladies' coffee league. You could say it's something that's a big part of my life."
"One of the great things about bowling," explains manager Turner, "is that you can see all ages, from toddlers to a 90 year old who play here every week, and we consider everyone family."
Green Acres Bowl now takes online reservations at greenacresbowl.com, so now it's even easier to get started and secure a lane ahead of time.
A bowling party is a great alternative for a birthday (you can bring your own cake), corporate or team-building event, or college night out with friends. You can join a League or even rent out the whole facility for a massive bowling extravaganza.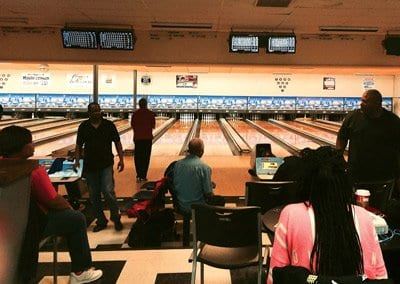 Another team, "Sometimes We Strike," takes to their alley, encouraging, and joking with each other. Alicia Bowie, who's been playing on the league for 10 years says, "These people are like my family. I love the challenge, the competition, the fun, and companionship. There is a lot of skill and patience in bowling and it can be frustrating as in every sport to improve, but every game and frame is a different challenge."
The alley is open seven days a week Monday-Thursday 8am-12 midnight, Friday and Saturday 8am-1am, and Sunday 12pm-12am. Rates and specials can be found on the website or by calling (903)561-2911.
Green Acres Bowl is located at 2311 ESE Loop 323 in Tyler.
Lace up your bowling shoes, bring the family, and go make some strikes and spares!