By Derrick White
"Everyone you will ever meet knows something you don't," is a quote attributed to Bill Nye (yes, the science guy). In my life I've found this to be true. My father-in-law used to be able to diagnose and talk me through how to fix the engine on my truck from my description of the problem over the phone, yet he needed me to get Netflix working on his television. There is so much information I don't know, too much. It is overwhelming. The things I don't know far outnumber the things I do. The world around us is changing so rapidly, who can keep up? There are new technologies, cultures, subcultures, and countercultures. I get confused.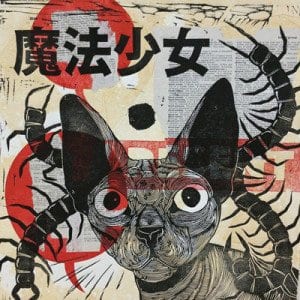 For example, I only know the name of one Pokémon character and there are hundreds of them. I am unsure about the correct pronunciation of the word Manga. Pokémon is an anime, a term used for Japanese animated cartoons, created by Satoshi Tajiri. Manga is an anime-style comic book you read backwards. However, I do know both are full of wild, imaginative mythology, unbelievable creatures, and intense fantasy quests and challenges. I know they are wildly popular with a wide ranging audience. I am unsure if there is any difference between an anime convention and a cosplay gathering, so if you are thinking of getting into any of this, please check out WikiHows.com – "How to Attend an Anime Convention in 14 Easy Steps." I know embedded in this subculture of costumes and cartoons, among the weirdos and sexual deviants, are some of the most clever, intelligent, gifted, creative, uninhibited, and talented people on the planet – believe it or not.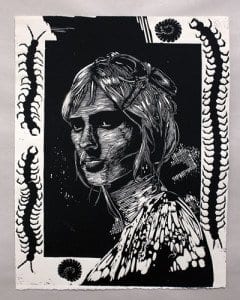 MK Northum is a local East Texas printmaker, illustrator, and designer. I do not know if she is interested in any of the examples listed above but she does have some eccentric colored hair each time I see her and she has dressed up as a very convincing Tank Girl (a British comic book character created by Jamie Hewlett and Alan Martin, originally drawn by Hewlett. Post-apocalyptic Tank Girl lives in and operates a tank, undertakes a series of missions for a vague establishment before going rogue. The story centers on her misadventures with her boyfriend, Booga, a mutant kangaroo).
MK Northum is a genuine, vivacious, and sociable person. Her interests are sincere and authentic and not trendy. She allows her attentions to permeate her life and her art. MK is not a poser, she is the real deal and she is an intelligent, gifted, creative, and talented person. Her natural gift for illustration is one of the most prolific I've ever experienced in my entire teaching career. Her artwork reflects a range from comic strip narratives with quick gestural attitudes to serious introspective self-portraits to anthropomorphic fantasy creatures giving human characteristics to animals, plants, or objects.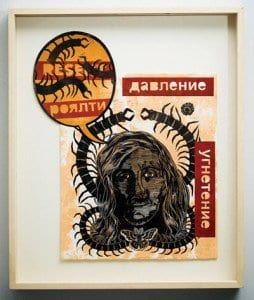 Currently, MK Northum is doing freelance art and design work creating posters and flyers for events around Tyler. Her experience with digital illustration and computer work is self-taught (i.e. Adobe Photoshop, Illustrator, etc.). Previously, she trained in both painting and printmaking at Tyler Junior College, where she was active as Vice President and then President of the TJC Art Club. She then transferred to the University of Texas at Tyler. MK earned her Bachelor of Fine Arts degree from UT Tyler in 2015.
"Since carving my first linocut print under the guidance of Chris Stewart, former TJC art department chair, it stuck with me. I thought I was going to be a painter and do these large-scale paintings, but after a couple of years I realized printmaking was where I needed to be. For my senior exhibition at UT Tyler, all of my work consisted of linocut and mono-print collages," states the artist. She adds, "I work in a variety of media, but now I'm fresh out of college, it's hard for me to justify buying a printing press, solely for printmaking purposes. I am currently focusing on graphic design and digital art."
When asked what started her on the path to becoming a visual artist, she replied, "Watching my dad try to teach me how to draw, except his drawing ended up being a somewhat silly and nightmarish rendition of the cover art on "The Lion King's" VHS box. Afterwards, I was hooked. I drew every day, and a word of advice: it is the only way you can become better at drawing. Draw each day, even if it's a doodle on a Post-It note, draw EVERY day. Right now I personally keep two sketchbooks, one small to take everywhere, and a large one for home, but I try to fit in at least one sketch or doodle each day."
MK's perspective of what an artist can be has changed dramatically over the years. When she was younger she imagined she would become a famous artist and work for Disney right after college. Now, after experiencing the competitive nature of the art world, she is setting pragmatic goals for herself, and staying on task until reaching them. "If I actually end up working for Disney, Cartoon Network, or a design firm, it would be fantastic, but it all depends on my skill level and how hard I'm willing to work to achieve it. I think I have a good perspective on the art world, but if you constantly compare your art to other people's art, you're wasting time," advises MK.
MK goes through phases of favorite artists, but currently she is influenced by a wide variety including Joanne Nam (figurative, Korean artist living and working in Los Angeles), Sam Wolfe Connelly (nightmarish, illustrative artist from New York), Gary Taxali (vintage comics and advertising, graphic design), Frida Kahlo (surrealist, Mexican painter best known for her self-portraits), and Egon Schiele (Austrian, elongated figurative painter).
"The most frustrating thing about being an artist is getting into a mental block, and not thinking you're good enough or making as much art as someone else. For three years I made crappy work, in order to make myself make artwork, but once I found my niche and felt like I was making good work, it was like an epiphany and everything came together instinctively. Getting out of that rut was the best thing to ever happen to me, art wise."
"You must check out her website," Booga says so: www.mknorthum.com.