---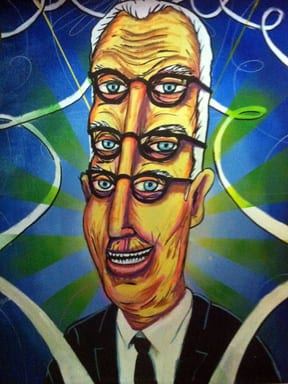 By Derrick White
Wow! Do you feel it? I'm sure you do. Crisp and clean, there is something special happening all around. Stop and you can sense the exciting, vibrant, tingling taste. An arts, music, food and social scene have momentum in East Texas. Everything from incredible live music infused with the smell of BBQ to the hint of rose petals in a locally brewed beer. It is a great time to be here.
[Writer's note: this article is better enjoyed with any Neil Young song you may have available playing in the background, a BBQ sandwich and a Rose City Pale Ale.]
There is a nucleus for these sorts of powerful movements, a positively charged central core. There is usually a genius, rebel, freak, or creative crazy person in the middle (kind of like when artist Edouard Manet sparked the modern Impressionist movement in the 1860's). There is something very special about having outsider visual artist Paul Jones living and working in Tyler, Texas. He exudes an imaginative, groovy vibe. Paul is "Keep Austin Weird," "Portlandia," and "The Independent Order of Odd Fellows," all rolled into one. If you've met him, then you know exactly what I'm talking about. He is the most influential living artist for my own work by far. A tall, robust and pungent lumbersexual, Paul brings an honest, casual and natural creativity to his every act of living, whether it is cooking, family, painting, playing guitar, storytelling or teaching art at Tyler Junior College.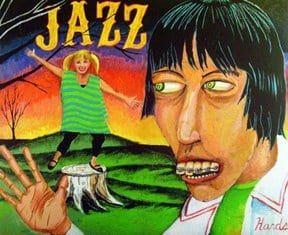 However, our local folk hero comes from humble beginnings. Abandoned as a baby out in the oilfields of West Texas, Paul Jones was raised by prairie dogs and leaf-nosed bats before being found and adopted by a kindly couple who wish to remain unknown. I've got to bet that his old man became fascinated with his actions, turned him loose, his mama too. There wasn't a thing he couldn't do. As a young boy he spent his formative years under the guidance of his accepted uncle, Tom Beaver, originally a West Virginia woodsman, relocated up the Mississippi in St. Louis. As a way of amusing his uncle, Paul swiftly learned to tell elaborate and thrill-seeking tales. He could spin a yarn better than anyone.
While Paul was still a young man he returned to Texas by riding a tornado. Jones had the time of his life in Texas becoming very Tex-centric. He says he wouldn't swap Texas for the whole rest of the United States even if you threw in Canada and Alaska too. Paul settled in DeSoto, south of Dallas, where he started the town's very first street gang 'Mr. Doo Club' or otherwise known as M.D.C (these initials were later stolen, changed and incorporated into D.M.C by some hip-hop group from New York). Restless and incensed he became a guitar wielding front man for the post-punk, pre-grunge, somewhat famous, rock band Llama Nose, singing ireful and often disturbing lyrics about elderly relatives, gelatinous desserts and a fish eating its own parents. Then he set his sights on a new target. Denton, Texas was a quiet, sleepy, peaceful community, now it is considered a college party town because, in part, of Paul David Jones (little known fake fact: Fry Street is named after Paul's 4am campfire bacon breakfast stories he would recount every other Saturday in the middle of the road).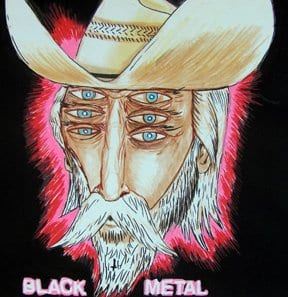 Paul later spent time in Waxahachie, Texas influencing a generation of other outsider artists with his outlandish style, subjects and methods. When the outlaw printmakers The Amazing Hancock Brothers would come to town, they were frightened and called Paul the most wild thing of all. Paul will sometimes let ceramic face-jug legend Carl Block play bass guitar for him, but he makes Carl wear a kilt! When Paul travels to Austin, Daniel Johnston pesters him for his autograph and Wayne White from Los Angeles is constantly calling asking for catchy words and phrases. Paul continually goes on strange and wonderful adventures, namely his annual co-birthday celebration with Stephen King, the late Larry Hagman, the late Chuck Jones and comedian Bill Murray. These days Bill Murray is the only person who still speaks to Paul, but let's face it, two of the other guys are dead and Stephen King is a real weirdo.
Journeying to East Texas as a devoted married man and father of two, Paul lived in Bullard's trees as an owl for a brief period before building both a land-bound pirate ship and a severely high tree house not suitable for habitation. Nowadays, Paul has settled down. He has founded his offbeat organization T.I.T.A.N (Twilight In The After-Noon) encouraging middle-aged men to begin enjoying their benefits of old age early, wearing one-piece Dickies coveralls, driving mobility scooters, and eating supper at 4pm (as an active T.I.T.A.N member I must admit, it's a little uncomfortable and requires way too many naps).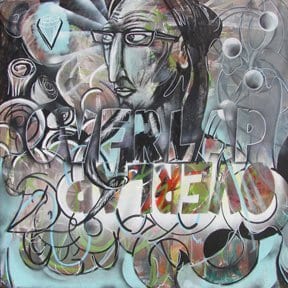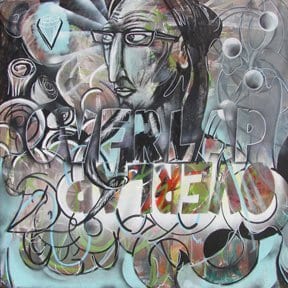 Paul's artwork is still edgy and his presence is still implicit. You'll see him around town having an art show, playing a gig, eating some chicken of the cave, maybe enjoying a locally brewed beer or pulling someone's leg (sometimes literally) and, you'll feel it, an exciting, vibrant, constant hum. You will actually recognize what's going on, at this time, in our area. That special something, the ambiance that comfortingly tells you "hey, if that loud, weird, facial haired dude is here, this must be cool," and do you know what? It is. It is authentic. It's moxie. It is a great time to be here. Climb aboard fellow pirates, we aren't going anywhere because we are already here.
Paul earned his Associates of Arts degree from Cedar Valley College, Lancaster, a Bachelor of Fine Arts from the University of Texas at Tyler and his Master of Fine Arts from the University of North Texas, Denton. If you wish to feed off his vivacity, Paul currently has some of his weird and astonishing art on view now and for sale on Saturday February 15th in a group exhibition hosted by Cork: Food and Drink (5201 S. Broadway Ave. / Times Square Center, Tyler).
But come with the understanding, Paul Jones is both the Bill Murray and the Paul Bunyan of East Texas. You may have to stand in line to meet him.
Paul is available on Facebook – Paul David Jones.