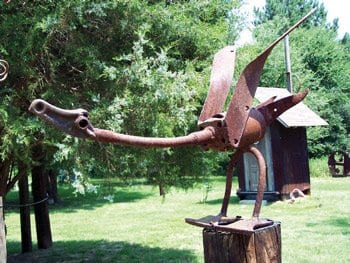 By Derrick White
"For long you live and high you fly. And smiles you'll give and tears you'll cry. And all you touch and all you see. Is all your life will ever be." – Pink Floyd's 'Breathe.'
Disclaimer: I'm not qualified to write this article.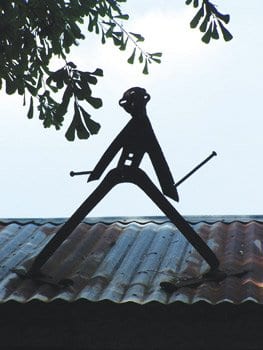 Folk or outsider art is an art form embracing the human impulse to create, whether the creator has any formal or academic training whatsoever. It's one of the things I love about visual art and especially folk art. Everyone is just as qualified as anyone else to start making art and inventively expressing themselves. However they see fit to do so. This doesn't mean you'll be any good or others will pay you but at least you will have experienced the human creative processes and problem solving in artmaking. Unlike some hoity-toity, white wall gallery fine art, folk art is usually ornamental, sometimes useful, and groovy and fun rather than solely aesthetic. Folk art is typified by a naïve (childlike or no fear) style, in which the maker creates their own personal set of rules of representation, proportion, and perception. Often folk art will repurpose discarded or abandoned objects into new creations, turning trash into treasure. Outsider art is generally modest, straightforward, and mostly as oddly interesting as the people who make it. There are many thriving folk art practices like quilting, painting, ceramics and sculpture, and new approaches in folk art and materials continually evolve. Contemporary outsider artists are often self-taught and their artwork is frequently formed in seclusion.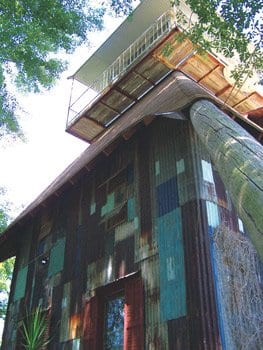 If you are a native East Texan you may already know of the legendary Cosmic Shed near Henderson. Maybe you've heard strange rumors about it growing up or you have gone out there with friends to have a beer, get right, or hang out or maybe not. It's kind of a secret, but not really. It is there, but few people see it, kind of like the dark side of the moon. You have to know, and you have to look. It is like being open to what is up in the universe whether you can see it or not – cosmic.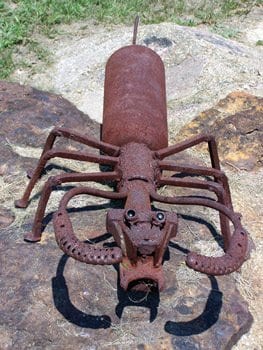 A folk artist (or self-proclaimed trash artist) named Fred Rogers (former analyst for the Pentagon) built The Cosmic Shed decades ago using junk – old telephone poles, discarded, recycled and found materials. It is an eclectic, multi-textured structure rising four stories high in an unusual pyramidal form. The surrounding grounds showcase Mr. Roger's found object or trash sculptures. "Trash Sculpture – An Art Form Appropriate for Our Time" reads a Cosmic Shed sign. Fred Rogers died in 1992. The shed is located on CR 426, out towards Henderson near Joinerville and is open as an art museum Sundays from 12 noon until dusk. If you decide to visit leave your inhibitions at home, but visit with respect, this is a labor of love. Throughout the grounds one finds rusted and rejected farm implements reinvented into birds, insects, creatures and kinetic forms. "Beauty is in the eye of the beholder, art is in the eye of the beholder," stated Fred Rogers from a Texas (8) Country Reporter segment from 1995. "People do tend to throw their trash out on country roads…occasionally, I'll find an invaluable piece and make it immortal in trash sculpture," says the artist.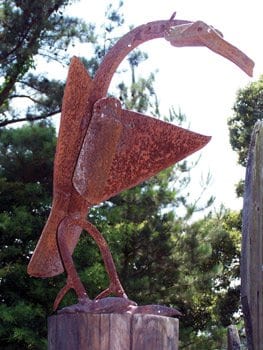 Inside the four storied medley shed (considered both an art gallery and a museum) the walls, halls and stairways are covered with art from any and everyone who has been willing to share – some good, some bad, some beautiful, and some ugly. But Mr. Rogers didn't see it that way. In his old man's playhouse filled with artists' works he states in his interview, "…for a thing to be genuinely ugly I think it has to be destructive of the human spirit in some way and I've tried to avoid that here."
From the blog 'Free Tea Party' (a group traveling the land, this free tea house cultivates community, health, peace, sustainability, and genuine human interactions.), "The awkward stairs up to the third floor up through a hatch in the floor, make you feel like you're entering a secret hide-away. And indeed, the third floor has few windows, and the walls of the pyramid shape start to taper in, making it feel like an old attic in which you might make a secret fort. Protruding from the center of the third floor is a system of large cross-braces, which form a nest of stairs leading up towards the light beaming down from the fourth floor. Going up these small stairs, one finds themselves in a room of glass. The trees have grown up in the past 50 years, making it feel like a tree fort."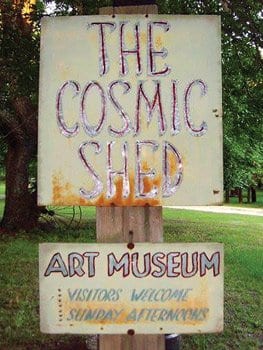 There is a reason Rogers was drawn to using the superfluous trash as an art material, a statement about our insatiable appetites for stuff, junk, and our disposable, one-use consumerism. "Everyone knows that we're poisoning our very water we drink, the very air we breathe and more words probably won't help much," said the artist, who remember, passed almost a quarter of a century ago.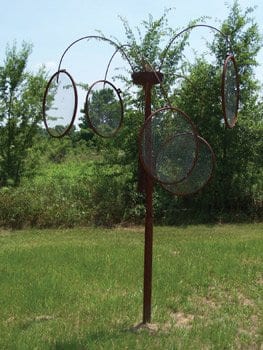 I have visited The Cosmic Shed a few times, though it has been years since my last visit. We took our kids after we first moved to East Texas. They were much younger then and wondered at the quirky sculptures, laughed at the giant metal bugs and enjoyed the obstacle of navigating the intricate art filled shed exploring its fort-like qualities. They gained something by experiencing someone else's unique approach to problem solving, to art, to trash.
It was an enjoyable afternoon and remains a fond memory. Perhaps, just as Fred Rogers intended.
"It is life enriching to know that someone else feels that they gained a little something from something you've done, tried to do. Sure, what greater reward is there in this life? But then, if no one ever came and saw it, it would not be a waste because it enriches my life," said Rogers.
We should laugh at art more and as Rogers admittedly attempted, marry the ridiculous to the sublime.
For more information and to find out if the cosmic shed still accepts visitors on Sundays find them on Facebook – The Cosmic Shed. The Cosmic Shed is maintained by Fred's former partner Cindy.
For more about the Free Tea Party's East Texas celestial experience visit: freeteaparty.org.