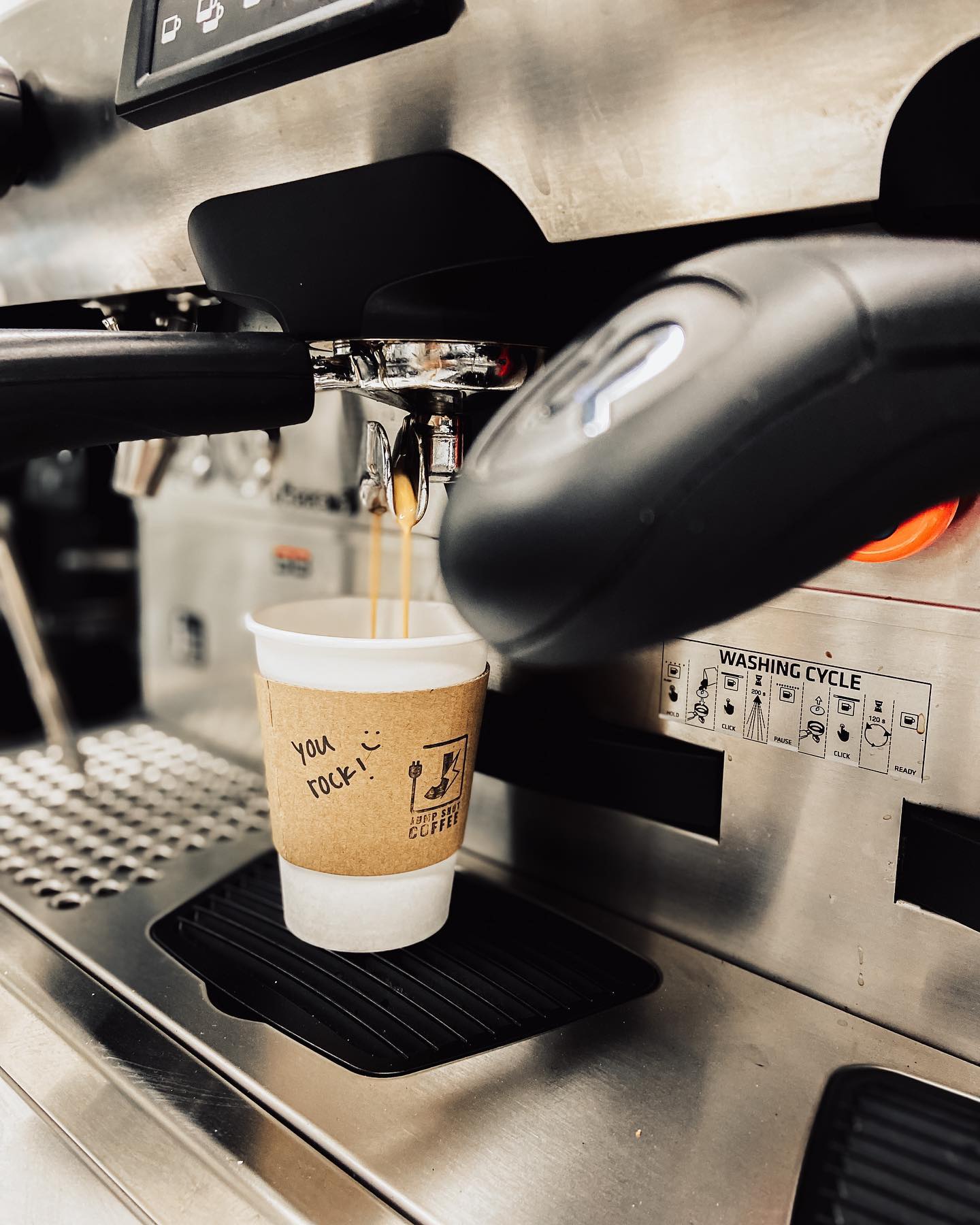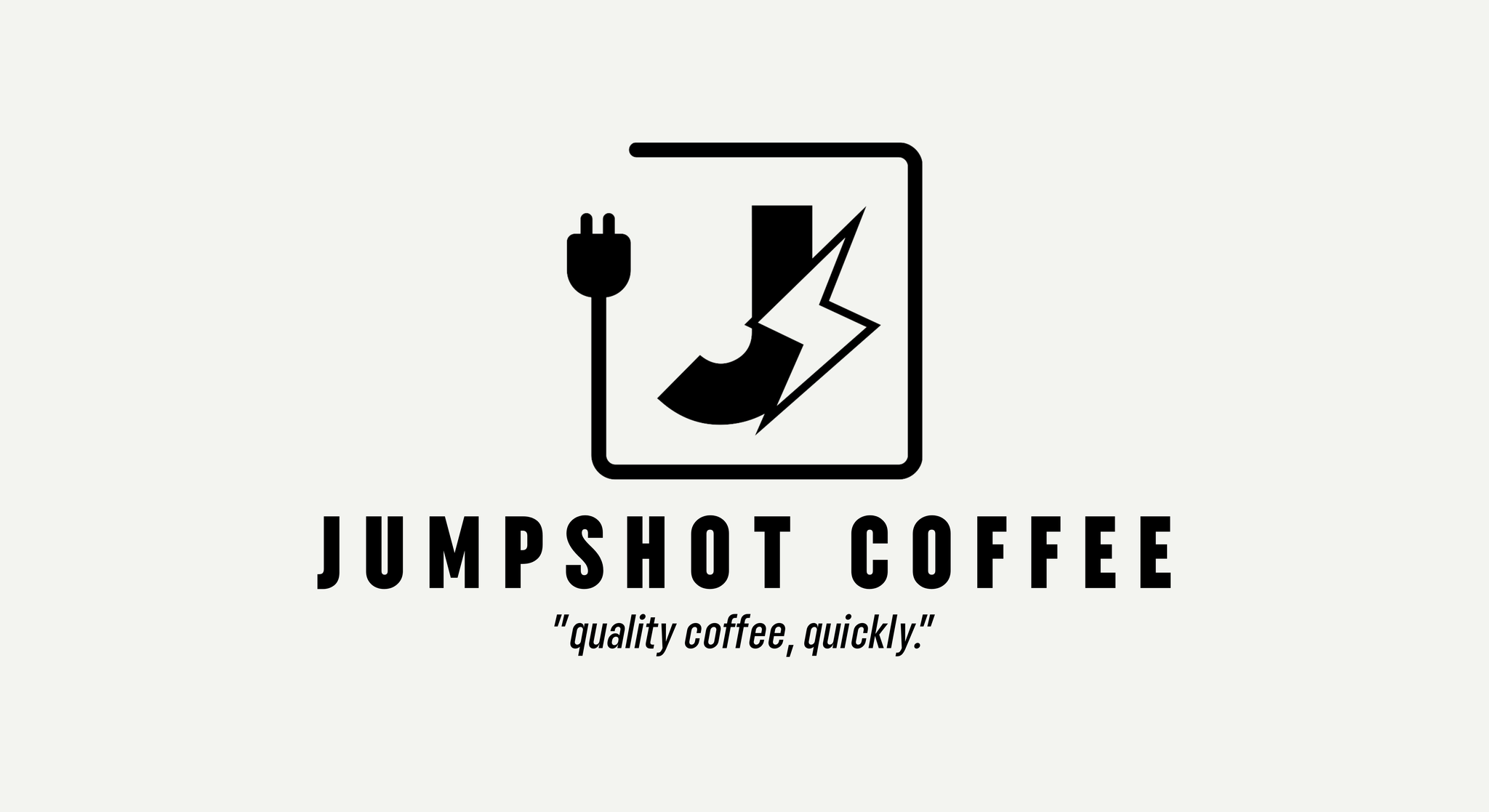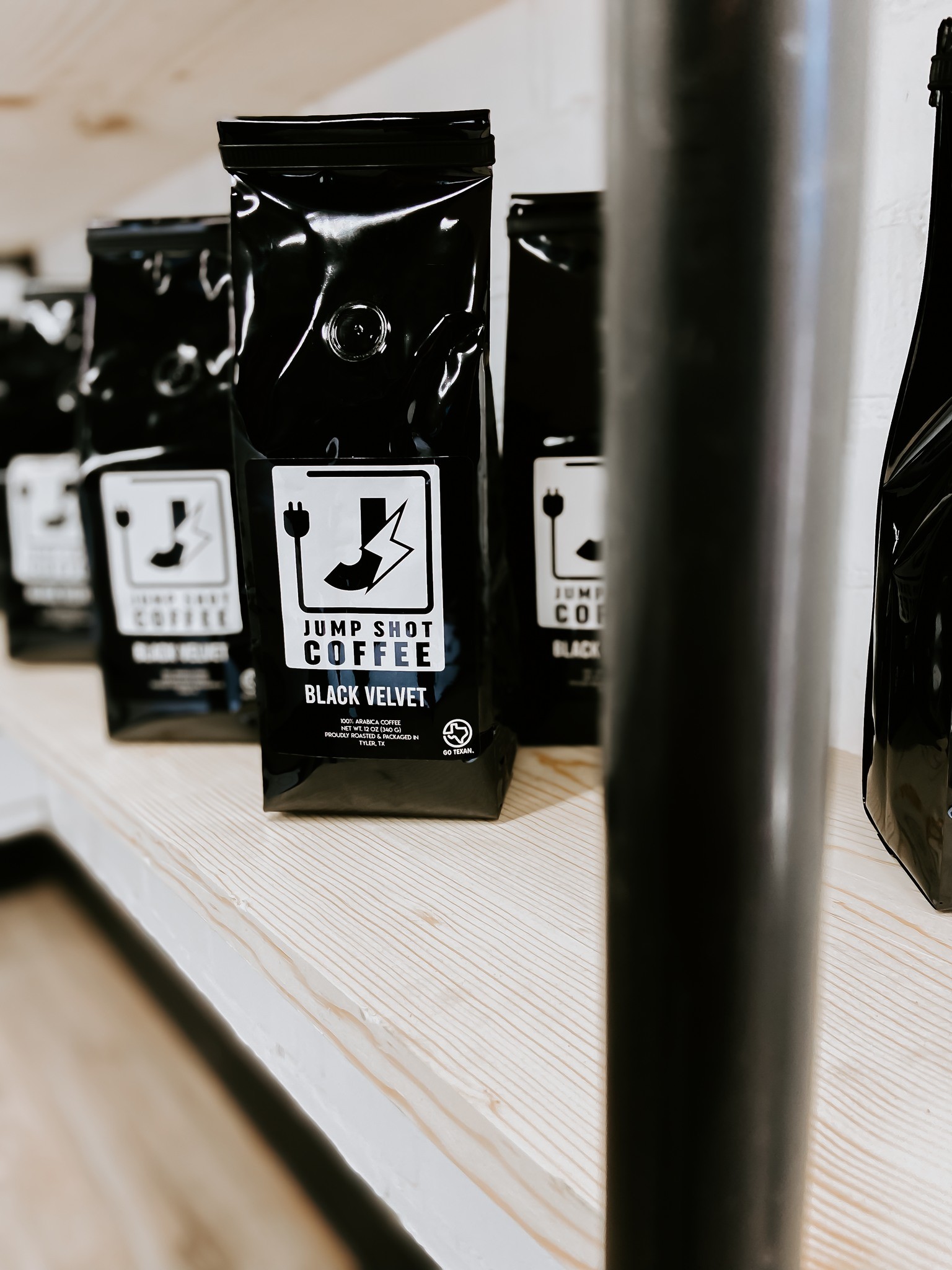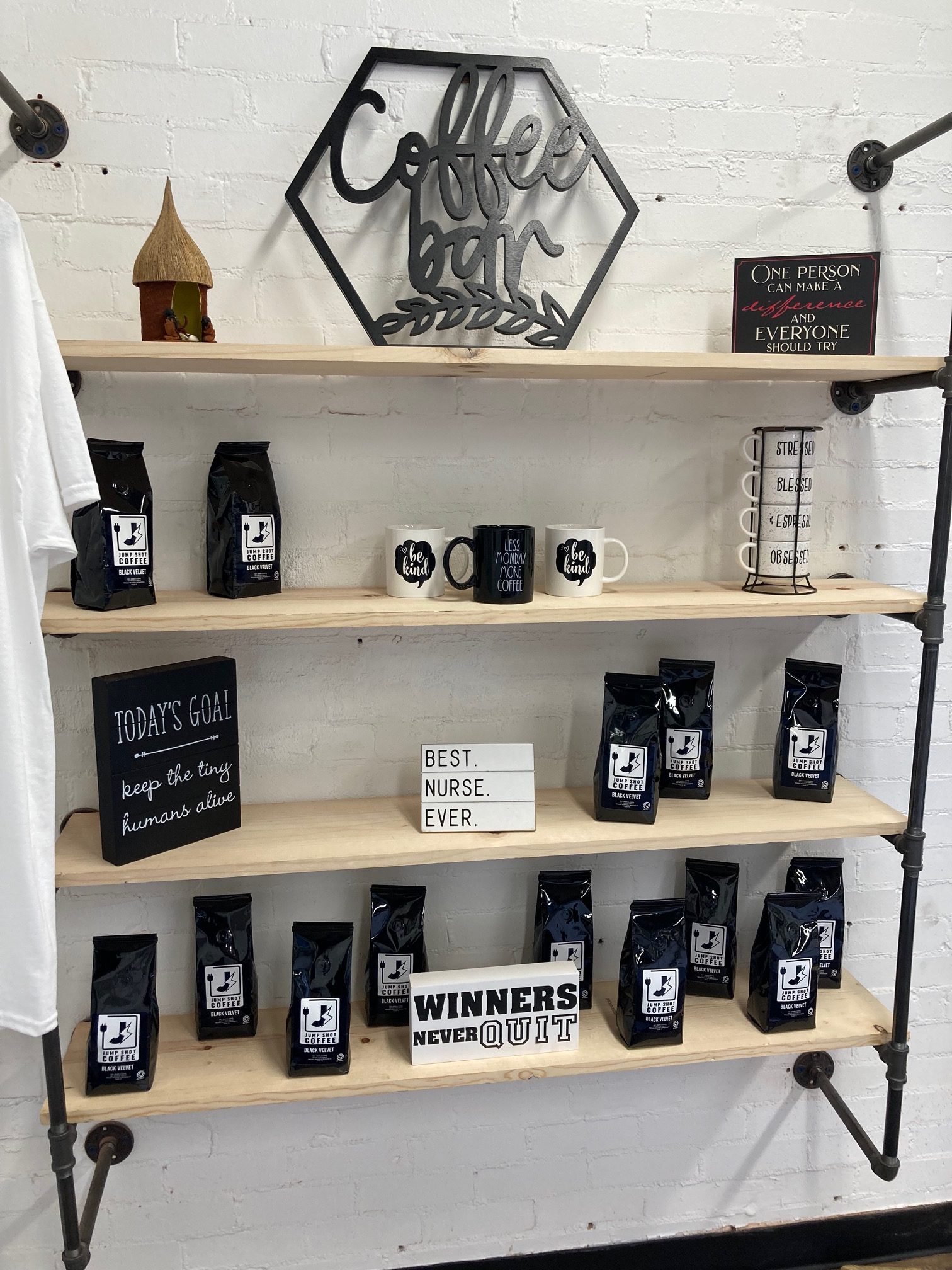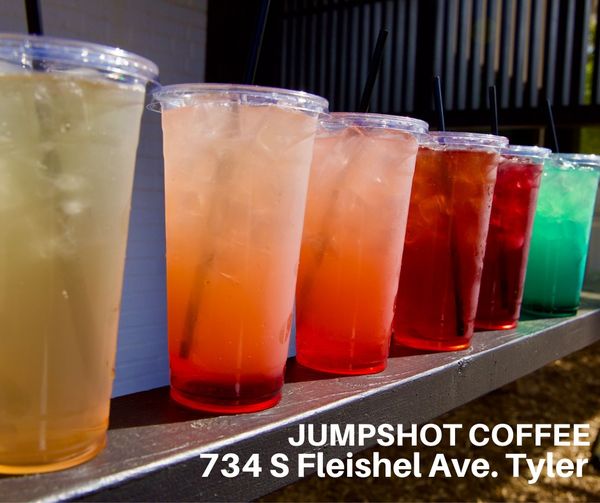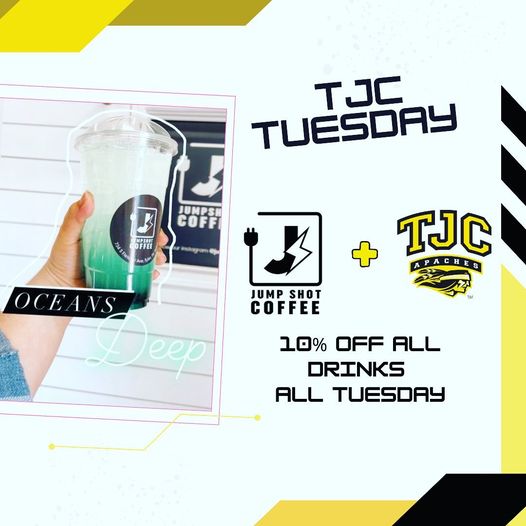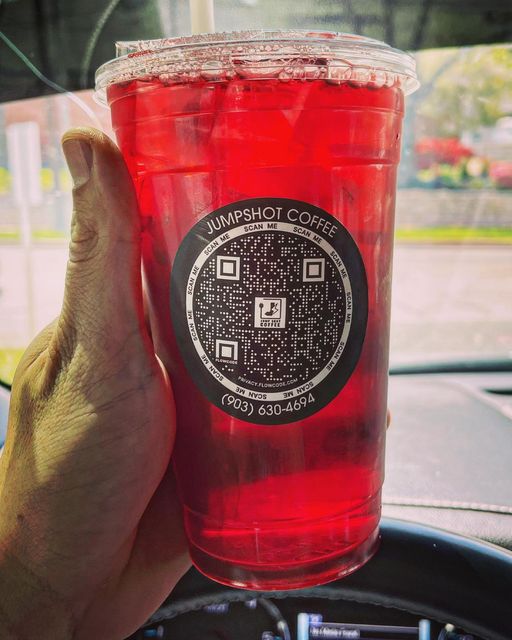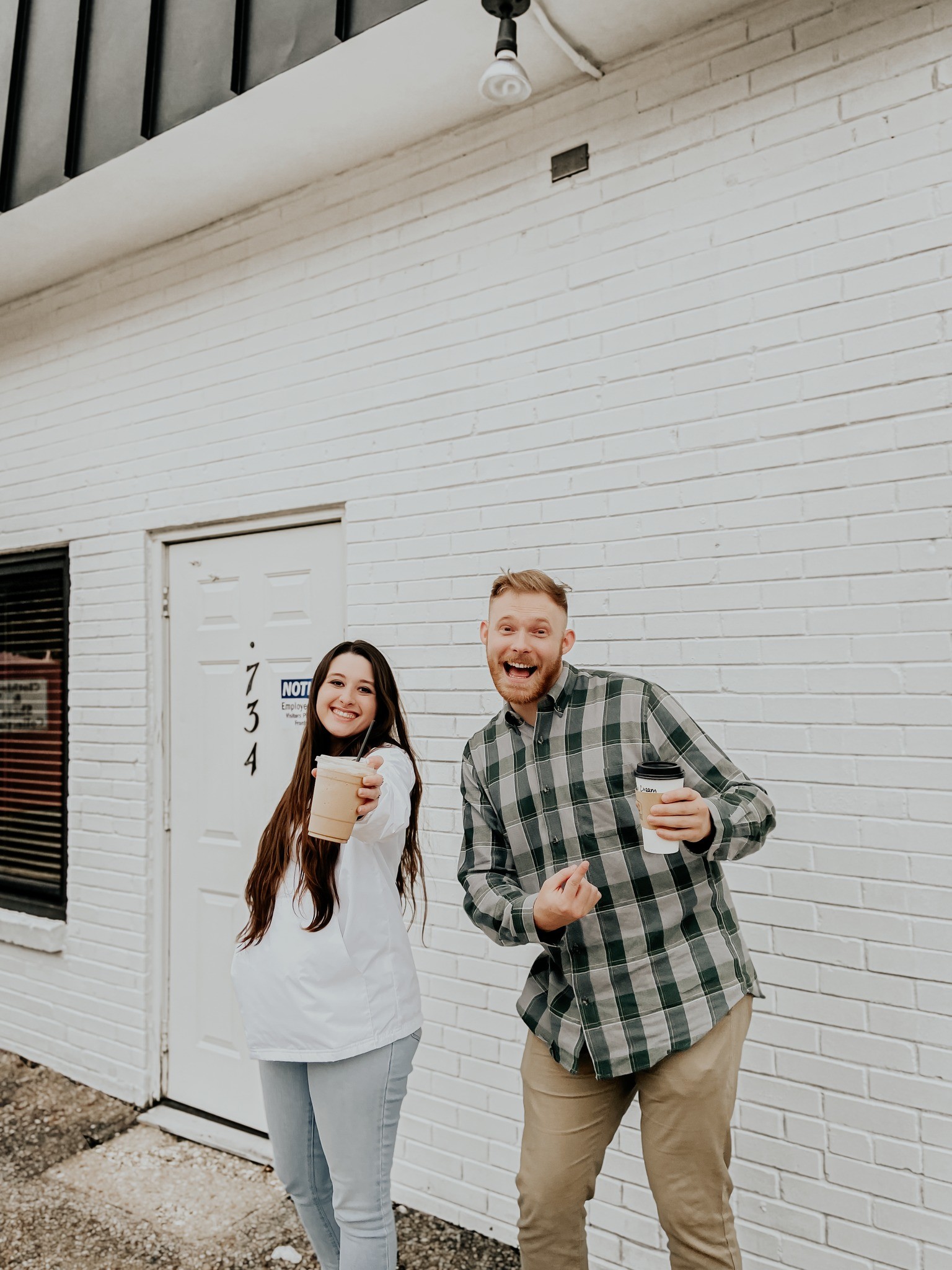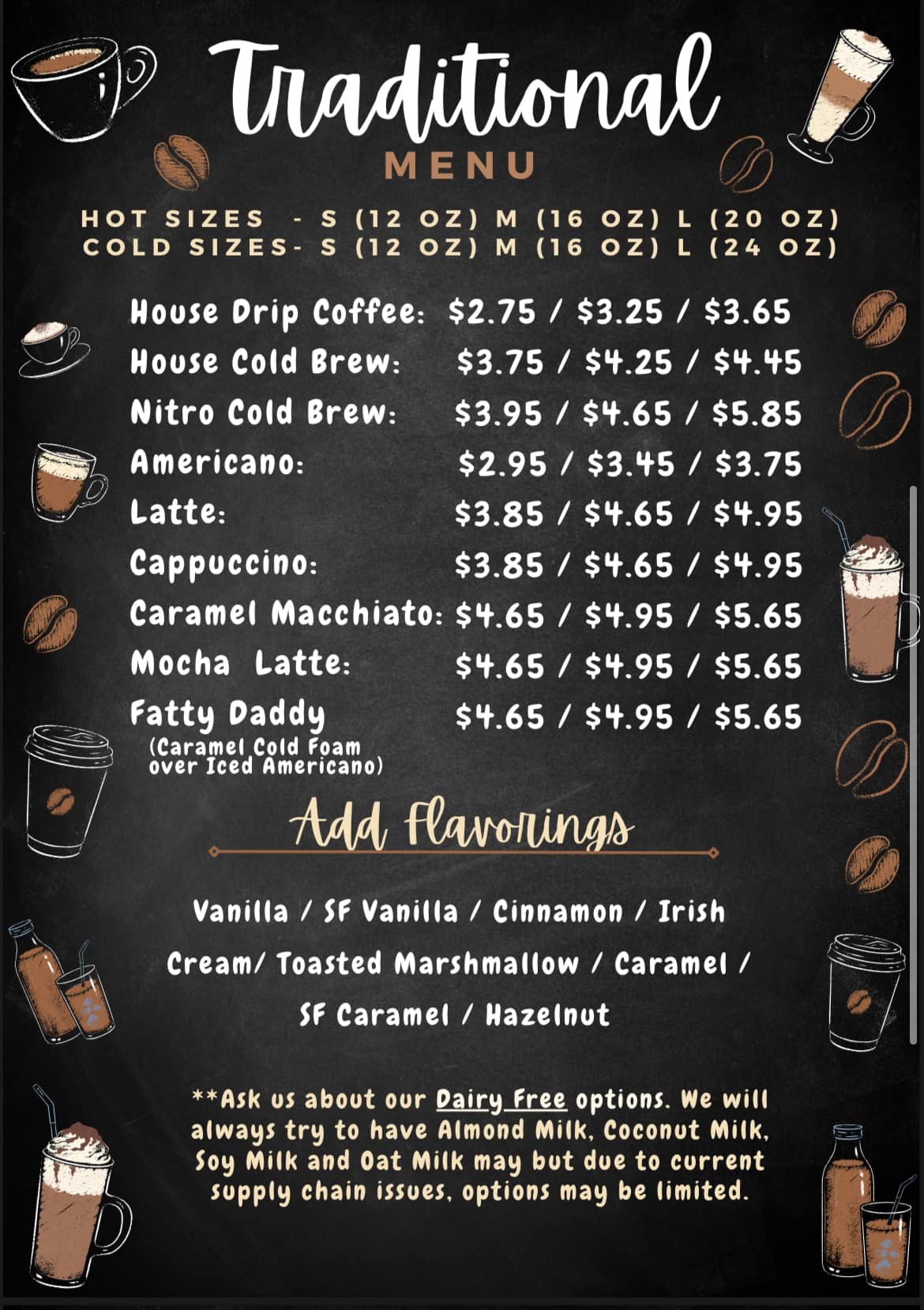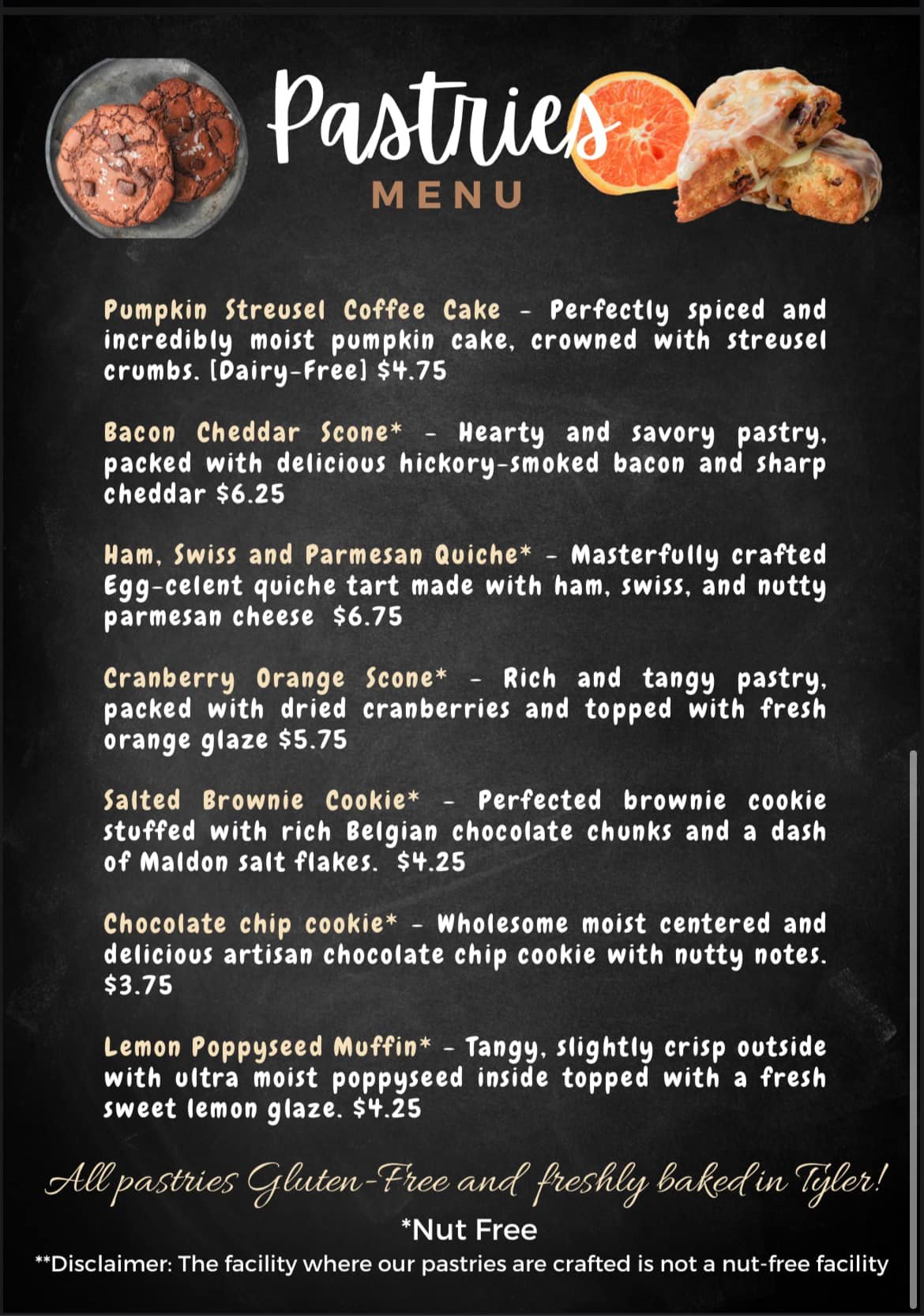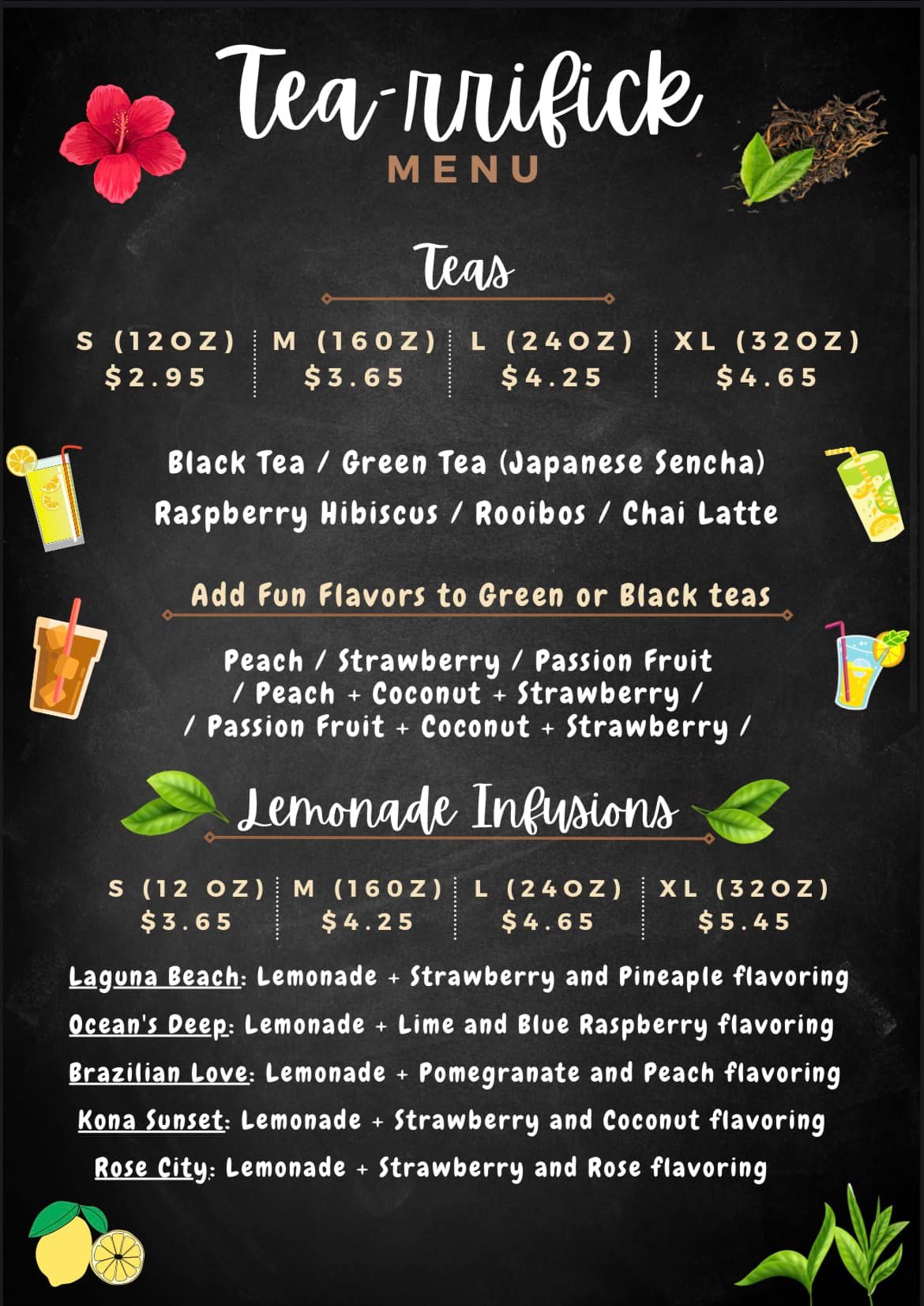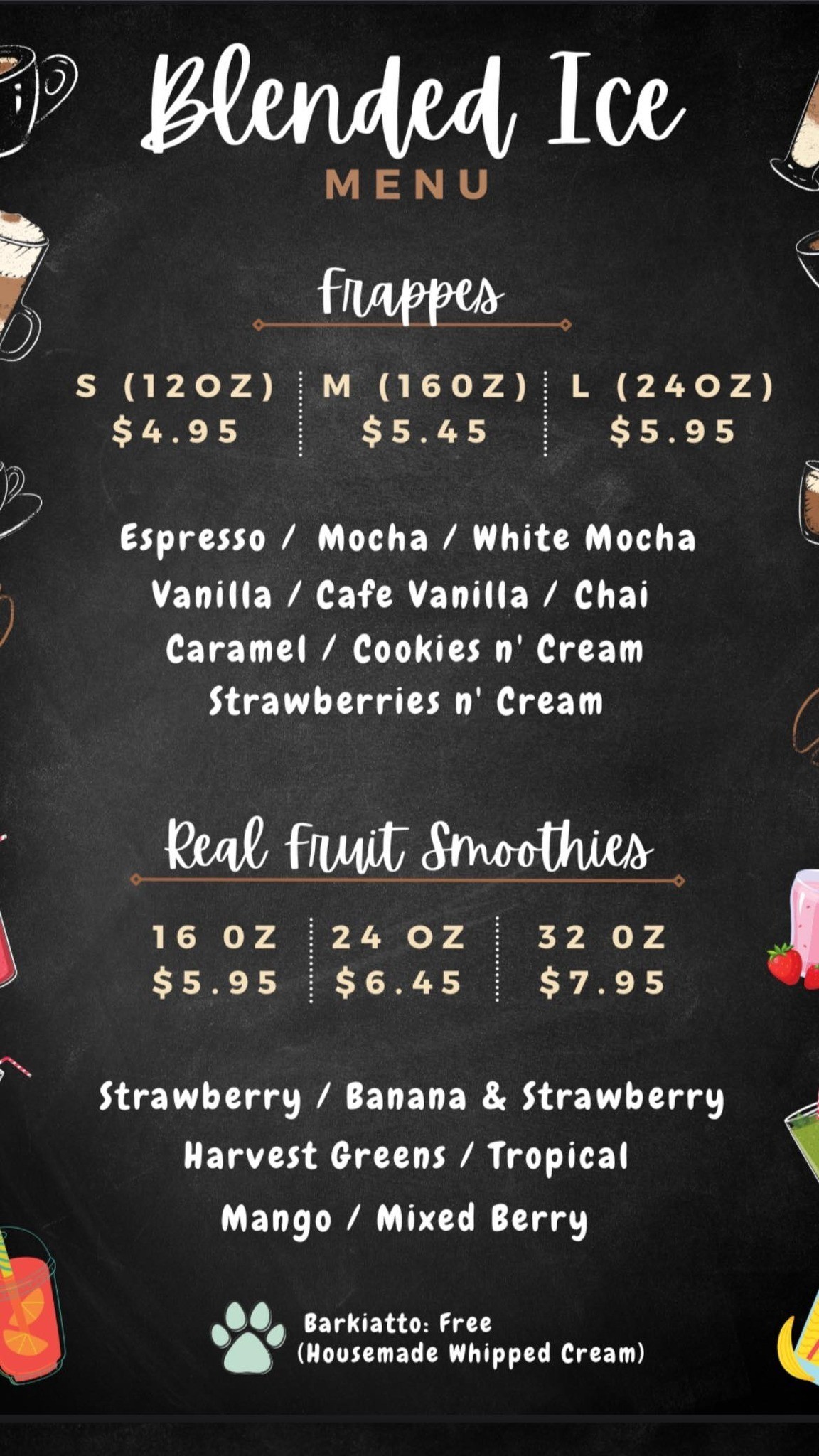 By Barbara Greenbauer
Tyler, there is now a new great new option for "quality coffee, quickly."  Welcome, JumpShot Coffee to the community!
Located on South Fleischel, right next to the burgeoning medical epicenter, JumpShot recently opened in February, the vision of power couple, Levi and Sasha Rodriguez, transplants to our fair city from Denver, Colorado.
Levi, a savvy entrepreneur, envisions this first "flagship" location as just the beginning of a grand vision of a local model, expanding across the state.
Originally the site of a local bank, the family have dreamt big, and has made the outside artistic and inviting, black and white with a striking logo.  Upon my visit, big, colorful things were in the works outside, with a beautiful mural in progress, from the creative mind of Dace Kidd, a local Tyler artist.
Back to the coffee.  Levi explains with pride that "we serve only the highest quality, and the expectations that we set are for everyone to have a flawless experience."
JumpShot's extensive traditional menu includes hot and cold sizes of house drip, coffee house cold brew, nitro cold brew, Americano, Latte, Cappuccino, Carmel Macchiato Mocha Latte, and the signature "Fatty Daddy", caramel cold foam over iced Americano.  You can also add your favorite flavor, including vanilla, sugar-free vanilla, cinnamon, Irish cream, toasted marshmallow, caramel, sugar-free caramel and hazelnut.  JumpShot features dairy-free options, and they will always try to have almond milk, coconut milk, soy, and oak milk.
Tea-riffic teas are also a specialty, featuring black and green blends, raspberry hibiscus, rooibos and chai latte.  You can also add fun flavors to green or black teas with the lineup featuring peach, strawberry, passion fruit, peach, and combinations.
The baristas are super friendly and recommend the lemonade infusions as patrons come through the door.  With exotic names like Laguna Beach (lemonade & strawberry & pineapple) or Brazilian love (lemonade & pomegranate and peach) and the ode to Tyler itself – Rose City (lemonade & strawberry & rose flavoring).
The blended ice menu is impressive as well, with frappes and real fruit smoothies.
Frappes will tempt any tastebud, from espresso, mocha, white mocha, vanilla, café vanilla, chai caramel, cookies & cream, and strawberries and cream.
Levi lights up when he describes the "real fruit smoothies, unlike anything you've ever had."  Smoothies can be made from a fruit assortment including strawberry; banana and strawberry, harvest greens, tropical mango and mixed berry.
Don't forget your furry friend!  JumpShot is a pet lovers' place to be where you can order your puppy a free special treat.  As you enjoy your drink, a free barkiatto is made to order from housemade whipped cream in a special dog-sized portion cup.
JumpShot has tons of specials during the week, including a daily Happy Hour from 2-6pm with all cold brews, teas, and lemonades 10% off.
JumpShot loves students, declaring Tuesday as "TJC Tuesday" and Thursday as "UT Tyler Thursday" with the shop offering 10% on all drinks to students presenting valid student ID.
Need something sweet to eat?  JumpShot features gluten-free pastries, freshly baked in Tyler with everything from pumpkin streusel coffee cake, salted brownie cookies, and lemon poppyseed muffins.
Levi and Sasha are all about giving back and strongly support an orphanage in the capital city of Kampala in Uganda, having established the JumpStart Foundation, with every Sunday's proceeds going directly to the children.
Tyler's medical professionals are warmly welcomed, being only a short distance away, but Levi makes it known that staff will deliver to the hospitals within a half-mile radius of the store.
Levi and Sasha consider the store a "blank slate with an incredible amount of potential", and future plans include an outside seating area and a scrumptious breakfast menu.
As Levi says, "we are here to stay," so come and be part of the excitement at JumpShot Coffee.
JumpShot hours of operation are:
Monday through Friday 5:30am-8:30pm for the Drive Thru, 8:30am-5pm for walk-in
Saturday and Sunday 5:30am-8:30pm for the Drive Thru Only
Find them on Facebook or call (903) 630-4694 to place an order.