By Gini Rainey
"The Last Anniversary" by Liane Moriarity
This author has fast become one of my favorites! I've read several of her novels and I must say that she doesn't fall into the "if it works – use it to death" trap that so many novel writers seem to fall into. "The Last Anniversary" is set mostly on the fictitious island of Scribbly Gum, just off the coast of Sydney, Australia. The main plot revolves around the "Munro Baby Mystery" and the family dynamics that surround it.
Ms. Moriarity has quite a talent when it comes to creating complex and unique characters that are also flawed, and this book is no exception. Although this book has an overwhelmingly large cast of characters, they are not only likable, but also believable, with each having their own particular brand of quirkiness. You might even find yourself getting some interesting looks inside the character's heads because of the insight and stream of consciousness that Liane has definitely mastered.
While there is enough romance to satisfy just about anyone, there is also a great deal of mystery that will hook you right in, making it difficult to put the book down. I think most readers will also be able to appreciate that the main character, Sophie, is still single (having never been married) at almost forty, but is still written as a charming, sought-after, attractive single woman, as opposed to coming off as desperate and down on men.
Although Moriarity's books are classified as "chicklit" they are definitely a cut above the standard fare for this genre. Written with a wry sense of humor and a hint of mystery, she has definitely hit the nail on the head when it comes to putting together another great book for you to curl up with in your comfy chair with a glass of wine and be transported to another place – a place where the people are a lot like the rest of us.
Copyright 2014 – Harper Perennial
Rating: 5 of 5
"The Volunteer" by Barbara Taylor Sissel
I was not familiar with the term "volunteer" when used to refer to prison inmates who had abandoned the appeals process, so this book opened up a whole new world to me. The main character of the book is Jarrett Capshaw, who is on death row in a Texas prison because of an unusual crime. Involved in the theft of Mayan antiquities, Capshaw found himself pulling the trigger and killing someone who he had no intention of killing. As much as he feels prepared for it, and as much as he struggles with matters of the soul, Jarrett feels he is ready to die because he feels it is the only
way his family and the families of his victims will be free to move on.
With 41 days left until he is scheduled to die, Sophia, a psychologist who previously handled a death row case that resulted in a stay of execution, finds herself drawn into a relationship with his wife and oldest son. It's Jarrett's family she can't resist, and there will be a price to pay, but even Sophia couldn't have foreseen the outcome when the brutal truth is exposed, the unalloyed facts that, incredibly, will deliver Jarrett's fate straight into her hands.
This is a richly told story with characters that are complex and thoughtful, places that are real, and conversations that ring true and meaningful. This is also a story about families, how they are made, and how in one single, horrifying instant, they can be broken. It's a story about mothers and the lies they tell to protect their children to keep them from being hurt, but what happens when the truth comes out anyway, and nothing and no one is spared.
You'll find that sometimes the truth has the power to break your heart and might just change everything you have ever believed in your life.
Copyright 2011 – Amazon Digital Services, LLC
Rating: 4 of 5
"Wildflowers of Terezin" by Robert Elmer
Elmer, a prolific writer with more than 50 books to his credit, is a former pastor, reporter, and ad copywriter who now writes from his home. The inspiration for this book was the stories he heard from his Demark-born parents and family. In "Wildflowers" he tells the story of a Lutheran Pastor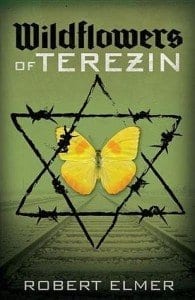 named Steffen and a Jewish nurse named Hanne, who are brought together during the year 1943 during World War II.
This particular story will take your breath away if you will allow yourself to become part of the characters'[wdi_feed id="1″] world. This fictional, historical, Christian read will bring that horrible war and Steffen and Hanne's incredible love story right into your home. Given the nature of the historical events in this novel, it's almost a given that the story would be gripping and dramatic.
Elmer doesn't fail to deliver a gripping and dramatic story through his very engaging look at Denmark during WWII and the rescue of its Jews. The action in this book doesn't wait to happen with the story opening on a showdown between Resistance and Germans, with Steffen caught in the crossfire. From the introduction, the story just keeps picking up steam with intense dashes across the sea to Sweden for Denmark's Jews, heartbreak when those rescues fail, and the discovery of one's self in a country controlled by tyranny.
Copyright 2010 – Abingdon Press
Rating: 4 of 5