Brrr, It's Cold Outside: Local Comfort Foods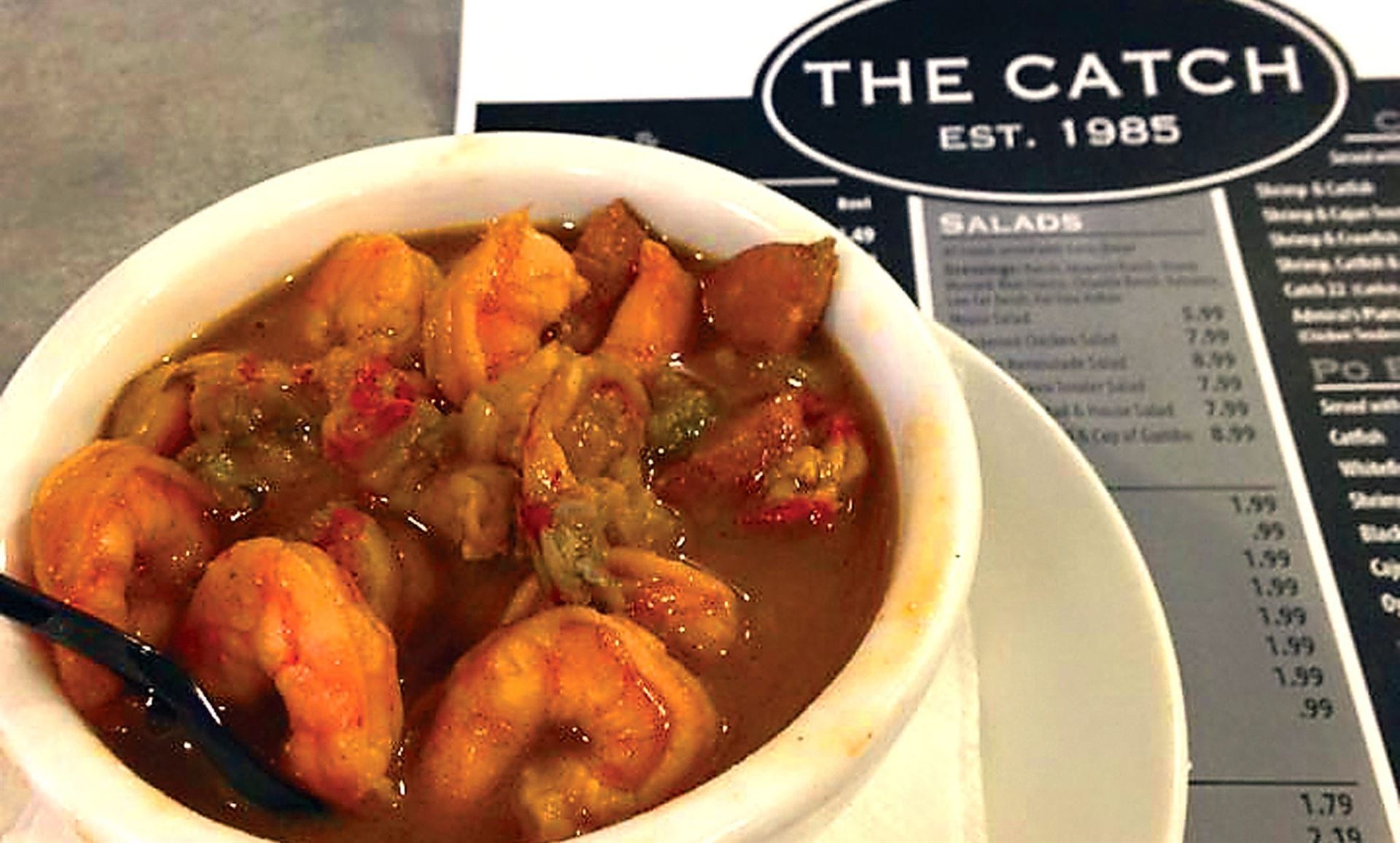 Local Comfort Foods Will Help to Keep You Warm Inside
It is time to snuggle up with some wintery comfort foods. Here are a few that we love around town.
Love & War Lindale
Love & War is certainly an epic name for what has become an epic restaurant, located in Lindale and developed by native Texan Tye Phelps who believes the philosophy described by Mr. John Steinbeck:
"I have said that Texas is a state of mind, but I think it is more than that. It is a mystique closely approximating a religion. And this is true to the extent that people either passionately love Texas or passionately hate it and, as in other religions, few people dare to inspect it for fear of losing their bearings in mystery or paradox. But I think there will be little quarrel with my feeling that Texas is one thing. For all its enormous range of space, climate, and physical appearance, and for all the internal squabbles, contentions, and strivings, Texas has a tight cohesiveness perhaps stronger than any other section of America. Rich, poor, Panhandle, Gulf, city, country, Texas is the obsession, the proper study and the passionate possession of all Texans." -John Steinbeck, 1962
L&W's concept was created to promote Texas – Texans, Texas food, and Texas Heritage. One of our favorite winter foods is L&W's Terlingua Ten-Pepper Buffalo Chili. This delicious Texas-style chili is served in a huge bowl, piping hot and topped with chopped onions and cheddar cheese. It comes with freshly-baked Texas-shaped honey cornbread. You can get this chili in two sizes, large and small.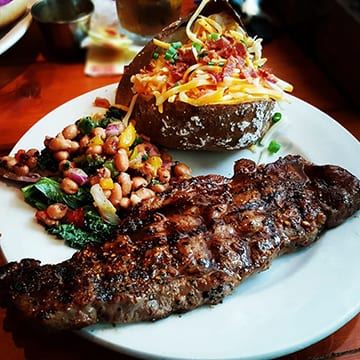 L&W has legendary steaks, classic dishes such as the Frio Country Platter (one third rack of baby back ribs and a mesquite smoked half chicken brushed with Shiner Bock BBQ Sauce), fajitas, chicken fried steak, hamburgers, fish tacos, and a fun dish – Tye's Foot Long Habanero Hot Dog, served with the L&W's Terlingua Ten-Pepper Buffalo Chili on top.
A specialty of the house is The Governor's Feast, which is a family-style dinner for four featuring beef and chicken fajitas, baby back ribs, smoked venison sausage, venison bratwurst, and shrimp Texana, served with refried beans, Texican rice, pico de gallo, sour cream, guacamole, and fresh flour tortillas.
Be sure to save room for L&W's Campfire S'more Sundae with vanilla ice cream topped with chocolate syrup, graham crackers, and toasted marshmallows, all piled up on a double fudge chocolate brownie.
L&W has live music most weekends featuring Texas singers and songwriters from around the state. Past musicians to perform include Cody Canada, Wayland Hicks, Jason Eady, and Ray Wylie Hubbard. Check out Love and War in Texas in EGuide's Gig Guide for concert schedules.
Love & War is located in downtown Lindale at 114 E. North St., next door to Pink Pistol. For more info call (430)235-2100 or go to loveandwarintexas.com.

Vietnamese Pho Restaurant
Vietnamese Pho Restaurant, located at 3837 State Hwy 64 W. in Tyler, offers some Phò guaranteed to hit the spot on these cold wintery days.
Phò or pho (pronounced fa) is a Vietnamese noodle soup consisting of broth, linguine-shaped rice noodles called bánh phò, a few herbs, and meat primarily served with either beef or chicken. The term phò actually refers to the noodles, not the soup. There are hundreds of different soups found around Vietnam, but phò is made with pristine white rice flour noodles that are made daily and sold in markets.
Mary Sanders visits often and says, "I had the spring rolls and the 'special soup' phò, which comes with flank steak, beef brisket, and meatballs. I also had the jasmine iced tea. Everything was amazing. The spring rolls are pretty minty, and the phò was delicious. I'll definitely go back again and absolutely recommend to anyone wanting to get their phò on!"
Vietnamese Phò Restaurant offers heavenly phò in either vegetarian, chicken, shrimp, beef flank steak, brisket, meatball, and pork varieties. The huge bowls of soup come steaming hot with a side plate loaded with fresh-from-the-garden basil leaves, cilantro, sliced jalapenos, mint leaves, plus bean sprouts, lime slices, and red onion slices. It comes with a hearty helping of rice noodles in the rich broth.
Vietnamese Phò Restaurant also has a big variety of plates and appetizers such as Stir-fried Noodle dishes, vermicelli, rice dishes with beef, chicken, and shredded pork. Try the Catfish Lemongrass – it is very good. The jasmine tea was also very good.
Vietnamese Phò Restaurant is open Monday-Saturday 11am-8pm.
The Catch
Gumbo. That rich roux. Brown in color. Thick in nature. Heavenly in taste.
Gumbo is a cold weather soup that we crave when it turns cold. And honestly, who doesn't need a little more gumbo in their life?
Did you know that the word "gumbo" comes from the West African word "kingombo," which translates to "okra?" Gumbo is a staple meal when it turns cold, and The Catch has a nice bowl of this heavenly Cajun creation that is sure to satisfy your every craving.
Gumbo recipes first showed up in 1802, but became more popular in the 1970's when the Cafeteria of the United States Senate added it to their menu in honor of a Louisiana Senator, Allen Ellender. Yeah, we are connoisseurs of all things gumbo!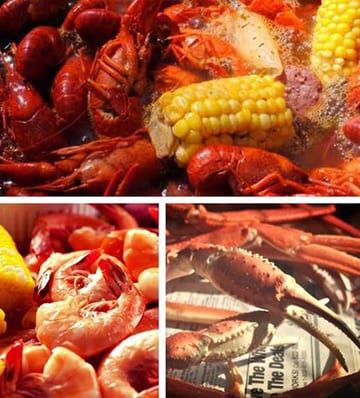 The Catch offers shrimp, crawfish and sausage gumbo, which comes in two sizes, a cup or a bowl. They start with the same thing all Cajuns do, a rich thick roux, then add what chefs call "The Holy Trinity" – onions, celery, and green peppers. These are always a must for both Cajun and creole cooking. Let's not forget about the succulent Gulf Coast Shrimp, crawfish, sausage, and spices. Mix, mix, stir, stir, stir…and out comes The Catch's heavenly gumbo creation, full of flavors and chunky with meats and veggies. Another soup on the menu is the New England Clam Chowder. You can also get Gumbo with a side of cheese grits. At The Boiling Catch (S. Broadway location), Jalapeno Crab Chowder is available too.
Don't forget to save room for The Catch's heavenly banana pudding for dessert.
The Catch and The Boiling Catch are fun, family restaurants that have everything seafood-related you could possibly want, from shrimp and crawfish to crab and oysters. Watch their Facebook page to see what seasonal specials are available. Currently, it's spicy boiled Crawfish!
The Catch is located at 1714 S. Beckham Ave. and 7922 S. Broadway in Tyler (The Boiling Catch), and 551 S. Main St. in Lindale.
Margarita's Mexican Restaurant
Over on the east side of Tyler, Margarita's quietly sits on the corner of Clayton St. and Front St., projecting bright Mexican festive decorations and colors, as well as a host to heavenly traditional Mexican foods.
During the winter, their posole hits the spot. Posole is a savory and hearty, rather soupy-type stew made from dried large white corn kernels (hominy), which simmers for hours, and is served up steaming hot and spicy. A ruddy red purée of dried New Mexico chiles give the stew its requisite kick. Traditionally posole is made with stewed pork, cooked slowly to savor all the flavors.
At Margarita's, it is available in two versions – green and red. The posole is served with shredded cabbage, lime wedges, avocado, onion, cilantro, and, of course, warm tortillas, chips, and hot sauce.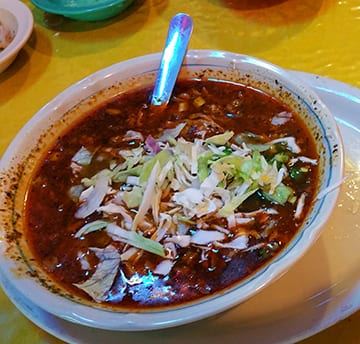 Asado de Puerco is also a great winter dish, featuring pork simmered in red spicy rich sauce, served with rice and beans plus warm tortillas. The Guisado de Puerco Verde is the same thing but in a green sauce. The menu has other soups including the Drunken Soup featuring charro beans and taco meat. Tortilla Soup is also available as well as Colombian Soup, Chicken Baja Soup, and Menudo.
Margarita's also serves enchiladas, fajitas, chile rellenos, tostadas, sopes, shrimp cocktail, hamburgers, ribeye steak, quesadillas, and tortas.
Joe Banick said, "Margarita's is a happy, wonderful surprise with really good food, and excellent, friendly service. I always judge a Mexican restaurant by their chili relleno and they passed my test. We're looking forward to eating here again on our next exploring trip into beautiful east Texas."
Margarita's is located at 1327 E. Front St., Tyler. For more info go to margaritasmexfood.com or call (903)593-5954. They are open Monday-Saturday 10:30am-9pm and Sunday 10:30am-5pm. Inside and patio dining is available.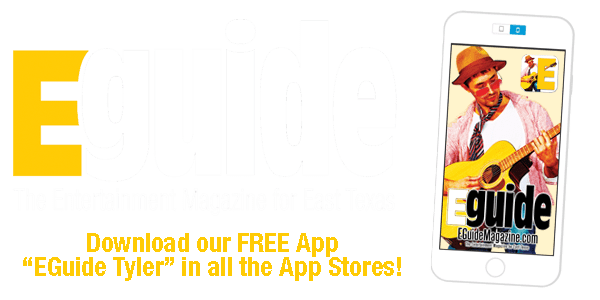 Announcing…Dogtoberfest 2018
Dogtoberfest 2018:
Craft Beer and Cute Puppies Join For a Great Cause
Join the fun with your four-legged best friend October 27th (11am-7pm) at Dogtoberfest 2018!
Held at Juls Event Center, 7212 Old Jacksonville Hwy., Tyler, Dogtoberfest is the culmination of adoptable pets from local animal rescue groups, pet-related vendors, local live bands, restaurants and food trucks and craft breweries.
The Craft Beer tasting will take place indoors in the newly remodeled Juls Event Center!
The ultimate goal of the day is finding forever homes for as many homeless pets as possible.
They are currently seeking vendors, breweries, and more; applications are available online. For more info go to spcaeasttx.com/events/dogtoberfest-2018. If you have questions about the event, contact: marketing@spcaeasttx.com.
7th Annual Butterfly Hope Luncheon, November 1st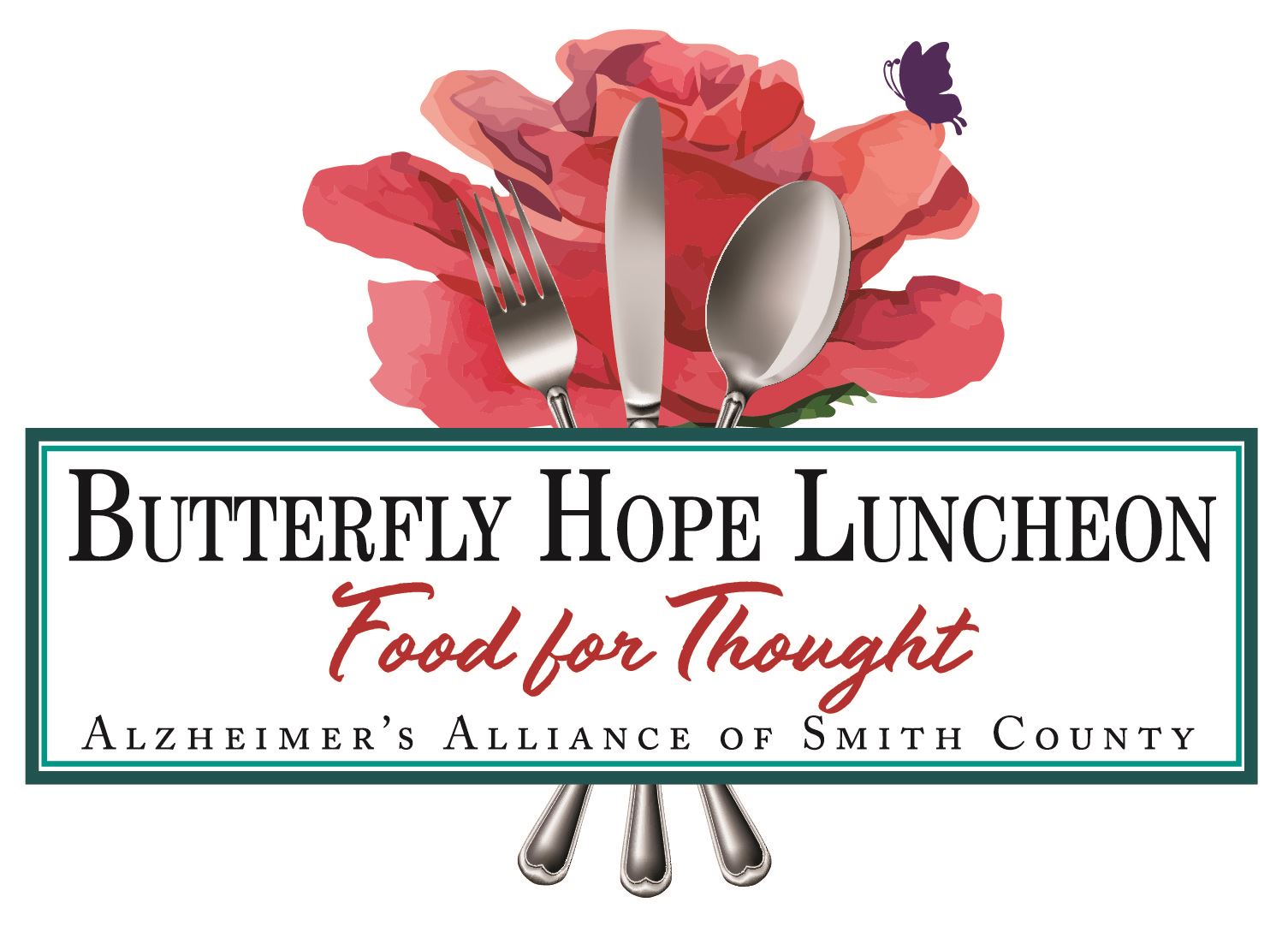 7th Annual Butterfly Hope Luncheon features Madison Cowan, First Winner of the Food Network Series "Chopped"
Thursday, November 1st  at 11:30 am at the Rose Garden Center (420 Rose Park Drive, Tyler), the Alzheimer's Alliance of Smith County will hold it's 7th annual Butterfly Hope Luncheon featuring Madison Cowan, an Alzheimer's Advocate and first winner of the Food Network series Chopped. This annual event benefits the Alzheimer's Alliance of Smith County.
Tickets for the 7th annual Butterfly Hope Luncheon go on sale September 10th for $75 per person. For more info call (903)509-8323 to reserve a seat or visit alzalliance.org.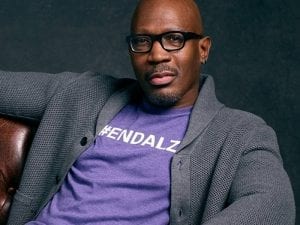 Madison is a hands-on family man, cook, producer and storyteller with roots in London, Jamaica and Detroit. In 2004, after being awarded a four-star rating from The Times as executive chef of Ashbells in London's West End, he established Madison Cowan LLC, a global culinary production company that oversees operations in licensing and consulting, television production and private dining that has reached throughout Africa, Europe, Japan and South America.
Madison has catered to jazz legend Lionel Hampton, singer and human rights activist Odetta, actors Halle Berry, Scarlett Johansson and Anthony Anderson, rapper and poet Mos Def, fashion icon Donna Karan, playwright Lanford Wilson, former NYC Mayor David Dinkins and former President Bill Clinton.
He credits his mother's influence as the springboard to his culinary experience: "She made certain I knew my way round the kitchen and would never depend on anyone for a meal. Sage advice I now impart to my own child."
In 2010 Food Network selected him as a contestant for their hit Primetime series Chopped where he competed and won three consecutive episodes to become the first ever Grand Champion. Following appearances on NBC's Today Show and CBS This Morning, in April of 2012 he was victorious on Iron Chef America's epic Battle Kale and co-starred in BBC America's exciting travel series No Kitchen Required. Madison returned to television in late 2013 as a recurring judge in Food Network's delectable series of chance, Kitchen Casino and currently features on multiple series such as Beat Bobby Flay, Guilty Pleasures, Worst Cooks in America, Chopped Junior and Guy's Grocery Games.
Most notably, Madison's charitable endeavors include advocating on behalf of both the Alzheimer's Association and Alzheimer's NYC in its quest to cure the dementia related disease, serving as culinary council member for Food Bank For New York City, a leader in the movement to end hunger and poverty and signing on with First Lady Michelle Obama's Chefs Move To Schools initiative, which creates partnerships for professional chefs and public schools nationwide with the goal of solving childhood obesity within their communities by collaboratively educating children about food and healthy eating.
At the luncheon, Bishop Strickland will be honored with the Butterfly Hope Award for his steadfast leadership within the Alzheimer's Alliance of Smith County for many years and his passion and commitment to the Alliance. Bishop Strickland has served on the Alliance Board and is now on the Alliance Advisory Council.
Sponsorships are available, please contact the Alliance office for more information. For more information regarding Alzheimer's disease, Alliance programs & services or for volunteer opportunities please visit alzalliance.org.
About the Alzheimer's Alliance of Smith County
Founded in 1982, the Alzheimer's Alliance of Smith County is a local nonprofit organization committed to walking alongside all of those affected by Alzheimer's disease and related dementias. Our services include personal consultations, education and awareness, caregiver support and resources, and brain health advocacy in Smith County.
Fit City Tyler's "Fit Bite Program" Grows
Do you want to eat healthier when you are eating out? Fit City Tyler's "Fit Bite Program" offers a current list of restaurants and their healthy menu options.
Participating restaurants are:
You can go online at fitcitytyler.com/fitbite and click each restaurant to view their menu items that qualify for placement into the "Fit Bite" Menu Recognition Program.
Look for the "Fit Bite" logo on window stickers, menu labels and informational posters. These will highlight the meats, fruits, vegetables and beverage options are prepared using any of these healthier cooking methods: grilled, broiled, baked, steamed, poached, roasted, sautéed or stewed.
​Any restaurant in the Tyler area can join the free "Fit Bite Program." To enroll, go to fitcitytyler.com. For more info email Terrence Ates at TAtes@NETPHD.org.
Fit City Tyler is a community wellness coalition that supports individuals, families, and businesses to create action toward adopting healthy lifestyles. The Fit City Tyler coalition consists of more than 100 local organizations: the media, hospitals, gyms, public and private schools, city and county government, community clinics, public health organizations, non-profits, restaurants, churches, health clubs, fitness gyms, CrossFit boxes, non-profit agencies and numerous community volunteers.