Danny Guire: Inside the Artist's Studio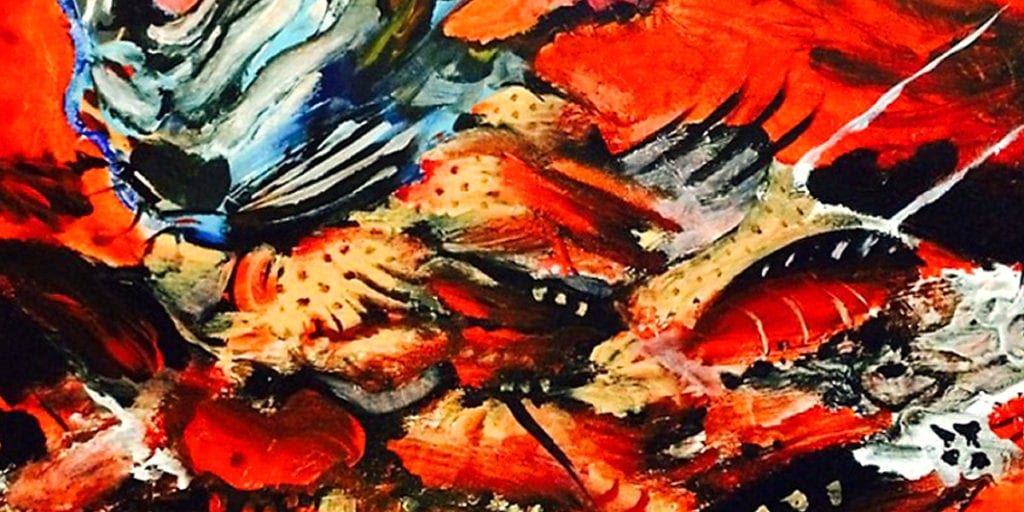 Physical Graffiti
By Derrick White
I enjoy the physical look of graffiti art and the buildup of composite layers. From abandoned buildings to railroad cars, the graffiti style is visually interesting and captivating in its energy, boldness, and complexity. Keep in mind graffiti style artwork is different than plain and criminal vandalism. Graffiti suggests a powerful artistic style and a statement, often from those in our society who are disenfranchised and marginalized. It is layered and multifaceted street art expressing powerful messages to the general public, and it is different from scrawling a crude genital drawing or an offensive word in the destruction of someone else's property.
It is more artistic than what you find in a bathroom stall. Wikipedia describes graffiti as art "containing writing or drawings scribbled, scratched, or painted (sometimes illicitly) on walls or other surfaces, often within public view. Graffiti ranges from simple written words to elaborate wall paintings, and they have existed since ancient times, with examples dating back to Ancient Egypt, Greece, and Rome.
Now, paint, particularly spray paint, and marker pens are the most commonly used materials. In most countries, marking or painting property without the property owner's permission is considered defacement and vandalism, which is a punishable crime.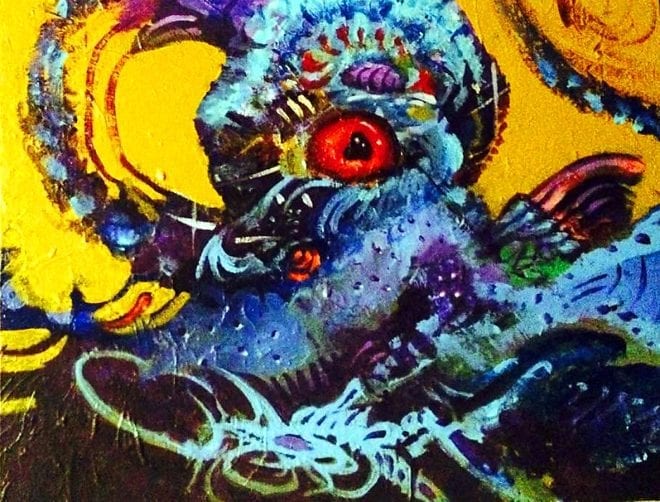 Graffiti may also express underlying social and political messages, and a whole genre of artistic expression is based upon spray paint graffiti styles. Controversies surrounding graffiti continue to create disagreements among city officials, law enforcement, and artists (or taggers/writers) wishing to display and seek appreciation for their work in public locations.
There are many different types and styles of graffiti. It is a rapidly developing art form in which the value is highly contested and reviled by many authorities while also subject to protection, sometimes within the same jurisdiction. Good graffiti can become a cultural landmark of a city.
Anonymous graffiti artist Banksy has attained worldwide notoriety with his provoking images painted or stenciled around the streets of London. Banksy has also recently taken on the political tensions of the Palestinian territories, where he has created images on Israel's highly contentious West Bank wall. 
"A lot of people never use their initiative because no-one told them to" Banksy said. 
Danny Guire is an East Texas artist from Longview working as a painter, sculptor, and muralist. Danny's style is graffiti-esque in its spontaneity, flowing organic forms, and intrepid, vivid, colorful palettes.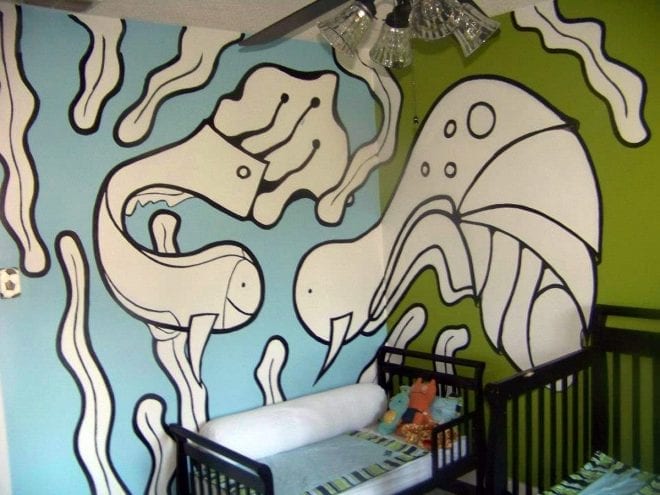 "I have been drawing since I was little," Danny said. "I would go to church, and the sermon was in Spanish, so to keep me occupied I was given pencil and paper. I would doodle and draw robots."
Danny is from Arizona, and he and his family lived in Florida before settling in Longview in 1994. He recalls the colors and culture of Florida as being alive and vibrant and unlike anything he had seen before. While there, he kept to himself and looked for ways to stay busy. He would draw constantly and he also started drawing and copying Disney cartoon characters.
Danny recollects, "When I first moved to Longview at the age of 12, I was the new guy once again. I started drawing graffiti imagery and break dancing. I was active in visual art through middle school and junior high. My father was a commercial painter, and I would help him paint apartments and houses solid colors. I got accustomed to painting on walls, and it has helped me with the confidence to tackle larger canvases."
"My cousin was a big inspiration," Danny adds. "He made drawings while he was in the penitentiary. Some of his art made it into Lowrider Arte magazine. He would draw comic book characters as well as realistic portraits of celebrities. I love the creative mind. My grandfather could play many musical instruments, my uncles were teaching me things from the break dancing era of the 1980s, and I was learning to play the guitar with my family. I grew up with a lot of flavor and creativity surrounding me."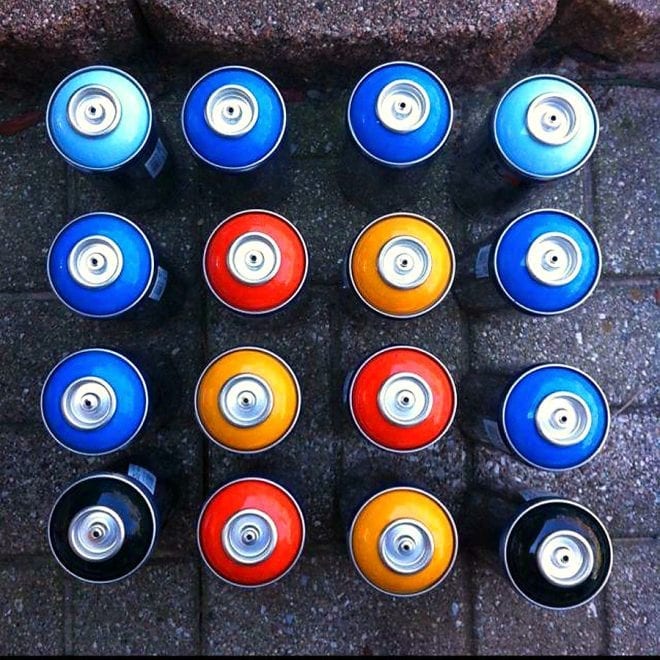 After graduating high school in 2000 Danny served in the U.S. Navy. He has explored the rave music scene (a large dance party featuring performances by DJs, selecting and mixing a seamless flow of loud electronic dance music).
"My artistic expression has taken many forms from drawing to dancing to playing music to painting," states the artist. Danny enjoys painting with acrylics and was recently reintroduced to oil painting. He is excited about exploring this medium with the pleasure and satisfaction he derives out of the process.
Danny finds inspiration in many sources from Disney and other cartoons, like Voltron and ThunderCats (American animated television series) as well as Akira (a Japanese, science fiction, anime film), and a slew of other Anime. He is also inspired by music, breakdancing, and talented family members. "It has taught me patience and helped me to calm my mind and in a sense, meditate as I work. Stress is the enemy," says Danny.
Regarding artistic challenges Danny mentions, "Selling art is difficult. The internet has helped, but it's still the most difficult thing to deal with currently."
Longview arts advocate and art gallery owner Paula Davis has recently reopened P's Gallery in Longview after a brief hiatus in 2012. Her gallery represents East Texas contemporary artists working in a variety of different media and styles, including the work of Danny Guire, whose work is on view through June.
She asked Danny to join her stable of artists back in 2011. She states, "I first met Danny when professor John Hillier of Kilgore College, brought his art appreciation class on a field trip to P's Gallery. I knew then Danny had a lot of promise with his artwork, his appreciation, and his dedication to continue to grow in his diversity. I am proud to be showing his work again." P's Gallery is located at 5576 Judson Rd., Longview.
For more info follow artist Danny Guire and P's Gallery on Facebook.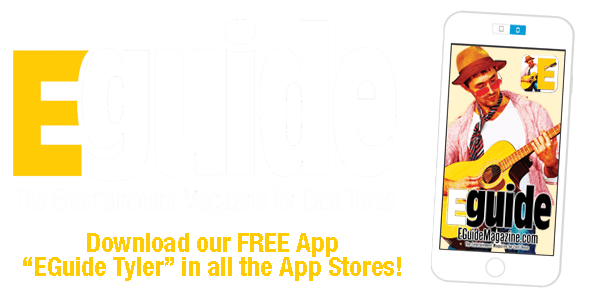 Art in the Garden April 28th at the Rose Garden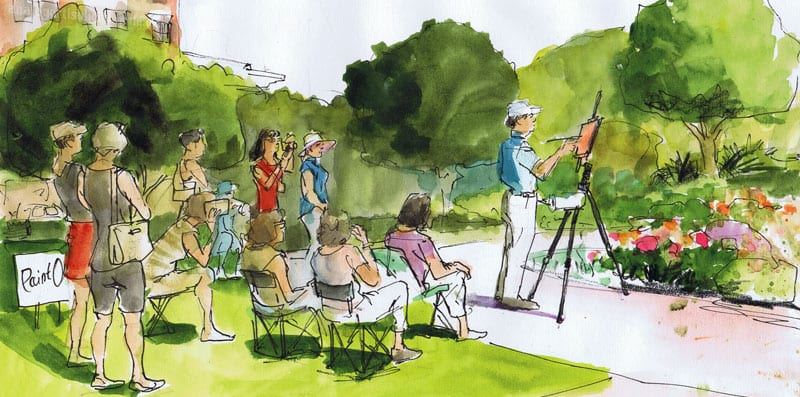 April 28th (11am-2pm) – 12th Annual Art in the Garde
n
The Tyler Parks and Recreation Department invites you to come paint or draw with us in the Tyler Rose Garden, 420 Rose Park Dr., Tyler.
Join local artists of all ages to paint. Bring your paints, any medium (paper or canvas) and an easel and create a masterpiece. Non-painters are welcome to view the garden and the artists at work.
A display of artwork will be shown in the exhibit area.
This is free to the public. Light refreshments will be served in the Rose Garden Center.
Art instructors are welcome to bring their students of any age.
For more info call (903)531-1214.
TJC Art Fest: This Week, Bell Tower Arts Journal" Launch Party, International Day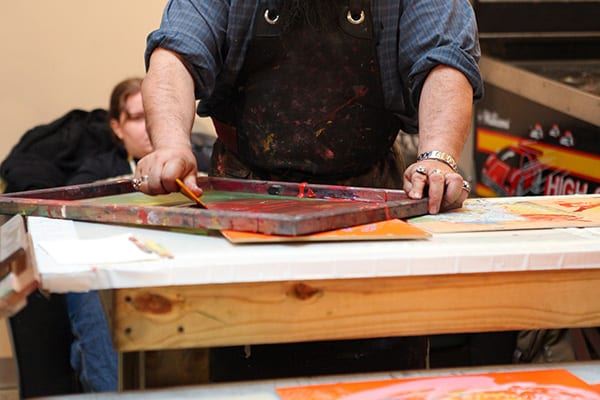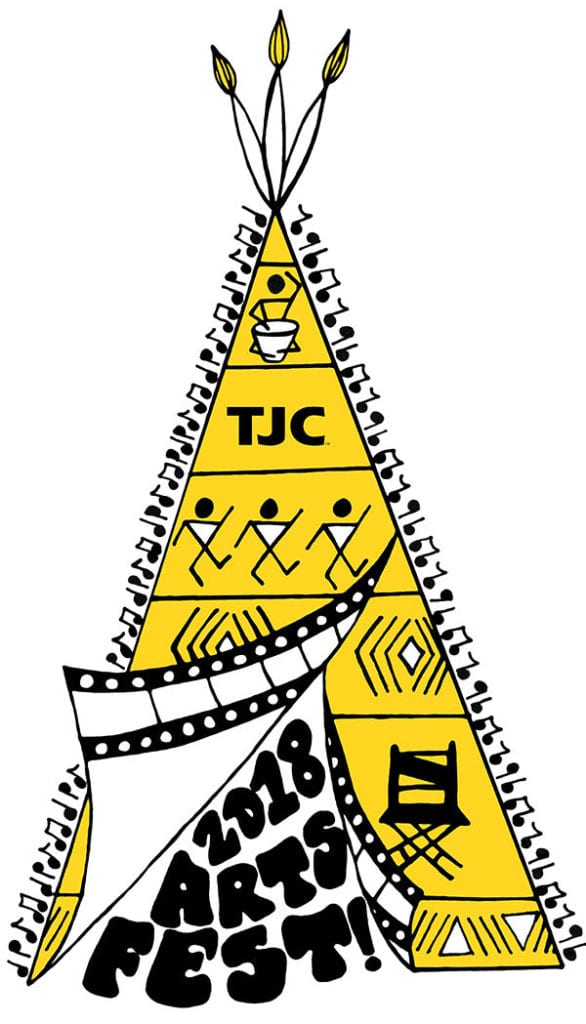 Tyler Junior College, the Tyler Museum of Art and others, are once again offering a spring arts festival packed with tons of events and performances. The TJC April Arts Festival will be collaborating with the Tyler Museum of Art the entire month of April.
The festival is a celebration of the dynamic arts programs at Tyler Junior College. These programs provide rich learning experiences. This event is a collaboration of The Bell Tower Arts Journal, International Day, the Tyler Museum of Art, and the Art, Music, Theater, Speech, Dance, and Visual Communications departments. Back again, the local CBS 19 will be supporting media underwriting.
The Annual Arts Festival germinated from the notion of Dr. Linda Gary (TJC Dean of Humanities, Communications and Fine Arts) a few years ago. Dr. Gary's original thoughts of the festival bloomed from her idea of outstretching the outstanding activities that the multiple departments at the college conduct and coordinate. Why not share the greatness? There are some entertaining, cultural, enlightening events taking place at the upcoming festival. Find the ones you are interested in, check them all out, and reconnect to one of Tyler's trademarks and come celebrate the arts.
2018 April Art Festival events include:
On view all of April – "Sticks and Stones: Works by Helen Altman" and the 14th Annual High School Art Exhibits will be at the Tyler Museum of Art all month. For more info, go to

tylermuseum.org

.

April 2nd-27th – A Visual Communications Exhibition will be displayed in the Pirtle Technology Building, Pirtle Phase 4.

Through April 25th – The Amazing Hancock Brothers will be on exhibit at the TJC Wise Auditorium Art Gallery.

Through April 27th – East Texas CARES Food Pantry is hosting a Food Drive, sponsored by The Art Club. Donations may be dropped off in the Jenkins Hall Art Department Lobby.
---
April 16th (2pm) – "The Bell Tower Arts Journal" Launch Party will be held in the TJC Jenkins Hall Art Department Lobby. The unveiling of the latest edition of "The Bell Tower Arts Journal" includes selected artwork, poetry and prose from students.

April 17th (9am-5pm) – TJC's Annual International Day celebrates diversity and worldwide cultures with an amazing lineup of events and activities in the Apache Rooms of the Rogers Student Center.

April 17th (10am) – Distinguished Lecture Series: Hearing Each Other: Tolerance & Interfaith Dialogue will be held in the Wise Auditorium.

April 17th (7:30pm) – Wind Ensembles and Symphonic Band will be in concert in Wise Auditorium. Come enjoy an evening of great music performed by students in the TJC Percussion Ensembles and Symphonic Band. Free admission.

April 18th (12 noon) – Coffee House: Chamber Singers will perform at Tyler Museum of Art in the lobby.

April 18th (5:30pm) – Forensics (Speech and Debate) Team Showcase will be held in the Jean Browne Theatre.

April 20th (1pm) – Student Recital Series will be held in the TJC Jean Browne Theatre.

April 23rd (3pm) – The Student Film Festival be be held in the TJC Apache Rooms. a

April 23rd (3pm) – "Be An Anchor" will be held in the Newsroom, Potter 203.

April 24th (10am) – Rock the Garden games and activities will be held in the TJC Genecov Garden area.

April 24th (3pm) – Azerbaijani Music Concert & Workshop will be held in the TJC Apache Rooms.

April 24th (7:30pm) – Spring Choral Concert will be presented in the TJC Wise Auditorium.

April 25th (12 noon) – THUNDERDOME Art Competition will take place where there is only one winner – all the other entries will be destroyed by the annihilator. BYOT (Bring your own tears) to Jenkins Courtyard. Special guests will be the Amazing Hancock Brothers!

April 25th (2pm) – Amazing Hancock Brothers Printmaking demonstration will be held in the TJC Jenkins Hall Art Department Lobby.

April 25th (12 noon) – Coffee House: Faculty Recital will be performed in the Tyler Museum of Art Lobby. Concert and museum admission is free.

April 25th-28th (7:30pm) and April 28th (2pm) – "Hamlet" will be presented in the TJC Jean Browne Theatre.

April 25th (7:30pm) – TJC Jazz Ensembles will perform in the Wise Auditorium.

April 27th – The Performance Grant Student Showcase Art Exhibition will on display in the Wise Auditorium Art Gallery.
Most events are free to attend and everyone is welcome. There is something for everyone offered during this month-long festival. Find the events, exhibits and performances you are interested in and come enjoy. It really is the best ticket in town!
Tyler Junior College is located at 1400 E. Fifth St., Tyler. The Tyler Junior College Wise Auditorium Fine Arts Building and TJC's Jean Browne Theatre in the Wise Cultural Arts Building are located near South Mahon Ave. across from the Tyler Museum of Art. More info can be found at tjc.edu/artsfestival or call (903)510-2200.
14th Annual High School Art Exhibit at Tyler Art Museum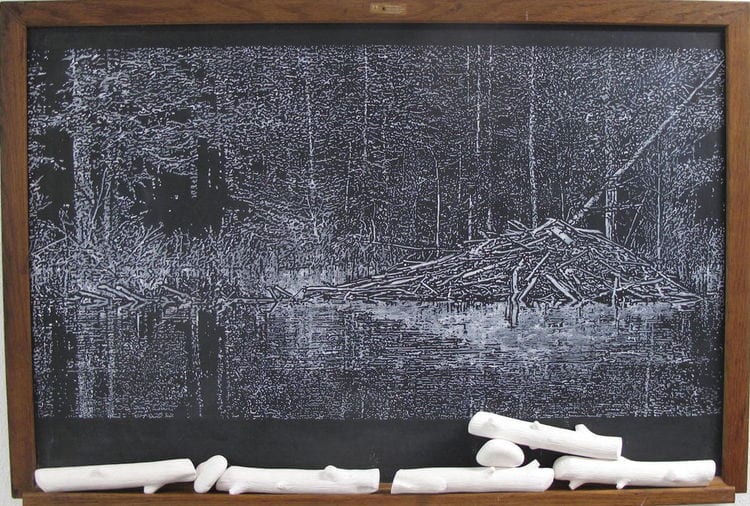 This Month at Tyler Museum of Art:
14th Annual High School Art Exhibition and "Sticks & Stones: Works by Helen Altman" on Exhibit
The Tyler Museum of Art (TMA) is located at 1300 S. Mahon Ave. on the Tyler Junior College main campus. Regular TMA hours are 10am-5pm Tuesday-Saturday, and 1-5pm Sunday. The Museum is closed Mondays and most major holidays. The Museum is supported by its members, Tyler Junior College, and the City of Tyler. For more info call the museum at (903)595-1001, tylermuseum.org, or email info@tylermuseum.org.
TMA's 14th Annual High School Art Exhibition on Exhibit April 8th-May 6th
An unprecedented number of aspiring artists from local schools will have their first opportunity for a full museum exhibition with the Tyler Museum of Art's "14th Annual High School Art Exhibition," opening Sunday, April 8th and continuing through May 6th at the Museum. The museum is located Tyler Junior main Campus is located at 1300 S. Mahon Ave. Admission is free.
What began in 2005 as a small showcase for 23 students from four area high schools has blossomed into a major exhibition and community event. This year's juried competition, tops the previous record of 2016, spotlighting for the first time the work of more than 100 students from a best-ever 14 high-school campuses in Tyler and nearby cities.
Five outstanding works as selected by the jurors will be presented with "Merit of Honor" awards during the Opening Reception and Awards Ceremony from 2:30-4pm, Sunday, April 8th at the Museum.
The community is invited to meet the participating artists, enjoy light refreshments – and cast their votes for the annual Viewers' Choice Award to be presented at the exhibition's conclusion. Ballots are available at the Visitor Services desk in the TMA lobby.
"Merit of Honor" winners will receive gift certificates from Dick Blick Art Materials. All participating artists will receive Certificates of Participation and one-year student memberships to the TMA. To RSVP for the April 8th opening reception, call (903)595-1001.
Participating schools in the "14th Annual High School Art Exhibition" include All-Saints Episcopal School, Bishop T.K. Gorman Regional Catholic School, Cumberland Academy, Grace Community School, John Tyler High School and Robert E. Lee High School, all of Tyler; The Brook Hill School, Brownsboro High School, Bullard High School, Chapel Hill High School, Elkhart High School, Frankston High School, Whitehouse High School and Winona High School.
Support for the exhibition is provided by Collectors' Circle-Platinum Sponsor The Rogers Foundation; and Collectors' Circle-Gold Sponsors Martha and Randy Key, McElfatrick Charitable Foundation and Myrtis D. Smith.
"Sticks and Stones: Works by Helen Altman"
Tyler Museum of Art celebrates the arrival of springtime with a quarter-century survey in the career of one of the most diverse and prolific contemporary Texas artists. "Sticks and Stones: Works by Helen Altman" continues through June 3rd in the museum's Bell Gallery. Admission is free.
The exhibition, organized by the TMA and curated by Caleb Bell, features more than 40 pieces spanning a dynamic body of work by Altman, a Fort Worth-based artist noted for her ability to move between various series across an eclectic array of media.
"Sticks and Stones" focuses on her fascination with flora and fauna, which "have been a much-appreciated constant in my life," the artist said. "They have been a constant source of joy and also a source of coping."
Altman's specific choices of media throughout her career – blankets, wire birds, egg editions, and torch drawings, to name just a few – also reflect a pronounced emphasis on exploring the unique in the everyday.
"Many of my works use commonplace materials and objects. I respond to ready-made objects that are often discards or flawed in some obvious way," she said. "Alterations in these familiar things elevate them and draw parallels to our own human predicament."
Altman received both her bachelor of fine arts and master of arts degrees from the University of Alabama, as well as her master of fine arts from the University of North Texas. Her work has been widely exhibited and is featured in numerous public collections, including the Art Museum of South East Texas, The Grace Museum, and Museum of Contemporary Art in San Diego.
Support for "Sticks and Stones" is provided by Collectors' Circle Platinum Sponsor The Byars Foundation.
Special events in connection with the exhibition include: Free First Friday tours at 11am April 6th, May 4th and June 1st; and Family Days from 2-4pm Saturday, April 14th and May 12th.