Wrap it up, I'll take it.
By Derrick White
"Art is everything to me. It is how I live, pay my bills, and how I learn. It is how I teach my children and anyone wanting to learn from me. It is how I sort my thoughts. It is how I meditate. It is how I stay sane. I believe we are made in the image of God. If so, we are all creators of our own worlds. I love to create, and I love to learn, so I can expand my world," declares local artist April Moore.
Moore started out studying architecture at Texas A&M. She loved the design classes but not the technical part. So she moved on and spent a semester at home at Tyler Junior College and the University of Texas at Tyler. She graduated with a BFA in Visual Communications from UT Austin.
Moore spent the next ten years freelancing in Houston and Tyler, working for all kinds of businesses. She started working for Brookshire's Grocery Company in 2001 as a graphic artist doing design work, including the ads you receive in your weekly mail, working with a food stylist to create the "Celebrate Cooking" magazine, and her first vehicle wraps. During a short stint in Louisiana, she set up her design shop called 'April Moore Design Store' to continue freelancing. Moore then came back and began working for the University of Texas at Tyler as a graphic artist for the Marketing and Communications Department.
Moore recently participated in Beauty and the Box, a beautification project hosted by the City of Tyler to turn the utility boxes around town into local works of art. The Beauty and the Box project challenged local artists to create pieces of art to be wrapped around utility boxes.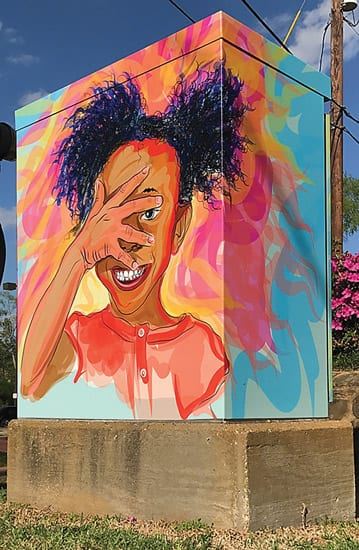 Moore is the creator of the artwork that led to the recent utility box art wrap hullabaloo. A resident wanted it moved out of view of their home and into a more public space instead of residential areas. However, others showed up in droves in support of the artist and the image.
"I was honored to get to do a box, and then when I heard it was immediately being removed, I was heartbroken," she states. "For my 'Hide & Seek' utility box art, Bobby Conley, owner of The Tyler Wrap Company gave me the opportunity to draw the box they were sponsoring for the City of Tyler's Beauty and the Box Project. I was floored by the support for my art to stay where it had been placed. It was so cool to see the community stand up for art in our city, where it is so lacking at times."
"It is exciting to see the city make an effort to put some art on our streets. Art gives folks a place to gather and creates community," states the artist. "My piece is called 'Hide & Seek' because it is a celebration of joy and play. I made the kids so colorful because I wanted to represent the fact that we are all colors – the way God created us. Also, I was creating street art, and I wanted the box to be wrapped in color like so many murals in large cities. Young children naturally play together. They don't see race or color. So, I thought the theme worked well for this project," she adds.
The art wrap was recently moved to a more public space at the corner of Hogg Elementary and The Children's Park. "I am thrilled at its new location," Moore said. "You couldn't see the little girl before because of the one-way traffic where it was originally placed. She now faces Broadway so everyone can see her. I also hope I get to do more boxes because if I had my way, we would have little children of all colors playing all over the city," Moore said.
Last year, Moore became the art director for UT Tyler. The artist declares, "I love my job because I touch so many different media, from the university viewbook and recruiting materials, to wall murals for athletics, to vehicle wraps. I get to work with an incredible team supporting me, at what I believe is a beautiful campus."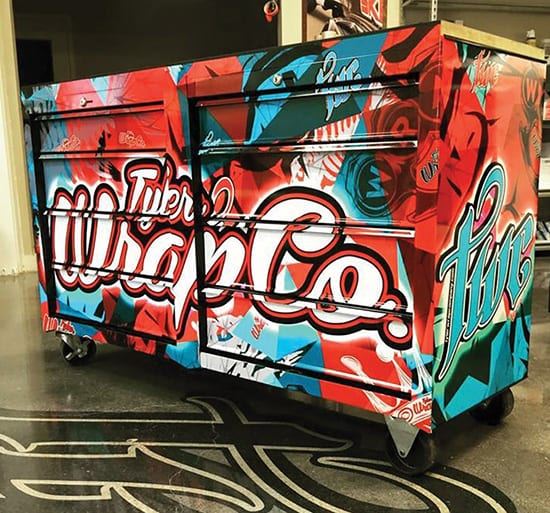 Moore continues to freelance through April Moore Design Store, designing brand materials as well as car and boat wraps for The Tyler Wrap Company. "I love that I get to see my work driving down the road. Wraps have a much longer shelf life. I hate knowing that sometimes my hard work on a newspaper ad ends up in the trash," laughs Moore.
This artist designs using Apple products. "I have always used a Mac. UTT sent me to a design conference opening the world of touch screen technology to me. I treated myself to an iPad Pro, and now I am drawing on it all the time. I can draw something and it could end up as big as the side of a building. I can paint on it, too. I am able to turn my iPencil into any kind of pen or brush tool I desire. I am also trying to learn the art of lettering on it," informs Moore. She adds, "Our school is growing faster than we can keep up with, and we are figuring out who we need to be to best serve all of East Texas. It is an exciting time to be a part of the community here at UT Tyler."
Like many artists, Moore grew up loving to create. She currently knits and crochets. Her grandmother and parents encouraged her by giving lessons and providing supplies for her crafting, drawing, and painting ideas. "I grew up oil painting with my teachers Daphna Lilienstern, Penny Sanders, and Ann Andrews," remembers the artist.
Moore is inspired and influenced by impressionist and post-impressionist artists such as Edgar Degas, Vincent van Gogh, Georges-Pierre Seurat, and Henri Matisse. She also responds to the contemporary work of artists like Janet Echelman and her giant, floating, fiber sculptures. Moore explains, "I think I like all the backstories almost more than the pieces themselves, learning about the why and the how. Everyone has a story, and I love stories."
This local talent shows no signs of slowing down. She brings an enthusiasm to all she does. "When a graphic designer creates a logo for your business, they are giving your business a branding identity so people can find you and recognize what you do, so you can make money. This value is going to bring back your investment tenfold. Pay your graphic designer what they are worth," recommends Moore.
For more info follow April Moore on Facebook and Instagram.