Physical Graffiti
By Derrick White
I enjoy the physical look of graffiti art and the buildup of composite layers. From abandoned buildings to railroad cars, the graffiti style is visually interesting and captivating in its energy, boldness, and complexity. Keep in mind graffiti style artwork is different than plain and criminal vandalism. Graffiti suggests a powerful artistic style and a statement, often from those in our society who are disenfranchised and marginalized. It is layered and multifaceted street art expressing powerful messages to the general public, and it is different from scrawling a crude genital drawing or an offensive word in the destruction of someone else's property.
It is more artistic than what you find in a bathroom stall. Wikipedia describes graffiti as art "containing writing or drawings scribbled, scratched, or painted (sometimes illicitly) on walls or other surfaces, often within public view. Graffiti ranges from simple written words to elaborate wall paintings, and they have existed since ancient times, with examples dating back to Ancient Egypt, Greece, and Rome.
Now, paint, particularly spray paint, and marker pens are the most commonly used materials. In most countries, marking or painting property without the property owner's permission is considered defacement and vandalism, which is a punishable crime.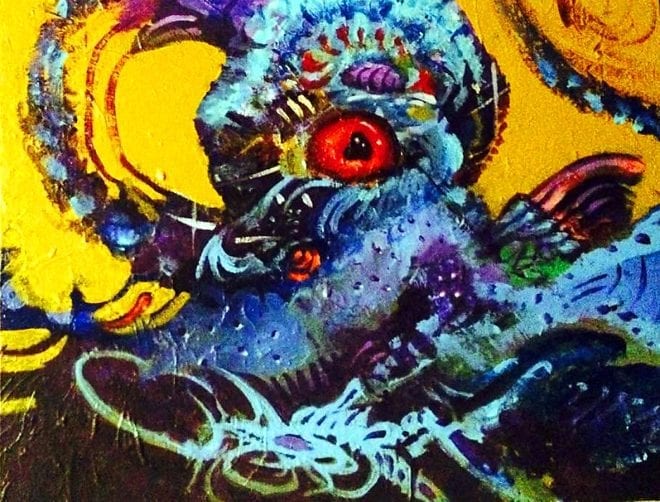 Graffiti may also express underlying social and political messages, and a whole genre of artistic expression is based upon spray paint graffiti styles. Controversies surrounding graffiti continue to create disagreements among city officials, law enforcement, and artists (or taggers/writers) wishing to display and seek appreciation for their work in public locations.
There are many different types and styles of graffiti. It is a rapidly developing art form in which the value is highly contested and reviled by many authorities while also subject to protection, sometimes within the same jurisdiction. Good graffiti can become a cultural landmark of a city.
Anonymous graffiti artist Banksy has attained worldwide notoriety with his provoking images painted or stenciled around the streets of London. Banksy has also recently taken on the political tensions of the Palestinian territories, where he has created images on Israel's highly contentious West Bank wall. 
"A lot of people never use their initiative because no-one told them to" Banksy said. 
Danny Guire is an East Texas artist from Longview working as a painter, sculptor, and muralist. Danny's style is graffiti-esque in its spontaneity, flowing organic forms, and intrepid, vivid, colorful palettes.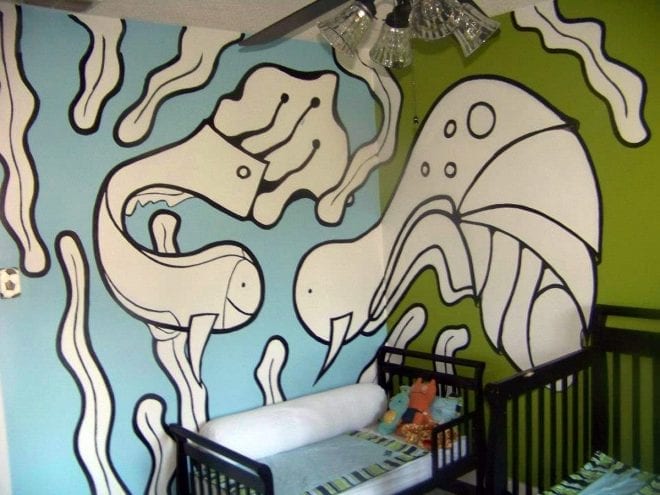 "I have been drawing since I was little," Danny said. "I would go to church, and the sermon was in Spanish, so to keep me occupied I was given pencil and paper. I would doodle and draw robots."
Danny is from Arizona, and he and his family lived in Florida before settling in Longview in 1994. He recalls the colors and culture of Florida as being alive and vibrant and unlike anything he had seen before. While there, he kept to himself and looked for ways to stay busy. He would draw constantly and he also started drawing and copying Disney cartoon characters.
Danny recollects, "When I first moved to Longview at the age of 12, I was the new guy once again. I started drawing graffiti imagery and break dancing. I was active in visual art through middle school and junior high. My father was a commercial painter, and I would help him paint apartments and houses solid colors. I got accustomed to painting on walls, and it has helped me with the confidence to tackle larger canvases."
"My cousin was a big inspiration," Danny adds. "He made drawings while he was in the penitentiary. Some of his art made it into Lowrider Arte magazine. He would draw comic book characters as well as realistic portraits of celebrities. I love the creative mind. My grandfather could play many musical instruments, my uncles were teaching me things from the break dancing era of the 1980s, and I was learning to play the guitar with my family. I grew up with a lot of flavor and creativity surrounding me."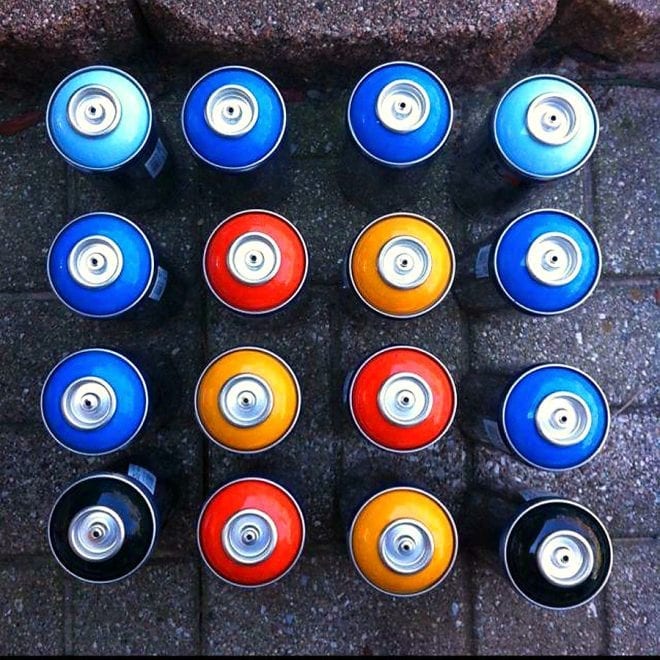 After graduating high school in 2000 Danny served in the U.S. Navy. He has explored the rave music scene (a large dance party featuring performances by DJs, selecting and mixing a seamless flow of loud electronic dance music).
"My artistic expression has taken many forms from drawing to dancing to playing music to painting," states the artist. Danny enjoys painting with acrylics and was recently reintroduced to oil painting. He is excited about exploring this medium with the pleasure and satisfaction he derives out of the process.
Danny finds inspiration in many sources from Disney and other cartoons, like Voltron and ThunderCats (American animated television series) as well as Akira (a Japanese, science fiction, anime film), and a slew of other Anime. He is also inspired by music, breakdancing, and talented family members. "It has taught me patience and helped me to calm my mind and in a sense, meditate as I work. Stress is the enemy," says Danny.
Regarding artistic challenges Danny mentions, "Selling art is difficult. The internet has helped, but it's still the most difficult thing to deal with currently."
Longview arts advocate and art gallery owner Paula Davis has recently reopened P's Gallery in Longview after a brief hiatus in 2012. Her gallery represents East Texas contemporary artists working in a variety of different media and styles, including the work of Danny Guire, whose work is on view through June.
She asked Danny to join her stable of artists back in 2011. She states, "I first met Danny when professor John Hillier of Kilgore College, brought his art appreciation class on a field trip to P's Gallery. I knew then Danny had a lot of promise with his artwork, his appreciation, and his dedication to continue to grow in his diversity. I am proud to be showing his work again." P's Gallery is located at 5576 Judson Rd., Longview.
For more info follow artist Danny Guire and P's Gallery on Facebook.