Hangers of Hope: Thrift Store on a Mission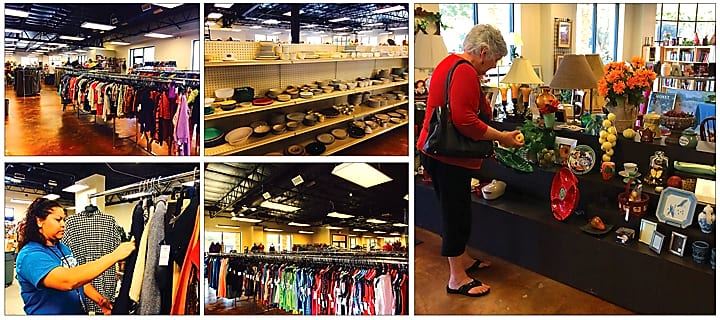 By Barbara King
Are you constantly on the hunt for quality items at bargain prices? How would you like to find incredible treasures and at the same time make a difference in our community?
Hangers of Hope is the thrift shop with a remarkable difference. The 12,000 square foot building in the Old English Village, at 3500 South Broadway, is a store with a purpose. Proceeds from the store benefit the Bethesda Health Clinic, bringing healing, health and hope to the working uninsured in Smith County. The clinic opened its doors in 2003, and since its inception has served more than 11,000 patients with affordable, high quality medical and dental care. The clinic has expanded its primary services to include gastroenterology, gynecology, podiatry, orthopedics, psychology, physical therapy, ophthalmology, endocrinology, rheumatology, pulmonary, neurology, nephrology, physical medicine and rehabilitation, EMG, diabetes, radiology and lab work. The clinic recently broke ground for a 2,000 square foot expansion to accommodate dental services.
Now back to the shopping… the store is a pleasure to browse. Celebrating a year in business this month, displays are artfully designed and items are clearly priced. This is definitely high end resale merchandise, and you can spot a Liz Claiborne dress with the original tag marked down to a 1/3 of the original price, next to a Dooney & Bourke handbag. There are dressing rooms available for trying on your bargains and all sales are final. Valerie Brehn, the passionate and effusive store manager explains, "we bring out 5 new racks of merchandise daily so every time you shop, there will be new treasures."
You can find everything from furniture and books to housewares, accessories and of course affordable men's, women's, children's and plus sizes. The fun is in the finding, and as assistant store manager Susana Cuevas says, "you can be lucky and find a two piece men's suit for $19.99, or a designer dress for $14.99 – you have to have time and patience and come by often!"
The store values its community partnerships, and credits the shelving and display areas to assistance from Brookshire Grocery Company, John Soules Foods and The East Texas Medical Center. It's evident that a lot of love and care goes into the eye-catching and appealing store staging and merchandising and the staff explain that the joy comes from knowing the positive benefits of donations and proceeds.
Donations fuel the store, and you can drop them off anytime the store is open from Monday through Saturday from 9am to 7pm. Just drive up to the side door, ring the bell and someone will come out to help you unload. The beauty of it is that the store will accept your valued donations as is, you don't have to put your items on hangers, just bring them in and fill out a tax form and you've given back to people who need and deserve help. Even soiled and slightly damaged clothes will be accepted, as they are salvageable and shipped to 3rd world countries. The store gets reimbursed by the pound with proceeds once again assisting the working uninsured.
If you're a bit skeptical how your donations can make a difference, meet store employee Brandi Robison. She willingly shares her story of domestic abuse and the fact that she "was truly at the lowest point in my life when I went to the clinic, I was really at rock bottom." Needing dental and medical assistance, going through a divorce, jobless and not knowing where to turn, she told her story to Beverly Castleberry, a Bethesda clinic employee, who was so moved that she had Brandi tell the Bethesda Board about her struggles. "I was so afraid that they would judge me and my situation, but from day one they treated me like family."
Brandi was ready to turn her life around, and with the help of the clinic she became an employee of the thrift store. Today, the joy of being part of the ministry that changed her life radiates when she tells of going back to school to get her GED and the opportunity to have the hand and dental surgery she needs.
"I do have my bad days," she admits "but it's getting easier to carry the positive feelings I have working here at the store into the other areas of my life."
Pennye Rhodes is both a frequent donor and shopper. As a case manager at Trinity Mother Frances Health System, she "understands the need because we frequently refer patients to the Bethesda Clinic." She shops at the store because "it's convenient, clean, very well-organized and the quality of the items are excellent." As a single parent on a budget, she appreciates the value and variety of merchandise.
To celebrate their 1st year anniversary, Hangers of Hope will be hosting an in-store party November 21st from 5-7pm with punch and light snacks. Shoppers wearing a Hangers of Hope t-shirt (which can be ordered through the store) will receive 20% off their purchases.
Maybe the most important element of the store is the staff and volunteers who empower, motivate and challenge each other because they realize the incredible good that comes from their hard work.
As Valerie explains, "if you really want to understand why we are here, visit and tour the Clinic and meet the physicians who volunteer their time and expertise."
I left Hangers of Hope with some new friends and my own personal mission to clean out closets and donate to a ministry that changes lives.
Hangers of Hope is located at 3500 S. Broadway in Tyler. Store hours are 9am to 7pm, Monday through Saturday and can be reached at (903)944-7880. You can also find them on Facebook at hangersofhope and at www.hangersofhope.com.
Bethesda Health Clinic is located at 409 W. Ferguson, Tyler, (903)596-8353 and at www.bethesdaclinic.org.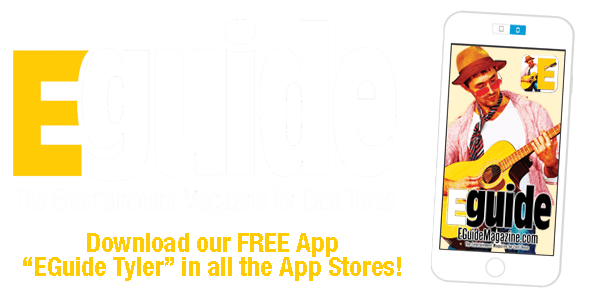 March 24th: Save the Mayfair Fundraiser, Dinner & Live Music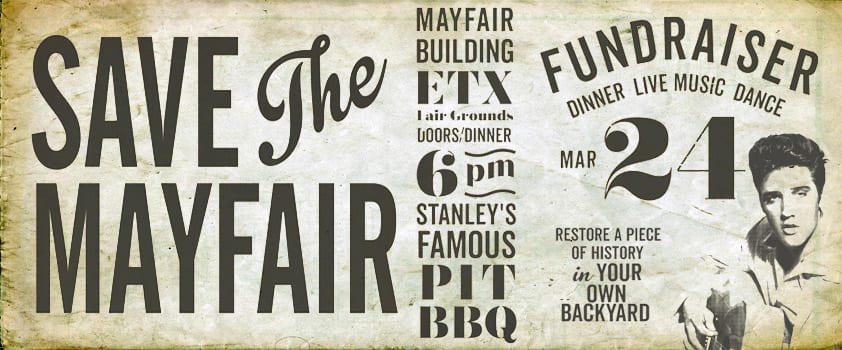 Join the fun at the Historic Mayfair Building for an evening of Music, BBQ, & Dancing.
Saturday, March 24, 2018 at 6 pm
411 Fair Park Dr. Tyler, TX 75702
Sponsored by Friends of the Mayfair & Stanley's Famous Pit BBQ
Entertainment provided by The Magills & Co. & Tyler All Star Band
Tickets available savethemayfair.org. 
WHAT'S THE MAYFAIR?
The historic Mayfair Building in Tyler, Tx was built in the late 1920s by the local Sam R. Hill Construction Company. The Mayfair has been home to many national musical acts such as Elvis, Dolly Parton, Johnny Cash, Hank Williams & so many more.
With the threat of destruction to make way for new buildings at the Tyler Fair Grounds, a group of friends banded together determined to preserve the iconic venue & bring live music back to Tyler.
The Friends of the Mayfair (501c3), along with support from the community, can bring life back into this beautiful piece of history for all of East Texas to enjoy!
This will be no small feat however, the Friends need to raise approximately $1,300,000 to complete the project. Will you join our efforts to Save The Mayfair?
"My mother saw Elvis at The Mayfair when she was in her late 20s. As far back as I can remember, I remember going to see concerts & shows at The Mayfair. The building is unique in design, there is not another like it in the world. The Mayfair is worth preserving for it's unique acoustics & interior layout."   — MARK THACKER, HISTORICAL ARCHITECT
"Playhouses on the Plaza" Downtown Tyler Through March 22nd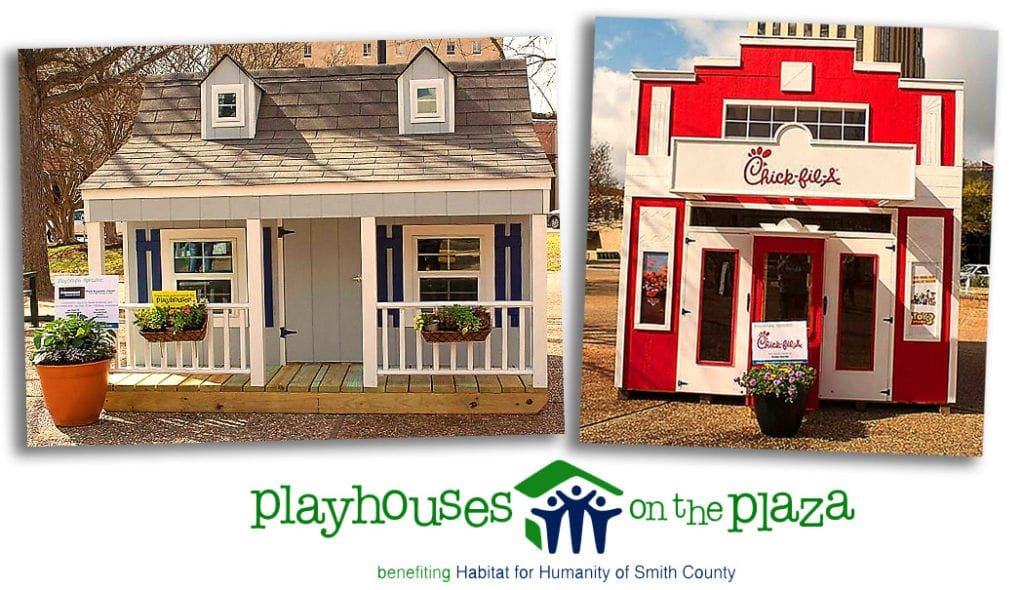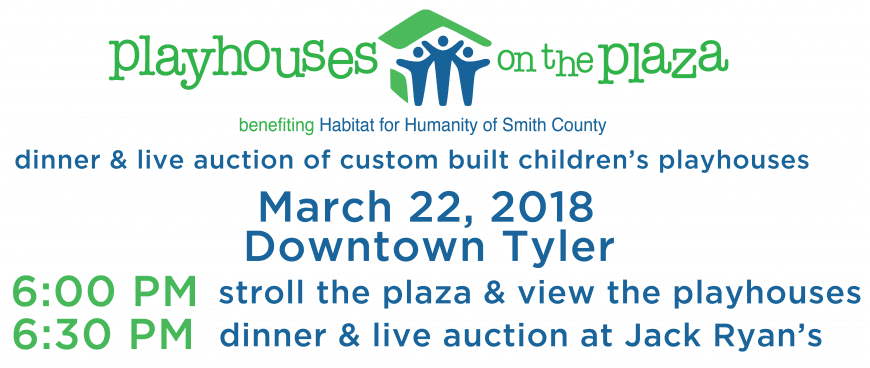 March 16th-22nd (7am-11pm daily) – Preview of the Playhouses — Thursday,
March 22nd (6pm) – Dinner and Live Auction at Jack Ryan's Steak and Chophouse
T.B. Butler Fountain Plaza will become a magical mini-community with up to eight life-sized custom playhouses – promising hours of imaginative playing –  displayed on the T.B. Butler Fountain Plaza in Downtown Tyler and features an online auction.
The display is open to public viewing at no charge.
The event will culminate in a ticketed dinner and live auction at Jack Ryan's Steak and Chophouse, 102 N. College Ave., Downtown Tyler March 22nd.
All proceeds benefit Smith County Habitat for Humanity. This is sponsored by Invest In Tyler & Strada Caffe.
Smith County Habitat's mission is to build and repair houses for people in need of decent, affordable housing. For more info call Habitat for Humanity of Smith County at (903)595-6630 or go to SmithCountyHabitat.org.
ONLINE auction begins March 31st! 
UT Tyler Graduate Student Exhibits Feature Steel, Wood Creations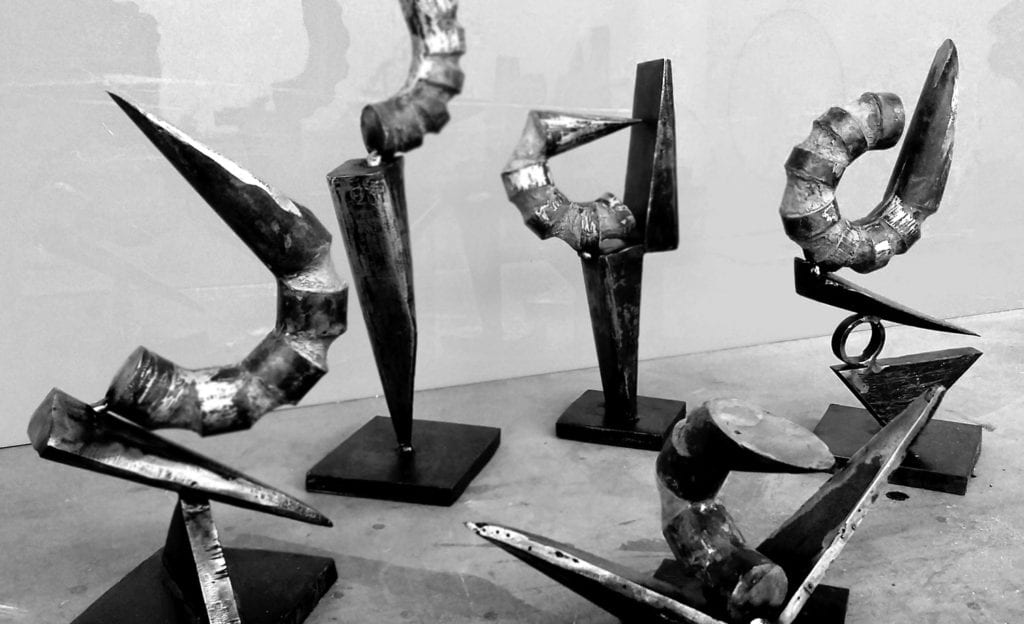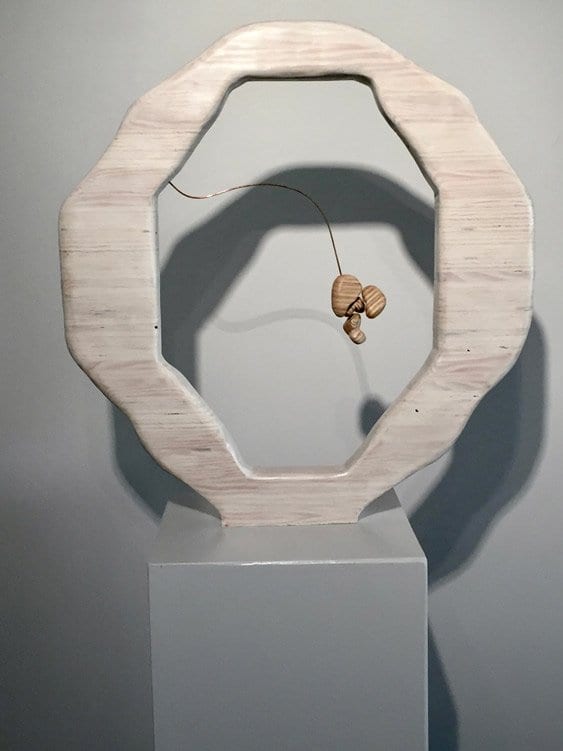 The University of Texas at Tyler Department of Art and Art History is proud to announce three exhibitions featuring three-dimensional artists seeking a master of arts and master of fine arts degrees this spring.  
"Students and visitors to our galleries will be in for a special treat as this semester's master-level artists craft wood and steel into their own unique artistry," said Gallery and Media Coordinator Michelle Taff.
The Meadows Gallery currently features "With Wood and Paint" by masters of fine arts candidate Jake Arnold of Bullard. Arnold's work is centered in additive and subtractive wood-working, and it incorporates both aggressive geometrical and softer voluptuous forms touched with paint. A public reception with artist talk will be at 6pm on Thursday, March 22 at the gallery.
The Fine Arts Complex Gallery currently features "Finding Place" by master of arts candidate Kirsti Smith of Canton. Smith's wooden sculptural forms explore relationships and community and how well individuals fit and find place in their own surroundings. A public reception with artist talk will be 6 p.m. Thursday, March 29 at the Fine Arts Complex gallery.  
Both exhibits conclude Friday, March 30.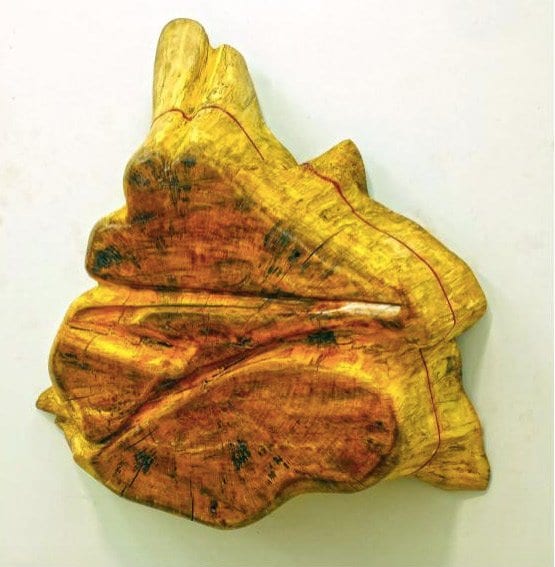 In addition, master of fine arts candidate Brandon Witschi of West Virginia will display his sculpture in an exhibition titled "Beyond Compression" in the Meadows Gallery. Witschi combines steel and other media to create forms that emphasize balance, stability and individuality. A public reception with artist talk will be 6 p.m. Thursday, April 12 at the Meadows Gallery. The exhibit will conclude Friday, April 13.
Gallery hours are 8 a.m. – 5 p.m. Monday through Friday and by special appointment. For more information, contact Taff, 903.566.7237 or
mtaff@uttyler.edu.
A member of the prestigious UT System, The University of Texas at Tyler focuses on student success and innovative research in the more than 80 undergraduate and graduate degree programs offered. With more than 10,000 students, UT Tyler has facilities in Tyler, Longview, Palestine and Houston.