Inside the Artist's Studio: Randy Martin, Fish and Bats Like Meat and Potatoes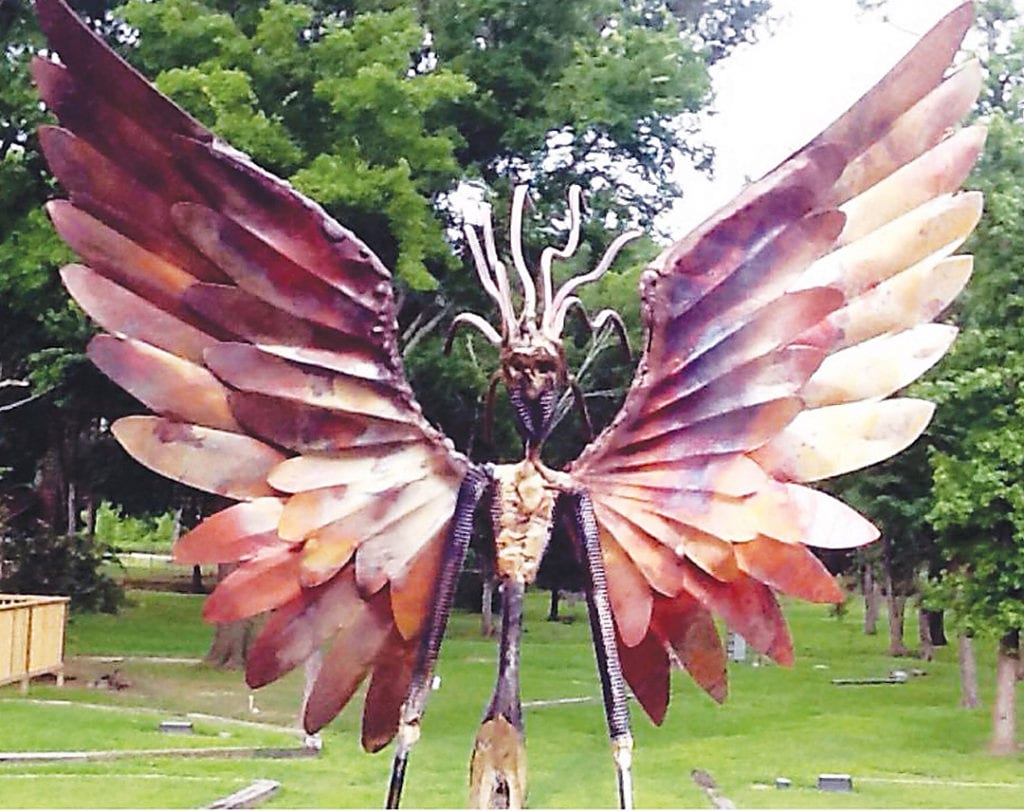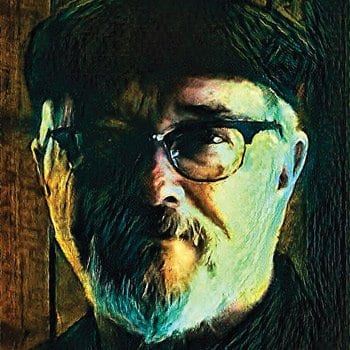 By Derrick White
It is August in Texas and it is hot, I write, stating the obvious. Recently, my family and I spent some time out in Emory, Texas, at the Weeping Willow Ranch, fishing early in the mornings before the heat set in and then later in the evenings after the immense heat starts to subside. It is nice to feed the horses, look out over the fields, trees, and the lake and just slow down and unwind. It is peaceful.
I made plans to meet with local East Texas artist Randy Martin at his home and small workshop studio in Van, Texas. I have been familiar with his artwork and sculptures and been friends with him on Facebook for some time, but for whatever reason, we've never actually met in person. My visit was time well spent. Randy is a modest, sociable, approachable and open-minded guy. He seems very satisfied with his life, wife, and their tastefully renovated home. His life appears peaceful.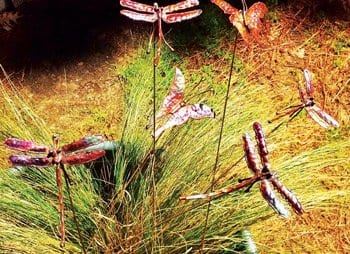 Martin is an outsider or folk artist. Folk or outsider art is an art form embracing the human impulse to create whether the creator has any formal or academic training whatsoever. Outsider art is typified by a personal style, in which the maker creates their own individual set of rules of representation, proportion, and perception. Often, folk art will repurpose discarded or abandoned objects into new creations. Outsider art is generally modest, straightforward, and mostly as oddly interesting as the people who make it.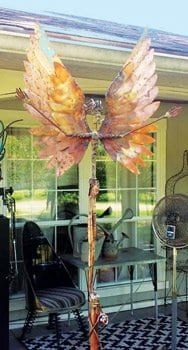 A self-described military brat, Randy moved around as a child and then lived his teenage years in Elmo, Texas outside of Terrell. This is where he discovered piles of rubbish and would "go junking" to dig out scrap he found fascinating: metal springs, gears, and other rusted mechanical parts. Randy Martin served in the U.S. Coast Guard in the rough seas of the Arctic (1969-1972). He has lived in Van for more than 30 years. His is the house with the groovy, hippie van in the driveway. He has been featured on Channel 8's "Early Morning News" (Dallas) and "Texas Country Reporter." Thirteen years ago, Randy Martin had a store selling his artwork in Mineola, Texas, but when the retailer next door caught fire, all was lost. Randy has also suffered through two bouts with cancer, but said he decided to "take the battle on," and he credits the U.S. Veteran's Administration with the detection, treatment, and saving of his life. Now living with diabetes, Randy just keeps truckin' on.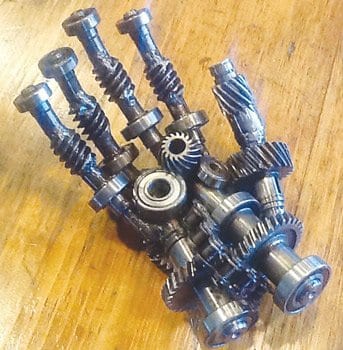 Martin didn't come to a life of art making until the age of 43, after a layoff from a career at Southland Distribution. Referencing the change he states, "Real life gets in the way sometimes." His wife and fellow artist is an avid gardener, and she asked her husband to make a birdhouse for their backyard. He did and soon his birdhouses became very popular. He would sell his unique, one of kind artworks at Canton's First Monday Trade Days and other venues. After a while, one thing lead to another and Randy eventually found himself in the business of making and selling elaborate, wooden, Victorian-style birdhouses, adding metal copper adornments and running a shop with employees. Randy Martin admires the craftsmanship and extra effort. His artwork reflects it. Randy and his wife Sherri have been married for 44 years. They have three children and five grandchildren. He and Sherri have been supporting themselves and their family for the last 22 years through the creation and selling of their artwork.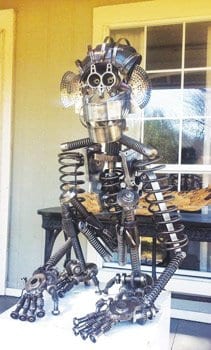 After the birdhouses had run their course Martin decided to learn more about the skill of melting metal together and enrolled in a welding course designed for artists at Mountain View Community College (part of the Dallas County Community College District) and drove the 200-mile round trip route to classes. His teacher, Dewayne Roy (a welding artist, consultant, business owner, author and instructor who has taught welding at Mountain View College for more than 30 years) took Randy's final project, a metal "Super Chicken," and tossed it across the shop's concrete floor. When none of the attached appendages broke off he stated, "Congratulations, you pass." The super chicken sculpture still resides outside of Martin's studio to this day, still intact.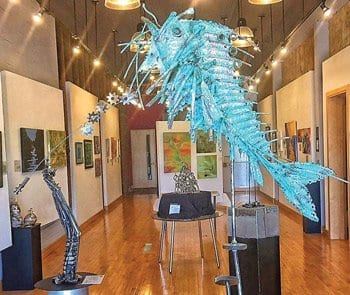 Randy Martin works almost exclusively in metal and found object art now, creating kinetic, moving, wind-propelled whirligigs, spiritual stepping shaman sculptures, fifty-five-gallon barrel chairs, and ice scoop/salad bowl windmill mobiles. He specializes in complex and intricate copper fish sculptures and lawn art spinning bats, which make up the bulk of his business. Selling the fish and bats he states, "Those are the meat and potatoes, that's what feeds us." Randy previously had the Flying Fish Gallery in Ben Wheeler, Texas, though he no longer does. It was the first art studio in the rejuvenation labor of love project by the late Brooks Gremmels who renewed Ben Wheeler. Randy now sells his work through art shows and art fairs around our area and recently in a show in Rockport, Texas, where his eclectic fish sculptures were very well-liked. He has also shown at the Artisan's Collective (410 N. Bishop Ave., Dallas). Randy says he strives to have about six good shows a year while still participating in local art events. He has many connections through social media and Facebook.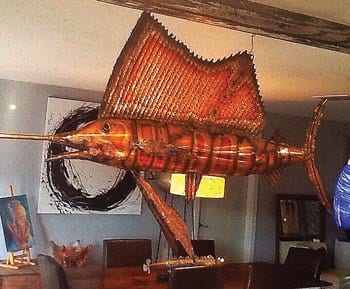 Randy Martin gets his inspiration from many sources in life but stated, "Artists and sculptors who make work like this consider Alexander Calder the godfather," (American sculptor and originator of mobiles, moving sculptures made by skillfully balancing shapes).
Randy has overcome many obstacles and found art there for him to feed his creativity and his spirit and make him self-sufficient. He is a peaceful cool guy and a regional artistic talent. Randy works in a small studio workshop next to his house, cutting and brazing. He now considers himself in semi-retirement creating his art in the cooler early mornings before the heat sets in or sometimes in the evening after the heat begins to subside. "These days I don't make much, but I don't need much," says the artist.
"Truckin' got my chips cashed in, keep truckin,' like the do-dah man, together, more or less in line, just keep truckin' on." – Grateful Dead.
For more information about Randy Martin and his artwork, find him on Facebook and Pinterest.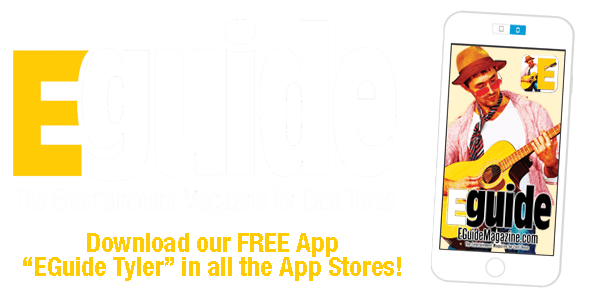 Art in the Garden April 28th at the Rose Garden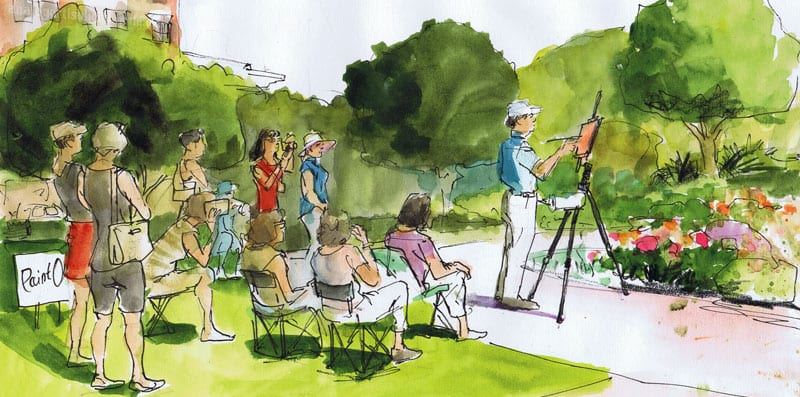 April 28th (11am-2pm) – 12th Annual Art in the Garde
n
The Tyler Parks and Recreation Department invites you to come paint or draw with us in the Tyler Rose Garden, 420 Rose Park Dr., Tyler.
Join local artists of all ages to paint. Bring your paints, any medium (paper or canvas) and an easel and create a masterpiece. Non-painters are welcome to view the garden and the artists at work.
A display of artwork will be shown in the exhibit area.
This is free to the public. Light refreshments will be served in the Rose Garden Center.
Art instructors are welcome to bring their students of any age.
For more info call (903)531-1214.
TJC Art Fest: This Week, Bell Tower Arts Journal" Launch Party, International Day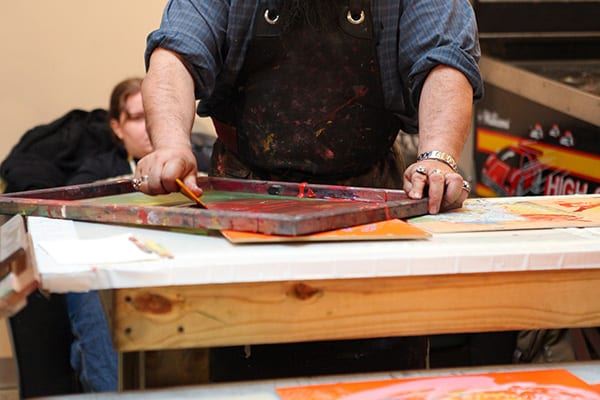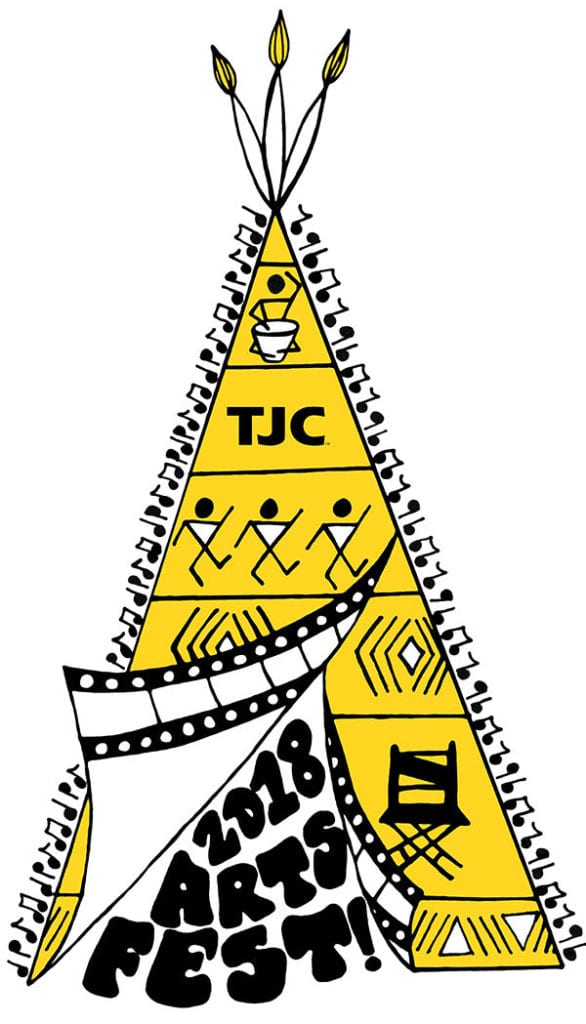 Tyler Junior College, the Tyler Museum of Art and others, are once again offering a spring arts festival packed with tons of events and performances. The TJC April Arts Festival will be collaborating with the Tyler Museum of Art the entire month of April.
The festival is a celebration of the dynamic arts programs at Tyler Junior College. These programs provide rich learning experiences. This event is a collaboration of The Bell Tower Arts Journal, International Day, the Tyler Museum of Art, and the Art, Music, Theater, Speech, Dance, and Visual Communications departments. Back again, the local CBS 19 will be supporting media underwriting.
The Annual Arts Festival germinated from the notion of Dr. Linda Gary (TJC Dean of Humanities, Communications and Fine Arts) a few years ago. Dr. Gary's original thoughts of the festival bloomed from her idea of outstretching the outstanding activities that the multiple departments at the college conduct and coordinate. Why not share the greatness? There are some entertaining, cultural, enlightening events taking place at the upcoming festival. Find the ones you are interested in, check them all out, and reconnect to one of Tyler's trademarks and come celebrate the arts.
2018 April Art Festival events include:
On view all of April – "Sticks and Stones: Works by Helen Altman" and the 14th Annual High School Art Exhibits will be at the Tyler Museum of Art all month. For more info, go to

tylermuseum.org

.

April 2nd-27th – A Visual Communications Exhibition will be displayed in the Pirtle Technology Building, Pirtle Phase 4.

Through April 25th – The Amazing Hancock Brothers will be on exhibit at the TJC Wise Auditorium Art Gallery.

Through April 27th – East Texas CARES Food Pantry is hosting a Food Drive, sponsored by The Art Club. Donations may be dropped off in the Jenkins Hall Art Department Lobby.
---
April 16th (2pm) – "The Bell Tower Arts Journal" Launch Party will be held in the TJC Jenkins Hall Art Department Lobby. The unveiling of the latest edition of "The Bell Tower Arts Journal" includes selected artwork, poetry and prose from students.

April 17th (9am-5pm) – TJC's Annual International Day celebrates diversity and worldwide cultures with an amazing lineup of events and activities in the Apache Rooms of the Rogers Student Center.

April 17th (10am) – Distinguished Lecture Series: Hearing Each Other: Tolerance & Interfaith Dialogue will be held in the Wise Auditorium.

April 17th (7:30pm) – Wind Ensembles and Symphonic Band will be in concert in Wise Auditorium. Come enjoy an evening of great music performed by students in the TJC Percussion Ensembles and Symphonic Band. Free admission.

April 18th (12 noon) – Coffee House: Chamber Singers will perform at Tyler Museum of Art in the lobby.

April 18th (5:30pm) – Forensics (Speech and Debate) Team Showcase will be held in the Jean Browne Theatre.

April 20th (1pm) – Student Recital Series will be held in the TJC Jean Browne Theatre.

April 23rd (3pm) – The Student Film Festival be be held in the TJC Apache Rooms. a

April 23rd (3pm) – "Be An Anchor" will be held in the Newsroom, Potter 203.

April 24th (10am) – Rock the Garden games and activities will be held in the TJC Genecov Garden area.

April 24th (3pm) – Azerbaijani Music Concert & Workshop will be held in the TJC Apache Rooms.

April 24th (7:30pm) – Spring Choral Concert will be presented in the TJC Wise Auditorium.

April 25th (12 noon) – THUNDERDOME Art Competition will take place where there is only one winner – all the other entries will be destroyed by the annihilator. BYOT (Bring your own tears) to Jenkins Courtyard. Special guests will be the Amazing Hancock Brothers!

April 25th (2pm) – Amazing Hancock Brothers Printmaking demonstration will be held in the TJC Jenkins Hall Art Department Lobby.

April 25th (12 noon) – Coffee House: Faculty Recital will be performed in the Tyler Museum of Art Lobby. Concert and museum admission is free.

April 25th-28th (7:30pm) and April 28th (2pm) – "Hamlet" will be presented in the TJC Jean Browne Theatre.

April 25th (7:30pm) – TJC Jazz Ensembles will perform in the Wise Auditorium.

April 27th – The Performance Grant Student Showcase Art Exhibition will on display in the Wise Auditorium Art Gallery.
Most events are free to attend and everyone is welcome. There is something for everyone offered during this month-long festival. Find the events, exhibits and performances you are interested in and come enjoy. It really is the best ticket in town!
Tyler Junior College is located at 1400 E. Fifth St., Tyler. The Tyler Junior College Wise Auditorium Fine Arts Building and TJC's Jean Browne Theatre in the Wise Cultural Arts Building are located near South Mahon Ave. across from the Tyler Museum of Art. More info can be found at tjc.edu/artsfestival or call (903)510-2200.
14th Annual High School Art Exhibit at Tyler Art Museum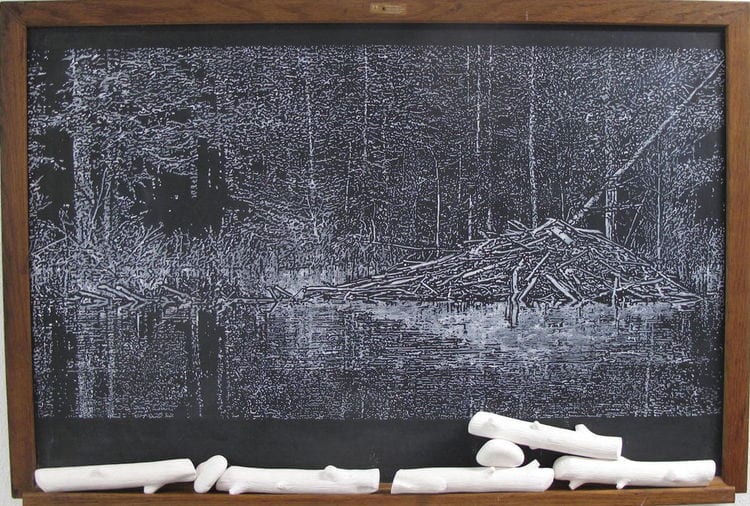 This Month at Tyler Museum of Art:
14th Annual High School Art Exhibition and "Sticks & Stones: Works by Helen Altman" on Exhibit
The Tyler Museum of Art (TMA) is located at 1300 S. Mahon Ave. on the Tyler Junior College main campus. Regular TMA hours are 10am-5pm Tuesday-Saturday, and 1-5pm Sunday. The Museum is closed Mondays and most major holidays. The Museum is supported by its members, Tyler Junior College, and the City of Tyler. For more info call the museum at (903)595-1001, tylermuseum.org, or email info@tylermuseum.org.
TMA's 14th Annual High School Art Exhibition on Exhibit April 8th-May 6th
An unprecedented number of aspiring artists from local schools will have their first opportunity for a full museum exhibition with the Tyler Museum of Art's "14th Annual High School Art Exhibition," opening Sunday, April 8th and continuing through May 6th at the Museum. The museum is located Tyler Junior main Campus is located at 1300 S. Mahon Ave. Admission is free.
What began in 2005 as a small showcase for 23 students from four area high schools has blossomed into a major exhibition and community event. This year's juried competition, tops the previous record of 2016, spotlighting for the first time the work of more than 100 students from a best-ever 14 high-school campuses in Tyler and nearby cities.
Five outstanding works as selected by the jurors will be presented with "Merit of Honor" awards during the Opening Reception and Awards Ceremony from 2:30-4pm, Sunday, April 8th at the Museum.
The community is invited to meet the participating artists, enjoy light refreshments – and cast their votes for the annual Viewers' Choice Award to be presented at the exhibition's conclusion. Ballots are available at the Visitor Services desk in the TMA lobby.
"Merit of Honor" winners will receive gift certificates from Dick Blick Art Materials. All participating artists will receive Certificates of Participation and one-year student memberships to the TMA. To RSVP for the April 8th opening reception, call (903)595-1001.
Participating schools in the "14th Annual High School Art Exhibition" include All-Saints Episcopal School, Bishop T.K. Gorman Regional Catholic School, Cumberland Academy, Grace Community School, John Tyler High School and Robert E. Lee High School, all of Tyler; The Brook Hill School, Brownsboro High School, Bullard High School, Chapel Hill High School, Elkhart High School, Frankston High School, Whitehouse High School and Winona High School.
Support for the exhibition is provided by Collectors' Circle-Platinum Sponsor The Rogers Foundation; and Collectors' Circle-Gold Sponsors Martha and Randy Key, McElfatrick Charitable Foundation and Myrtis D. Smith.
"Sticks and Stones: Works by Helen Altman"
Tyler Museum of Art celebrates the arrival of springtime with a quarter-century survey in the career of one of the most diverse and prolific contemporary Texas artists. "Sticks and Stones: Works by Helen Altman" continues through June 3rd in the museum's Bell Gallery. Admission is free.
The exhibition, organized by the TMA and curated by Caleb Bell, features more than 40 pieces spanning a dynamic body of work by Altman, a Fort Worth-based artist noted for her ability to move between various series across an eclectic array of media.
"Sticks and Stones" focuses on her fascination with flora and fauna, which "have been a much-appreciated constant in my life," the artist said. "They have been a constant source of joy and also a source of coping."
Altman's specific choices of media throughout her career – blankets, wire birds, egg editions, and torch drawings, to name just a few – also reflect a pronounced emphasis on exploring the unique in the everyday.
"Many of my works use commonplace materials and objects. I respond to ready-made objects that are often discards or flawed in some obvious way," she said. "Alterations in these familiar things elevate them and draw parallels to our own human predicament."
Altman received both her bachelor of fine arts and master of arts degrees from the University of Alabama, as well as her master of fine arts from the University of North Texas. Her work has been widely exhibited and is featured in numerous public collections, including the Art Museum of South East Texas, The Grace Museum, and Museum of Contemporary Art in San Diego.
Support for "Sticks and Stones" is provided by Collectors' Circle Platinum Sponsor The Byars Foundation.
Special events in connection with the exhibition include: Free First Friday tours at 11am April 6th, May 4th and June 1st; and Family Days from 2-4pm Saturday, April 14th and May 12th.