Jessica Sanders: My Life has Been a Tapestry, Inside the Artists Studio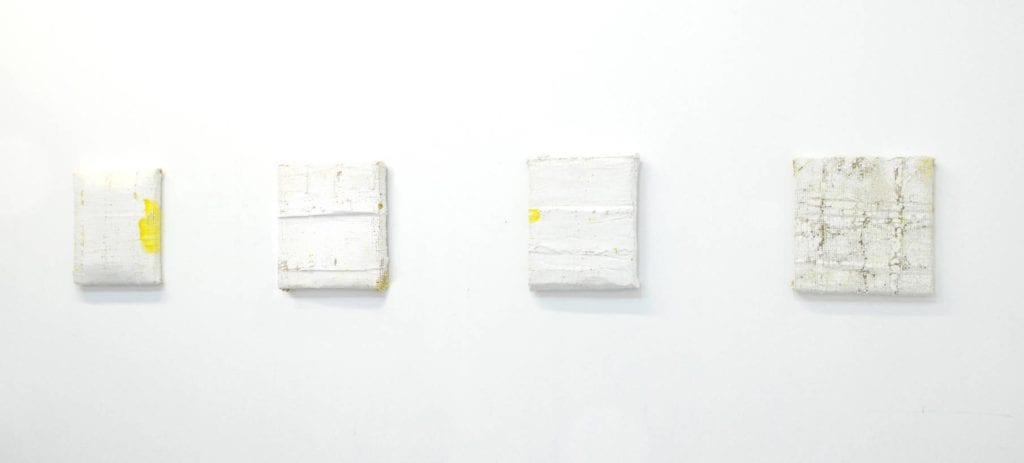 Inside the Artist's Studio:
Jessica Sanders
My Life has Been a Tapestry
By Derrick White
"My life has been a tapestry of rich and royal hue. An everlasting vision of the ever-changing view. A wondrous, woven magic in bits of blue and gold. A tapestry to feel and see, impossible to hold," these lyrics come from American singer-songwriter Carole King's song "Tapestry" from the album of the same name. It is one of the best-selling albums of all time. It received four Grammys in 1972, including album of the year. I mention this because when one first experiences the amazing artwork of local artist Jessica Sanders, it is so incredibly beautiful that you will actually feel the earth move under your feet.
If you would like to experience this visceral sensation for yourself, visit "Shape and Form," a two woman exhibition featuring Cierra McGuckie and Jessica Sanders on view through May 31st at the Martin Walker Law Firm (121 N. Spring Ave., Downtown Tyler). The gallery space is the historic, former Arcadia Theater. Displayed are large-scale female face oil paintings by Cierra McGuckie, and ceramic, porcelain, tapestry wall mounted sculptures by Jessica Sanders.
Cierra's work creates a kind of psychological acumen with powerful, emotional intensity. They are visually entrancing and one's mind begins to create narratives and starts to piece together genealogies while unable to look away from haunting stares.
Jessica's sculptures are painstakingly assembled (or sewn) small, handcrafted, fired and glazed, geometrically shaped porcelain tiles. Her creations are hung on the wall and seem sinuous, soft, and organic. The undersized individual pieces transcend their uniqueness and become a complete form which is much greater than the sum of its parts. After you get over the initial fascination with the amount of labor devoted to creating each one of these pieces, you will start to see the immense exquisiteness of configuration and texture and a transformation of small and geometric into monumental and environmental. It is magical. It is truly a next level art experience.
This show is curated by local, visual arts juggernaut Dace Lucia Kidd. Also, if you really hurry, you can view Jessica's work in a three person exhibition titled "Transitions" (works by Sanders, John Miranda, and Lisa Horlander) in the Fine Arts Complex Gallery at UTTyler, up through March 2nd.
"I love the intellectual side of art and the idea of the contemporary conversation going on. Art for me has been an exploration for truth, for beauty, and understanding. The fact there is always more for me to explore is really exciting. The most unexpected things can be the most beautiful," states Jessica Sanders. "My work is comprised of small ceramic pieces attached together to make a larger piece. The pieces are very flexible and often compared to fabric, this idea of taking something solid and hard and making it fluid is very intriguing to me," affirms Sanders, adding, "I've dabbled in all kinds of media, painting, fibers, printmaking, mixed media, and sculpture. But right now I am focusing on ceramics. If someone had told me three years ago I would be working on a Master's degree focusing on ceramics I would have laughed. When I was at TJC I was strictly a two dimensional artist. Once I got to UTTyler, the only advanced studio open was ceramics and the idea of taking advanced ceramics was terrifying! My first semester was pretty rough, I had no idea what I was doing, but in the last few weeks I found a pretty cool direction and ended up signing up for the next semester, and then the next. I've been interested in installation art for a while and have found ways to meld this with my ceramics, which has been a very exciting development for me."
Jessica continues, "I come from a very artsy family. My mother was a drama and English teacher with a love of literature, so I grew up watching a lot of musicals and theater. I was exposed to things other kids my age weren't seeing. My Dad is also an artist. I was very influenced by him growing up. He is a great draftsman and does really nice work with colored pencil, but my favorite things are his sketchbooks. They are goofy and zany and I've always loved watching him draw up jokes. When my brother and I were younger, Dad would take us to zoos and we would sketch animals. I loved doing it so much and I was inspired by how good my dad and brother were." Jessica is also influenced by artists such as Sam Gilliam (color field painter and expressive abstractionist working on draped canvas adding sculptural, 3-D elements). "He creates beautiful drapes and folds with his un-stretched canvas and his color palettes are to die for! The Dallas Museum of Art has one of his works on view titled "leaf," it's a must see," exclaims the artist.
"It just sort of happened, I had started a needlepoint tapestry a few months before we did the album, and I happened to write a song called 'Tapestry,' not even connecting the two up in my mind. I was just thinking about some other kind of tapestry, the kind that hangs and is all woven, or something and I wrote that song," a quote by Carole King.
Jessica's artwork will be included in the prestigious NCECA (National Council on Education for Ceramic Arts) Juried Show in Pittsburgh, PA March 9th – April 22nd at the Pittsburgh Center for the Arts. Sanders earned her Associate's degree in art from Tyler Junior College, a B.F.A. from the University of Texas at Tyler, and is currently working towards her M.F.A. at University of Texas at Tyler. You can find more information about Jessica Sanders and her work at jessicalsandersart.com.
"Once amid the soft silver sadness in the sky, every life, seemingly slow and dull, is in reality bursting with color. Matching a woven story on a tapestry, each life explodes with action, love, drama, sorrow, and more. Everyone experiences this same rich and intriguing story."*
*Tapestry annotation by Gavin Matthews.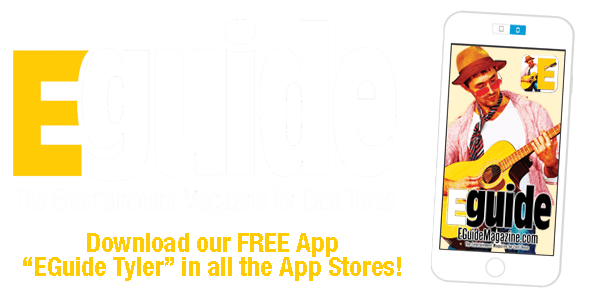 Art in the Garden April 28th at the Rose Garden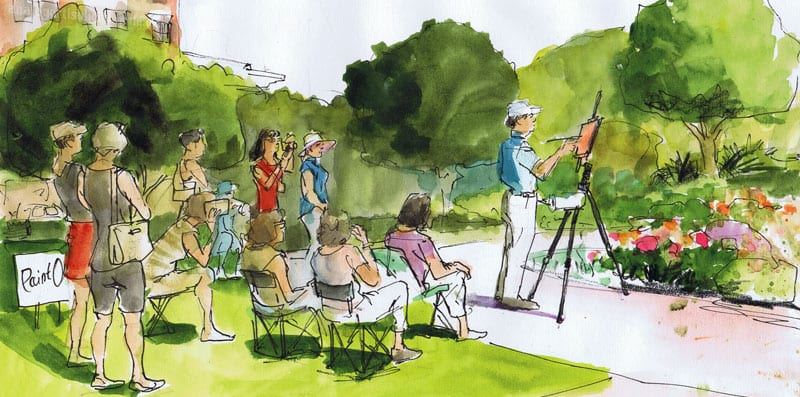 April 28th (11am-2pm) – 12th Annual Art in the Garde
n
The Tyler Parks and Recreation Department invites you to come paint or draw with us in the Tyler Rose Garden, 420 Rose Park Dr., Tyler.
Join local artists of all ages to paint. Bring your paints, any medium (paper or canvas) and an easel and create a masterpiece. Non-painters are welcome to view the garden and the artists at work.
A display of artwork will be shown in the exhibit area.
This is free to the public. Light refreshments will be served in the Rose Garden Center.
Art instructors are welcome to bring their students of any age.
For more info call (903)531-1214.
TJC Art Fest: This Week, Bell Tower Arts Journal" Launch Party, International Day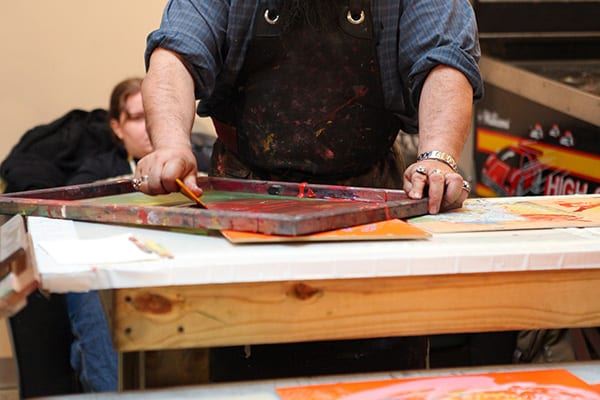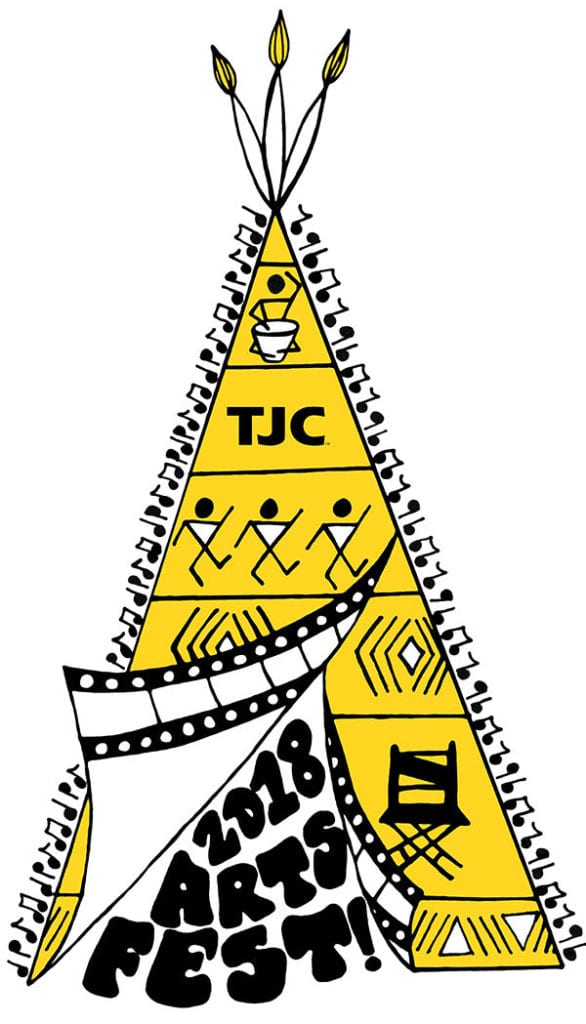 Tyler Junior College, the Tyler Museum of Art and others, are once again offering a spring arts festival packed with tons of events and performances. The TJC April Arts Festival will be collaborating with the Tyler Museum of Art the entire month of April.
The festival is a celebration of the dynamic arts programs at Tyler Junior College. These programs provide rich learning experiences. This event is a collaboration of The Bell Tower Arts Journal, International Day, the Tyler Museum of Art, and the Art, Music, Theater, Speech, Dance, and Visual Communications departments. Back again, the local CBS 19 will be supporting media underwriting.
The Annual Arts Festival germinated from the notion of Dr. Linda Gary (TJC Dean of Humanities, Communications and Fine Arts) a few years ago. Dr. Gary's original thoughts of the festival bloomed from her idea of outstretching the outstanding activities that the multiple departments at the college conduct and coordinate. Why not share the greatness? There are some entertaining, cultural, enlightening events taking place at the upcoming festival. Find the ones you are interested in, check them all out, and reconnect to one of Tyler's trademarks and come celebrate the arts.
2018 April Art Festival events include:
On view all of April – "Sticks and Stones: Works by Helen Altman" and the 14th Annual High School Art Exhibits will be at the Tyler Museum of Art all month. For more info, go to

tylermuseum.org

.

April 2nd-27th – A Visual Communications Exhibition will be displayed in the Pirtle Technology Building, Pirtle Phase 4.

Through April 25th – The Amazing Hancock Brothers will be on exhibit at the TJC Wise Auditorium Art Gallery.

Through April 27th – East Texas CARES Food Pantry is hosting a Food Drive, sponsored by The Art Club. Donations may be dropped off in the Jenkins Hall Art Department Lobby.
---
April 16th (2pm) – "The Bell Tower Arts Journal" Launch Party will be held in the TJC Jenkins Hall Art Department Lobby. The unveiling of the latest edition of "The Bell Tower Arts Journal" includes selected artwork, poetry and prose from students.

April 17th (9am-5pm) – TJC's Annual International Day celebrates diversity and worldwide cultures with an amazing lineup of events and activities in the Apache Rooms of the Rogers Student Center.

April 17th (10am) – Distinguished Lecture Series: Hearing Each Other: Tolerance & Interfaith Dialogue will be held in the Wise Auditorium.

April 17th (7:30pm) – Wind Ensembles and Symphonic Band will be in concert in Wise Auditorium. Come enjoy an evening of great music performed by students in the TJC Percussion Ensembles and Symphonic Band. Free admission.

April 18th (12 noon) – Coffee House: Chamber Singers will perform at Tyler Museum of Art in the lobby.

April 18th (5:30pm) – Forensics (Speech and Debate) Team Showcase will be held in the Jean Browne Theatre.

April 20th (1pm) – Student Recital Series will be held in the TJC Jean Browne Theatre.

April 23rd (3pm) – The Student Film Festival be be held in the TJC Apache Rooms. a

April 23rd (3pm) – "Be An Anchor" will be held in the Newsroom, Potter 203.

April 24th (10am) – Rock the Garden games and activities will be held in the TJC Genecov Garden area.

April 24th (3pm) – Azerbaijani Music Concert & Workshop will be held in the TJC Apache Rooms.

April 24th (7:30pm) – Spring Choral Concert will be presented in the TJC Wise Auditorium.

April 25th (12 noon) – THUNDERDOME Art Competition will take place where there is only one winner – all the other entries will be destroyed by the annihilator. BYOT (Bring your own tears) to Jenkins Courtyard. Special guests will be the Amazing Hancock Brothers!

April 25th (2pm) – Amazing Hancock Brothers Printmaking demonstration will be held in the TJC Jenkins Hall Art Department Lobby.

April 25th (12 noon) – Coffee House: Faculty Recital will be performed in the Tyler Museum of Art Lobby. Concert and museum admission is free.

April 25th-28th (7:30pm) and April 28th (2pm) – "Hamlet" will be presented in the TJC Jean Browne Theatre.

April 25th (7:30pm) – TJC Jazz Ensembles will perform in the Wise Auditorium.

April 27th – The Performance Grant Student Showcase Art Exhibition will on display in the Wise Auditorium Art Gallery.
Most events are free to attend and everyone is welcome. There is something for everyone offered during this month-long festival. Find the events, exhibits and performances you are interested in and come enjoy. It really is the best ticket in town!
Tyler Junior College is located at 1400 E. Fifth St., Tyler. The Tyler Junior College Wise Auditorium Fine Arts Building and TJC's Jean Browne Theatre in the Wise Cultural Arts Building are located near South Mahon Ave. across from the Tyler Museum of Art. More info can be found at tjc.edu/artsfestival or call (903)510-2200.
14th Annual High School Art Exhibit at Tyler Art Museum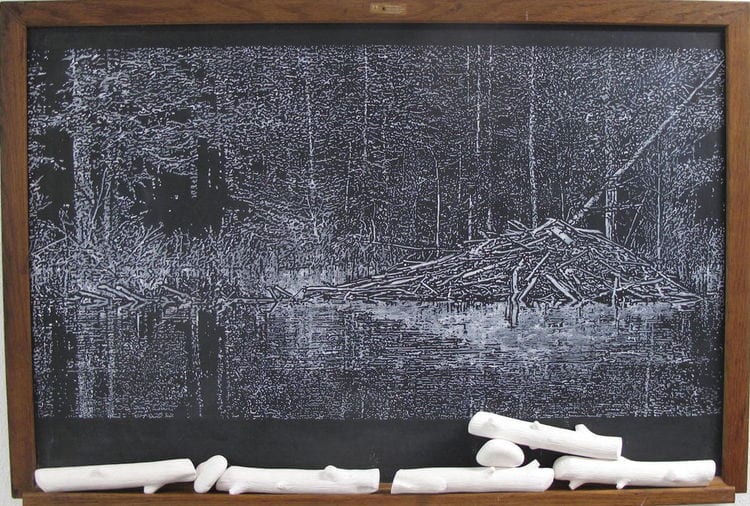 This Month at Tyler Museum of Art:
14th Annual High School Art Exhibition and "Sticks & Stones: Works by Helen Altman" on Exhibit
The Tyler Museum of Art (TMA) is located at 1300 S. Mahon Ave. on the Tyler Junior College main campus. Regular TMA hours are 10am-5pm Tuesday-Saturday, and 1-5pm Sunday. The Museum is closed Mondays and most major holidays. The Museum is supported by its members, Tyler Junior College, and the City of Tyler. For more info call the museum at (903)595-1001, tylermuseum.org, or email info@tylermuseum.org.
TMA's 14th Annual High School Art Exhibition on Exhibit April 8th-May 6th
An unprecedented number of aspiring artists from local schools will have their first opportunity for a full museum exhibition with the Tyler Museum of Art's "14th Annual High School Art Exhibition," opening Sunday, April 8th and continuing through May 6th at the Museum. The museum is located Tyler Junior main Campus is located at 1300 S. Mahon Ave. Admission is free.
What began in 2005 as a small showcase for 23 students from four area high schools has blossomed into a major exhibition and community event. This year's juried competition, tops the previous record of 2016, spotlighting for the first time the work of more than 100 students from a best-ever 14 high-school campuses in Tyler and nearby cities.
Five outstanding works as selected by the jurors will be presented with "Merit of Honor" awards during the Opening Reception and Awards Ceremony from 2:30-4pm, Sunday, April 8th at the Museum.
The community is invited to meet the participating artists, enjoy light refreshments – and cast their votes for the annual Viewers' Choice Award to be presented at the exhibition's conclusion. Ballots are available at the Visitor Services desk in the TMA lobby.
"Merit of Honor" winners will receive gift certificates from Dick Blick Art Materials. All participating artists will receive Certificates of Participation and one-year student memberships to the TMA. To RSVP for the April 8th opening reception, call (903)595-1001.
Participating schools in the "14th Annual High School Art Exhibition" include All-Saints Episcopal School, Bishop T.K. Gorman Regional Catholic School, Cumberland Academy, Grace Community School, John Tyler High School and Robert E. Lee High School, all of Tyler; The Brook Hill School, Brownsboro High School, Bullard High School, Chapel Hill High School, Elkhart High School, Frankston High School, Whitehouse High School and Winona High School.
Support for the exhibition is provided by Collectors' Circle-Platinum Sponsor The Rogers Foundation; and Collectors' Circle-Gold Sponsors Martha and Randy Key, McElfatrick Charitable Foundation and Myrtis D. Smith.
"Sticks and Stones: Works by Helen Altman"
Tyler Museum of Art celebrates the arrival of springtime with a quarter-century survey in the career of one of the most diverse and prolific contemporary Texas artists. "Sticks and Stones: Works by Helen Altman" continues through June 3rd in the museum's Bell Gallery. Admission is free.
The exhibition, organized by the TMA and curated by Caleb Bell, features more than 40 pieces spanning a dynamic body of work by Altman, a Fort Worth-based artist noted for her ability to move between various series across an eclectic array of media.
"Sticks and Stones" focuses on her fascination with flora and fauna, which "have been a much-appreciated constant in my life," the artist said. "They have been a constant source of joy and also a source of coping."
Altman's specific choices of media throughout her career – blankets, wire birds, egg editions, and torch drawings, to name just a few – also reflect a pronounced emphasis on exploring the unique in the everyday.
"Many of my works use commonplace materials and objects. I respond to ready-made objects that are often discards or flawed in some obvious way," she said. "Alterations in these familiar things elevate them and draw parallels to our own human predicament."
Altman received both her bachelor of fine arts and master of arts degrees from the University of Alabama, as well as her master of fine arts from the University of North Texas. Her work has been widely exhibited and is featured in numerous public collections, including the Art Museum of South East Texas, The Grace Museum, and Museum of Contemporary Art in San Diego.
Support for "Sticks and Stones" is provided by Collectors' Circle Platinum Sponsor The Byars Foundation.
Special events in connection with the exhibition include: Free First Friday tours at 11am April 6th, May 4th and June 1st; and Family Days from 2-4pm Saturday, April 14th and May 12th.