Defining an East Texas Spirit: James R. Pace
Inside the Artist's Studio:
James R. Pace
Defining an East Texas Spirit
By Derrick White
"An institution is the lengthened shadow of one man" – Ralph Waldo Emerson.
There are so many creative and talented artists in East Texas. I'm excited to see this genre of talent grow within our community; in terms of venues, pop-up shows, support and opportunities. There are many moving parts to our expanding East Texas visual arts scene including the Tyler Museum of Art, Downtown's Gallery Main Street, Tyler Junior College, the University of Texas at Tyler, as well as local encouraging businesses like Strada Café, El Guapo Records, True Vine Brewing Company, and many more. However, there is one East Texan who is not just an artist but rather the bedrock institution of artistic voice coming from Tyler. I first encountered the work of James Robert Pace around 1991 while I was attending the University of North Texas. His painting, "Lunatic Celebration," was exhibited in a group show in the fine arts gallery. It stopped me dead in my tracks. It was amazing. The work visually achieved everything I aspired to be as an artist. I wrote a report about the painting and I did multiple renditions of the composition in my sketchbook.
In later years, I curated an exhibition including the work of James Pace at the Art Corridor Gallery at Tarrant County Community College – Arlington. Today, I am privileged to call James Pace a colleague and a trusted friend. Pace's work has evolved, experimented and changed over the years but it never fails to bring me to an 'aha moment.' His work immediately makes me realize, that the piece it is exactly how art should be; formed, composed, and constructed. James Pace's influence on area artists would be hard to underestimate. Another artist friend and colleague, Paul Jones, worked with James Pace at UT Tyler while getting his undergraduate degree. The influence Pace carried through to Jones' work was evident in his paintings long after the partnership ended.
Take Jones for example: when you see James' work, it is precisely what you want your own art to look like. James Pace has shaped and invigorated many devotees.
James Pace is a Distinguished Professor of Visual Art at The University of Texas at Tyler where he has taught since 1985. He holds an MFA degree from Arizona State University and a BFA from the University of Oklahoma. Pace was appointed to the Oge' Professorship in Visual Art, the White Fellowship for Excellence in Teaching, and received the Chancellor's Council Teaching Award. He has exhibited his work nationally and internationally since 1976 and has received numerous awards for his paintings, drawings, prints, and mixed media work. He maintains an active studio practice in the forest of East Texas, where he lives with his artist wife, Philana Oliphant, poet daughter Aza Rene' Pace, and an ever changing number of rescued dogs.
"Like most people who practice art making, I've done so for as long as I can remember. I'm sure most people find some kind of early support through family and friends, and thereby experience some type of self-actualization. I did, still do," states the artist. Adding, "I grew up around university professors: historians, biologists, musicians, writers, and I was fortunate to have had intimate access to their lives. I witnessed their discipline, their fascination with their subject and it was inseparable from their daily lives. They chased curiosity. Seeing the lifestyle they practiced, I had an early sense I would combine my interest in art with a university life. It was all I ever considered doing."
James Pace attended the University of Oklahoma School of Art, which during his matriculation he found to be a forward thinking, supremely funky, very diverse place. James remembers, "These people were freaks about making. It's all we did, it's all we talked about, and it's all we spent what little money we had on." Pursuing his MFA at Arizona State. Pace recalls loving the desert. "A friend and I spent many, many hours and days exploring the entire state. The environment had an indelible affect on both my work and my outlook. I came to believe in the importance of finding concepts through experience, getting lost, and with the help of others, finding my way back. The worst things can make the best things possible. This still happens to me today," affirms the artist.
"Trained in printmaking, painting, and drawing, I always thought those were my media interests. But, one day, while working on a large canvas on the floor of my studio, I inadvertently dropped a piece of paper on the painting. The experience brought a flood of memory of long forgotten understanding. I knew mixed media was my way of finding a full voice of aesthetic consideration," states Pace.
He concludes, "For the past 30 years it has been my greatest gift to work with Philana Oliphant. Her grace has been a wonder for me. You can see it in how she works, and in the results of those efforts. She is prolific, she is connected to the biggest ideas of connectedness, but mostly she has been a kind and loving partner. We have raised a daughter, who has taken the baton and continued to run faster than I could ever conceive. A recent MFA in poetry, now a Ph.D. candidate in creative writing, Aza to this very day has taught me more than I can express."
"I believe, as artists, we are conduits to the zeitgeist. And frankly, this is our charge. If the culture permits us to do this, we should open up and let it out. Otherwise, we fail culture and ourselves," declares James. Dedicated to the visual art spirit of East Texas and to seeing it prosper and grow as well as garner the statewide and national attention it deserves, he states, "Over the past several months, Philana and I have doubled the size of our shared studio. We are so very fortunate to have such a place to work. We realize we want to use this new studio for more than just ourselves. We hope this place may become a place for our community of artists and thinkers to congregate. We hope to facilitate a more cohesive, yet diverse arts community. This isn't about our success, but helping in whatever ways we can, the next generation of artists."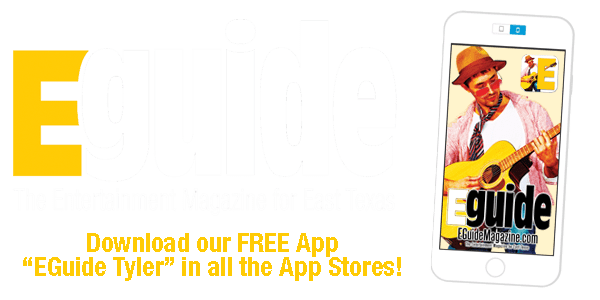 Call for Entries: Art of Peace Tyler Visual Art Exhibit
Entries are now being accepted for the "Sowing Seeds of Peace" Visual Art Exhibit as part of the Art of Peace – Tyler celebration, a citywide commemoration of the United Nations International Day of Peace, September 21st.
"Art of Peace – Tyler is happy to once again to partner with the Tyler Museum of Art to invite regional artists to offer their creative responses to the idea of peace and to our 2018 theme, 'Sowing Seeds of Peace'," said Anne McCrady, co-founder and co-director of the peace event.
The visual art show will be presented as a juried exhibit in the museum's education classroom September 16th-23rd, at the Tyler Museum of Art, 1300 S. Mahon Ave, on the Tyler Junior College main campus. The exhibit will be open to the public and admission is free.
The jury for selection will consist of members of the Art of Peace – Tyler committee and TMA representatives. The jury has the option to select up to two works per artist for inclusion in the show. Past exhibits have included the work of artists from Austin, Dallas, Lubbock and the East Texas area.
"We are privileged that the Art of Peace – Tyler committee once again has asked us to be the host venue for this exhibition," TMA Executive Director Chris Leahy said. "The work we have seen over the past four years of our partnership has grown increasingly more dynamic and accomplished, and we are proud to have the opportunity to participate in such a great community event."  
For more information about Art of Peace – Tyler events, visit tylerpeace.com. For questions about the art exhibition, e-mail artofpeaceart@gmail.com.
Sunday, September 23rd, there will be an Artist reception at 3pm.
David Bates: Works from Texas Collections on Exhibit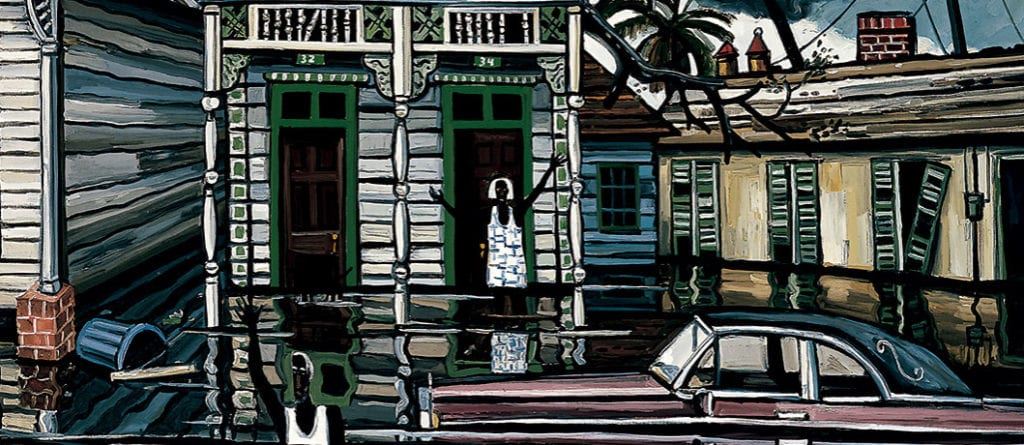 The Tyler Museum of Art (TMA) is located at 1300 S. Mahon Ave. on the Tyler Junior College main campus. Regular TMA hours are 10am-5pm Tuesday-Saturday, and 1-5pm Sunday. The Museum is closed Mondays and most major holidays. The Museum is supported by its members, Tyler Junior College, and the City of Tyler. For more info call the museum at (903)595-1001, tylermuseum.org, or email info@tylermuseum.org.
David Bates, one of the most acclaimed artists in Dallas, is the focus of Tyler Museum of Art's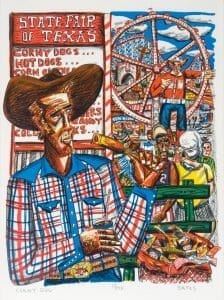 summer exhibition, "David Bates: Selected Works from Texas Collections" on view through September 9th.
Curated by the museum's Caleb Bell, the exhibition features close to 30 works surveying the prolific career of Bates, one of the most versatile and widely collected contemporary Texas artists. Spanning art from 1982 to 2016 works in the show highlight several of Bates' most celebrated series and include a wide array of media: oil painting, lithographs, woodcuts, screenprints and bronze sculpture. The show was assembled from art in public and private collections throughout the state, including the museum's own permanent collection. Bates' work is widely exhibited and included in several museum and corporate art collections.
Admission is $6 for adults and $4 for seniors. Museum members, students, TJC faculty/staff and city of Tyler employees are admitted free. Support for exhibit is provided by The Byars Foundation.
Family Days
Free admission, interactive art projects, light snacks and a festive atmosphere for all ages are on the menu from 2-4pm the second Saturday of each month with the Tyler Museum of Art's Family Day. This popular program focuses on fostering a deeper understanding of the Museum's spotlight exhibitions – and, above all, having fun! To RSVP for groups of 10 or more, please call (903)595-1001 or e-mail info@tylermuseum.org.
First Friday
The first Friday of each month, the TMA offers a full day of free admission plus guided tours of its spotlight exhibitions at 11am. From contemporary Texas art to Hudson River School to Andy Warhol, each tour is unique.
Inside the Artist's Studio: Dedicated Young Warriors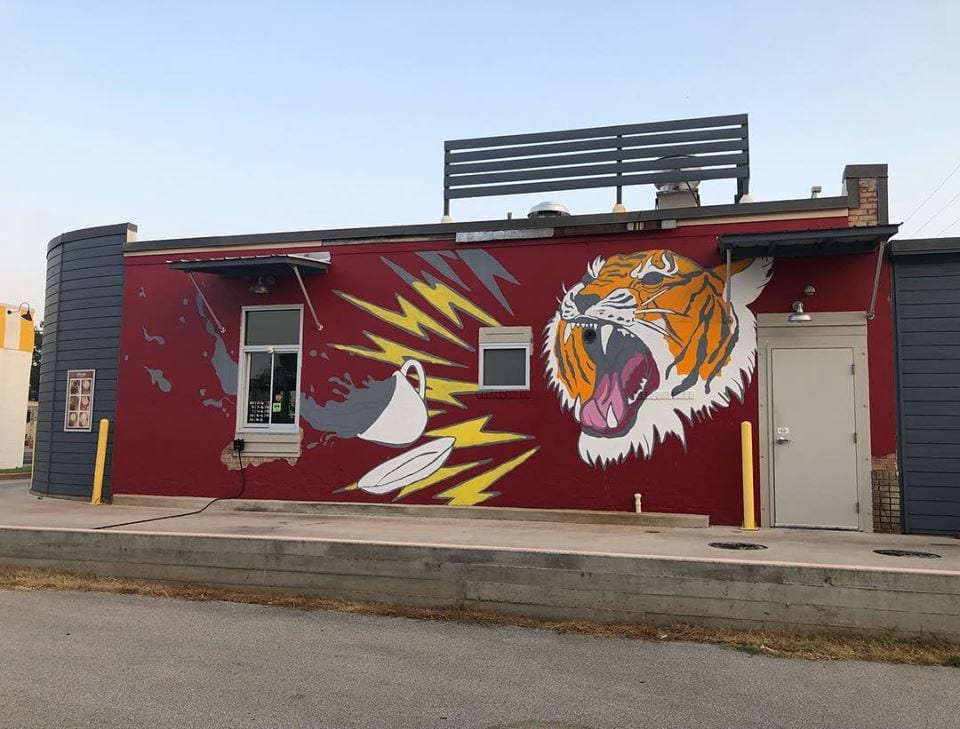 The Art and Illustrations of Micah Lewis
By Derrick White
"I continually push myself to try a new medium or style, or just simply work harder with what I've got. I've grown to love studies in my sketchbooks and understand the importance of slowing down for a bit and working out the kinks or just wrapping my mind around how to draw something," states local artist Micah Lewis. In my career as an art professor at TJC, I work with many students who aspire to become professional artists. After decades of instructing, I have found the most important qualities in making the dream of living as a professional artist come true are dedication and perseverance. Those who are truly dedicated to their art and process will succeed and they persist through all setbacks.
Micah Lewis is one such devoted artist living and working from the red brick streets in downtown Tyler. My first introduction to Micah was through a Facebook page coordinating Free Art Fridays encouraging participants to place or seek hidden art in downtown Tyler and beyond. We have connected through social media, and I have had the pleasure of meeting her in real life at local establishments. Through her posts and comments one can conclude she is a fun, determined, dedicated, persistent and successful artist. In addition to being a professional artist, Micah is also a committed wife and mother. Her web site describes Micah as, "a self-taught artist who finds beauty in all of God's creation, particularly in people… and coffee. Having a heart for creativity from a young age, she draws inspiration from tattoo art, comic books, or old Godzilla movies. Additionally, she has a peculiar knack for portraits where she can capture the natural emotion present in each subject."
"My formal training was limited to half a semester of art during my sophomore year of high school. Somehow, I ended up in a class full of students just attempting to fill a credit. It was a disruptive environment in which the other students regularly sabotaged my projects. So, my path has been one of self-learning with trial and error," says Lewis. Micah's art is influenced by comic book art and executed through her unique surrealist lens. She considers her style of art lowbrow and also enjoys painting watercolor portraits. She states, "Four years ago, if someone told me I would love watercolor and use it almost daily, I would not have believed it. I used to loathe watercolor. It didn't seem like there was a lot of control. It just wasn't as smooth as I like. When I revisited the concept after a few years I fell in love. I really and truly enjoy creating with watercolor. In achieving a variety of line weights, I use a Pentel pocket brush pen (typically used for calligraphy). I love the contrast inking gives my pieces. It pulls the soft washes together with bolder, inconsistent lines."
Like many artists, Micah can trace her inspiration back to childhood. "It's difficult to pinpoint. The earliest drawings I recall were on the inside cover of the coloring books my sisters and I had. Coloring a picture felt like more of a chore to me. So, I just drew my own pictures on the blank inner covers. Sorry, Lisa Frank! When I got a bit older, I kept a sketchbook. It just became a part of who I am. It is shocking to me I became a professional artist. It still baffles me. I remember telling people I wanted to be an artist when I grew up as early as first grade, and maybe I was just too stubborn to not make it happen," states the artist.
For Micah, dedication and perseverance in her art means growth. She explains, "I can always learn, study, and work towards improvement. Finding a voice is difficult; especially given the understanding your audience may never quite comprehend the images in your mind and the emotions accompanying those images. I think it is pretty easy to pander to your audience with the pressure for success but creating, for me, was never meant to be superficial. The intent of art is communication, and communication on a deep level of who we are and the emotions driving us as people. Art should be a connection, but not a cheap one. I still have to remind myself of this from time to time and just strive to be authentic."
Micah Lewis finds inspiration in the work of other artists, citing one of her favorites is Berlinde de Bruyckere (a Belgian contemporary artist sculpting unsettling forms in various media including wax, wood, wool, horse skin and hair. She also works in watercolor). "I hope one day I have the opportunity to meet her or just experience one of her installations in person. Her ability to sculpt with wax, wood, and natural fibers is pure wizardry and you'll never convince me otherwise. I have a copy of her book, "In the Woods There Were Chainsaws." The pages are yellowed and warped and the spine has a gash in it, but it's only because I've loved it so dang much. I draw so much inspiration from her dedication to detail," exclaims Lewis.
Micah's life and art career are very busy with multiple upcoming projects. "This summer, I will be working on a few murals around Tyler, one for Strada Caffè and I am also working on a few murals at True Vine Brewing Company in their new location (2453 Earl Campbell Pkwy) and later this year, I'm excited to curate my first show for The Foundry Coffee House in downtown Tyler. Submissions will start in November and the show will open in January. I'm excited to meet new artists and take on this new role. Interested artists should follow the Foundry Coffee House's Facebook page for more information as it becomes available. Locally, you can find Micah's original artworks and prints available for purchase at El Guapo Records, Strada Caffè, The Foundry, and Moss just to name a few local love friendly places.
You can follow the art, projects and progress of Micah Lewis at:
www.instagram.com/theyoungwarrior
www.facebook.com/micahtheyoungwarrior
Commission or collaboration requests can be filled out via the contact form on Micah Lewis' web site. I recommend you commit yourself to looking through and purchasing some of these dedicated young warrior's creations for your very own.