By Kelly Griffith-Fields
At Silverleaf's Waterpark at The Villages shrieks of excitement can be heard from the parking lot. Large slides jet out from the building are just a glimpse of the fun it holds inside. Splashing, floating, aquatic fun and relaxation is all housed in the large glass structure, centrally located here in East Texas.
"We are the only indoor waterpark in the area," Assistant General Manager Ashley McCoy said. "That allows us to be open year-round." In the winter, the water is heated. In the summer, the water temperature relies on the bright sunshine and Texas heat. Since all the parks features are indoors, rain or other harsh elements can't stop the fun. In fair weather, the retractable roof opens up to allow in fresh air.
Though the Villages Resort is for members only, the Waterpark at the Villages is open to the public. Area mom Beth Gillispie has visited the park over a dozen times and believes it has something for everyone. "It's a fun, family activity," Gillispie said. "My whole family enjoys it." Gillispie's 9-year-old daughter Mia, and 3-year-old son Jayden, both have their favorite slides chosen throughout the park.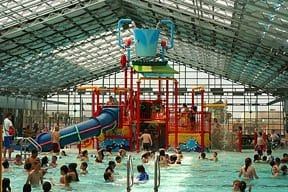 Inside the Waterpark, there are four, three-story, water slides and three, kid-size, body slides. All features have minimum height requirements, which are posted near each ride entrance. Also, "the lazy river may be the favorite attraction of all," McCoy said. "It's good for everyone of all ages plus it's very relaxing." The park provides tubes for free for guests to float on the continuous river.
In addition to the lazy river and multiple slides, the park features a gentle wave pool that reaches up to four-feet in depth. While outside floatation devices are not allowed, life jackets are available throughout the park for visitors to use. Legal guardians must accompany children 14 years old or younger at all times to monitor their safety. Many professionally trained lifeguards are also on duty to ensure the safety of all guests.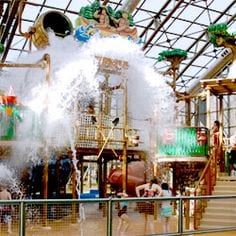 The youngest members of the family can make the most of Forest Ranger children's playscape. The whimsical forest themed playground presents a 10,000-gallon bucket dump along with water guns and other water features that are operator-controlled by the children themselves.
For those just wanting to observe or once everyone has "splished and splashed" and worn themselves out, lounge chairs are available for relaxing and fun watching. "It's the best place for the whole family," park-goer Emilly Gilley said. "It has pretty much all you would need for the whole day." Along with the lounge chairs, extra seating and tables are set up inside, as well as on the patio, for patrons to enjoy a meal or snack. With swimsuits dripping, guests can place orders in the food court for Subway or Mama DeLuca's Pizza.
Located off of the food court, the Splash Store also sells drinks and snacks and provides any last minute essentials for purchase such as swimsuits for the whole family, goggles or locks. Souvenir shirts and cups are available too. The park also provides men's and women's changing areas with lockers, restrooms, and showers.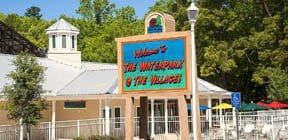 The Waterpark at the Villages is open 10am – 9pm, Tuesdays thru Sundays. Special hours and closings are posted on their events calendar on their website. All-day access with general public tickets are $19.95 for everyone over 48 inches tall and $16.95 for guests under 48 inches tall. Visitors shorter than 36 inches get in free. There is also an option for anyone who doesn't wish to play in the water. Observer tickets are just $10 for spectators. Special twilight tickets are discounted for those who would like to enjoy the park from 4pm to closing, instead of a full day. Three-day passes, season passes, and add-a-day tickets are other options available to help extend the fun.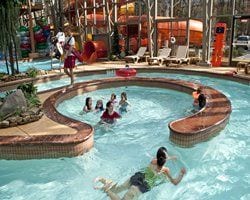 The water park makes a fun and unique setting for parties or large gatherings and are able to accommodate functions of 12 to 1,200 – what ever the need may be. "We offer special group rates or the option to rent the whole park," McCoy explained. All group rates and parties require advanced reservations. Discounted group rates for 12-49 swimmers are $15 per person. Tickets are $12.50 per person for groups of 50-99 swimmers. And groups of 100 or more swimmers are asked to call for more details.
Three party packages are available: standard, deluxe, and supreme. The different packages are customized by food and drink options. Each package allows one hour in the beach themed party room that comfortably fits up to 12 guests. Once the hour is up, the party isn't over; party guests may make use of the all-day swimming passes provided in the party package.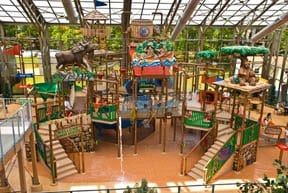 McCoy estimates between 400-600 people visit the park daily at the peak of the season. Whether it is adults or children, small families or large company functions, the waterpark offers something for everyone. Fun, relaxation, food and other amenities provide everything needed for a full day of recreation.
The Waterpark at the Villages is located 15-minutes from Tyler at 18270 Singing Wood Lane in Flint.
For tickets, reservations or more information, visit their website at www.silverleafresortswaterpark.com. The park is open to the public.