Make a Splash This Summer at The Waterpark at The Villages Resort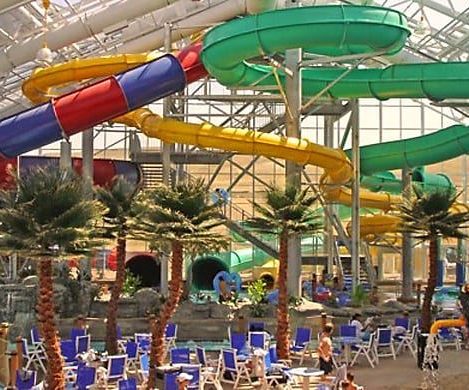 Did you know there's an indoor waterpark in Flint that features a lazy river, waterslides, a wave pool and many other attractions? The Waterpark at The Villages Resort offers 25,000 square feet of fun for the entire family, making it one of the largest in Texas. The 19,000-square-foot, glass-enclosed recreational area is climate-controlled for year-round fun, with a retractable roof that allows for open-air excitement in the summer.
Splash, float, slide or just relax at The Waterpark at The Villages Resort – this is an amusement park for the whole family. The waterpark features a lazy river with a whirlpool for tubers as well as four exciting three-story waterslides. Meanwhile, a forest ranger children's playscape offers a giant 10,000-gallon bucket dump, three kid-sized body slides and life-size figures of bears and moose.
For guests who just want to relax and watch the fun, there are plenty of lounge chairs and seating areas with tables surrounding the pool areas. Casual dining is also available, including Subway® and pizza.
There are men's and women's changing areas complete with lockers, restrooms, and showers. The Splash Store provides guests with any last-minute essentials needed for an exciting day of family fun.
The waterpark is a great venue for your next family reunion, work party, birthday party, or other gathering. The Party Room is ideal for a party up to 12 guests, while the entire waterpark can be reserved for up to 1,200 guests.
The waterpark, which first opened its doors in January 2008, is located on the grounds of Holiday Inn Club Vacations® Villages Resort. This family playground is a prime Texas vacation destination, featuring spacious villas and fun-filled amenities and spanning nearly 3,000 acres among the woods along Lake Palestine.
The Waterpark is open daily 10am-9pm. Tickets are $10 for observers, $21.95 for under 48" tall, $24.95 for others. Twilight Passes are $18.95 for under 48" tall, and $21.95 for others 4-9pm.
The Waterpark at the Villages Resort is located at 18270 Singing Wood Ln., Flint. For more info call (903)534-8400 or go to waterparkatthevillages.com

Laugh Out Loud: Card 53 Comedy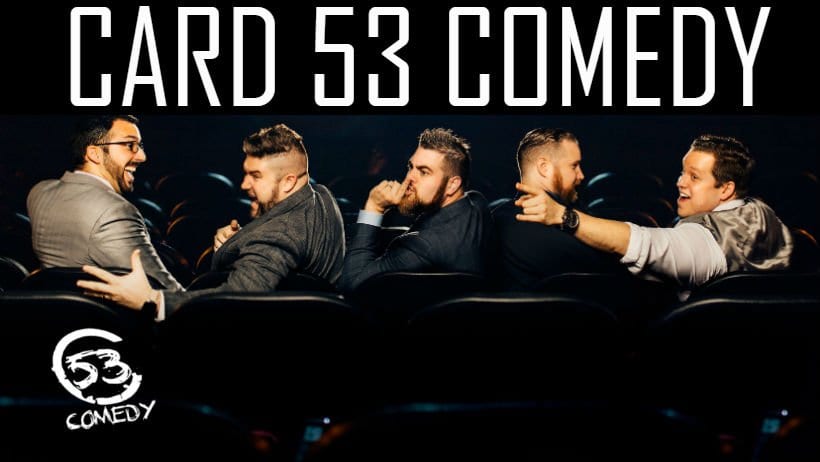 By Johnny Griffith
These guys are kidding around, seriously. The word is getting out about the fact that Tyler has a growing comedy scene. One of the hot spots in that community is Card 53 Comedy, an improv ensemble who specialize in random acts of hilarity on and off stage.
From stand-alone events, to corporate gatherings and educational events, the players in Card 53 are versatile, talented, and just plain ole' funny. Co-founder Jamey Whitley was gracious enough to sit down with me and give us some more insight into this stacked deck of funny.
Johnny: In your own words, what is Card 53?
Jamey: The name Card 53 basically represents the 53rd card in a deck of cards…. yes, the instructions. No, I'm kidding. It is the Joker.
Johnny: When did you first sense you had a talent for making people laugh?
Jamey: I think I've always enjoyed making people laugh. Whether it was a kid trying to hide my insecurities or in the moments when I could make people laugh to kill a depressed feeling I had. Comedy is rough. "There is no gap between comedy and tragedy" – William Shakespeare
Johnny: Were you known as "the funny guy" in school?
Jamey: I don't think so. My dad was a band director, and I knew I would be in trouble at home if I was the class clown.
Johnny: How did the idea of Card 53 begin to take shape?
Jamey: Aaron Smith and I met one day in an acting class at The University of Texas at Tyler (UTT). UTT had just disbanded their Theatre program but still offered a Theatre Minor. We both decided to start a theatre student organization called 'Patriot Act.'
We didn't have a budget so Aaron mentioned we should try improv. We checked out a Dallas Improv Show and then signed up for classes and started putting on our own shows. We decided to just create our own opportunity.
Johnny: Can you explain, for those of us who may not know, the main difference between more traditional stand-up routines you'll see on cable or on a streaming service and the Improv that Card 53 is doing?
Jamey: Card 53 isn't stand up at all. Stand up comedy is written and rehearsed. Improv Comedy is totally different. It's more like watching theatrical scenes without a script. In Improv everything is completely made up on the spot based off audience suggestions.
If you've seen "Whose Line Is It Anyway" on TV this is the most known example of Improv Comedy.
Johnny: Who makes up the current cast of Card 53?
Jamey: Myself and Aaron "Smitty" Smith are the co-founders. We also have RJ Norman who was on "American Idol" and made it to the Hollywood round. Then there is Brad Johnson, who has the hottest Dad bod in Tyler (he's also available, by the way).
Erfan Vafaie joined and made us more culturally diverse, while also a lot more intelligent. Erfan is an Iranian Canadian who works as an Entomologist for Texas A&M during the day.
Austin Day slings pizza's out of the oven at Roast Social Kitchen by day and tickles the keys of his piano as our musical director. We also have Charles Praytor, a Music Professor at Tyler Junior College, who sits in from time to time.
Johnny: How do you go about adding more members? Open auditions or just a general knowledge of who's in the craft and has the right set of skills for the troupe?
Jamey: Currently, we're not looking to add anyone new but hopefully, we can book more consistent shows in the future and have a problem on our hands where we need to add new talent. For anyone wanting to join, it's good to have some previous improv training from Four Day Weekend, Stomping Ground Comedy, Dallas Comedy House (all three in Dallas) or one of the nationally world-renowned programs such as Second City, iO, or Upright Citizens Brigade.
Johnny: About how many dates does Card 53 perform a year?
Jamey: It varies. We get hired to perform for a lot of private shows in addition to performing at Liberty Hall in Tyler. Last year, we performed for Robert E. Lee High School's Faculty Christmas Party, the Whitehouse Chamber of Commerce banquet, UT Tyler's New Faculty Orientation, and even the Wills Point Middle School Faculty Christmas Party.
Johnny: Does Card 53 try to perform as a complete group or do you sometimes go out in different variations?
Jamey: We're a total package. We're not like members of the Avengers, although we have our own individual talents, we work best when we work together. Plus, we're all best friends so it's more fun when we're doing this together.
Johnny: What's on the horizon for 2018 with the cast?
Jamey: Smitty is a new dad, so that's pretty amazing. We love adding to our Card 53 family. We're all about adding to our show to create the best overall experience possible for our audience, so look for even more production quality in our shows.
Johnny: What experience are you hoping people coming to a Card 53 show will walk away with if they're a first timer?
Jamey: We realize it's expensive to have a night out on the town and we want everyone to feel like they're in a bigger city when they come to our shows.
It's not just for Tyler, it's for all of East Texas.
Card 53 Comedy can be found at Facebook.com/CARD53 and card53.com.
Let's Get Outside and Get Some Fresh Air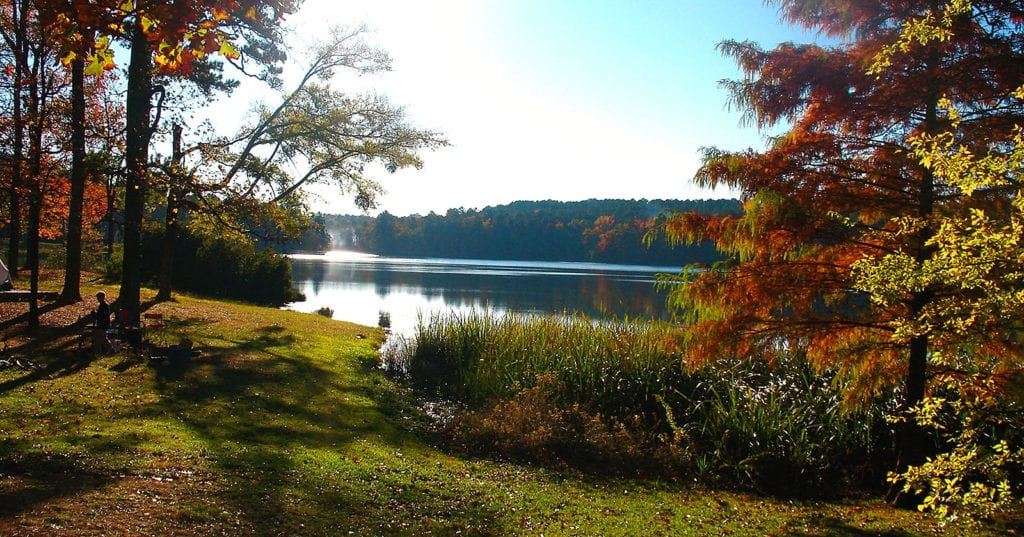 By Holli Fourniquet
If there's one thing Tyler is known for, it's for the area's natural beauty. Nestled serenely in the piney woods of East Texas, the area offers some pretty great landscapes for the outdoorsy types.
According to a recent study, most of us are spending half as much time outside as compared to only 20 years ago. It claims that doing outside activities such as hiking is good for the mind, body, and soul. The research showed that hiking clears your head, makes you more creative, boosts your focus, and recharges your mind's battery.
With temperatures getting lower by the day, it's the perfect time to get out of the air conditioning and get back outside again. New adventures await you!
Many people don't know that Tyler is home to more than 1,000 acres of parkland comprised of 27 city parks, and that doesn't even include the Tyler State Park! Hikers from all over the region enjoy the area's ample places to explore, ranging in all intensity levels.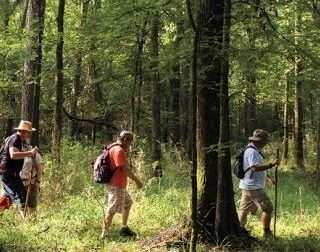 Perhaps the best place for nature hikers to start is at one of Texas' most popular State Parks: Tyler State Park. The park is located just north of the city limits and stretches over 985 acres. It is known as a tranquil haven in the pines, rich with history and recreational opportunities. The park features 100-foot tall trees, nature, camping, and a cool 64-acre spring-fed lake, not to mention the 13 miles of trails. The lake was just listed on "Tour Texas" as one of the top swimming holes in Texas.
The Tyler State Park's trails vary from easy to challenging, but each trail promises beautiful scenery amongst some of the largest pines in East Texas. The Trails cross several different forest types and offer amazing views you can't see anywhere else.
As you hike along the trails, this area is also the perfect place for bird watching with more than 200 species of birds identified at the park, and it is home to a number of East Texas animals, including white-tailed deer, raccoons, foxes, coyotes, reptiles, armadillos, opossums, and more.
Tyler State Park also offers several educational classes with various topics including wilderness survival, birding, snake encounters, and other important information one needs to know when hiking.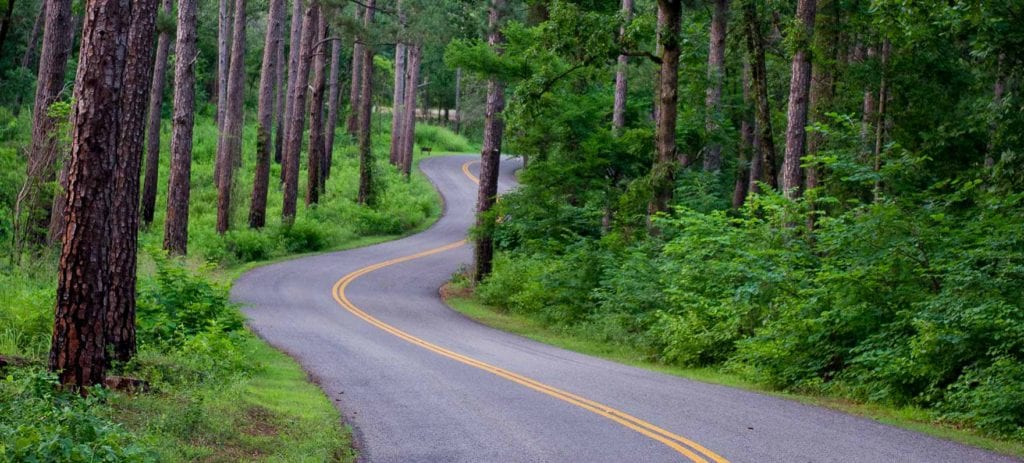 If you're looking for a great "staycation" location this is it. Tyler State Park has campsites and cabins for those hikers who want to stay. Make a weekend out of the trip and try several different hiking trails. For more info on the Tyler State Park go to tpwd.texas.gov/state-parks/tyler.
For hikers wanting to stay more within the city limits, the city of Tyler offers more than 1,000 acres of parkland. Walking and hiking trails are very popular within several of these parks. These parks are a great introduction to hiking. Plus, they offer other attractions, events, and services that can't be beat.
Faulkner Park, located at 410 W. Cumberland Rd., is a great place to begin. This park offers a scenic nature hiking and biking trail. The trail is a loop trail along which you might spot beautiful wildflowers and local wildlife. Dogs on a leash are more than welcome to join you along this trail. Faulkner Park also offers picnic areas, a fishing pond, and a sprayground to enjoy.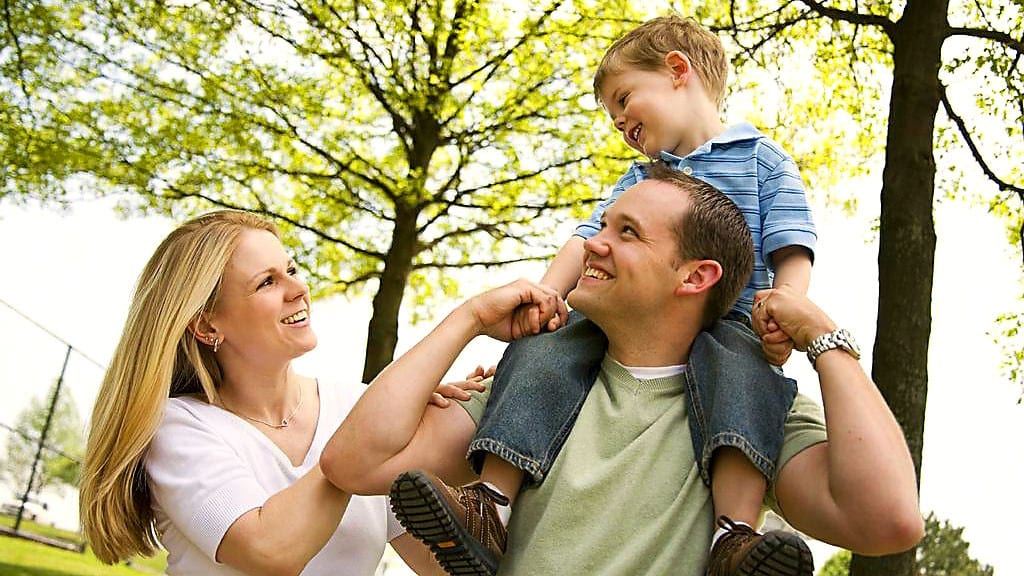 Rose Rudman Park and Southside Park are two great trails for beginners. The two parks have concrete walking trails that connect making the entire length of the trail about 2.5 miles long. This is a great setting for walking or jogging. The trails take you through the parks and into the woods via a couple of beautiful bridges. A lot of the trail is shaded, which makes this a great place to visit all year round. Some of the trails follows along a creek that is a popular hangout for wildlife in the area. Bring your camera because there are also some great photo opportunities along this trail. Rose Rudman meanders along side Donnybrook Ave. and Shiloh Rd.
If you are trying to think of a place somewhat out of the ordinary, you might try Noble E. Young Park. The Noble E. Young Park is mostly known for the skate park and is one of Tyler's most popular parks. Area skaters and bikers like to take advantage of the fun skate ramps in the park. The park also offers hiking and biking trails. This is the one place in Tyler you can bring your skateboard and your hiking shoes and enjoy all the park has to offer. For more info on go to tylerparksandrec.com.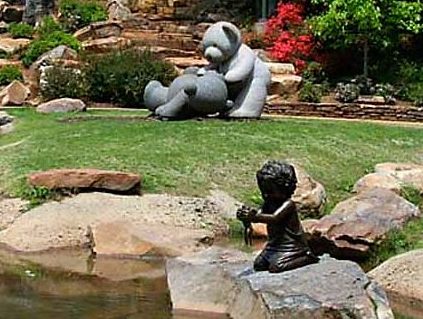 No matter where you decide to hike in Tyler one thing is for sure: Tyler has what you are looking for. Tyler offers challenging hikes as well as hikes for beginners. All of the hikes are family-friendly, accessible, educational, and relaxing.
Get off the couch and explore the nature in your own backyard. Recharge your batteries in one of the most gorgeous places in Texas. You won't regret it. The beauty of East Texas awaits you. For more ideas on exploring the great outdoors go to visittyler.com.

"Four Pedals of the Rose:" Fresh Air & Free Swag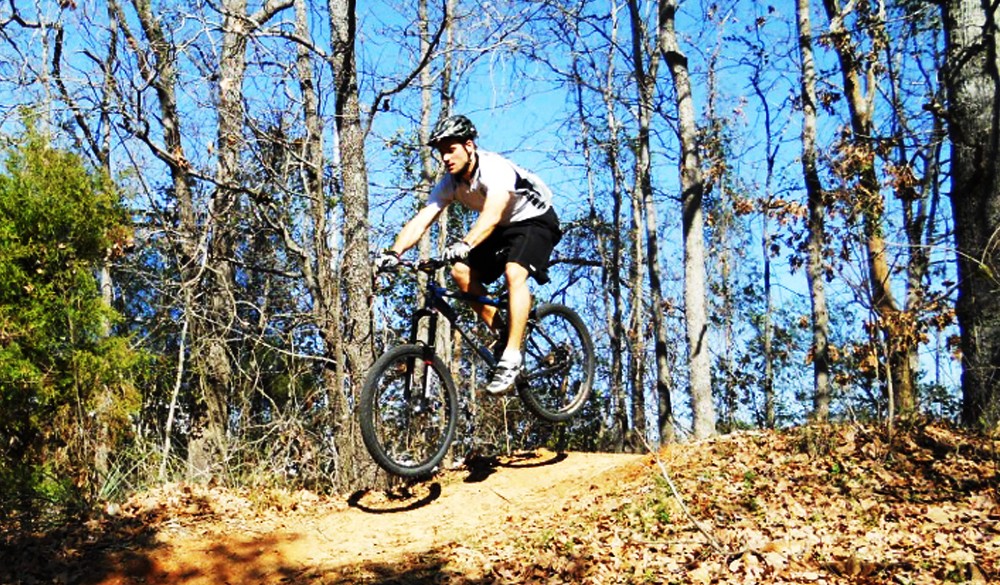 With warm weather arriving in Tyler, outdoors is a destination for enthusiasts who want to bike, hike, and walk on local trails.
And now, more than ever, being outside is a safe fun place to be – breathing the fresh clean air and seeing the beauty of #tylertx.
The Tyler Parks and Recreation department and the Tyler Bicycle Club continue the "Ride the Four Pedals" initiative, encouraging all ages to ride, run, or walk all four of the designated trails and be a part of nature.
The "Four Pedals of the Rose" is a series of four trails that stretch more than 33 miles and showcase both the city's urban landscape and its natural beauty. Trails in Faulkner Park, Tyler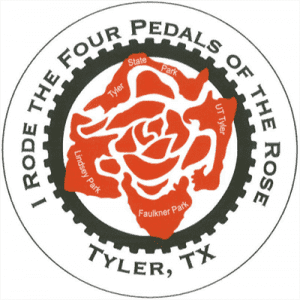 State Park, the University of Texas at Tyler, and Lindsey Park attract locals and visitors alike. The 10-mile Lindsey Park trail, designed by professional cyclist Nevada Thompson, was completed in 2013 as the newest addition to the network, and was developed as a joint project between the city and many volunteers.
The four designated trails (Lindsey Park Trail, Faulkner Park Trail, The Tyler State Park Trail and the UT Tyler Trail) are designed for runners, walkers, and bicyclists of all ability levels, and each one is different. Beginners can ride parts of each trail and work their way up to the more challenging sections. Lindsey has more open spaces, and Faulkner has more twists and turns, Tyler State Park offers many challenging elevation changes and has been called one of the best trails in Texas. The UT Tyler trail is a shorter option but still offers a fun time.
People who ride, run, or walk all four trails are encouraged to fill out a form online, and will receive an "I Rode the Four Pedals of the Rose" decal from Tyler's Parks and Recreation Department proclaiming their accomplishment.  
Trail maps are available at
Here is the Ride the Four Pedals Submission Form.