Al & The Longshots: A Sure Bet For Great Music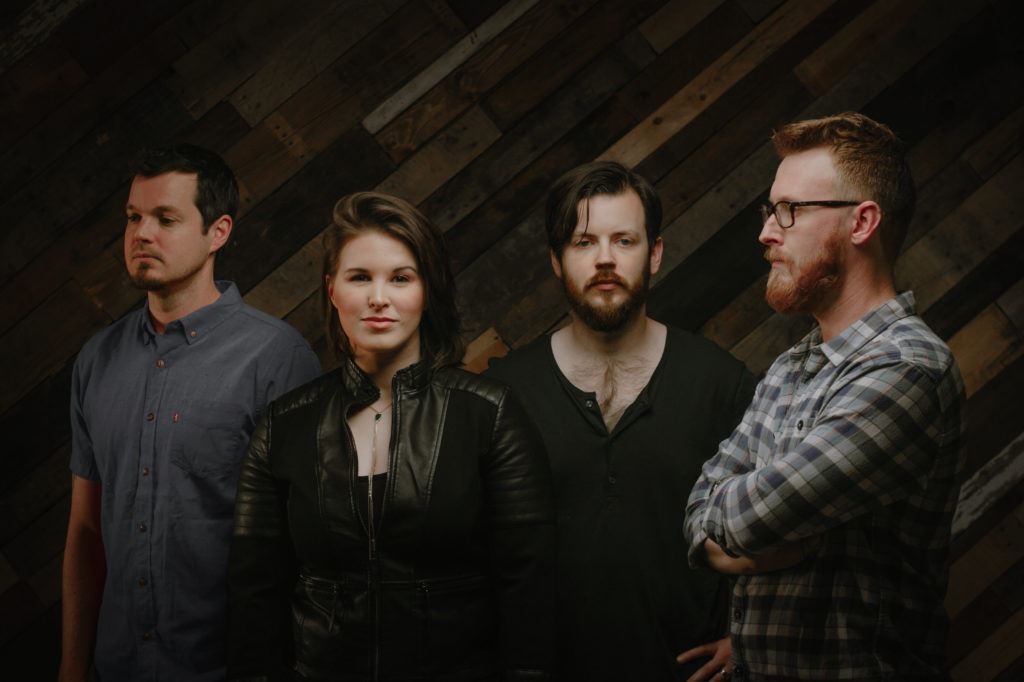 by Johnny Griffith
Webster's Dictionary defines a long shot as "a venture involving great risk but promising a great reward if successful," but one listen is all one needs to realize the irony in the name of local band Al & The Longshots. As they are anchored on stage by soulful and raw vocals along with a powerful three piece band, their listeners run little risk of not being rewarded at one of their shows. Together since 2015, Al & The Longshots have been spinning new takes on crowd favorites ever since and continue to increase their stage time in the area as more people figure out these Longshots are a sure thing.
I sat down with the band this month to find out a little more about them:
Johnny: What is the current lineup of Al & The Longshots?
Dusty Douglas: I play drums for the band. Charles Praytor is our bassist, Preston Dotson is our guitar player, and Allison McGee is our lead singer.
Johnny: How did you all meet?
Dusty: I met Charles at TJC while we were both students studying music back in the mid-2000's. In the summer of 2015, we were both in a production of "The Buddy Holly Story" at Tyler Civic Theatre, and that is when I met Preston. We were all playing members of Buddy's backing band, The Crickets. I met Allison when Preston and Charles started putting this band together.
Preston: Charles was one of my teachers at TJC in the music program. During my last semester he asked if I would be interested in doing a musical which is where we became friends; this is also where I met Allison. As Dusty had mentioned, we met during "The Buddy Holly Story."
Allison: I was driving on I-20 and this hairy man waved me down and asked me to be in a band…okay, I'm kidding. Charles pretty much brought everyone into the band. I knew him from some previous theater productions we'd worked on together. I trusted him because I knew he was talented and wouldn't dedicate time to something he didn't actually believe in, and he wouldn't waste my time either. Preston had impressed me in a previous show and Dusty was the new face for me.
Charles: I met Allison in 2004 through community theatre, she was actually the first person I met after moving to Tyler. We reconnected in 2011 to do a Patsy Cline revue, and that was my first introduction to her as a vocalist. I was developing my own project at the time, but I immediately made a mental note to work with her in the future. I met Dusty as a student at Tyler Junior College in 2005. I was a classical-track pianist, but knew I wanted to get into a band eventually. I was enamored with his writing/recording abilities, even though at the time it was about as far away from my own style as I could imagine. I kept up with him when we parted ways for different colleges, occasionally picking his brain through email or a random phone call. I met Preston during my first year as a professor at TJC. I could tell we weren't that far apart in age, and asked if he'd play for a musical I was working on that summer. He agreed, and we kept up a correspondence over text, mostly bonding over our shared gear-head traits.
Johnny: Are you all local or are there some transplants to the area?
Dusty: I moved to Tyler shortly after 9/11. I was born in Houston and lived there until I was a teen. My family moved to East Texas and I've been here ever since, with the exception of a brief stint where I lived in Los Angeles, California.
Allison: I'm a Tyler native with some tenure in Houston as well. Moved back with my family in middle school and been here ever since.
Charles: I was raised in the suburbs of Dallas, and moved to Tyler as a teenager.
Preston: I'm super local.
Johnny: What about the name? What's the story behind Al & The Longshots?
Dusty: We wanted a name that had a nice ring to it, and that would also pay homage to the talent of our singer and frontwoman, Allison.
Allison: "Al" was a nickname I acquired in high school, and it's followed me right on into my 30's.
Dusty: We thought it would be a fun surprise for anybody hearing and seeing us for the first time. As far as The Longshots, it fits us backing boys in the band perfectly.
Charles: Fun fact, we originally were going to call ourselves "The Vanguard" but soon found out that was the name of D'Angelo's band. I think it worked out for the best.
Preston: All my ideas got shot down so I picked the one they came up with that was ok.
Johnny: What first got you into music individually?
Dusty: I first got into music in elementary school when my mother got me a violin and enrolled me in the Suzuki Music program in Houston. I really enjoyed it while it lasted. Later on, as a young teen, I started taking an interest in rock music and my parents bought me a Colgate-green Hohner guitar and Carvin practice amp. I taught myself how to play and have been writing, recording, and performing music ever since. I started tinkering with drums a few years after that.
Preston: My family on my mom's side was musical, my grandfather played with Elvis a few times while they were in the army and my uncle has played with several large country acts. My parents surprised me with my first guitar when I was in the third grade, and later on when I outgrew it, my grandparents on my dads side got me my first nice acoustic guitar, a Martin which I carried everywhere and played anytime I could. Soon I moved on to electrics and somehow wound up in the music program at TJC playing classical during the day and in country bands at night.
Allison: We're all singers in my family. My parents raised me on everything good from Al Green to Aerosmith to Whitney Houston to CCR, and I got into musical theater at seven years old. We didn't have the money for voice lessons, so I just listened and imitated what I heard until my own until my sound started to develop.
Charles: I had an art teacher in Dallas that would do these "performance nights" at her house with her student's families. There were some incredible artists and musicians in that group. This one family that played violin and cello told my parents to get us in music lessons, even if it was just on recorder. So recorder it was for about 6 months, then we added piano. As a kid I always loved the attention playing a piano brought, so I stuck with it and it's turned into a career.
Johnny: What was the first show as a band?
Allison: The first Al & The Longshots show was at Click's in Tyler. The guys were all pretty much pros at performing in bands, but this was my first band gig ever. I'd been on stage almost my whole life, but that show was different than anything I'd done. I don't think I moved more than three times in 2 hours.
Dusty: Real talk, Al rocked the house that night harder than the three of us combined.
Allison: The set went well and we started a small following that's gradually grown into a pretty fantastic crowd.
Johnny: How would you describe your musical style? Has it evolved since the band formed?
Allison: We always struggle with this question, because we cover such a wide range of music from jazz to rock to r&b…we kind of do it all. That's also what I love about our "sound" – you can't really pin it down to just one thing. I think it reflects us really well – we're an eclectic group and so is our music.
Johnny: You all have done some fantastic covers in your shows, are there any that seem to have become crowd favorites? Is that the same as the band favorite?
Dusty: There definitely seem to be a few that always deliver. Off the top of my head, I'd say "Kiss" by Prince, "Mainstream Kid" by Brandi Carlile, and "Feel It Still" by Portugal. "The Man" always get the crowd moving.
Preston: I may be biased but I tend to see a large reaction on the guitar heavy songs, "Sweet Child O' Mine," "Pride and Joy," etc.
Charles: I feel like people never get tired of "Folsom Prison Blues."
Dusty: So true. You can't go wrong with Johnny Cash.
Johnny: What about originals? Is the band doing any writing at this point?
Allison: We have a few in the works. Between gigs and rehearsals and our "day" jobs, it's hard to find time to really sit down and write, but we work well together and I'm blessed with a group of talented guys who can easily take something that starts in my head and give it legs.
Johnny: About how many shows a month are you currently performing?
Dusty: Generally, we play about 2-3 shows a month. Typically, these vary from venue gigs to private events.
Johnny: What does Al & The Longshots have on the radar for the rest of the year we should be aware of?
Allison: We really want to get writing. It's finding the time between gigs, which is a good problem to have, but that's where we want to go.
Dusty: Agreed. We're also playing more and more private gigs, which is really fun. Venue gigs are great too, but being able to provide the soundtrack for someone's special event can be a really rewarding and intimate experience.
Johnny: How would you describe your show to a first timer?
Dusty: Pure fun. Our goal has always been to use our band and musical abilities to lift spirits and provide an outlet for folks to come out and have a good time. Nothing satisfies us more than playing in front of an energetic crowd that is letting the music carry them away for a few hours.
Allison: We like to play with our crowds. That can mean getting someone to sing with me, or Chuck and Preston mingling with the crowd while they're playing. More than half of our shows end up as a dance party anyway so we figure, why not go with it? Make it fun. Make it interactive. We're goofy people, and we don't take ourselves too seriously. People respond to that.
Johnny: Thanks for taking the time with us.
Band: Thank you!
Keep track of where Al & The Longshots are online at facebook.com/longshotsmusic/.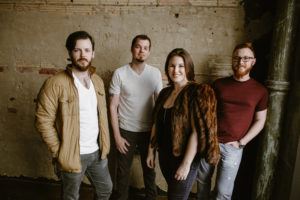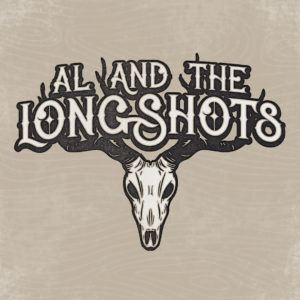 Michael Morse:  All Aboard The Psychobilly Death Train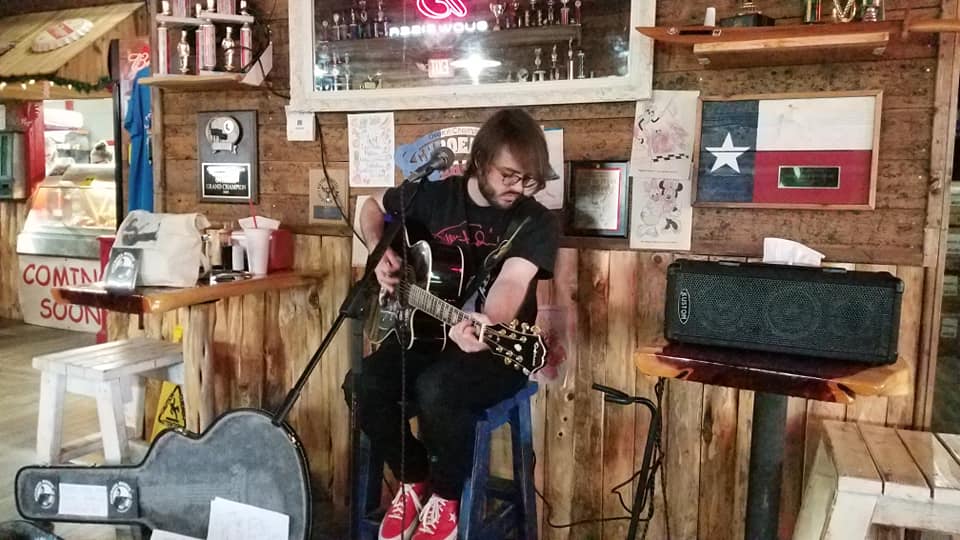 By Johnny Griffith
The East Texas music scene is surprisingly diverse once you look past the incorrect assumption that the only two types of bands in the area are country or metal. With the plethora of musicians this area produces, though, it is sometimes hard to stand out in the crowded field of performers. This isn't a problem Michael Morse has. Born in Tyler, raised primarily in NYC, and now living back in Tyler, Morse is a multi-instrumentalist who embraces the ART side of artist and takes you on a musical adventure of his own making every show. We recently caught up to Michael to get to know him better:
Johnny: So what is your earliest memory of music in your life?
Michael: Music has always been there. I don't know about the "earliest,"  but I have a vivid memory of my mother putting on a record, either a Beatles or Paul McCartney solo album, and watching it spin. That was pretty magical. I was taken to the Oil Palace several times as a small child to see various country singers. Though that music didn't stick with me, it was my first exposure to live music in general, which became very important to my life in multiple ways. 
Johnny: When did you start taking an interest in music as a hobby?
Michael: Music isn't a hobby, it's an essential part of life. To me, learning to play an instrument is a natural extension of enjoying music. I think, subconsciously, I always wanted to play the guitar, guitars are just flipping cool. I was too shy to express that though. At age 13, my mother told me I had to learn an instrument, any instrument. There was never any question for me about which instrument, it was always going to be the guitar. Luckily my mother had a nylon-string classical which became mine. I'm very grateful for that push. The obsession snowballed from there.
Johnny: Who were some of your early influences musically and who was an early mentor?
Michael: I have a lot of influences. A lot of typical ones like The Beatles and Bob Dylan, but also some others that may not be so typical. I feel like I have eclectic tastes, and influences can manifest in different ways. Every influence doesn't come out in every performance. Some of my all time favorites include (but are not limited to) The Velvet Underground, Robert Johnson, Woody Guthrie, Violent Femmes, Chuck Berry, Devo, Hank Williams, The Stooges, Buddy Holly, Mississippi John Hurt, Ramones, Richard Hell & The Voidoids, T. Rex, Howlin' Wolf, The Clash, The White Stripes, The Sonics, Cream, Cab Calloway, David Bowie, Leadbelly, Earl Scruggs, Johnny Burnette, Ukulele Ike, Yeah Yeah Yeahs, The Pixies, Little Walter, The Band, solo Beatles, The Beach Boys…I could go on and on and on. I love music so much. I don't know that I've ever had a real musical mentor, at least not someone I knew personally. Bob Dylan has probably provided the most inspiration and guidance in a way. He was never content to stay the same for too long. He was able to change and let his songs change with him.
Johnny: Do you have a "style" you feel you fit into?
Michael: I hope not. I'm sure people who have seen me might associate me with a specific genre or two but I try to always include variety. People tend to like to attach labels and group things together that aren't really the same thing. I play a broad spectrum of American folk. That includes Blues, Old Time, Rock, Punk, etc. 
Johnny: Are you primarily a solo act or do you collaborate with other artists frequently?
Michael: I'm primarily solo, though not necessarily by choice. I love to play with other people though I find meeting musicians who share similar views about life/music and how to approach making it can be difficult. An unfortunate fact about musicians is that if you want to keep a band together, you need to be able to pay a band to stay. There's not enough opportunity to make enough money for me to do that. Drummers are especially fickle. The stool that a drummer sits on is literally called a "throne". That should tell you everything you need to know about drummers. There is a lovely freedom in playing alone though. I'm free to experiment with tempo and transitions at a whim, which you can't do with most bands. It's hard to find other musicians who can click with you in that way. 
Johnny: How much of a typical set is originals versus covers?
Michael: That really depends on where I'm playing and for how long. It also depends on whether or not there's an audience, because unfortunately sometimes there isn't one, and how they're responding. If a crowd is not engaging, I'll start to experiment a little more. I'll improvise and try out new songs. It's difficult to get people to listen to a song they don't know but I feel it's important for me as an artist, if that's what I'm supposed to be, to make sure my original work at least gets a chance to be heard.
Johnny: What is your favorite cover tune to do? What is your favorite original?
Michael: I really enjoy playing early Rock'n'Roll/Rockabilly songs. Lately I've been stringing a bunch together in a long, fast medley I'm calling "Rockabilly Medley in E," which features songs by Carl Perkins, Johnny Burnette, Elvis, Bo Diddley, and Buddy Holly. I may keep adding to it, till it gets to the point that I collapse at the end. My favorite original is probably a song called "Hopeless Case." It's a pretty simple song about realizing love is inconvenient and resisting the urge to fall into it. It builds to a Bo Diddley beat and ends somewhat abruptly, which always confuses the audience. That amuses me.
Johnny: So speaking of originals, I have to ask what was the inspiration behind "Psychobilly Death Train Blues (in A)?"
Michael: That song is really just an exercise in Rockabilly tropes. Something fun and fast.
Johnny: How was the process of making that album and what did you take from that experience moving forward?
Michael: "A Strange Thing" is more a compilation than a proper album. I was frequently asked if I had CD's for sale at gigs, so I finally put one together. It's a collection of some of my folkier songs recorded over a few years, that I thought might be pleasing for people seeing me in my usual acoustic setting. There's touches of Rockabilly, Blues, even a little classic Country. 
Johnny: What can first time listeners expect from a Michael Morse show?
Michael: Energy, speed, dry humor. That stuff is always there, but on occasion I'll add something different. I play a little banjo sometimes. I recently played a local Jazz Festival where I included a mini set of original ukulele based jazz songs. For that part of the show I performed as a character, a leftover golden age jazz crooner who somehow found himself in the 21st century. I don't do that often.
Johnny: What was the last song you dialed up to listen to?
Michael: Probably "Hang On To Me" as performed by Cliff "Ukulele Ike" Edwards. He's most remembered as the voice of Jiminy Cricket, but was a big star in the 20's/30's. He was a fireball of a performer and the best scat singer put to record. There' a great clip of him performing the song in a color short from the 30's in circulation. It's sweet and silly.
Catch what Michael is up to at facebook.com/MichaelMorseMakesMusic/.

6 Miles to Mixon: Good Times Just Ahead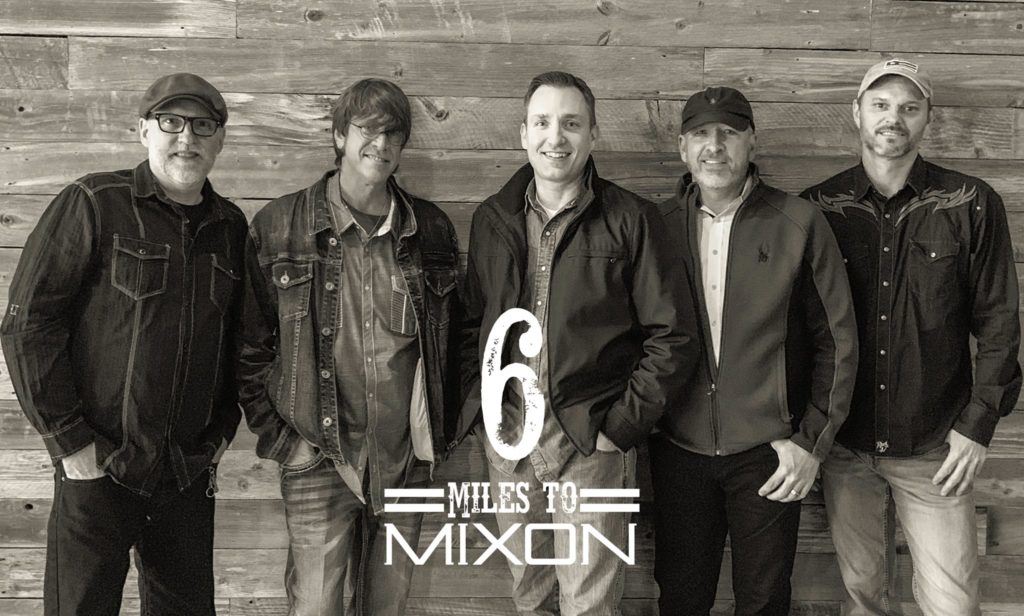 By Johnny Griffith
There's a new band in town. Okay, perhaps it's more accurate to say there is a bunch of seasoned musicians who decided to get together, start something new, and now they're making waves on stages all over the area. 6 Miles to Mixon is a collaboration of Matt and Rick Kindle, Gary Henson, Eric Dobbins, and Roy Hufstetler that has decades of experience in various other projects from all over this hemisphere. We caught up to the band this month to find out more about them.
Johnny: How did you all individually get started in music? 
Gary: My Dad is a musician and I started going to his band's rehearsals at around age 5 or 6. I started playing drums around age 8 or 9 and was playing gigs with my Dad by age 12. 
Rick: I've been singing my whole life since starting in church but my first group was a doo wop quartet! It was a blast.. that's where I fell in love with harmonies.
Matt: I got my singing from my dad, Rick. I have been singing all my life. Got my first guitar when I was 12 and I taught myself by watching the guys in my dad's band. I joined his band when I was 17. Also, during my junior high and high school years, I played the trumpet which helped teach me a lot about reading music and music theory. I played in various country or rock bands during my years of education. I came back to Tyler in 2012 and my dad and I joined with a few guys to form what was called Texas Rebellion. We formed 6 Miles to Mixon at the end of 2017.
Roy: 6th grade band. I played drums/percussion all the way through high school. In 9th grade, I started playing bass in orchestra and electric bass in the high school jazz band. I actually lettered in Bass for Orchestra.
Eric: My love for music started when I was nine years old and took lessons from famed guitarist Larry Stanley in Tyler. I have played professionally since age 13, with my mom as my biggest fan. She was a music major in college and supported me all the way, even driving me back and forth to gigs. Since then I've had the privilege to work with some amazing acts along the way on stages like Billy Bob's Texas, Stage Door, and The Opryland Hotel in Nashville. I even did a tour of South America for American Airlines promoting a non-stop flight from DFW to Lima, Peru. 
Johnny: How did you guys meet? 
6MtM: Gary was the common ground we all shared. He played in a band with Matt and Rick, and he had also played with Eric and Roy. Gary saw some potential with this lineup so we decided to go for it. The stars aligned and 6 Miles to Mixon was born.
Johnny: What about the name? What's the story behind 6 Miles To Mixon?
6MtM: We had been toying around with different local town names and landmarks to describe who we are and where we are from. Mixon was a town name that kept popping up. Rick was driving down the road one day and saw a sign that said "Mixon 7 (miles)" but he thought "6" was catchier. He called Matt, who liked it, so it stuck.
Johnny: So would your style be described as primarily country or do you have a more accurate description?
6MtM: We would say Country with a Rock kick, and Rock with a splash of country.  We ease people in with some Country and it's what our fans like to dance to. We really like to kick it up with some Rock after things get pumping. It just feels natural. 
Johnny: How would you describe a typical 6 Miles show?
6MtM: Pretty high energy! We'd rather people get up and dance. Don't sit…get up and move. We are professional musicians and singers, but it really boils down to that we are just a group of guys wanting to have a good time, and we want the crowd to have a good time with us.
We play George Strait, Keith Urban, Merle Haggard, Jason Aldean, Jon Pardi, Chris Stapleton, Garth Brooks, and many more, but we will also throw in some Tom Petty, The Eagles, Bad Company, Journey, Ed Sheeran, Prince, and some funk tunes. We play fun songs. We honor requests when possible because between all the experience in the band we have played just about everything at least once.
Johnny: Is a normal set primarily covers or do you have some originals you are working in as well?
6MtM: We primarily play covers, but we will throw in a few songs that Matt has written. We are currently playing five originals per night. We don't wanna overwhelm people with stuff they don't know. But it's funny, after people have seen us a time or two, we'll see people singing along with the originals. The self titled EP, "6 Miles to Mixon," hit digital stores on June 19, 2019. Stream or download the songs before you come to our show for the first time or even if you have seen our show several times. We think you're gonna like what you hear! And, when you do, it won't be "stuff you don't know" anymore. 
Johnny: About how many shows a month are you booking?
6MtM: We play anywhere from two to six shows per month. We want to do more, and we'd like to spread to other areas. We've been together for only a year and a half so we hope word will get out about us and we can get into some of these venues where people are saying we need to play. 
Johnny: Are you staying pretty local to East Texas or are you branching out of the area?
6MtM: Local right now, but we hope to spread further out.  In past bands, we have individually played all over Texas, Louisiana, and Oklahoma. 
Johnny: What are some "must see" shows coming up for the band the rest of the year?
6MtM: We like to think all of them are "must see," but the Fireworks show at Pleasant Hill Baptist Church in Tyler on July 3rd is going to be amazing. It will be very high energy and a good all around time. If you can't make that event, catch us whenever you can. We'd love to see you have a dancing good time out there.
Check out 6 Miles to Mixon at facebook.com/6milestomixon/ and www.6milestomixon.com/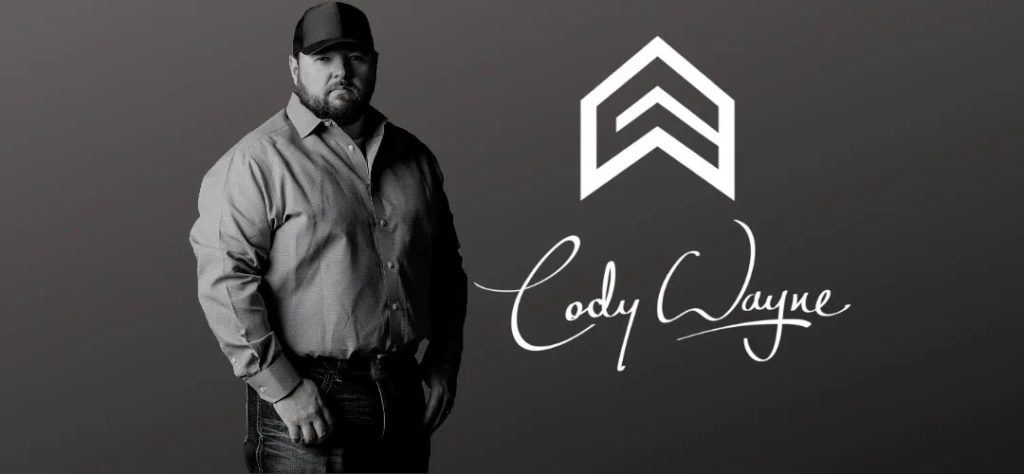 By Johnny Griffith
Cody Wayne just doesn't know how to stop. Since we last spoke to him, almost two years ago, Cody has been on a mission to bring seriously good music to anyone who will put him on a stage. With a high energy show, one of the best bands around, and a growing list of superb originals, Wayne feels like his best days are in front of him. We sat back down with Cody this month to get an update on what's new in his world.
Johnny: It's been a couple of years since we last talked and it's been a busy couple of years we've got to catch up on so let's start with the band. What is the current lineup?
Cody: I am very lucky with the group of musicians that are in our current lineup. Trent Procell plays bass and is the guy who really put everything together. I've known him for about 10 years and I started trying to get him to play bass for me since 2011. I finally convinced him to join me and he brought in Zach Early on guitar and Tyler Williamson on drums. Vic Andrews is our fiddle, harmonica, dobro, shoe string, spoons, and pretty much he can get his hands on. Trent, Zach, and Tyler have been playing together for their entire lives and it's amazing to watch what they can do on stage. Music has been a huge part of these guys' lives since birth and it shows when they play. I'm very lucky and thankful to have them. 
Johnny: About how many shows a month are you guys averaging these days?
Cody: Usually we average anywhere from 10 to 15 shows a month. Like any business having a band is up and down. We've had times where we've played 20 shows in 7 days all the way from Texas to Minnesota. We've been very lucky for that demand for our music and we are very thankful for that. 
Johnny: What has been the most memorable gig the last couple of years?
Cody: Honestly, there have been so many amazing, landmark, and bucket list shows it's hard to pinpoint one. One that really made me sit back and say "Man! Did we really just do that?" Was getting to open for Alan Jackson at the San Antonio Rodeo. I never sat down and thought about what we were actually doing until he got on stage and sang every song that I grew up on. I still get goosebumps thinking about it. 
Johnny: What have been the biggest challenges you and the band have dealt with since we last talked?
Cody: Being away from my/our families. The band is great and everyone gets along so well that it makes the road life a lot easier. We are all also very family-oriented and being away is hard. Family comes first and the band comes second. 
Johnny: What is the biggest thing that helps you push through the grind and sacrifice being a professional musician extracts?
Cody: Family! My beautiful wife Tamra is really the method behind the madness. She knew how to turn a hobby into a career. She also keeps the schedule full, merch stocked, social media up to date, and keeps the house running while I am gone. And that goes for all of our member's families. It takes a lot of hard work, sacrifice, and love to keep the band moving. 
Johnny: So you've recently enjoyed a pretty good run on the Texas Regional Radio Report Top 100 Chart with your single "Small Town." Tell us a little about that experience, how it feels to be a top 20 artist in Texas, sitting above some rather legendary names by the way.
Cody: I still can't believe it honestly. Tamra and I do all of our radio promotions as well. To have our name next to the likes of Randy Rogers Band, Aaron Watson, Kevin Fowler, and all the greats is mind blowing. I honestly could never imagine that a song I wrote sitting at my kitchen table would be a Top 20 single. 
Johnny: Your next single set to release is "Remember The Lost Ones." What inspired the song and how do you feel you being a Marine gave you a unique perspective in the writing process?
Cody: I started writing this song when I got back from Iraq. I wanted to tell a first person point of view story about the war that up until that point hadn't been done that I knew of. It had always been from the 3rd person perspective. However, once I started writing I had an overwhelming sense of grief and selfishness. It was almost like shame because I made it back. I could tell my story. There are so many service members that don't have a voice anymore because they gave their lives for me/us to be here and be able to write songs. So I let the song say what it felt like it wanted to say. Literally up to when I was driving to the studio the words were still changing and becoming something those who are no longer with us would be proud of. Also, I wanted the listener to see and feel this song before they heard it. From the first note of the lone dobro, to the kick drum that sounds like a distant mortar shell exploding, to the snare drum that sounds like a 5 round burst from a machine gun, I wanted the listeners to be able to close their eyes and see the dirt, smell the sweat, and hear the sounds of war and get the first person perspective that way. It's still hard for me to sing this song but I hope it gives a voice to the ones who gave it all up. 
Johnny: You've got some fun shows coming up the back half of the year. Anything you're really excited about?
Cody: Absolutely! On July 27th, we get to open for Koe Wetzel at the Great East Texas Balloon Race. He is a fellow East Texan and one of the hottest acts in Texas currently. This is a huge and professionally run event every year that does great things for our area. To have two East Texas boys playing this year is something I think we can all be proud of. Plus, we have a lot of energy that we bring and they have a lot of energy that they bring so it's gonna be one of the biggest events of the year.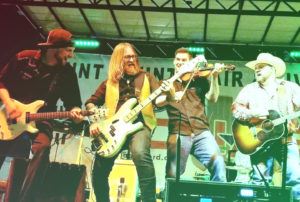 Johnny: What's the next big move for you and the band? New album? Tour more outside of Texas? 
Cody: We are always writing and integrating new songs into the set so we can get an idea if the people like them. My song "Fly High" is going to be in a bull riding documentary coming soon. I am always working with the USO, Boots for Troops, and The Boot Campaign, local VFWs, and other veterans organizations to help bring awareness and help for fellow service members. 
Johnny: Okay, last question: Who do you listen to when you need a break from writing or performing and just want to get lost in some music? 
Cody: My playlist usually consists of Jason Boland, The Cadillac Three, The Black Crowes, Chris LeDoux, and Trent Willmon. One day I am going to write a song with Trent Willmon – he just doesn't know it yet. So Trent if you happen to read this let's make it happen.
Johnny: Anything else on your mind before we wrap it up?
Cody: I want to give credit where credit is due. None of this would be possible if it wasn't for my family. We literally do everything ourselves and I want to give them the "thank you" they deserve. They inspire the songs I write and they are the ones that help them come to life. 
To everyone who has ever come to a show, listened to a song, bought merch, or told someone about a song of ours, I want to give a huge "thank you" as well. Every tomorrow is because of the people who help today.  Thank you for the love and support and we'll see you down the road.
Check out Cody Wayne on the world wide web:
www.facebook.com/codywaynemusic/