Karisia Hernandez: Learning To Fly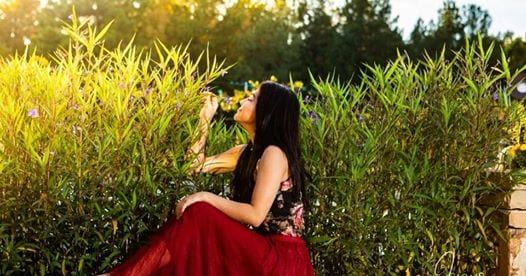 By Johnny Griffith
It's easy to be impressed with the resume of Karisia Hernandez. This past year alone, she was nominated in three categories at the ETX Music Awards, taking home two honors. Oh, and she had only been performing publically for about a year when she was originally nominated. Now add in the fact she's only 18, and on top of teaching herself piano at age 13, and guitar a couple of years later, she's also a senior at Tatum High school, a Lieutenant of the Tatum Drill Team Eaglettes and the Vice President of the Tatum Drama Club.
Yeah, impressive is an understatement.
Now, fresh off releasing her first single AND a video back in November, Karisia is geared up for the last half of her senior year, and she isn't content to just sit back and look at the trophies on the shelf, she's intent on continuing to make her mark on the local and regional music scene. She took time out of her busy schedule this month to answer some questions for us about her journey so far and what's in store for her next.
Johnny: What is your first memory of music in your life?
Karisia: Besides my mother singing Spanish lullabies to me, my first recollection of music was in our church. When I was young, our church in Tatum was very small and had no choir. So, my mother and my aunts and uncles made up our church choir. I remember my aunt would play the bass, my uncles would play their guitars, and my mother sang.
Johnny: When do you recall first taking an interest in being an artist?
Karisia: In the summer of 2010, we had family members that would travel for work across the state stay at our house in between jobs. In their younger years, however, they had a Tejano band. They performed around Texas in the 1980s. Anyway, while they stayed at our house they would stay up all night singing and playing songs. I remember them telling stories about touring and how many people they had met and places that they saw. I think that I took an interest in becoming an artist listening to those stories, thinking about how cool they were. They use to kid me and say, "Let us be your roadies!" or "Let's buy a bus and we'll take you to sing." To this day they will call out of the blue and ask if I'm ready to purchase that bus!
Johnny: Who has been one of the biggest influences musically in your life to this point?
Karisia: Billie Eilish. Definitely. She is such a well-rounded artist on so many levels. Her voice is crazy good and her lyrics are incredible. I am absolutely in love with her songs and how they sound. It's like she can put any thought into words perfectly and her musicality is amazing. So, basically, every time I write a song I think about her songs and think, "Okay, this is your goal." Not that I want my music to sound like hers, but she definitely inspires me.
Johnny: When was your first public performance? What did you learn from that first experience that has stuck with you?
Karisia: Besides open mics and public competitions, the very first place that I was asked to perform was the LifeBridge church for a back to school bash. I only performed one song, "Riptide" by Vance Joy, but to this day I believe that was one of my best performances. One of the things I learned that has struck me is to always be prepared for questions. Whether it be the person that hired you, or the person that announced you, or even people after your performance. People always have questions, and you have to be prepared for them. If not, you'll end up stuttering for forever! I know I do! To this day, even if I am prepared for a question I always say "um" in almost every sentence. It's something I'm working on.
Johnny: At what point did you think this might be something you'd want to take a little more seriously than just a hobby?
Karisia: Well, I always sang here and there at family reunions and such, so people knew that I sang. It wasn't until a family friend requested a song for me to sing and post that I realized I wanted to take singing more seriously. The video was recorded in a closet with me playing the keyboard and singing and my sister accompanying me. Once we posted it the responses were all so great. I just knew I wanted to entertain people with music. I went to an open mic at Kawa's where Matt Coats had let me go up and sing a song. I was so nervous! One song and I was trembling. Now, I play three hours and I'm ecstatic coming off stage. I truly love performing.
Johnny: Your bio simply describes you as an "alternative" artist, but there are obviously influences from several different genres present as you perform. How would you describe your style to someone about to hear you for the first time?
Karisia: From what others have told me, I would say that my style or sound is very easy to listen to. I've been told my voice is soft, which that I believe. Genres that I usually listen to and feel my music should be placed in is indie. I think my style fits and leans more that way, anyway.
Johnny: At what age did you write your first song? Do you still perform that first song?
Karisia: I wrote my very first song at 15 years old sitting in my room with my keyboard in the middle of the night, which, to this day, is about the time that I do most of my writing. The song was called "Pretty Boy" and it was a very upbeat song and sounded very much like a 15-year-old wrote it! Maybe one day, I might go back and rewrite some lyrics and put it out. But for now, no, I don't perform and have never performed the song live. Yet, it is one of my mother's favorite originals of mine.
Johnny: Being still in high school, have you had any challenges juggling school and music?
Karisia: All of the time! There have been multiple occasions where some of my activities overlap and I have to choose one over the other. For example, the date I scheduled to record new music happened to be the same day of my town's Christmas parade which my drill team participates in. It gets a little hectic sometimes, but I have my mom always pushing me and helping me to stay on track. Honestly, if it wasn't for her I probably wouldn't be able to do all the things I do.
Johnny: At the 2018 ETX Music Awards you took home Junior Artist Of The Year and Latin Artist Of The Year. How did it feel be the top of the class in those two categories and what sort of pressure, if any, do you feel to build upon that success?
Karisia: Before the awards, I had only been doing music publicly since October of 2017. So, even getting nominated in one category was surprising, let alone three. Taking home two out of three nominations was such an honor. Everyone seemed to know what to say when they went to accept their awards but I was searching for words the first time and didn't know what to say the second time. It was all so amazing, though. There's some pressure from winning those awards. Like I have to uphold a reputation, kind of. However, it's all uphill from here. Everything I do, I make sure it's at least a little better than what I did before. Each gig, song, cover has to be better in some way. The pressure pushes me, though, in a good way.
Johnny: You recently released your first single back in November, "People Bore Me," and a video to accompany it. What did you learn from that experience that you feel has helped improve you as a performer?
Karisia: "People Bore Me" was a song that I performed at the East Texas Music awards. With all the positive responses I got from it, I decided to get it recorded and out. I was blind going into the recording studio and didn't know what to expect. Thankfully, Orlando Williams, my producer, helped guide me every step of the way. The process was way different than what I was expecting and he pulled me out of my element to get great sounds for the track. Juays Photography is responsible for my music video. The music video also pulled me way out of my comfort zone. I am really shy and awkward so I felt really odd at times, However, they helped me and gave me some tips and overall made my first video really amazing. All of this, recording a song and shooting a video, helped me improve as a performer in a number of ways. I play with different sounds on songs to see what sounds best and now I'm not afraid to make some faces to go along with songs. For the most part, I'm no longer just singing songs, I am performing them. Even if I am sitting down.
Johnny: What is on the horizon for you in 2019 that excites you in music?
Karisia: For my music career, 2019 is a very exciting year in itself. I will be releasing two more songs in the beginning of April and they sound SO good already even though they aren't done yet. They are a little different than my first single, but I love them and I am so excited for everyone to listen to them. I also will be moving out of East Texas and closer to the Houston area because I will be attending Sam Houston State University where I will pursue forensics but minor in music. I have already started booking over there for later in the year. I'm very excited to be playing in new venues and growing my audience.
To see what's next for Karisia Hernandez go to facebook.com/kvhmusicproduction.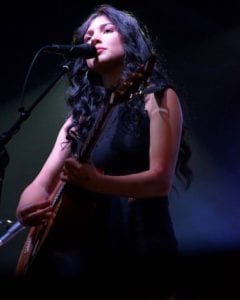 Profetic Calaveras: Bringing Life Through Music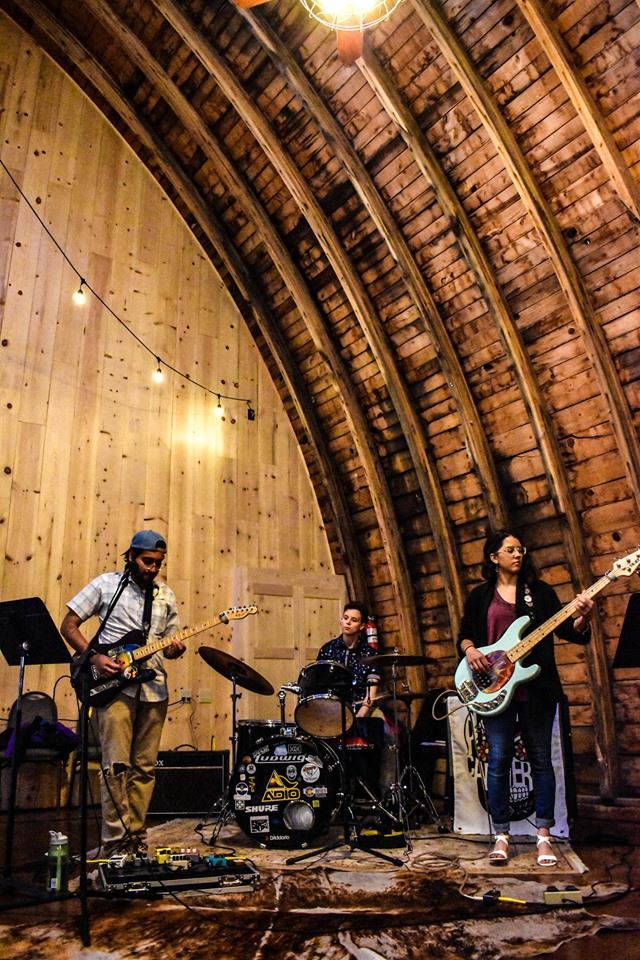 By Johnny Griffith
The name is fittingly memorable as the music they create and isn't what you'll find on most stages in the area on any given weekend. The Durango, Colorado trio known as Profetic Calaveras (PC) originated right here in Tyler and has been using their music to spread positivity ever since. An intriguing blend of several different influences, PC combines cultures and musical philosophies for a set full of grooves which will leave you smiling and wanting more.
As they are headed back to East Texas for a show at Clicks Live on June 1st, we recently caught up to Profetic Calaveras to find out more about them.
Johnny: What is the current lineup of Profetic Calaveras?
Profetic Calaveras: Alex Ruiz on guitar and vocals, Carolina Ruiz on bass, and Gab Kaplan on drums.
Johnny: Who do you individually feel was most responsible for starting you down a musical path, and why?
Alex: My cousin, Emmanuel, was the person who got me to listen to a lot of bands that became really influential for me later in life. He was the first person to get me started on guitar. A lot of my family is musical; I feel like it has always been flowing in my blood.
Cali: In 2015, my brother-in-law had a dream and woke up saying that I was meant to be a bass player. After that he taught me some technique. With my sister as the drummer, me as the bass player, and him (Kendrick) as the guitarist, we started playing. I wrote my first, very basic, riff within a week or so; it took some direction and guidance but that became one of our first songs as a band.
Gab: My parents took me to see The Who (what was left of them anyway) before the age of 7. They always took me to shows and supported me playing music in school and with bands. From high school marching band to college ensembles to Drum Corps International, they were always there cheering me on. As for actually starting, my babysitter Michelle was the one who got me my first guitar.
Johnny: Who were some of your biggest early musical influences?
Alex: Jimi Hendrix, Under Oath, Mexican pop music, Christian radio. I was all over the place.
Cali: Some Brazilian music my parents loved like Antonio Carlos Jobim, Gilberto Gil, Gabriel Pensador, Seu Jorge, and Ana Carolina. And my main bass influence, Victor Wooten.
Gab: The Who, AC/DC, Led Zeppelin, Metallica, Rush.
Johnny: When did the idea of PC begin to form?
Profetic Calaveras: After touring with Alex's previous project called Star Steed, it felt like the music was starting to move in a different direction. All the members at that point begun to go their separate ways and Cali and Alex decided to create a project all their own.
Johnny: So what about that name? How did that originate and what's the significance?
Profetic Calaveras: We brainstormed for a while. At one point Alex looked at the "Calavera" tattoo on his arm and said the name offhandedly. After that we decided that spiritually that meant a lot more to us. It reminded us of the scripture Ezekiel 37, where Ezekiel is taken to a field of dried bones in a vision and is asked to bring them to life with his words. He does this and raises an army. The band's name to us basically means that we can bring life and color to people through our music, and its meaning celebrates the beauty of life. The Calaveras aspect is a nod to Alex's Mexican heritage and the imagery that comes up with the Day of the Dead celebration.
Johnny: When and where was the first Profetic Calaveras show?
Profetic Calaveras: Technically, our first show was in NYC at a place called "The Shrine;" however, right before coming on stage one of Cali's tuning pegs completely broke off. Needless to say the show didn't go as planned and is probably one of the worst shows we ever played. So, our first official full band show was at ETX Brewing Company in Downtown Tyler. The line-up was Alex, Cali, Daniel Armstrong on melodica, and Eddie Farina on cajón.
Johnny: About how many shows a month does PC play these days?
Profetic Calaveras: We usually play 2-3 shows a month. We have been in a little bit of hiatus since moving to Durango and we are still trying to do some more recording to release our first album this fall, titled "The Road Ahead."
Johnny: There is a very cool vibe to your music, a sort of laid back complexity. How would you describe your sound and how did that sound evolve as you started practicing and putting pieces together?
Profetic Calaveras: The sound is truly unique with us having difficulty to really pinpoint a specific "genre." Sometimes we just tell people it's like 'Vulfpeck met Santana' but there's also so much more we like to sprinkle in. We like to think the band's music is a mirror image of us as individuals, and that our differences and similarities form a cohesive unit. Lately, since Gab has joined the band, we've been really digging into a more progressive rock sound.
Johnny: What would you say the ratio of cover tunes to originals is?
Profetic Calaveras: Honestly, it's about 80% original tunes to 20% covers. When we do covers, we really like to just make them our own, messing with different genres and time signatures.
Johnny: You originated in East Texas but are now based out of Durango, Colorado. What prompted the move and how has the reception been to the band up there?
Profetic Calaveras: Well, it started when we introduced a new member to the band, Zion Spencer. We booked a gig at the Venice Beach Bar in LA in September 2017, and were able to put together a West Coast tour that lasted about 3 months. Zion suggested we spend the winter in Durango, since he had lived here for 3 years and had family out here. When we finally got to Durango we fell in love with its chill mountain town vibe. It has been a privilege to grow roots here and call this place home. The reception to our music has been great; there is a thriving music scene there and they have welcomed us with open arms.
Johnny: Profetic Calaveras is playing a show at Clicks Live on June 1st. What brings PC back to East Texas for the show?
Profetic Calaveras: It's actually a few reasons. We've wanted to show our newest member, Gab, our old stomping grounds, and the opportunity presented itself when we were asked to play our friend's wedding in Denton. From there we decided to do a little mini-tour and go do the fun stuff in Texas — we're calling it a "play-cation."
Johnny: What is on the radar for the rest of 2019 and beyond?
Profetic Calaveras: We are planning some more dates around Colorado during the summer, and we'll be releasing our first album "The Road Ahead" in the fall. 2019 is looking great!
Check out Profetic Calaveras at facebook.com/profeticcalaveras/ and profeticcalaveras.com.
Al & The Longshots: A Sure Bet For Great Music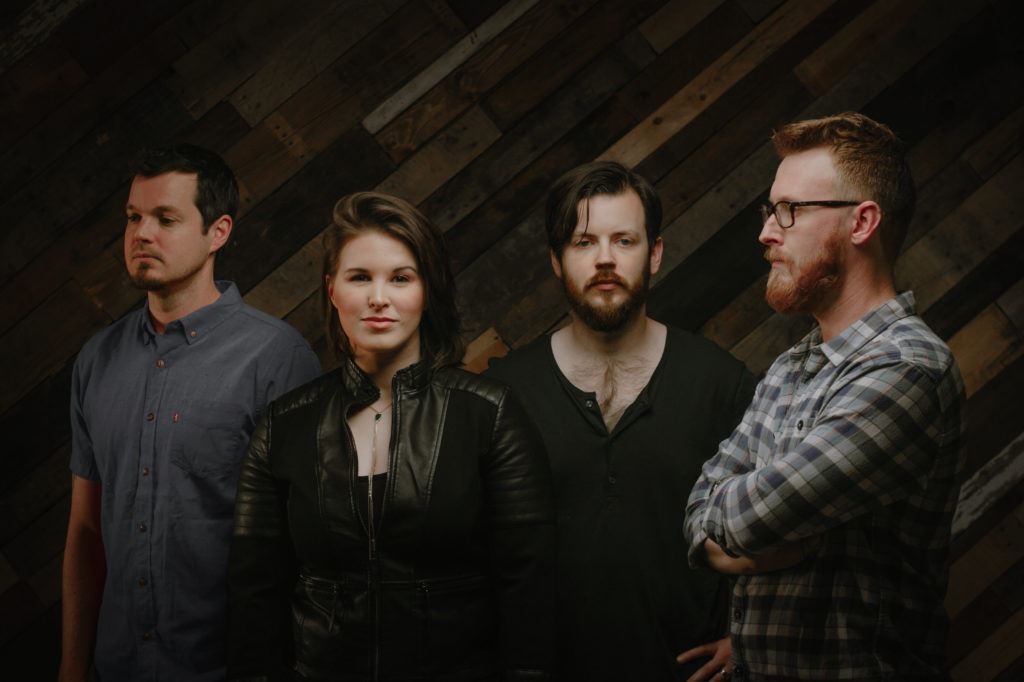 by Johnny Griffith
Webster's Dictionary defines a long shot as "a venture involving great risk but promising a great reward if successful," but one listen is all one needs to realize the irony in the name of local band Al & The Longshots. As they are anchored on stage by soulful and raw vocals along with a powerful three piece band, their listeners run little risk of not being rewarded at one of their shows. Together since 2015, Al & The Longshots have been spinning new takes on crowd favorites ever since and continue to increase their stage time in the area as more people figure out these Longshots are a sure thing.
I sat down with the band this month to find out a little more about them:
Johnny: What is the current lineup of Al & The Longshots?
Dusty Douglas: I play drums for the band. Charles Praytor is our bassist, Preston Dotson is our guitar player, and Allison McGee is our lead singer.
Johnny: How did you all meet?
Dusty: I met Charles at TJC while we were both students studying music back in the mid-2000's. In the summer of 2015, we were both in a production of "The Buddy Holly Story" at Tyler Civic Theatre, and that is when I met Preston. We were all playing members of Buddy's backing band, The Crickets. I met Allison when Preston and Charles started putting this band together.
Preston: Charles was one of my teachers at TJC in the music program. During my last semester he asked if I would be interested in doing a musical which is where we became friends; this is also where I met Allison. As Dusty had mentioned, we met during "The Buddy Holly Story."
Allison: I was driving on I-20 and this hairy man waved me down and asked me to be in a band…okay, I'm kidding. Charles pretty much brought everyone into the band. I knew him from some previous theater productions we'd worked on together. I trusted him because I knew he was talented and wouldn't dedicate time to something he didn't actually believe in, and he wouldn't waste my time either. Preston had impressed me in a previous show and Dusty was the new face for me.
Charles: I met Allison in 2004 through community theatre, she was actually the first person I met after moving to Tyler. We reconnected in 2011 to do a Patsy Cline revue, and that was my first introduction to her as a vocalist. I was developing my own project at the time, but I immediately made a mental note to work with her in the future. I met Dusty as a student at Tyler Junior College in 2005. I was a classical-track pianist, but knew I wanted to get into a band eventually. I was enamored with his writing/recording abilities, even though at the time it was about as far away from my own style as I could imagine. I kept up with him when we parted ways for different colleges, occasionally picking his brain through email or a random phone call. I met Preston during my first year as a professor at TJC. I could tell we weren't that far apart in age, and asked if he'd play for a musical I was working on that summer. He agreed, and we kept up a correspondence over text, mostly bonding over our shared gear-head traits.
Johnny: Are you all local or are there some transplants to the area?
Dusty: I moved to Tyler shortly after 9/11. I was born in Houston and lived there until I was a teen. My family moved to East Texas and I've been here ever since, with the exception of a brief stint where I lived in Los Angeles, California.
Allison: I'm a Tyler native with some tenure in Houston as well. Moved back with my family in middle school and been here ever since.
Charles: I was raised in the suburbs of Dallas, and moved to Tyler as a teenager.
Preston: I'm super local.
Johnny: What about the name? What's the story behind Al & The Longshots?
Dusty: We wanted a name that had a nice ring to it, and that would also pay homage to the talent of our singer and frontwoman, Allison.
Allison: "Al" was a nickname I acquired in high school, and it's followed me right on into my 30's.
Dusty: We thought it would be a fun surprise for anybody hearing and seeing us for the first time. As far as The Longshots, it fits us backing boys in the band perfectly.
Charles: Fun fact, we originally were going to call ourselves "The Vanguard" but soon found out that was the name of D'Angelo's band. I think it worked out for the best.
Preston: All my ideas got shot down so I picked the one they came up with that was ok.
Johnny: What first got you into music individually?
Dusty: I first got into music in elementary school when my mother got me a violin and enrolled me in the Suzuki Music program in Houston. I really enjoyed it while it lasted. Later on, as a young teen, I started taking an interest in rock music and my parents bought me a Colgate-green Hohner guitar and Carvin practice amp. I taught myself how to play and have been writing, recording, and performing music ever since. I started tinkering with drums a few years after that.
Preston: My family on my mom's side was musical, my grandfather played with Elvis a few times while they were in the army and my uncle has played with several large country acts. My parents surprised me with my first guitar when I was in the third grade, and later on when I outgrew it, my grandparents on my dads side got me my first nice acoustic guitar, a Martin which I carried everywhere and played anytime I could. Soon I moved on to electrics and somehow wound up in the music program at TJC playing classical during the day and in country bands at night.
Allison: We're all singers in my family. My parents raised me on everything good from Al Green to Aerosmith to Whitney Houston to CCR, and I got into musical theater at seven years old. We didn't have the money for voice lessons, so I just listened and imitated what I heard until my own until my sound started to develop.
Charles: I had an art teacher in Dallas that would do these "performance nights" at her house with her student's families. There were some incredible artists and musicians in that group. This one family that played violin and cello told my parents to get us in music lessons, even if it was just on recorder. So recorder it was for about 6 months, then we added piano. As a kid I always loved the attention playing a piano brought, so I stuck with it and it's turned into a career.
Johnny: What was the first show as a band?
Allison: The first Al & The Longshots show was at Click's in Tyler. The guys were all pretty much pros at performing in bands, but this was my first band gig ever. I'd been on stage almost my whole life, but that show was different than anything I'd done. I don't think I moved more than three times in 2 hours.
Dusty: Real talk, Al rocked the house that night harder than the three of us combined.
Allison: The set went well and we started a small following that's gradually grown into a pretty fantastic crowd.
Johnny: How would you describe your musical style? Has it evolved since the band formed?
Allison: We always struggle with this question, because we cover such a wide range of music from jazz to rock to r&b…we kind of do it all. That's also what I love about our "sound" – you can't really pin it down to just one thing. I think it reflects us really well – we're an eclectic group and so is our music.
Johnny: You all have done some fantastic covers in your shows, are there any that seem to have become crowd favorites? Is that the same as the band favorite?
Dusty: There definitely seem to be a few that always deliver. Off the top of my head, I'd say "Kiss" by Prince, "Mainstream Kid" by Brandi Carlile, and "Feel It Still" by Portugal. "The Man" always get the crowd moving.
Preston: I may be biased but I tend to see a large reaction on the guitar heavy songs, "Sweet Child O' Mine," "Pride and Joy," etc.
Charles: I feel like people never get tired of "Folsom Prison Blues."
Dusty: So true. You can't go wrong with Johnny Cash.
Johnny: What about originals? Is the band doing any writing at this point?
Allison: We have a few in the works. Between gigs and rehearsals and our "day" jobs, it's hard to find time to really sit down and write, but we work well together and I'm blessed with a group of talented guys who can easily take something that starts in my head and give it legs.
Johnny: About how many shows a month are you currently performing?
Dusty: Generally, we play about 2-3 shows a month. Typically, these vary from venue gigs to private events.
Johnny: What does Al & The Longshots have on the radar for the rest of the year we should be aware of?
Allison: We really want to get writing. It's finding the time between gigs, which is a good problem to have, but that's where we want to go.
Dusty: Agreed. We're also playing more and more private gigs, which is really fun. Venue gigs are great too, but being able to provide the soundtrack for someone's special event can be a really rewarding and intimate experience.
Johnny: How would you describe your show to a first timer?
Dusty: Pure fun. Our goal has always been to use our band and musical abilities to lift spirits and provide an outlet for folks to come out and have a good time. Nothing satisfies us more than playing in front of an energetic crowd that is letting the music carry them away for a few hours.
Allison: We like to play with our crowds. That can mean getting someone to sing with me, or Chuck and Preston mingling with the crowd while they're playing. More than half of our shows end up as a dance party anyway so we figure, why not go with it? Make it fun. Make it interactive. We're goofy people, and we don't take ourselves too seriously. People respond to that.
Johnny: Thanks for taking the time with us.
Band: Thank you!
Keep track of where Al & The Longshots are online at facebook.com/longshotsmusic/.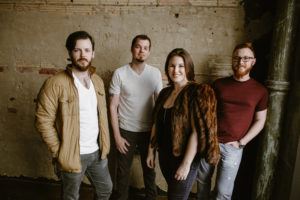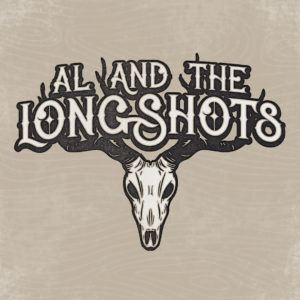 TEAZUR: You Can Still Rock in East Texas!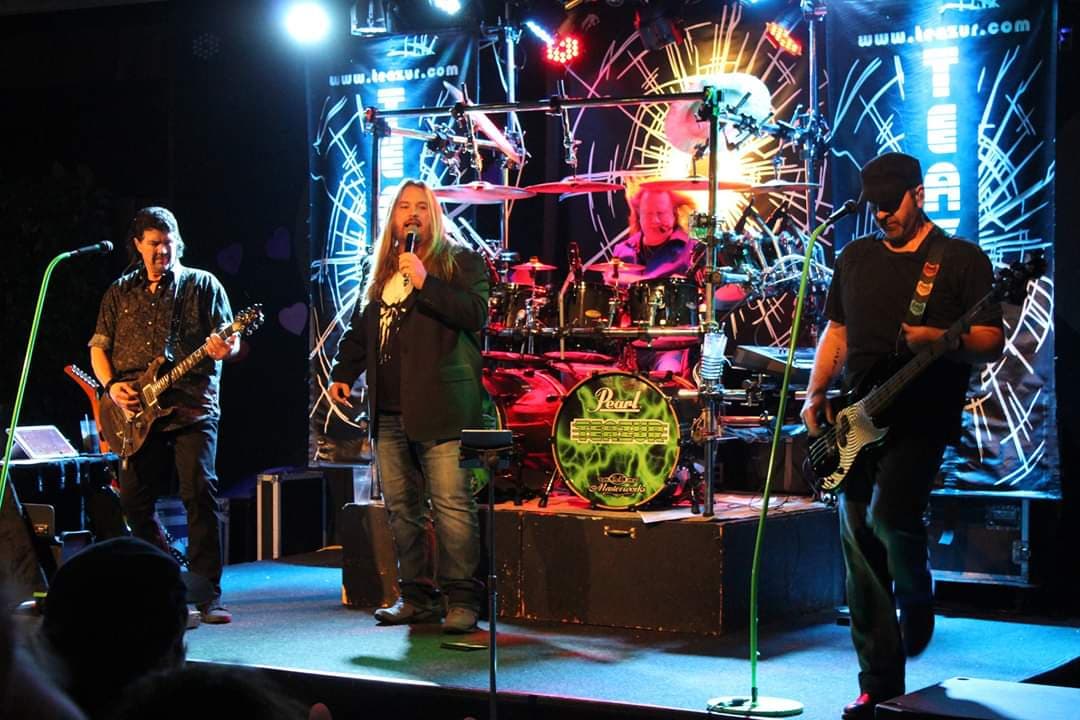 It's the weekend.
You want to go out and unwind from the work week.  
You want to hear some live music but want to make sure you have a good time and get your money's worth in the process.  
And you want a show!
Ladies and gentlemen, I give you TEAZUR.
The brainchild of founding member Mike Reiner, TEAZUR has been a mainstay on East Texas stages for 13 years and are still going strong.  Through several lineup changes and plenty of challenges along the way, TEAZUR has continually supplied people with their fix of good old fashioned Rock and Roll with all the trimmings to go along with it and find audiences still wanting more.  I sat down with current vocalist/keyboardist Tobie Turner this month to get some insight on how they've maintained the magic consistently for this long.
Johnny: When did TEAZUR first form and what was the original lineup? Who is in the current lineup?
Tobie: TEAZUR was formed in 2006 by drummer Mike Reiner, who is the only remaining original member. The original lineup consisted of Mike Reiner on drums, Jon Morrow on bass, John Bedinghaus on guitar, and Jeff Cross on Lead Vocals.  The 2019 version of TEAZUR is; Founding Member Mike Reiner on drums, Clint McMullen on bass and keyboards, Scott Cothran on guitar, and myself on Lead Vocals and keys
Johnny: Where was the first gig as TEAZUR?
Tobie: TEAZUR's first show was at Cat's Place on Hwy 64, east of the loop. I actually had to ask Mikey, because he is the oldest, and only, remaining member that was actually there!
Johnny: How did the name originate?
Tobie: Mike came up with the name and Jon Morrow changed the spelling to what it is today.
Johnny: Did you guys initially decide to focus primarily on 70's, 80's, and 90's rock intentionally or did it just gravitate that way out of what you all preferred to play?
Tobie: We have always wanted to be the band that played music you didn't hear from every other house band or jukebox when you walked into your favorite watering hole. As much as we love Clapton, Skynyrd, SRV, and Bob Seger, that is pretty much what makes up "The Standards," that local bands always seem to load their setlists with. People still ask us to play tunes from those artists, but I generally tell them we try to stay away from content that you hear everywhere else. If you're looking for Freebird or Turn The Page, you're not gonna find it at a TEAZUR show.
Johnny: What have been some of the consistent challenges you've had to deal with as a band over the life of TEAZUR?
Tobie: This is another question that would be better suited for Mike to answer, but I know he'd say that the numerous line-up changes the band has gone through in its 13 year existence, and the constant effort to stay fresh with our setlist are the two biggest ones. There are people that come to see us that rarely miss a show. To keep them coming back, we are constantly updating what we play to be able to bring a mix of the favorite classics, as well some of the more popular dance music.
Johnny: How would you say the band has evolved from a performance standpoint over the years? How about musically?
Tobie: From the beginning, TEAZUR has always wanted to stand out and give the people more than just "something for their ears." Mike added a full light show, fog and backdrops to the stage set that has been a staple for us over the years. When people walk into a venue where we are set up to play that night, they can't help but notice the stage. To go along with that, we are all very engaging and try to interact with the crowd throughout the show. A couple of things that we do that are different from any other local band you see is;
We usually only take one break a night. It's pretty standard practice for a band to play an hour and take a break. I noticed early on in my tenure with the band, that people generally take the second break of the night as their cue to head for the exits. To keep people in the venue, we typically play two extended sets with one break that is a bit longer than you'd normally see a band take. During that break we make ourselves as accessible as possible and visit with as many people as we can. People like the band more when it's a band of nice guys that are very approachable.
We open every show the way any sporting event or show in the good ole USA should start. (In our humble opinion…) We ask the room to join us in honoring this great nation of ours with the singing of our National Anthem. We feel honored and very blessed to be able to do what we do night after night, and we pay our respects to those that have, and continue to, put themselves in harm's way so that we have the freedom and liberty to do so. This is probably the one thing that I am proudest of that we do.
The tradition started at a Halloween show we were playing in 2014 at Barefoot Bay Marina just outside of Pittsburg, Tx. We were all dressed in costume, and backstage before the show. The lights were down, and we were about to open the show with the Night Ranger tune, You Can Still Rock In America. We are all wireless, and were geared up and about to take the stage when I told Mike, "We should stay off stage and sing the National Anthem acapella and go right into Rock In America with a bang!" The guys thought it was a great idea, so I start singing the Anthem. I've always used wireless in-ear monitors, which really shuts out the ambient noise. I was about halfway through the song when I realized the entire room was singing with me so loudly, I could hear them coming through the open mics on stage. We exploded onto the stage with Rock In America, and the place went nuts. I told Mike during the break that night, that we should start every show with The Anthem from then on. We have, and people remember and comment on that one aspect of the show more than anything else we do.
Johnny: About how many shows a month are you guys doing these day?
Tobie: TEAZUR is booked almost every Saturday night, with just a handful of exceptions, for 2019. We always try to schedule a week off after we make a circuit of the normal venues we frequent, but it doesn't always work out. Folks usually see the breaks in our schedule and want us to play their private party, or a festival.
Clint and I also have an acoustic side project called BlakboX where he plays guitar, and I play bass. It's a very laid back gig with he and I on barstools playing a mix of rock, country, Motown, and whatever else strikes our fancy. Every now and then, a venue wants us to play a full "Plugged-In" show, and we'll add Mike to the mix and play as BlakboX Plugged-In.
It's NOT a TEAZUR show. LoL We rarely cross over any of the material we do between the two projects.
Johnny: Anything on the radar for 2019 that excites you as a band?
Tobie: We just went through another lineup change at the end of 2018, and brought on my old friend Scott Cothran on guitar. Our previous guitarist was looking for a change, and was very busy in his professional life outside of TEAZUR and decided to move on. I had played with Scott in a start-up band just prior to my joining TEAZUR in 2012. It was a seamless transition, and we are still currently adding to our ever-growing and expanding playlist. We have hinted at possibly doing some writing later this year. Other than that, we look forward to continuing to bring our brand of Rock & Roll party to the masses in East Texas, and the surrounding region.
Johnny: How much original stuff creeps into the set list?
Tobie: We're not ashamed to say that we are primarily a cover band. People typically go see live bands to hear them play their favorite tunes. We know where our bread is buttered. The previous 2 lineups of the band had a string of originals. Just before I joined the band in 2012, TEAZUR recorded a full album, and after I had been in the band for a little over a year, and we went through another lineup change, we had started another album, and had a couple of the tunes played on the radio promoting upcoming events, but everyone got busy in their everyday lives, and we never finished it. Anytime someone specifically requested that we play one of our originals, we'd oblige. It's been a while since we've put any of them in the nightly setlist, but if we're able to find the time, we'd love to write and record some new music. It's very difficult with everyone's schedule to find the time to get together and create new music, but that, of course, is at the top of our wish list.
Johnny: What would you say the secret is to staying together like TEAZUR has, and not just playing, but consistently being rated as one of the top bands in the area?
Tobie: I am constantly reminded of how fortunate I am to be surrounded by such quality musicians that constantly work at honing their craft. We know what each other is capable of, and we know what we expect of ourselves, and of each other, every time we take the stage. You never know when someone is seeing you for the first time, so we go out every night and perform like no one in the room has ever experienced a TEAZUR show, and we set out to make the best of first impressions. We take pride in giving every show the same effort, whether there are 10 people in the audience, or 10,000. We owe it to the people that chose to come spend their evening letting us entertain them, as well as ourselves. This is a fun job! We want the crowd to have as much fun as we're having!
Johnny: How would you describe a Teazur show to someone who has never seen you, but is thinking about coming out for the first time?
Tobie: I'd say that you're not going to see a local band perform at a local venue. You're going to a concert. A concert that you'd hope and expect to see at your choice of concert hall or arena from Liberty Hall in Tyler, to Madison Square Garden in New York City. We want and expect the folks that come to see us play to say that very thing to any of their friends or family when they describe what they experienced after it was over and they've made their way home after the show. "Those TEAZUR guys put on a Show!" We end every show with me telling everyone, "Thank you for choosing to spend your evening with TEAZUR. We know there plenty of great bands out there for you to choose from. Please always be kind to one another,and if you have been drinking, Do NOT Drive! We want to see you all again next time we come back here!"
Follow TEAZUR on the World Wide Web: