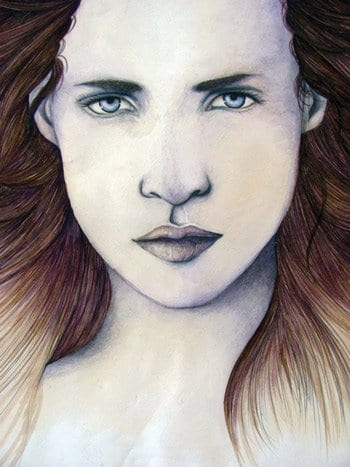 "I don't know, but I been told, a squid headed woman ain't got no soul."
By Derrick White
Wikipedia.com defines Steampunk as "a science fiction, or fantasy, subgenre incorporating technology and aesthetic design inspired by 19th-century industrial steam-powered machinery. Steampunk is often set in an alternative history of the British Victorian era or American Wild West, in a post-apocalyptic future during which steam power has maintained mainstream usage. Steampunk perhaps most recognizably features anachronistic machineries or retro-futuristic inventions and fictional technologies like those found in the literary works of H. G. Wells and Jules Verne."
In other words, in a science fiction fantasy world, anything can happen. Thus, enter the creative world, imagination, and talented skill of local artist Amanda Hatfield. Her exquisite renderings of figures inspire interpretations of futuristic, fantastic, beautiful, and perhaps artificially intelligent beings.
Read on Space Cadets! Amanda earned an Associate's degree in Fine Art at Tyler Junior College where she was selected as a Performance Grant Scholarship Showcase Student. While enrolled at TJC she participated in the study abroad program at the Santa Reparata School of Art in Florence, Italy, spending a summer month touring Italian museums and churches, spending time in the art studio, and visiting Rome.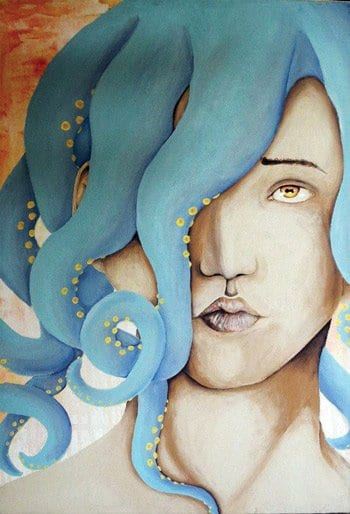 Amanda now works as an artist and freelance graphic designer, as well as a painting and drawing instructor at Michaels on South Broadway in Tyler. Her artwork can be seen in exhibitions throughout the area. She exhibited in the 2013 Student International Small Print Show in Cairo, Egypt. While attending Tyler Junior College her art was accepted and published in three consecutive annual TJC Bell Tower Arts Journals.
In an alternative history, she most definitely is a steampunk aviator/artist with goggles and durable boots. She would have either a battle-hardened appearance, or a roguish one, depending on her inclinations, and she would be armed against airship bandits.
Amanda Hatfield is a skillful artist with a remarkable ability for depicting the human form. Though she is somewhat reserved and quiet in person, her artwork is bold and demands viewers' attention. Amanda works in a variety of different materials including acrylic paint, oils, charcoal, printmaking, and clay. "I have this terrible habit where I find and play in a new media, figure out how to use it well enough, obsess over it, and then leave it for a long time. Overall, I mostly work with acrylic paint for its ease of use and how inexpensive it is. If I had the space and materials, I would probably sculpt more," states the artist.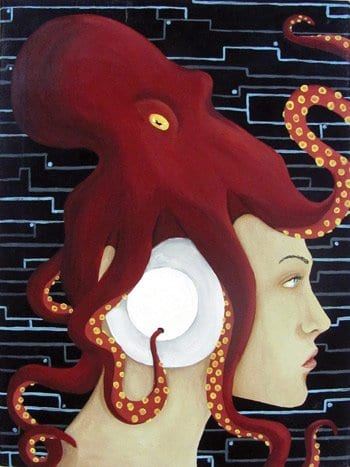 When asked why she became an artist, like most, Amanda cites an early encouragement, stating, "It is hard to pinpoint any one moment. It was a culmination of my mother always being supportive when I would participate in school art events and people talking to me because they saw me doodling when I should have been paying attention in class. I always liked coloring when I was little and when I would watch cartoons, I would draw the characters on notebook paper. As I grew older, I wanted to have my own characters, so I would create them over and over in an attempt to bring them to life. Seeing the stories and people I could create on canvas or a piece of paper certainly drove home the fact I wanted to be an artist."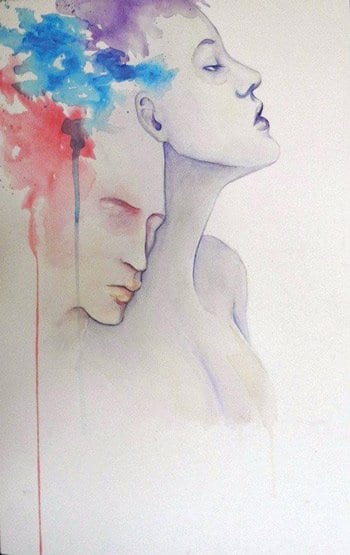 The importance art has brought into Amanda's life beyond creativity and self-expression is relationships. "Like I said, people would continuously stop to talk to me because of the doodles and drawings they'd see me make. When pursuing an art degree at Tyler Junior College, I met a lot of people who I am still exceptionally close to today. They are odd people for sure, but I think that's what I was looking for," she says and smiles.
When asking Amanda what she finds most frustrating about being an artist, she replies, "The ruts and the burnouts. It feels like I'm constantly in a rut. But it doesn't keep me from trying to make art. A lot of people wait for inspiration but I know inspiration doesn't happen that way so I try to sit down and make some kind of art at least once a week so I don't get rusty. Even if I'm not making anything I would show anyone and even if I think what I make looks terrible, I am still getting practice. I know a lot of artists who are constantly making art, but I have to remember everyone's process and speed is different, and it's okay to work at my own pace as long as I don't ever stop."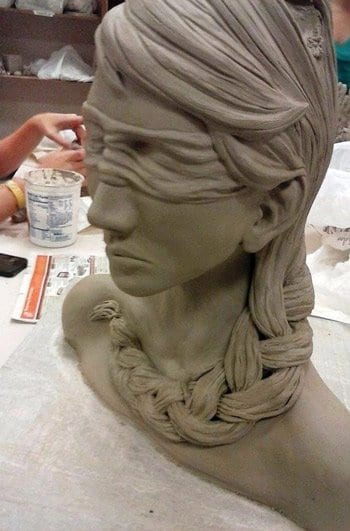 Amanda Hatfield receives motivation from studying the works of artists from art history and from today, including Gian Lorenzo Bernini (Italian Baroque sculptor and architect), particularly his piece "The Ecstasy of St. Theresa" (a marble swooning nun and angel sculpture in the Cornaro Chapel, Santa Maria della Vittoria, Rome), and Alphonse Mucha (a Czech Art Nouveau, late 19th century decorative style) painter and ornamental artist who produced paintings, illustrations, advertisements, postcards, and designs) is another favorite. One of Amanda's preferred living, contemporary inspirations is Kelsey Beckett (a Michigan native and freelance illustrator and fine artist. She works mainly in acrylic and oil and has been featured by "Juxtapoz" and "Supersonic Art" magazines).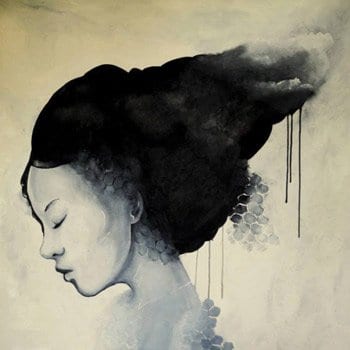 Amanda says, "Kelsey Beckett paints oddly stylized female faces and there is something about them that is both eerie and beautiful." And lastly, another prevailing, contemporary artist is Chiara Bautista (an illustrator/graphic artist creating beautifully tragic illustrations, sometimes of antlered women). Amanda is intrigued by Bautista's pop-surrealist drawings depicting love story narratives with a sweet melancholy and irony. Look into these artists for yourself and you will see the combined influences on Amanda Hatfield's aesthetic.
When you decide you are ready to get better, want to learn to paint a woman with a squid on her head, and are ready to get your 'steampunk on' then take some time on a Sunday afternoon and attend Amanda Hatfield's painting and drawing classes at Michaels in their new location at 5839 S. Broadway Ave., Tyler, (903)258-9030.
Please note: getting your steampunk on is only encouraged but definitely not required.
More information and updates on classes at Michaels go to www.facebook.com/groups/MichaelsPaintingTylerTX.
For more information about the artwork of Amanda Hatfield go to www.facebook.com/amandahatfieldartpage.
Check it out. You'll be glad you did, Space Pirate!