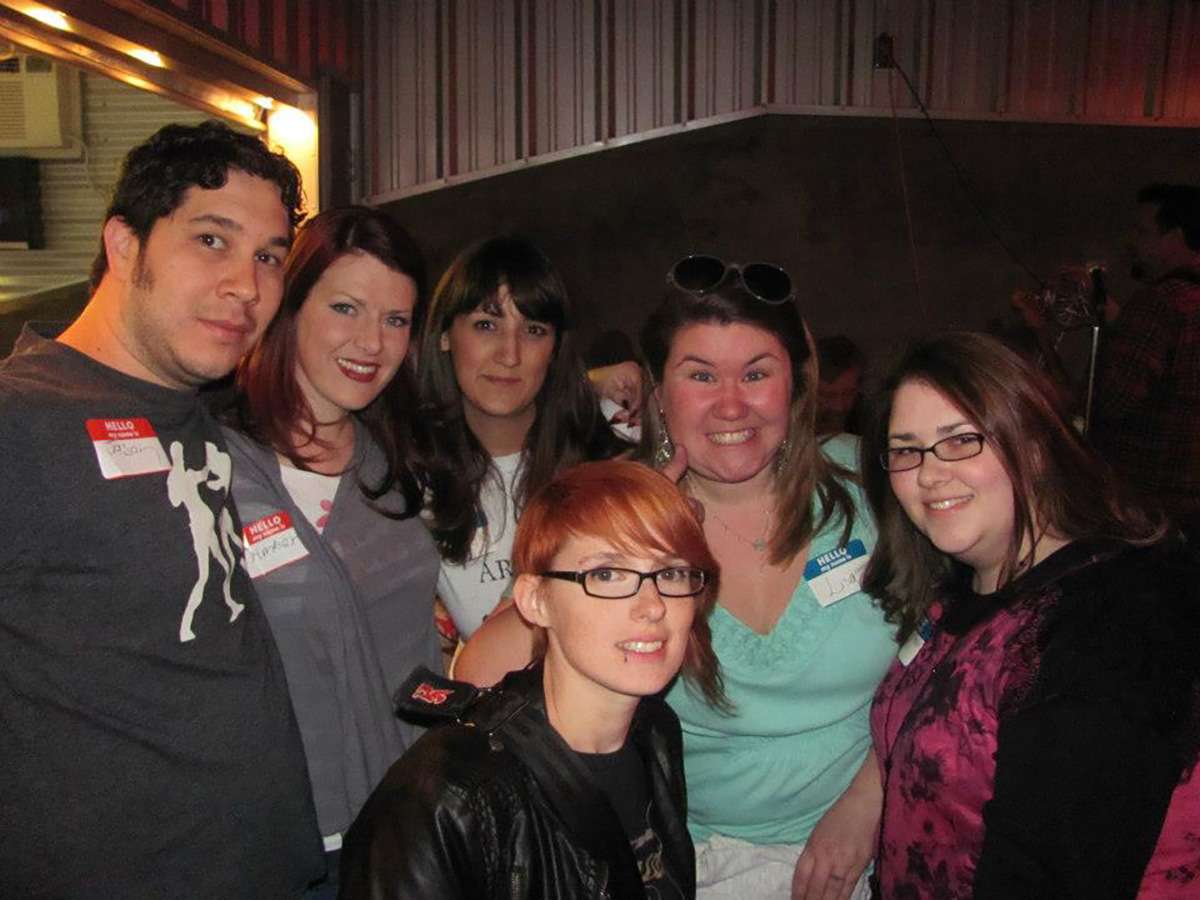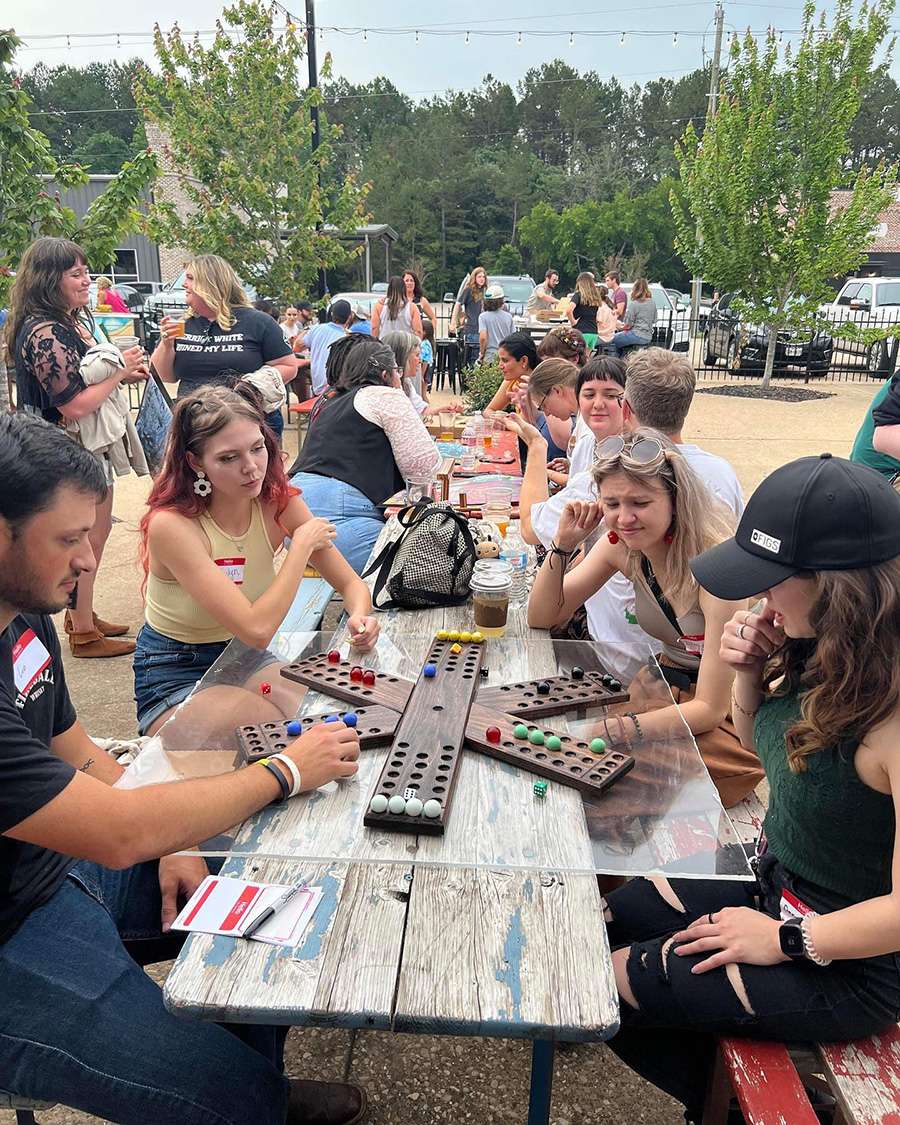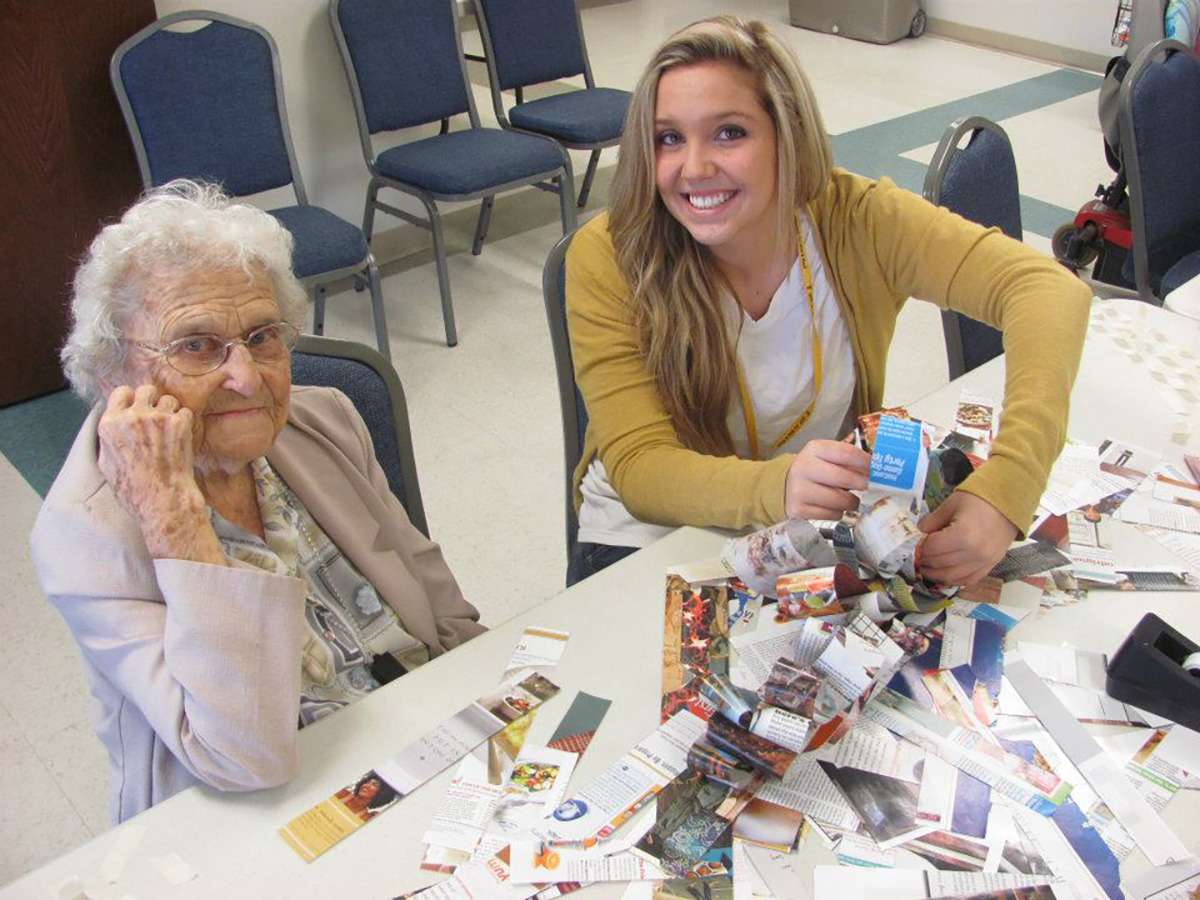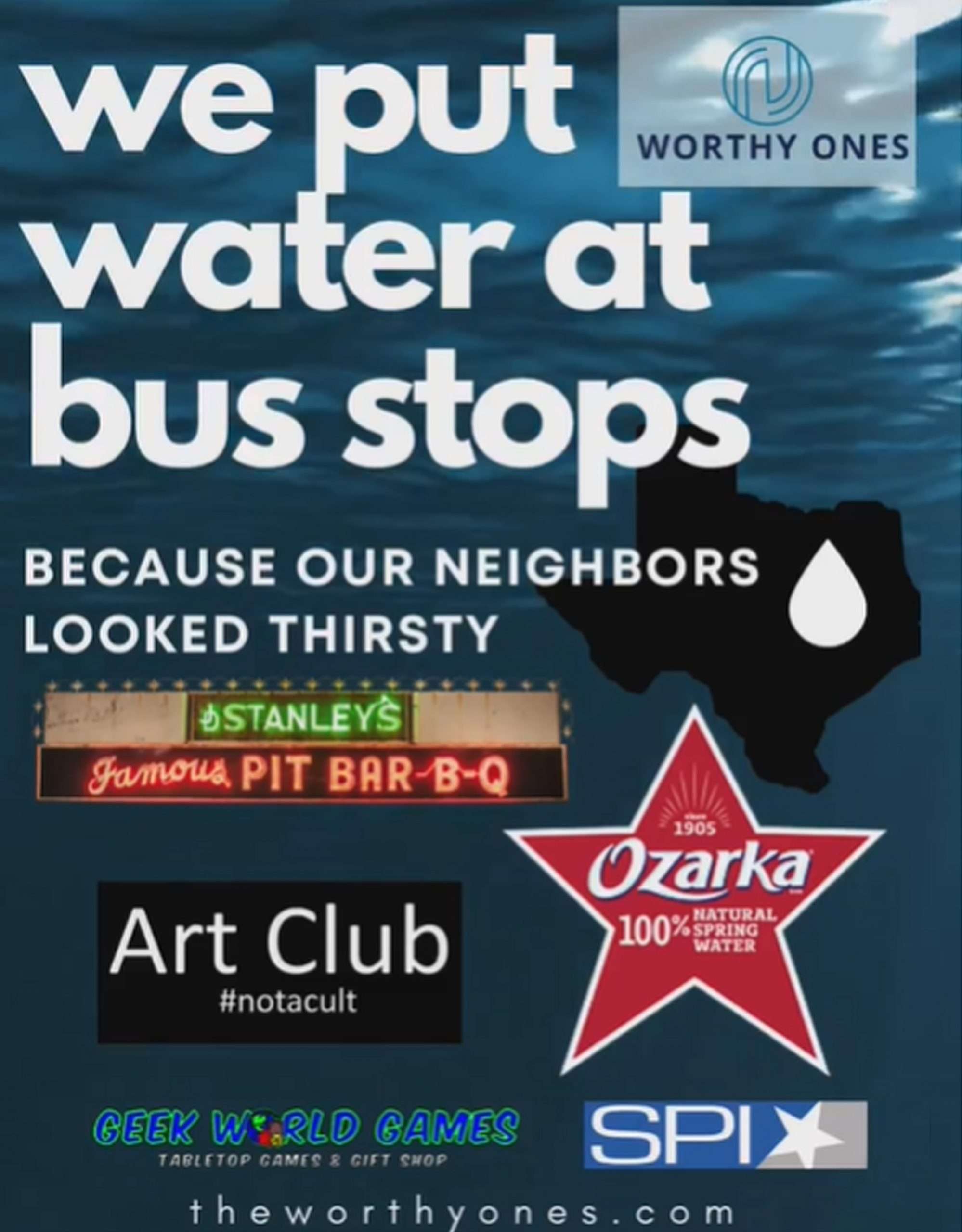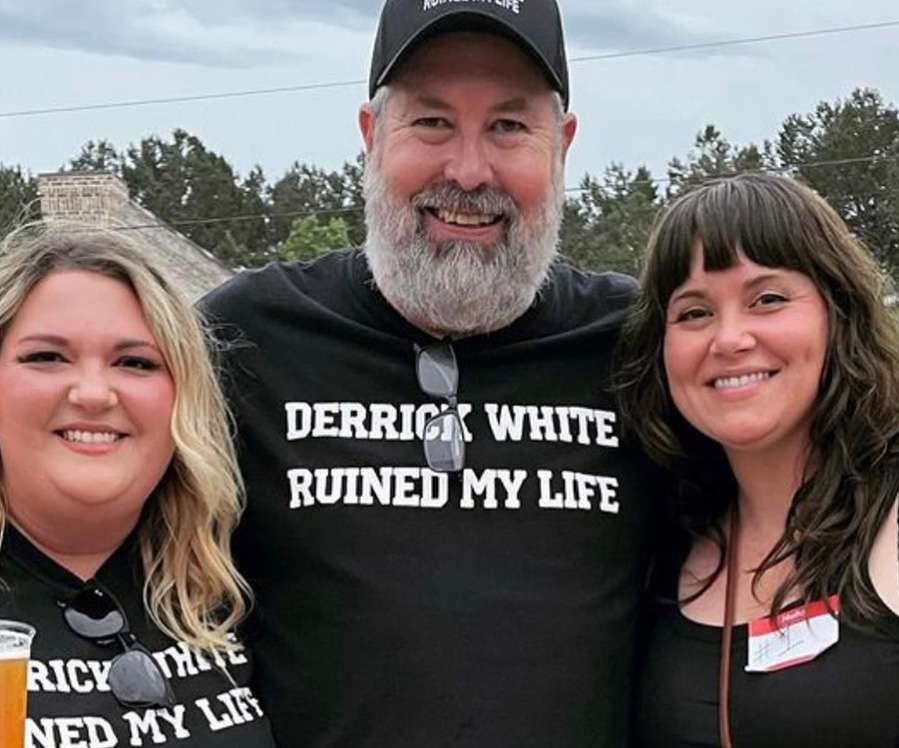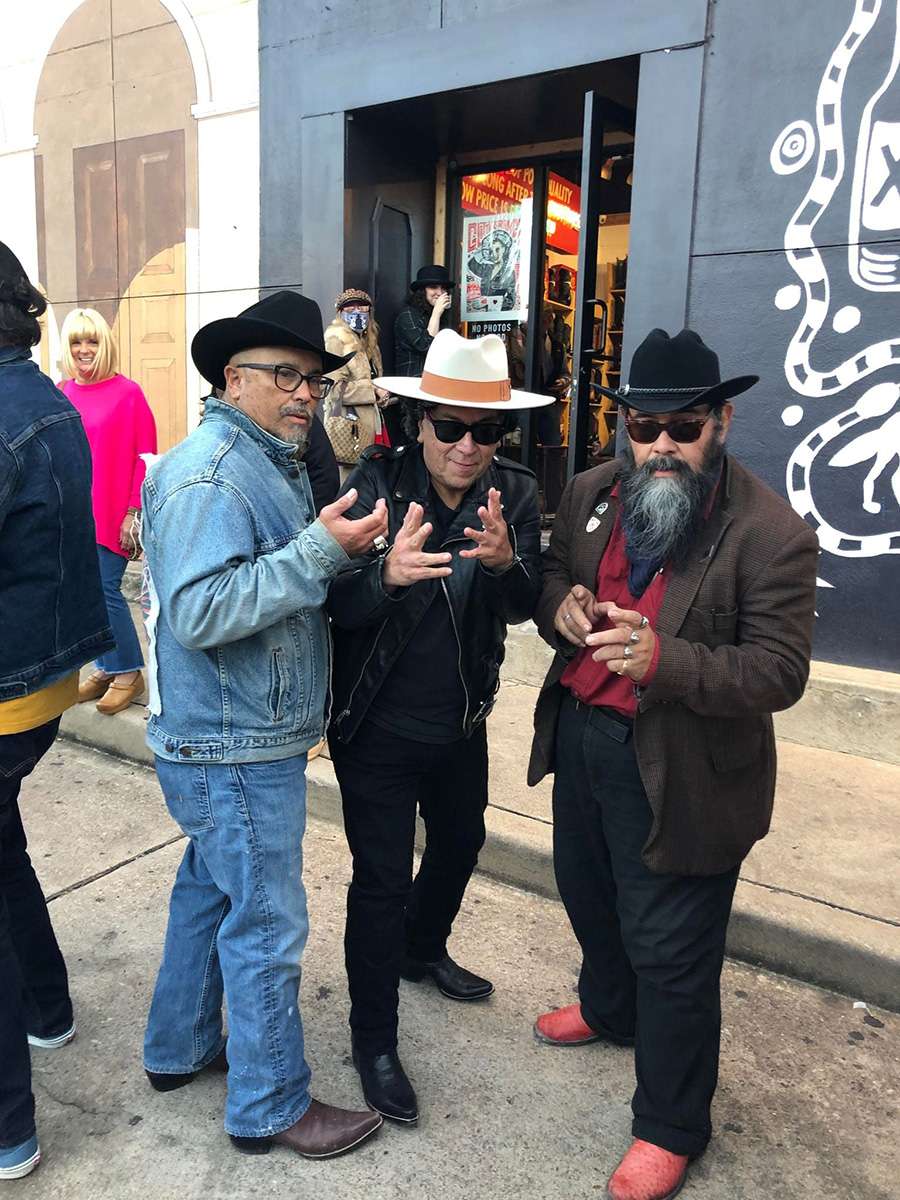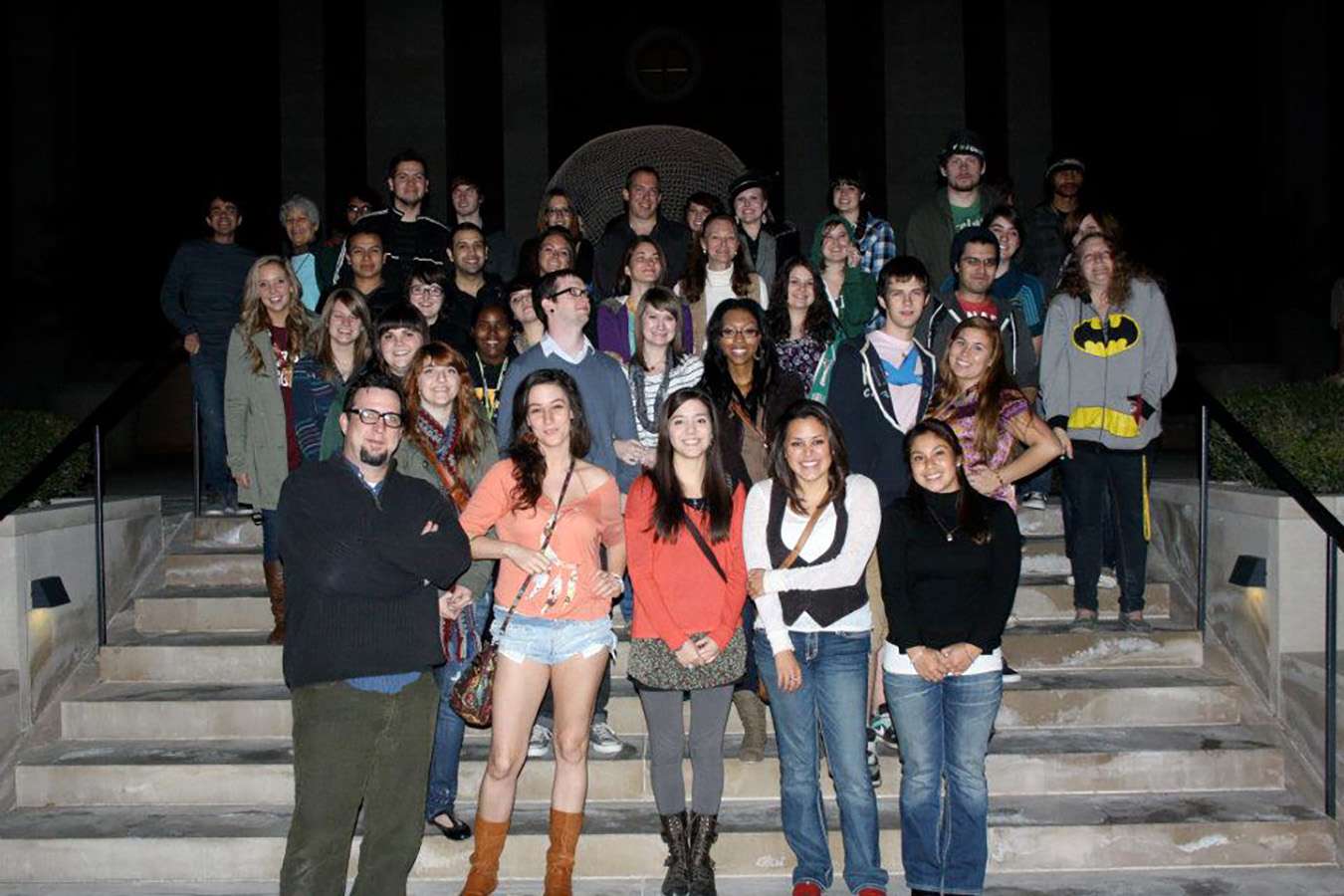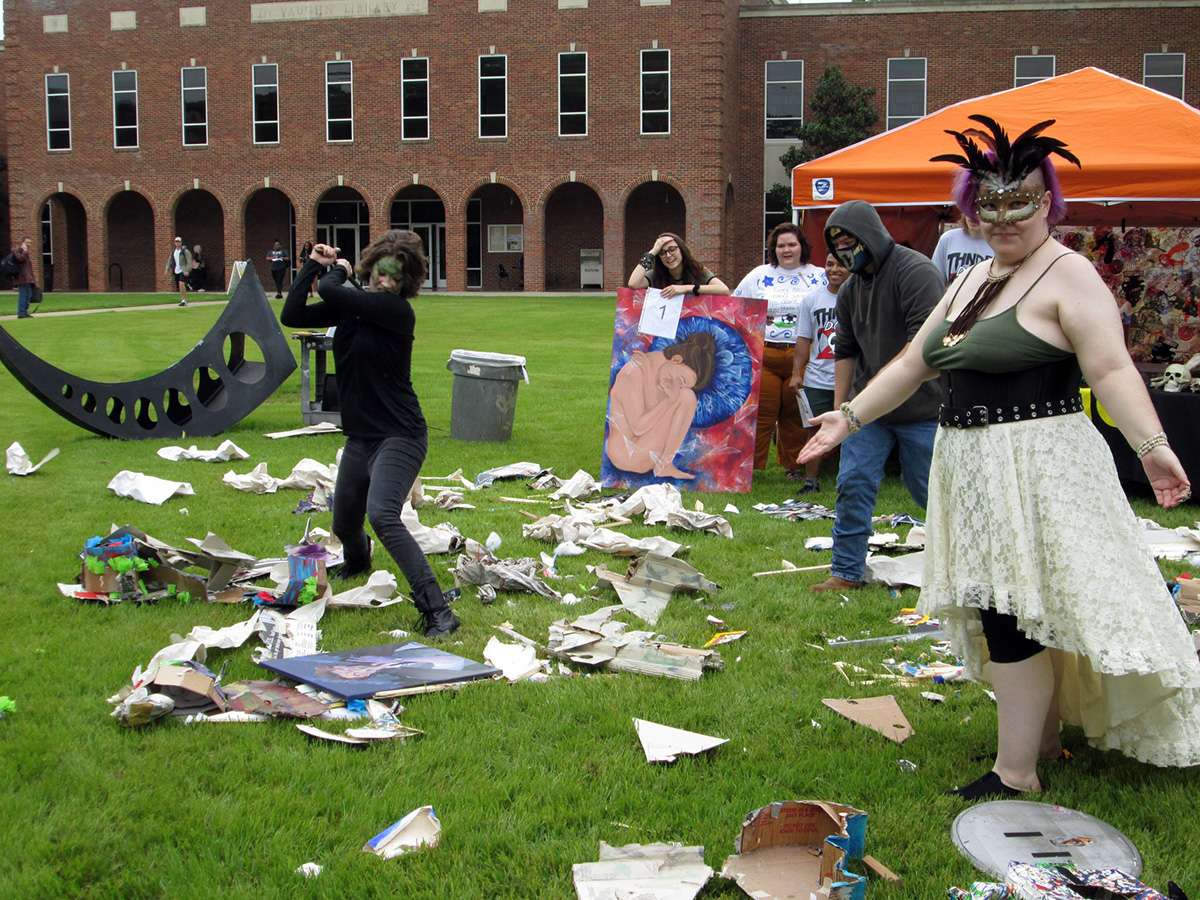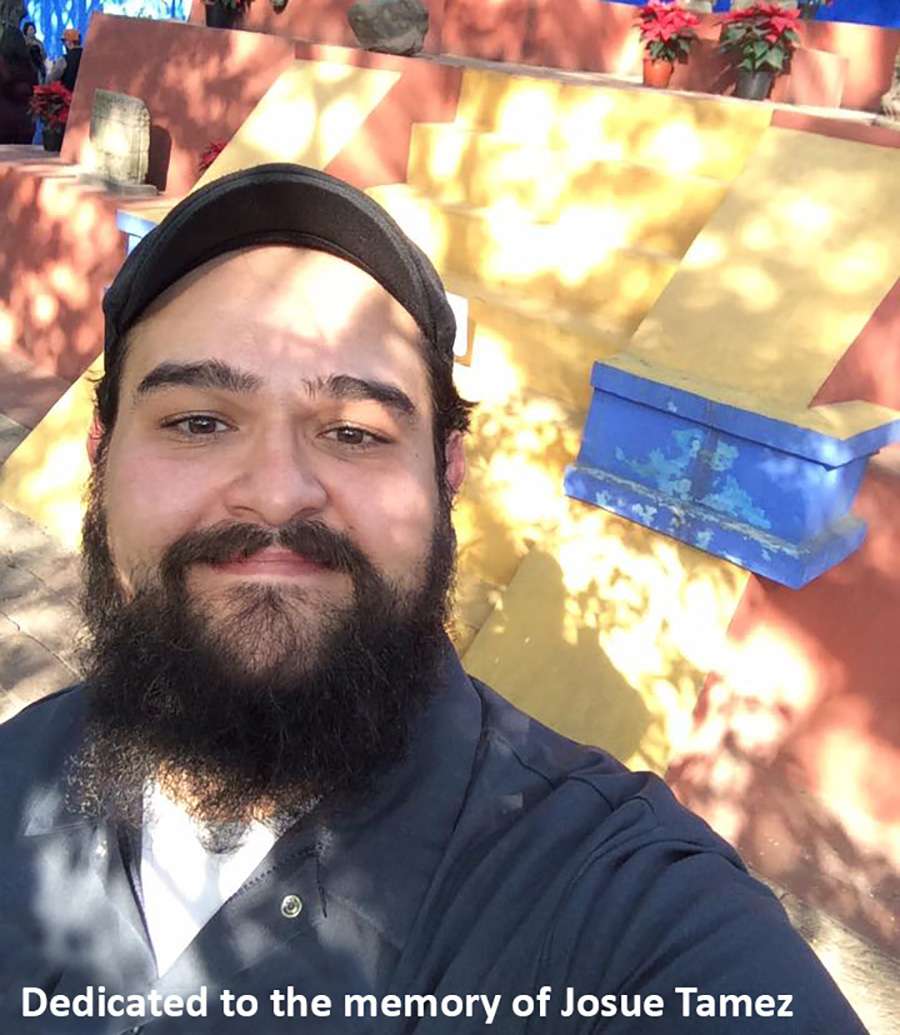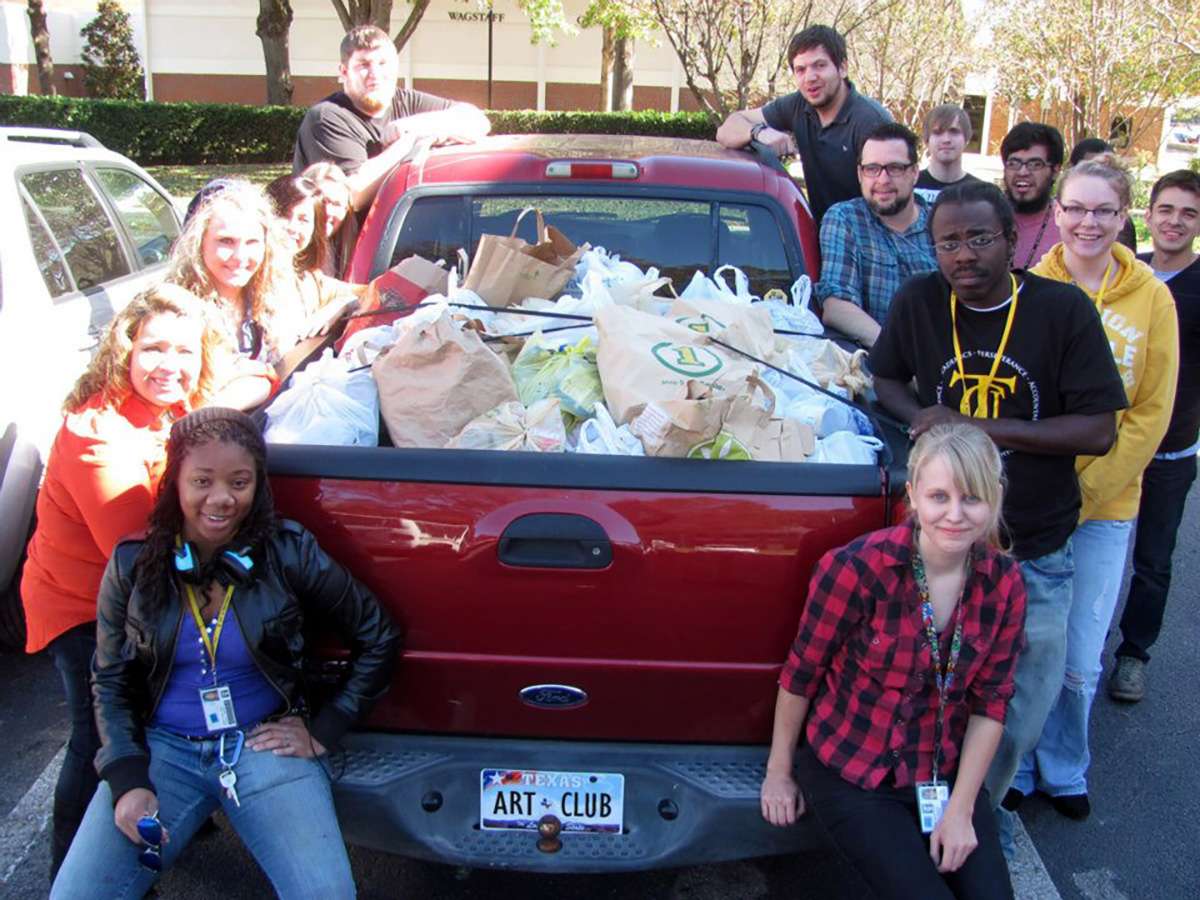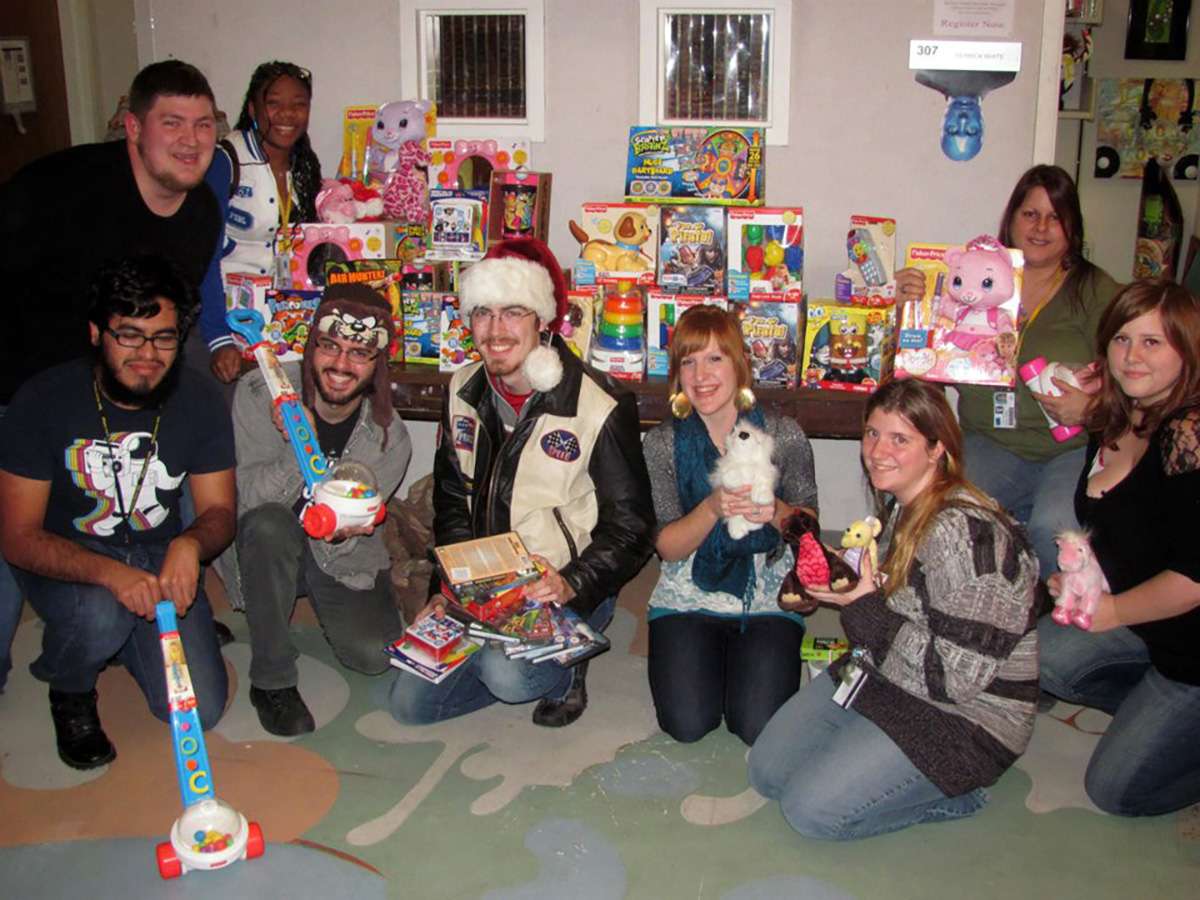 ---
Inside the Artist's Studio: Art Club "In nonsense is strength."
By Derrick White
"Many people need desperately to receive this message: 'I feel and think much as you do, care about many of the things you care about, although most people do not care about them. You are not alone." – 
Kurt Vonnegut.
"People who might feel like they do not belong anywhere else can come to Art Club and be a part of a group, something bigger. To be with and around others is healing and powerful," states TJC Art Professor, Paula McDermott. Early in my teaching career at Tyler Junior College, I was approached by a couple of students who wanted to start a club. William Gilchrist and Josue Tamez (deceased 2020) were creative and clever thinkers and I agreed to support their endeavor. I had no idea the profound impact this would have on my life as well as the lives of others in our community. Although Willie left school shortly after, other founding members stepped up, Lisa Horlander became president, Melinda Wyers created a great, original logo, and Basilio Aguirre wrote our mission statement of inclusion and diversity. Art Club is still going strong, and we just celebrated our twentieth anniversary. Truth be told, the Art Club is not a recognized student organization and has no official affiliation with the college. Nevertheless, we started calling ourselves a club and a group of misfits began hosting activities, being silly, embracing nonsense, duct-taping people to the walls, having water balloon fights, working all night kiln firings, building giant, inflatable sculptures, having fellowship, planning art attacks, inviting guest artists for demonstrations, participating in community service activities, and hosting the absurd annual Thunderdome art competition with only one winner, all the other art pieces get lavishly destroyed by the annihilators. The Art Club invites the madcap and unconventional Amazing Hancock Brothers to Tyler every two years to conduct a printmaking workshop.

"The arts are not a way to make a living. They are a very human way of making life more bearable. Practicing an art, no matter how well or badly, is a way to make your soul grow, for heaven's sake. Sing in the shower. Dance to the radio. Tell stories. Write a poem to a friend, even a lousy poem. Do it as well as you possibly can. You will get an enormous reward. You will have created something." – Kurt Vonnegut.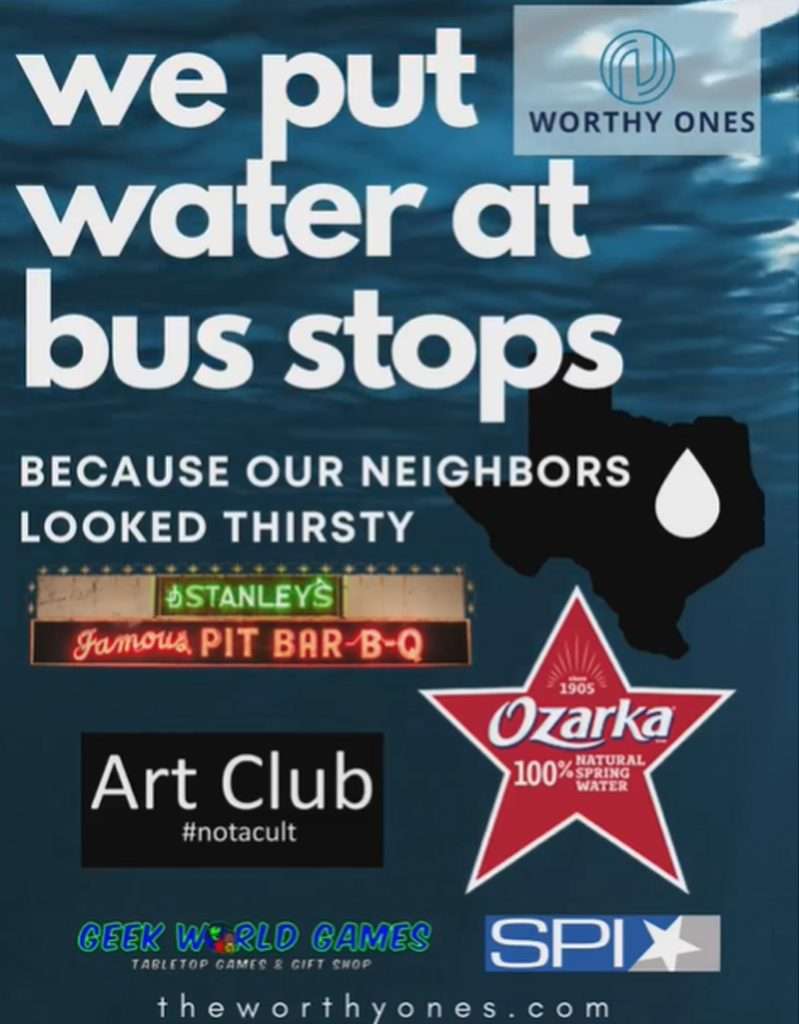 The Art Club immediately became a real community and a driving force in the energy level of the art department. I am still invested in the optimism of the purpose of the Art Club. It is a kinship and network of people throughout East Texas and beyond and has led to lasting friendships and more than a couple of marriages over the last two decades. It is one of the things of which I am most proud. Art Club requires no dues or membership obligations. Anyone who wants to be in the Art Club can join. All are welcome. Our main motto is 'Once a member, always a member,' meaning membership stretches well beyond graduation. Membership is not limited to TJC students. Local and area artists and non-artists are in the Art Club as well. Art Club, we are willing to hang out with anyone willing to hang out with us. Other mottos include, 'Art Club, 5000 times better than band camp, and band camp was awesome,' and 'Sketch yourself in,' or the classic 'The coolest club on campus just no one knows it but us.' Art Professor Paul Jones affirms, "I think the thing I like the most about Art Club is how it helps us stay connected with students. Some come back as visiting artists, having exhibitions in our galleries. Some show back up for Thunderdome. Some show up at our anniversary events, and some just pop in to say hello. It has been really special being able to keep in touch with these artists."
Art Club has donated to the Make-A-Wish foundation and others in need. We have collaborated with the Children's Advocacy Center, Camp V Veteran's Service Center, Disciple Place Village, Carter Blood Center, True Vine Brewing Company, EGuide Magazine, the East Texas State Fair's Academic Rodeo, The City of Tyler's Gallery Main Street, The University of Texas at Tyler Art Department, Toys for Tots, Liquitex Paints, The Worthy Ones, and East Texas CARES. Our partnership with East Texas CARES is one of our longest-lasting. Art Club conducts a food drive twice a year to help stock their food pantry to help area families in need. They state, "It is because of donations like these that we can keep giving to the East Texas community." In 2006, I was contacted by Charlene Steed about the idea of a food drive. From then on, we have conducted a food drive in both the Fall (October) and Spring (April) semesters accumulating nonperishable food items to help stock the food pantry at East Texas CARES Resource Center. Students, art faculty, and area artists have also donated artwork for fundraising auctions benefiting East Texas CARES. The art club spends one month each semester amassing donations and then delivers the food items after the conclusion of the drive. Other TJC programs have been involved with the food drive over the years including TJC Surgical Technology, Behavioral Sciences, Physics, and Sigma Kappa Delta (the English Honor Society). Art Club has consecutively donated to the food pantry twice a year for 17 years and counting.
We also partner with The Worthy Ones' Bus Stop Water Project each summer. The Art Club is a sponsor and also adopts one or two bus stops to supply cold water bottles during the hottest weeks of the summer. From the Worthy Ones' website, "There are hundreds of people using the public transportation system to get around daily and they are waiting for these buses in hundred-degree weather. This can quickly become a health hazard. Many people, from the older to the young, are waiting upwards of an hour for their bus to arrive at the stop while the Texas heat weighs on them. This project came about when Worthy One's founder, Nora Schreiber, witnessed some young men becoming overheated from their travels from home to work during the Texas summer months."
Art Club has continued to grow and in 2021 spawned a new club within the club. The Sunshine Fun Time Club was created as a positivity and anxiety awareness segment at the end of the Art Club's weekly meetings and in response to the pandemic and societal unrest. Guides Paul Jones and Paula McDermott lead discussions and stress-relieving exercises. 
Some of our Art Club members have gone on to become film directors, doctors, full-time artists, curators, published authors, art handlers, photographers, a professional chef, college art professors, nurses, cosmetologists, farmers, muralists, yoga instructors, tattoo artists, graphic designers, professional actors, potters, realtors, police officers, one went to work for the Nike corporation, one converted a school bus into an RV and traveled the continental United States and Canada, at least two live in South Korea teaching English, one is a Texas school district CFO, one is a multiple X Games BMX medal winner, and more than twenty-five (twenty-five!) are K-12 art teachers in East Texas and across the country. These are not ruined lives.