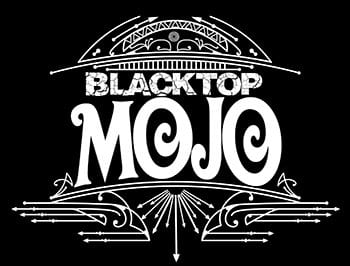 By Johnny Griffith
Palestine, Texas, is known for, among other things, the Dogwood Jamboree, The NASA Columbia Scientific Balloon Facility (seriously, Google it), and Adrian Peterson. If the guys in Blacktop Mojo (BTM) have their way, you'll soon be able to add their name to the list of things the quiet East Texas town is known for. BTM is a five-member hard rock band started in 2012 by locals, Matt James (vocals), Nathan Gillis (drums), and Kenneth Irwin (guitars). Playing as much as they could with the goal of crafting a unique sound, they soon added original bassist Chris Davis, and rounded out the five-man format with additional guitarist Ryan Kiefer about the time they were in the studio to work on their first album, "I Am," after only a little more than a year after first hitting the stage as BTM.
Known for an energetic, driving brand of Rock that has been described as the love-child of Skynyrd and Soundgarden, Blacktop Mojo travels far and wide to give themselves the best opportunity for exposure and to grow a loyal fan base. Armed with a true collaborative original song writing team, all five members contribute to the writing process. A blistering list of unique cover tunes is always a crowd favorite. BTM has shared the stage with the likes of Candlebox, Saving Abel, Aaron Lewis, and Whiskey Myers, to name a few, each time holding their own, if not stealing the show. Seamlessly blending powerful dual guitars, a devastating rhythm section, and one of the few vocalists powerful enough to keep up, BTM creates a sound that has hard rock fans engaged. These guys are ready for the next level!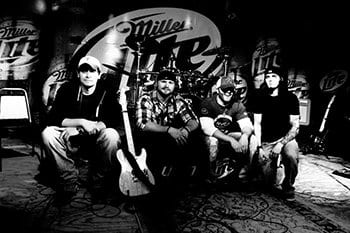 Now, four years into the Blacktop Mojo era, they have successfully produced several videos, and a second album is in the works, as well as at least one industry showcase being planned this fall. I tracked down BTM at their secret underground Jam Shack in Palestine to get a more personal view of just who these guys are:
Johnny: Where is everyone from?
BTM: We're all from East Texas, except for our bass player, Matt Curtis, who is from Muscle Shoals, Alabama, and KI (Kenneth Irwin) who landed here in a spaceship in 1989.
Johnny: How would you personally describe your sound?
BTM: Modern hard rock that got dragged through a puddle of southern rock and then dipped in a little bit of grunge.
Johnny: How did you guys get started in music?
BTM: We all got started individually, in our own ways. I (Matt James) got started in college playing worship music for the FCA at NSU, and Nathan had a similar start playing drums for his home church in Palestine. KI was in a few metal/hardcore bands when he was in high school in Rusk, while Ryan played in an East Texas-based band called Chase and The New South. Matt Curtis moved here from Nashville with his band Eli's Redemption.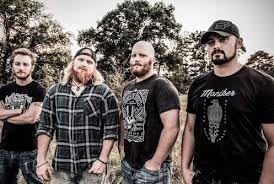 Johnny: Give us the backstory on how the band formed and ended up with the current roster.
BTM: Nathan, Kenneth, and I started the band when we were jamming at the coffee shop I worked at after college, Old Magnolia Mercantile, where we would set up and play after closing time at night. We played shows for about a year and picked up Ryan along the way when we met him at a festival called Rebels & Roses and Chase and The New South, and we were playing in front of a bunch of acts including Aaron Lewis, Whiskey Myers, and the Bigsbys. About a year or so after that, KI left for Nashville to pursue a solo project for a year, and we brought Matt Curtis in to replace him on guitar. When our original bass player Chris Davis, left the band to pursue a college degree, KI moved back to pick his guitar spot back up, and Matt Curtis moved over to bass which solidified the lineup we have now.
Johnny: What are your influences, musically?
BTM: We all come from different places (rock, hardcore, blues, country, and hair metal among others), but we all found common ground in our love of the 90's grunge movement. We were actually what you might call a Red Dirt/Texas Country band when we first started because honky tonks and dancehalls were the easiest places for us to find gigs around East Texas, so we cut our teeth and learned how to play in front of people as a band in a lot of country venues playing covers. If you want to experience a actual casino atmosphere you could play live casino games online. It means a game with a human dealer and different players via camera. Discover the best live casino sites at https://casinomech.net/live-casino/ , those sites are tested and certified. The more we started writing our own original material, however, the stuff that was coming out, leaned a lot more towards hard rock. Once we got an album's worth of material together, we sort of realized, "Hey, we should be a rock band!" and we really haven't looked back since.
Johnny: What was the first show BTM played and what has been your favorite gig to date?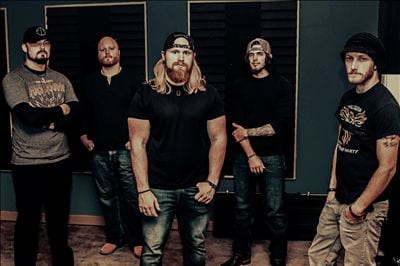 BTM: The very first show we played with KI, Nathan, and myself, was at the Neches Fall Festival on the back of a flatbed trailer. Once we found a bass player, though, our first "official" show as Blacktop Mojo was at The Shelton Gin in Palestine in December of 2012. As far as our favorite gig, it's really hard to pick just one. Here in East Texas, it would definitely have to be when we got to open for Candlebox at Clicks Live back in April of this year. The crowd was incredible that night.
Some other fun ones would have to include the last time we went to Topeka, Kansas, and got to play for one of the biggest crowds we've been in front of and also back in February, when we got to fly to Miami, FL, to play at the Magic City Casino. That was our first time flying somewhere as a band.
Johnny: Of the bands you've been able to share the stage with to this point, which one has been the biggest "fan-boy" moment for you guys?
BTM: Probably a tie between getting to meet the guys from Candlebox and getting to meet Aaron Lewis. We all grew up listening to Candlebox and Staind, so getting to meet and talk to them was pretty surreal.
Johnny: What has been your biggest surprise after four years as a group?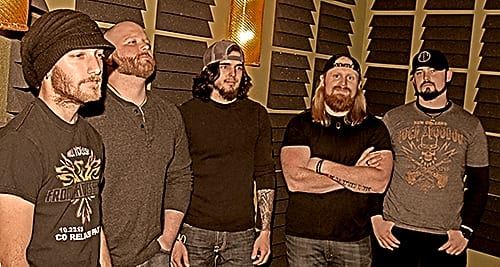 BTM: Our biggest surprise as a band had to have been to find out where some of the pledges came from on our PledgeMusic campaign that we did for our upcoming album. We had people from all over America, as well as some folks from Germany, Sweden, and the UK pre-order the record. It's pretty crazy to think that a band like us from a small town can reach people we never expected on the other side of the globe. It was a very cool thing to see that on our computer screens.
Johnny: What were your biggest challenges with your debut album "I Am," and how has that prepared you for your follow-up album?
BTM: The biggest hurdles for us when we made "I Am" was probably our lack of experience. Some of us had never even been in an actual studio setting before, so we had to learn everything from how to work in the studio to executing all the post-production stuff like pressing CDs, distribution, promotion, and everything in between. Now that we've done that stuff for our first album, it has helped us to have a more solid plan for everything going into our sophomore record.
Johnny: Outside of the next album, what is on the horizon for BTM?
BTM: We're all full time in the band now, so since we no longer have day jobs, we're working towards being able to tour around the country and maybe across the pond, so that we can make more new friends and keep spreading our music around to as many people as will listen.
Johnny: Let's say it's my first time to hear Blacktop Mojo at my favorite venue. What should I expect as a metal/hard rock fan, and what do you guys hope I take away from the show?
BTM: Anyone who enjoys rock/metal can expect an in-your-face high-energy experience that's a good time for hardcore fans and top 40 listeners alike. Any good hard rocker/metal fan knows how to headbang, so hopefully you leave one of our shows with a smile and a sore neck!
Blacktop Mojo can still be heard around East Texas on a regular basis, but I would definitely suggest checking out their website for more information and a sample of their music if you haven't heard them. If it's in your wheelhouse, get out and support a great local band that won't be local for much longer at the rate their Mojo is working.
Blacktop Mojo on the web:
www.blacktopmojo.com
www.facebook.com/blacktopmojo
www.soundcloud.com/blacktop-mojo
Upcoming Dates:
September 8th – The Red Lion – New York
September 10th – Pledgemusic Acoustic Show – Bethlehem, PA
September 21st – Bareback Bar & Icehouse – Spring, TX
September 24th – Coaches and Cowboys (Acoustic Show) – Tyler, TX
October 1st – B&B Backyard -Topeka, KS