King Richard & the Bayou Boys: "Our Gigs are like Private Parties For Our Fans"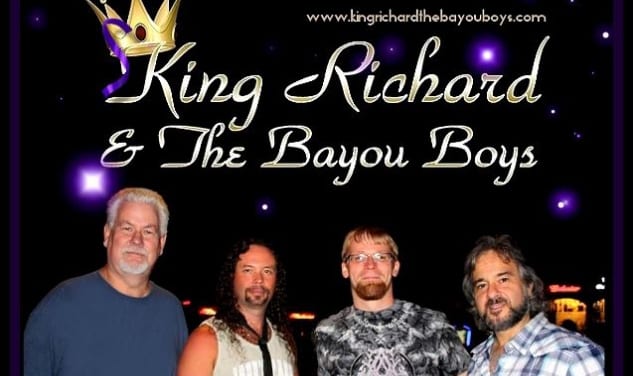 By Amanda Main
Tyler-based blues and rock 'n' roll band King Richard & the Bayou Boys first stepped onto the East Texas music scene in 2010. Founded by "King" Richard Doredant, who sings and plays the guitar and harmonica, the retro band also includes drummer Robie Morgan, bass-player Ben Carter, and tenor and alto saxophone-player Sean Fuller.
Richard, 50, began life in a New Orleans neighborhood near the home of "Blueberry Hill" singer-songwriter Fats Domino. He brings with him a respect for deep musical history.
He and his wife, Laurie, evacuated New Orleans after Hurricane Katrina hit in 2005. The move brought them to Tyler, and he says they had no trouble adapting to East Texas life. "It was seamless; there was no real problem at all," he says. "Texas was very welcoming, and it was a wonderful place to make a home and raise a family." Their 8-year-old daughter, Becky, was born soon after making Tyler their home.
Richard recently spoke with EGuide about his band and love for writing and playing blues and rock 'n' roll music.
EGuide: How did you get your start in music?
Richard: I've been playing music since I was a kid; a lot of people at my age had a guitar. I was a big rock 'n' roll fan and (of) blues music, and being that I lived in New Orleans, there was a lot of blues music around, and a lot of concerts, so I kind of always wanted to play the guitar. And that was the thing, so that was the generation for it – the rock 'n' roll generation.
EGuide: What do you see in the East Texas music scene compared to the New Orleans music scene?
Richard: Well, it's apples and oranges; it's really two different things, but the best thing I see about East Texas is, it's growing, especially since we started the band. We've been going at it for four years here, and I see a lot more venues and a lot more artists, and people coming up and different groups, and it's really exciting. I think it's a good time to come along. I feel like the world is kind of wide open to us right now.
EGuide: What do you miss about New Orleans?
Richard: The food! But you know, you guys eat in Texas, too; they have food here, too, in case you didn't know. I miss some of the music, the history of some of that. … You're not gonna see artists like that here; you don't have the history for that, but it's gonna take off – it's an incredible growing music scene here. And Texas has such a huge style of different music. Gospel music – I see a lot of these praise bands, people working with churches. … Jazz. There's a Mexican influence, so you get the Tejano music, and country – country's really big here. … and I'm just a big blues fan, and I'm just interested in preserving and performing the history.
EGuide: What did you do in your time in Tyler before forming your band with the Bayou Boys?
Richard: Well, we were actually the praise band for the Pleasant Retreat United Methodist Church. That's how we met. I went to church there, and we started playing music there. (Richard says the band later found their saxophone-player, Sean, online.). I've been writing songs since I was a kid and decided to start a group here. I had 15 songs that I had recorded in a recording studio in New Orleans that has yet to be released. And I guess I just got that itch to do it again, so we got it started, and we've been really happy. We've had a lot of highlights with the band since we have started.
EGuide: What kinds of highlights?
Richard: Well, although we've got a lot of original music, there's a certain kind of retro aspect of it. So I was really pleased when we got to play with The Coasters, which was a really iconic '50s doo-wop group (their hits include 1950s songs "Yakety Yak" and "Charlie Brown"). We came to Hideaway Lake and got to perform for them and be the backing band and open up for them. It was totally fun!
EGuide: How would you describe your collaboration process with your band?
Richard: Well, of course, it's a benevolent dictatorship. I'm the king, after all (he laughs). No, seriously, you take everybody's contributions and their experiences into consideration of course. Somebody has something to bring to the table, and you listen and work together on it. That's probably the thing we've really been lucky with – everybody's mature and stable, and we're listening to each other and we're working with each other, so the collaboration process is good. I come with this general idea, and they kind of help me hammer it out. The general idea is a real aficionado for the history of blues and rock 'n' roll music. And it's comedy. Comedy is a huge part of this. In addition to T-Bone Walker and ZZ Top and Stevie Ray Vaughan, I count The Three Stooges among my inspiration.
EGuide: What types of subjects inspire the songs you write?
Richard: The lyrics usually come from a place of desperation. I think the characters in the songs, people are usually at a point where they're desperate and pleading. … The subject matter for the songs can be anything from the comical – I've got a song about crawfish, for example – to, like I said, desperation. Loss, love. I've got a song about a car, "you only love me for my car." What's that about? It's kind of an American dream, this guy's got a car, but he's got a full bar and a king-size bed in the back seat.
The songs, the subject matter ranges widely, but I would say it all fits squarely in the pantheon of the history of American rock 'n' roll for Texas and Louisiana.
EGuide: What has drawn you and your band to play the style of music that you play?
Richard: On our own recordings, our music doesn't sound like it came from 1962, it sounds like 2014. There's a retro aspect to it, but it's not like we're just rehashing old stuff. You're taking influences of the stuff that you really love. And that's always gonna come out in your own stuff. And what drives us to do it, really, is just my love for that, and I've sought out other people who can share that with me or can help me realize that vision.
And that's kind of my goal. Like when we do a four-hour show, it's a lot of fun, and there's a lot of ground to cover, a lot of different styles of music that we do. And it's a lot of laughs, too.
EGuide: What portion of your shows would you say are original songs?
Richard: We have a lot of originals, but when we do, say, a four-hour show, probably a quarter of it is original. But if you really look at what we do, if you come out and see the band, to say what portion of it is original is hard to answer, because we do stuff that nobody else does. And even the stuff that other people do, they don't do it quite like us. We don't do it like the record. So it's all original, it's definitely got its own stamp on it.
EGuide: What is your band's favorite venue to play in East Texas, and why?
Richard: XL'N (on Fifth St.) is always great; Lago Del Pino is really nice. And we love Dick's (Cajun Grill), which is over in Mount Selman. FRESH by Brookshire's, we've enjoyed that. There's a place up in Jefferson we go play called The Knight Light Theater.
We really enjoy the people at those places; they really get into it. And it's good when you get that audience participation. A lot of venues we've enjoyed playing, that's why. If you're just playing for 10 people and they're really digging the band and dancing and having a good time, that's what we're there for. We're not like a human jukebox. We have a lot of fun with people; we talk with 'em, we joke with 'em. And the way I view our shows is like, this is my time for my private party with them. They're as much a part of the show as I am.
EGuide: What advice can you give to people trying to break into music, specifically in the blues and rock 'n' roll genre?
Richard: Be yourself, I would say; you've got to be real. A lot of people copy what others are doing. When people think of Texas blues, a lot of people think of Stevie Ray Vaughan, and you can copy their blues licks on the guitar, but that doesn't make you a blues band or a blues player. It's just got to come from your heart. If I could give some other advice, I would say, bring lots of money. You're gonna need it; bring lots of money.
EGuide: What artists have you been listening to lately?
Richard: I've been listening to so much stuff. Clifton Chenier, a Louisiana artist I have recently been listening to. The Black Keys, I really like them. James Brown, Otis Redding and Sam Cooke. All of that is really awesome to me. I love the guitar. I listen to a lot of country players because they can really pick that guitar. I listen to Marty Stuart. Buck Owens. I love Little Richard, Carl Perkins and Buddy Holly. You go all the way back to that. But there's a lot of different, current, contemporary blues artists that are just as fascinating. I love listening to Kenny Wayne Shepherd, who's also a Louisiana artist. There's such a variety of other people that you see in the contemporary blues scene such as Tommy Castro and Joe Bonamassa. I just love blues!
EGuide: Well, thank you, Richard. Do you have any other thoughts you'd like to share?
Richard: Just, thanks. I want to say thanks to all the people who've been supporting us, following us on Facebook, and buying music, coming out and seeing the shows. We've got a lot of people who've just been die-hards, really good friends to the band, and I just can't thank them enough. All the people who've made all the shows such a success, because it's really just as much about them as it is me. I love it when the people dance and get up and have a good time with us.
We had an interesting show at FRESH (in May), and there was an older couple that got up and danced to the music, and the lady got up afterwards and told us she was 85 years old, and the man had just turned 90. And they're up there dancing. But that was just kind of an interesting thing. That's the kind of thing, that's who I want to thank – the people for bringing the spirit to it, 'cause that's the spirit of the show. We put on a show, but that's the culture, rock 'n' roll. It's a party. And you can't have a party without some partygoers and making some noise and having a good time.
King Richard & the Bayou Boys have an album titled "Life of the Party," available online at KingRichardtheBayouBoys.com (note that there is no "and" in the Web address), on iTunes, Amazon.com, and other online music retailers.
The band also has a new album in the works titled "Crawfish," and Richard has his own upcoming solo album, "Tequila Nights," which consists of 15 original songs recorded in New Orleans. He expects both to be released sometime in the fall.

Music With A Purpose: Hotel Drifters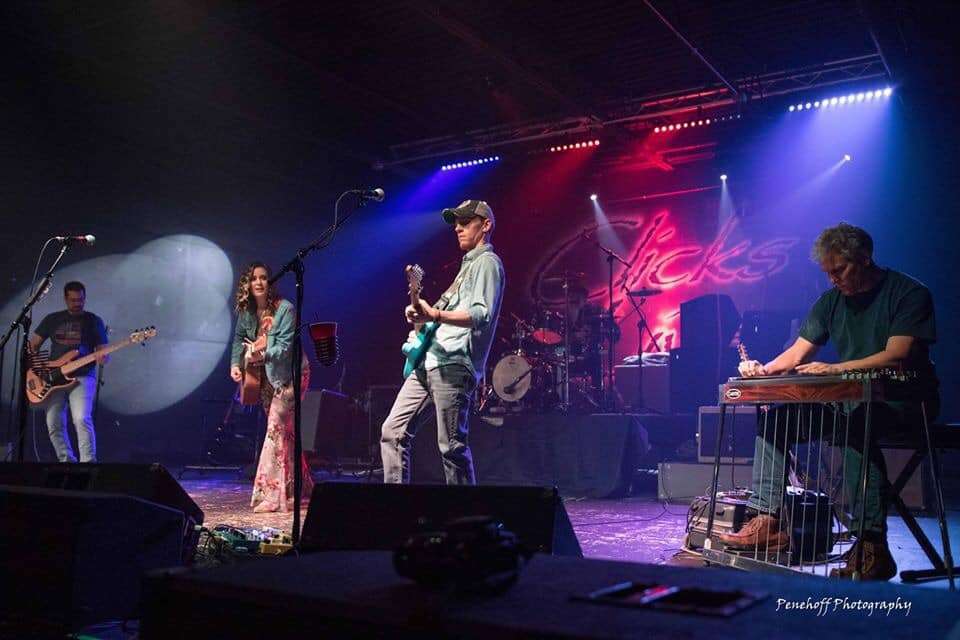 By Johnny Griffith
There is a fairly established stereotype of what a drifter is. Webster's defines it as "one that travels or moves about aimlessly." We've all seen a movie based on someone who drifts from town to town, with no purpose in most cases, just sort of trying to find their way in life. Well, you can take that image of a drifter and toss it out the window when it comes to the Hotel Drifters. They definitely have a purpose, and that's to try to leave every audience with a bit of themselves and in a better place than when they walked in. 
The brainchild of Jessica and Shane Smith, Hotel Drifters falls into the Americana category and has a solid foundation in a lot of classics, with a strong helping of country and roots music thrown in the mix. You'll find a blend of influences in their originals, with a solid leaning towards country; and the covers run the gamut with everything from classic Rod Stewart, Waylon Jennings, and Stevie Nicks to Dwight Yoakam, Chris Stapleton, and even some Lady Gaga in the mix. 
Their excitement for the music is evident from the first note and their presence on stage is engaging, with powerful vocals, raw and bluesy guitar licks, and a rock solid rhythm section. As an added bonus, they are one of the few bands to actually have a steel guitar on stage, which adds an extra dimension to a lot of classic songs, not to mention the cool factor it brings.
I was able to catch up with Jessica Smith this month and had the chance to ask a few questions so we could get to know the band better: 
Johnny: What is the current lineup of the Hotel Drifters?
Jessica: The Hotel Drifters are currently Shane & Jessica Smith lead vocals and guitar, Charles Pierce on bass guitar, Clark Stone is our drummer, and Scott Akers is on electric and steel guitar.
Johnny: How did the band meet?
Jessica: Shane & I met in high school when we were both 15 and then we married in 2008. In 2010 we decided to start a band. We took a break during the birth of our first son and then formed a new band after that with most of the current members.
Johnny: Are you all local or are there some transplants to the area?
Jessica: Yes, the entire band is local to the East Texas area. Shane and I are from Chandler, a little town just outside of Tyler. 
Johnny: Have there been any unexpected challenges that come from being in a band with your spouse?
Jessica: There hasn't really been anything too challenging because we've been married almost 12 years now, so we've already fought about everything there is to fight about, which is rare, but I think the most challenging part since we've become parents has to be leaving our son to play a show. 
Johnny: What do you feel some of the strengths of the band are?
Jessica: The energy! Music moves us, so when we really get into the groove it draws the crowd in and they get into it as well! 
Johnny: What about the name? Where did Hotel Drifters come from?
Jessica: Well it's kind of a long story but most working bands will drift from one hotel to the next. In some cases you want to pocket the most money you can so they can be gross, cheap motels, so when people ask us this question we just simply say "we like the doors on the inside not the outside."
Johnny: What first got you into music individually?
Jessica: For me I've always known singing was something I wanted to do for as far back as I can remember, and I started singing in church as a kid. Shane had the music bug from the day he was born. His dad had a band and he was always around music. Eventually, at the age of 13, he bought his first electric guitar and the rest is history.
Johnny: When did you the idea of forming the Hotel Drifters first start to evolve?
Jessica: Sometime around 2011 we decided to start doing some acoustic shows. From there it sort of snowballed, and then in 2012 we started our full band. 
Johnny: What was the first show as a band?
Jessica: Our first show was at KE Cellars in Tyler. They were the first place to give us a chance, so we were real sad to see that place go.
Johnny: How would you describe your musical style? Has it evolved since the band formed?
Jessica: We like to say we are country singers with a rock and roll band, but our style is always evolving. We have very strong country roots and we grew up with Willie Nelson and George Jones in our souls, but we love all kinds of music, from Tom Petty to Lady Gaga and a lot of stuff in between.
Johnny: What are some of the more popular covers you do as a band? 
Jessica: That's a hard one to narrow down since we do so many covers. We have a lot of fan favorites, but "Stay With Me" by Faces and "Stop Draggin' My Heart Around" by Stevie Nicks and Tom Petty are probably two of the more popular cover songs we do during any given show.
Johnny: What about originals? Are you and the band writing any original material at this point and mixing them into your shows?
Jessica: Yes! We do have some originals in our catalog that we've recently started adding to our shows when the situation is right. 
Johnny: About how many shows a month are you currently performing?
Jessica: We like to keep it to about 1 full band show a month and a couple acoustic shows in between. Obviously that can vary up or down, but that's where we like to keep it at this point.
Johnny: What does the Hotel Drifters have on the radar for this year we should be aware of?
Jessica: This year we would love to be able to record our originals!
Johnny: How would you describe your show to a first timer?
Jessica: A good time! Wherever we play we just want to make sure whoever is listening is having a good time, because you never know what kind of day that person had and that one song may turn their day completely around! 
Johnny: Thanks for sitting down and taking the time with us.
Jessica: Thank you for giving us the opportunity to share our band with y'all, you can find a list of our current shows and everything else on our Facebook page Hotel Drifters and Instagram @hoteldrifters.

A Blue State Of Mind:  The Bluez Boyz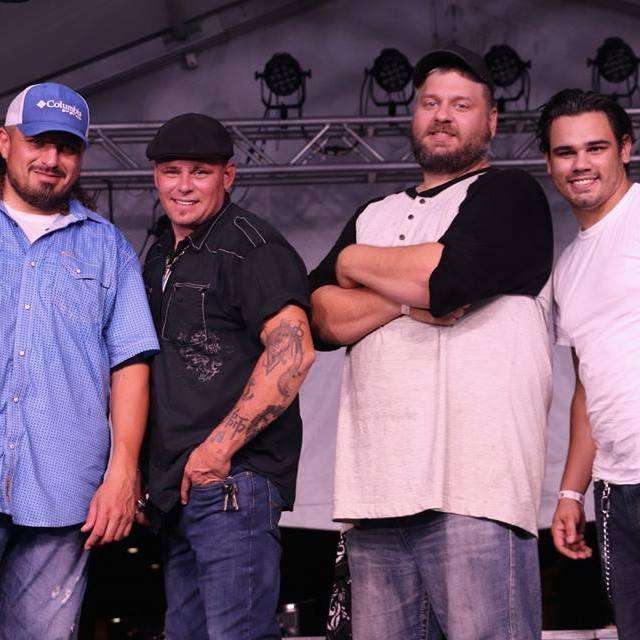 By Johnny Griffith
Ask any blues player worth their salt, and they'll tell you it's not just a genre, it's a state of mind that gets in your blood and won't let go. It has to be in order to translate from the mind to the hands to the instruments or through the vocal cords. A true blues musician can reach down in their soul and pull from that emotion, leaving it all out on stage and you BELIEVE the music is authentic. Luckily, we've got a group of musicians here in East Texas that have come together to form one of the best blues bands in the area. Bluez Boyz is the brainchild of Bobby Edwards and has been painting the town blue for about 3 years now. I recently sat down with them to get to know the band a little better.
Johnny: What's the current lineup for the band and a bit of musical background on everyone?
Bluez Boyz: Bobby Edwards started the band about 3 years ago with his son Ronnie on bass and Landon Green on drums. About two years into it we decided to add Chris Wallace to the band. We had seen Chris perform and became really good friends with him and thought he was the perfect fit for the band. All four guys in this band have been in music most all of their lives from early ages. Bobby has been pure blues all of his life and you can tell by listening to him, he didn't get the nickname "Blue Eyed Soul Man" for nothing. Ronnie Edwards, the son of Bobby, well he was raised by Bobby so of course he is really a huge fan of blues as well. Chris Wallace is also a big blues fan and you can tell it when he sings as well, and he is also known to put some southern rock and a little country twist to things from time to time. Landon Green is the rocker in the group, although he will be the one singing the ZZ Top and Queen songs, he admits that he doesn't care what genre they play because it just feels right: it's like jamming with family with these guys; and him and Bobby have played together on and off for almost 15 years and just have that bond on stage that's even rubbed off on Chris and Ronnie, and everything falls into place.
Johnny: How did the band meet? 
Bluez Boyz: Bobby and Landon met around 15 years ago through Bobby's brother Frank who was playing bass at the time. Landon was asked to join their band "Bobby Edwards Blues Band" and they played for several years all around East Texas. The guys took a small break to do other side projects and later came back together; however by this time Ronnie Edwards had turned into a beast on the bass and was ready to become his dad's bass player. After a couple of years of playing, and as the shows had continued to grow to a very steady schedule, we felt like it was time to add to the band, so of course we felt like the best fit for us was our good friend Chris Wallace. 
Johnny: Why that style of music? It's certainly not a style that gets the most real estate on stages around the area. What led you to your sound? 
Bluez Boyz: Blues is definitely our genre of choice because Bobby started the band and if you have ever heard him sing the blues then you know why we call ourselves a Blues Band. However, just as you mentioned, it certainly may not bring the most real estate around this area and that is why we add other genres to our shows as well, so that when you come and hear us you will get a wider variety such as rock, funk, oldies, and country. If we play a festival, or a blues based show, then we can promise you that you will hear some of the best live blues that you have ever heard when the "Blue Eyed Soul Man" Bobby Edwards, along with his sidekick Chris Wallace, start throwing down them REAL blues!
Johnny: Who are some of the significant influences musically for the band? 
Bluez Boyz: Stevie Ray Vaughan, BB King, Buddy Guy, Wes Jeans, ZZ Top and many more.
Johnny: What was your first gig as the Bluez Boyz?
Bluez Boyz: We three pieced at first with just Bobby, Ronnie, and Landon and our first show may have been FRESH by Brookshires. Then our first show after adding Chris might have been Republic Icehouse. It's been a while and we have played tons of shows in 2019.
Johnny: In an area that is traditionally dominated musically by country and rock acts, have there been any challenges getting gigs and building a base for a blues band? 
Bluez Boyz: Like we mentioned earlier we have added a lot more genres to our show. When you come to one of our shows now you may hear some ZZ Top, Hank Williams Jr., heck even some old school rap etc. We understand that these crowds want to hear a variety so we do our best to give them that nowadays; however we will always classify ourselves as a blues band and will push for success in the blues genre any chance we get. As far as coming to our shows, let's say a local restaurant or club, then you'll get an awesome mix of amazing music along with a great show playing your favorite mixes of all genres. So yes, we have met that challenge and know the struggle oh so well. 
Johnny: Are you guys typically local to the East Texas area or do you venture out into other markets at this point? 
Bluez Boyz: We do stay pretty busy locally around some great East Texas venues and restaurants etc.. However, we did branch out in 2019 and did several Oklahoma, Louisiana, and Dallas/ Ft. Worth Shows, and we plan to get out even more if possible in 2020, so get ready Bluez Boyz fans!
Johnny: About how many shows are you playing a month currently?
Bluez Boyz: About 8-10 , Usually every weekend and possibly a few during the week at times. 
Johnny: What has been the most memorable gig for the band to this point? 
Bluez Boyz: Probably opening up for, and getting to hang out with, Billy Bob Thornton and the Boxmasters at TXM Music City in Lindale Texas; also we do have to say that being up on the Gas Monkey Stage in Dallas was pretty dang cool as well. 
Johnny: What does 2020 have in store for the band? Any projects or tour plans? 
Bluez Boyz: We are non stop booking as we speak and hope to fill 2020 up as soon as we can. We have some recording planned, and Christine Edwards (Bobby's wife, band manager) is currently talking with a few venues in a totally different state than what we mentioned earlier, and let's just say if that goes through for us in 2020 it could be the start of something big. 
Johnny: For new fans, what can they expect at a show with The Bluez Boyz? 
Bluez Boyz: We love having other musicians come up and sit in with us and we have been told numerous times by other musicians how they love the fact that we don't plan out anything, and don't even use a set list. We just act on what everyone is feeling and go with it and have a blast doing it on stage. You may get comedy, you may get bloopers, you may get an open mic night, but we can promise that when you leave you'll be saying "dang, that was an awesome night!"
Follow the Bluez Boyz online at facebook.com/BluezBoyz73/and bluezboys.com.

Guitar For Hire: Mayson Garner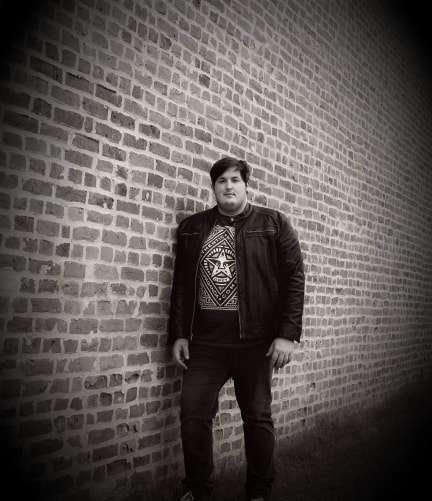 By Johnny Griffith
The term 'mercenary' has pretty much always had somewhat of a negative connotation with it throughout its history. It's typically portrayed in literature and film as someone whose loyalty extends as far as the next highest bidder and in whom trust can't be entirely placed. In the music world, however, being a "gun for hire" isn't necessarily a bad thing at all. In fact, some of the most talented musicians you've never heard called by name, you've actually heard on some of the most famous albums of all time as studio musicians or on stage as touring musicians. One of East Texas' most talented musical mercenaries is Mayson Garner. With eclectic musical tastes, killer guitar chops, and the vocal range to cover a broad spectrum of styles, Mayson can be found on stage in the area several nights a week and has worked with several projects in the area as well.
We caught him at a Thursday Open Mic night at Alibi Barcadia over in Longview this month to get a little better idea of the man behind the guitar:
Johnny: What was one of your earliest musical memories growing up?
Mayson: I remember my mom having this classical acoustic guitar lying around the house. It had only three strings and I would play it anytime I got the chance. That little guitar sparked this intense love that I now have for music, and guitars in general. I ended up playing it until all three strings came off, but I couldn't forget the feeling it brought me when I played it. That's why I am the way I am till this day. 
Johnny: When did you first pick up an instrument, and was it a guitar or did you start somewhere else and gravitate to the guitar later?
Mayson: I was 4 when I discovered my mom's acoustic, and from then until I was 15 or 16 it was only the guitar that I was interested in. Then it was drums, piano, bass, and other various instruments. 
Johnny: What were some of your early musical influences when you were learning your instrument?
Mayson: My real musical influences started to appear when I was an early teen; that's about as early as I can remember having major influences on the guitar. Adam Jones from the band Tool, as well as Jerry Cantrell from Alice in Chains, were major impacts on my playing, and still are in a few ways with Jerry Cantrell being the one I hear most in my playing these days. Guys like David Gilmour, Jeff Loomis, Michael and Christopher Amott, and Mikael Åkerfeldt played a part as well in shaping my earlier years of guitar playing. 
Johnny: Did you pick any of your musical abilities up from your parents?
Mayson: No not at all, neither of them could play instruments. I mean my mom could sing, but that was heard on the rarest of occasions. It's still a mystery to me how I fell in with music. This might sound a bit quirky, but I like to think maybe whatever or whoever is looking out for me was like "here you go I want you to have this." 
Johnny: When did you perform your first public gig and do you remember the first gig you ever got paid for?
Mayson: The first time I played for an audience was a talent show at my school. I loved being up on stage showing people what I could do. From then on I was hooked on playing for the masses, but it would be years before I would ever play my first paying gig, which was for the acoustic nights held on the patio of an On The Border here in Longview about 4 years ago. The first night I ever met Neal McCoy too – it was weird sitting there trying not to suck as this country star was sitting across from me. 
Johnny: When did you get the idea that you might want to be a bit more serious with music and take it just beyond the hobby stage?
Mayson: I think I've always been serious about music, and wanted to take it past my bedroom, so I started playing different churches and youth groups. But I wanted to keep pushing it further, so I went to a jam and knew at that point I had to be in an actual band. And before I knew it, I found myself in a few different bands basically marketing myself as a hired gun, and have been doing so since that jam, and I gotta say I'm very glad I labeled myself as a hired gun because I have met some really talented and genuinely awesome people along the way.
Johnny: You've got a pretty extensive catalog of songs you call on when doing open mic and solo events. What would you say some of your favorites currently are?
Mayson: I would have to say right now my favorites are "Kashmir" by Led Zeppelin, "I Am The Highway" by Audioslave, "Do I Wanna Know" by Arctic Monkeys, and "Keep on Swinging" by Rival Sons.
Johnny: How many originals do you have and how often do you get to work them into sets?
Mayson: I actually have a few notebooks of originals, but I have yet to work them into any of my sets because after I write them I either forget about them or never think they are quite right so I never play them. I tend to overthink my music thus keeping me from sharing it – a bad habit I've got to break – but that doesn't stop me from writing. I will have some new originals waiting to be played in the near future. 
Johnny: Some of your work I enjoy the most is when you're doing some of your bluesier covers. What direction do your originals tend to take stylistically?
Mayson: Thank you. I'm very much an eclectic musician, so I tend to write various styles of music, but if I had to pin down a specific genre I feel is the most me, I would have to say rock 'n roll. Rock music inspired by the styles of the '70s and '90s is more what I dig than anything else. 
Johnny: You do a lot of collaborative work with other local musicians as well as your own solo nights at several venues around East Texas. Who are some of your regular partners you take the stage with?
Mayson: My good friends Jerry Johnson, who is a killer bassist; and Ladarius Daniels, who we all know for being the main man when it comes to playing a mean saxophone. But recently I've made a new friend named Kasey Moore who is a cool dude, and a good player. 
Johnny: About how many times a month are you on stage somewhere around the region?
Mayson: Anywhere between 5 and 6 times a month on average. I do some solo shows and some open jams, but with this coming year chances are my band and I will be everywhere else besides our home town. 
Johnny: What have you been the proudest of, so far, in your musical journey?
Mayson: Probably how far I have come with who I am as a person and how I am as a musician. Both of which are things I am constantly working on. 
Johnny:  What are you excited about, musically, as we begin the new year?
Mayson: The new shows my band and I have lined out for 2020, and really just the excitement of where me and my music are going. There's a sense of excitement for me in what the future may hold as I keep my head down and keep working toward the ultimate goal. 
Follow Mayson Garner at facebook.com/mayson.garner.