Organic Anti-Beat Box Band
By Derrick White
I believe in the virtues of living with original art. It is one of the best gifts you can give yourself. Having unique, imaginative artwork in your home is a treasured gratification. There is pronounced inspiration in discovering new things and absorbing people's processes and techniques, especially if you are an artist yourself. Our home is filled with art by East Texas contemporary artists, and this is a great benefit to me, my family, and friends. My walls are not adorned with generic, mass produced, commercial garbage from the local chain craft store. The art my family gets to experience every day is real, personal, and handcrafted. Two of the pieces in our art collection are Briana (Sutton) Clark's watercolor paintings (one large-scale and one small-scale), and I am proud to own them. I love organic shapes, natural forms, watercolor washes, and multi-layered compositions. In my opinion, no one does this as well as Briana.
"I am an East Texas artist. I do many things including my own artwork, murals, portraits, custom paint jobs, refurbishing furniture, and more," states the artist.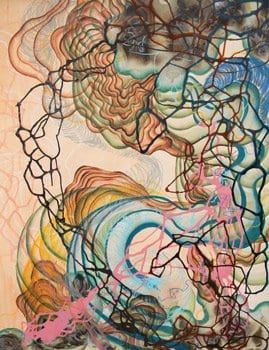 Briana Clark earned a Bachelor of Fine Arts degree and a Masters of Fine Art degree, both from the University of Texas at Tyler. She attended Tyler Junior College in 2005-2006. While in graduate school, Briana taught drawing and helped with a mural class. Her artwork is in permanent collections at two Capital One Financial buildings in Texas. She currently works for People's Telephone Cooperative in marketing. "I have been able to use my artistic knowledge to give some fresh ideas to the company. I had to learn to use Photoshop for my position, which was pretty hard for me since my brain works better hands-on and not so much with computers. Now I know the program and have been able to do some really cool projects. They also let me use my artistic abilities for party decorating, props, t-shirt designs, poster designs, etc., which is fun," Briana says. She also works doing window and sign painting for area businesses. She is about to start on a mural project for downtown Quitman as part of their town center revamping.
"Art has taught me you don't have to be perfect, and it is okay to explore. It has brought me calmness, clarity, and a new way of seeing the world. When I begin to feel like the world is ugly, and get tired of all the news and terrible things going on, art helps me focus more on the rare beauties all around us rather than falling into the black hole society creates," explains the artist.
"Life is grand in the land of lands. The mind does boggle, the mind expands," lyrics from the song 'Organic Anti-Beat Box Band' by the Red Hot Chili Peppers.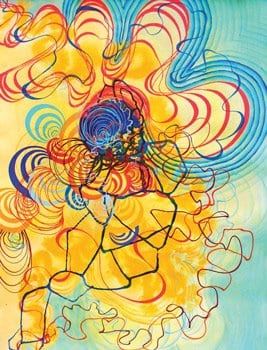 Briana's favorite media is anything water-based (watercolor, acrylic, inks), but she likes to mix pen, marker, pencil, and colored pencils as well. She states, "I enjoy the fluid movement and natural effects water media gives and how unpredictable it is. I like how I can choose to control it or not." She also loves to refurbish antique furniture and sew. "It's all very relaxing to me. Basically anything artsy, I love to do, and I try to rotate what types of things I do to keep my mind working in new, creative ways."
As a kid, Briana was constantly creative and excelled in art. Her family members were artists or had careers requiring creative minds, so it ran in the family. She attended college in Arlington and took some basic courses and an art history class, which encouraged her to do something more in art. When she moved to East Texas, she transferred to TJC and took a painting class. "At that point, I think I was definitely hooked, and I decided to transfer to UT Tyler to pursue my degrees," states Briana. She started selling art pieces and having exhibitions for people to experience and purchase her work, bringing her creations into their homes and living with them, being enriched by them, and experiencing the virtues of living with original art.
The most important thing art has brought to Briana's life is the sense of freedom and therapeutic release. She asserts, "There is nothing better than turning on some tunes and making artwork in your studio. I truly believe if the whole world could be taught to create art, it would be a better place. It is such a stress reliever. It makes me happy when nothing else does or when I'm having a bad day."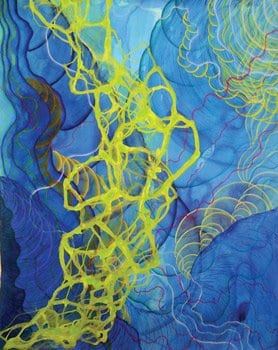 However, becoming a professional artist is not an easy task. Briana knows it takes a lot of hard work, dedication, money, and time to be an accomplished artist. One has to work to get pieces out for the world to see and to set up booths for shows. There is a lot of blood, sweat, and tears in everything artists do. "You just have to make time, find ways of funding, and don't stop working or promoting. The more exposure, the better," she recommends.
Briana feels a connection to artists like Andy Goldsworthy (British sculptor and environmentalist producing organic site-specific sculptures) for his views of the natural world and Shahzia Sikander (Pakistani artist working in drawing, painting, installation, and performance art) because of her layered works in different media and her intricate processes.
Briana advises, "I will say to all the art students, be thankful for the space, tools, and peers you have because it becomes very hard once you are out of school to keep up your same pace. This last year has been extremely tough on my art side of life. I bought a house, got married, and am just now getting settled enough to where I can even think about making artwork again. That was almost a whole year I've been out of the game. I definitely miss having studio space and all the discussions with my peers about art. Now with my coworkers, the people I see every day, if I try to talk art or explain my work, they think I'm a hippie."
"With the organic anti-beat box band you just might slam dance." – Chili Peppers
For more info about Briana Sutton Art you can find her on Facebook or go to brianasutton.com.