50th Anniversary of The Beatles Abbey Road @ Big Sandy Music Hall
Join us for a night celebrating the 50th Anniversary of The Beatles Abbey Road. East Texas Songwriters will share their favorite Beatles song followed by an original songs inspired by Abbey Road. Performers include: Heather Little, Meredith Crawford, Chris Rasco, Ian Power, Owen Tiner, Daniel Westmoreland, Paula Coots, Clay Jurenka, The Kirbys & a few other surprise guests.

Guitar On Fire: Reece Malone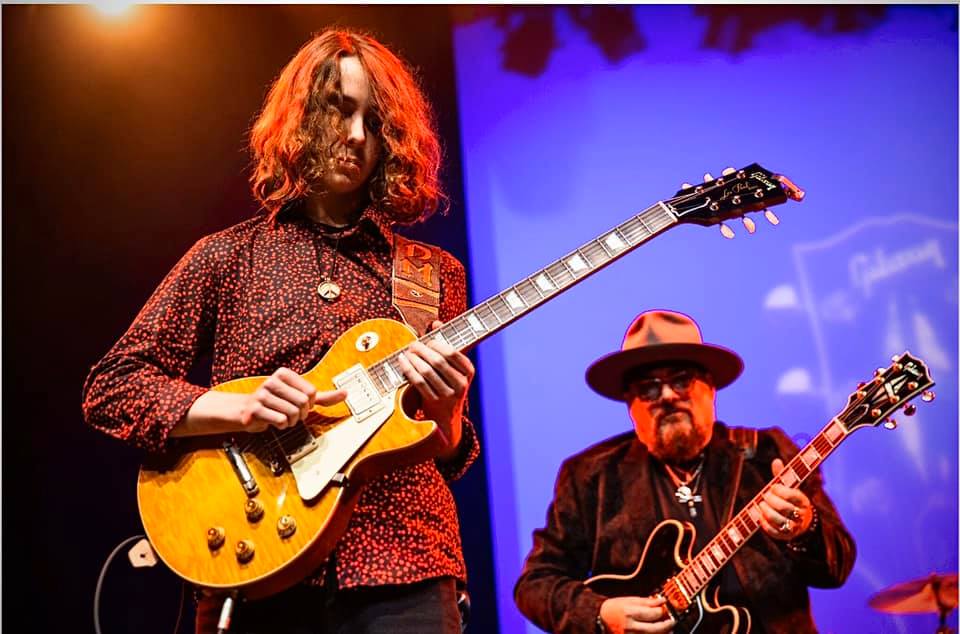 By Johnny Griffith
Hendrix, Stevie Ray, B.B., Eddie, Slash, T-Bone Walker, David Gilmour, Duane Allman, Derek Trucks.
Their names, along with countless others, are etched into our brains and into the history of music along the way.  The guitarist. That captivating centerpiece of modern music that constantly amazes us with their creativity and a certain amount of swagger.  There are millions of people that day-dream about being a guitarist on stage. Even amongst the tens of thousands of garage guitarists and local legends who play every weekend there are few who possess the chops and that "it" factor who will ever get the opportunity to perform at the next level.  But then you have musicians like local guitar prodigy Reece Malone who has packed a lifetime of experience into 16 phenomenal years.
The Longview native and Spring Hill ISD sophomore has been burning up stages since his debut 8 years ago with a resume of performances and endorsements under his belt that would make some of the most seasoned guitarists get excited. A working musician since 10, he's been part of several projects and is currently chief shredder for Salvation From Sundown. I caught up to him this past month and was able to have a conversation to get to know him a little better.
Johnny: What is your earliest memory of music?
Reece: I remember growing up listening to Van Halen, Deep Purple ,Jimi Hendrix,Ozzy and people like that. I also remember one of my first concerts was seeing ZZ top and Aerosmith and getting to meet the guys from ZZ Top in person! 
Johnny: Was guitar the first instrument you picked up?  When did you start learning? 
Reece: Guitar was the first instrument I picked up and started playing but I started learning by ear at about 6 or 7 years old. The first things I would pick up was stuff like smoke on the water and simple songs like that. 
Johnny: Do you play any other instruments currently or is your primary focus guitar? 
Reece: My primary focus currently is guitar but I do like to try to play other stuff like drums,bass, and piano.
Johnny: When did you realize you had a true gift for music?
Reece: After playing for the first time in Dallas, realizing how much everyone liked it and thought I was good. As a result, about 8 years old I started taking it more seriously. 
Johnny: When and where was your first public performance?
Reece: I remember playing in Lewisville at a place called Coach Joe Avezzano's Hat Tricks with Lance Lopez when I was around 8 years old. 
Johnny: Who have been some of your most significant personal, and musical, influences thus far?
Reece: Lance Lopez has been a huge guide for me in my musical career but people like Jimi Hendrix, Philip Sayce, Eric gales, Derek Trucks & Marcus King are some of my biggest influences.
Johnny: So the first time I saw you perform live was probably the 2016 T Bone Walker Blues Festival in Longview and you were on stage with Lance Lopez and Salvation From Sundown.  How did that relationship with Lance and those early years with SFS help shape you into the musician you are now?
Reece: Lance helped with music genre, songs and has even been in the band at one point so he has been a huge influence on me. The band name Salvation From Sundown originates from one of Lance's albums as well. Lance has introduced me to several people in the industry and given me many opportunities through the years. 
Johnny: For someone your age, you've got more experience on stage than some people get in a lifetime, what have some of the challenges been along the way with managing the things a teenager has to navigate and chasing the dream most musicians have?
Reece: I haven't had many things to hold me back. I've been super blessed with my school working with me and my parents helping me along the way and all of my friends are understanding when I can't do stuff with them. My parents are understanding with me doing stuff with my friends also so I've had great opportunities to do stuff musically and socially!
Johnny: You've had some pretty cool opportunities the last year or so with the Crossroads Festival and I've heard about this private event hosted by Gibson where you got to open for a couple of okay guitar players, want to talk about your experience with that? 
Reece: I was very excited to be chosen to open up a private event with some really good friends playing all Gibson guitars opening for people like Slash, Don felder, Billy Gibbons , Rick Neilson, Celisse Henderson, Lizzy hale, Jimmy Vivino and several others. Eric Clapton's Crossroads was also an amazing opportunity to be one of the only local guitarists invited to play the festival. I also performed on the Gibson stage at Winter NAMM in January and while in California I was invited to participate in a charity event Dark Side of the NAMM and played with Steven Perkins(drummer Jane's Addiction), Stu Hamm (Bass player for Joe Satriani, Steve Vai) Gilby Clarke (Guns N Roses), and Vernon Reid (Living Colour). 
Johnny: What are some other highlights of your young, but productive, career?
Reece: At the age of 13 I was invited to play at a halftime show at a Knicks game at Madison Square Garden. I was asked to represent Texas so I played a ZZ Top song. I've also had the opportunity to sit in with Marcus King in Dallas at The House of Blues. I'm the youngest guitarist to ever be featured on the cover of Buddy Magazine,which is the oldest music magazine in the state of Texas. I've also been professionally endorsed by Gibson Guitars, Ernie Ball Strings & Homestead Amplifiers. I truly have been fortunate so far in my music journey to be surrounded by amazing people and experiences. 
Johnny: What is on your radar for 2020 that we should keep our eyes open for? 
Reece: I will be playing at the Dallas international guitar festival, Bedford Blues festival, Gibson sponsored events and also many other shows throughout the year. You can look on our band page for more dates!
For more information about Reece and what he's got going on, follow him on Instagram and Facebook at Reece Malone Music.

UPDATED 3/31: #tylertx: In the Know about COVID-19 Locally

Daily Update on COVID-19 in Smith County
Tuesday, March 31, 2020
#SpreadFactsNotFear – www.MyNETHealth.org/Coronavirus
Tyler, Texas (Tuesday, March 31)
There are 36 confirmed COVID-19 cases in Smith County as of Tuesday, March 31 at 12 p.m.
There is one (1) COVID-19 related fatality within Smith County as of Tuesday, March 31 at 12 p.m.
Confirmed cases in Smith County: 36
*Northeast Texas Public Health District PIO: Terrence Ates, (903) 343-5451
The Smith County Emergency Operations Center is active and meeting seven days a week to coordinate the best response for the Smith County community.
Two week "Stay at Home" Order issued by Smith County Judge
Smith County Judge Nathaniel Moran issued a two-week "Stay at Home" Order for all Smith County residents on Friday, March 27, 2020.
The order is an amendment to Smith County's "Declaration of Local Disaster Due to Public Health Emergency for Smith County, Texas."
The "Stay at Home Order" takes effect at 11:59 p.m. on Friday, March 27, 2020, and will continue through 11:59 p.m. on Friday, April 10, 2020, unless otherwise extended or terminated by further order of Judge Moran.
To view the Order and accompanying press release, please visit www.smith-county.com and click the red banner at the top of the page.
City of Tyler
While parks and trails remain open for use by the public, the basketball courts in all City parks have been closed.
The City of Tyler will extend modified facility operations until Friday, April 17. All events City-operated or in a City facility have been suspended through April 17.
Get more information on closures or adjusted services:
https://www.cityoftyler.org/government/departments/communications/coronavirus-updates
City of Tyler PIO: Jenny Wells, (903) 944-9136
Smith County
Smith County remains open to the public, but with limited walk-in services.  The County encourages people to conduct their businesses online. Many non-essential services are by appointment only.  The Smith County Tax Office is closed to the public until further notice, but is still working to assist Smith County residents and businesses. Employees will continue working, answering the phones and mail. For more information or to make a payment, call (903) 590-2920 for property taxes and (903) 590-2900 for auto registration. Jury duty continues to be suspended through May 1. For a full list of adjusted services, please visit https://www.smith-county.com/government/departments/corona-virus-information.
Smith County PIO: Casey Murphy, (903) 590-4607
Tyler Independent School District
Tyler ISD Curbside Meals continue at Boulter, Hubbard, Moore and Three Lakes middles schools, Caldwell Arts Academy, and Austin, Griffin and Peete elementary schools Monday through Friday, 11 a.m. to 1 p.m. Beginning April 6, Dixie Elementary School will be an added meal location. Additionally, Social and Emotional Learning resources for students and families can be found at www.tylerisd.org/distancelearning.   For Curbside Meal information and/or answers to Frequently Asked Questions, go to www.tylerisd.org/covid19.
TISD PIO: Jennifer Hines, (903) 521-5887
Hospital Updates
Both CHRISTUS Trinity Clinic and UT Health East Texas have expanded telehealth services and online screening tools to best serve their patients. Telehealth services will be HIPPA-compliant.
If you are experiencing or developing COVID-19 symptoms such as fever, cough or shortness of breath, call to speak with a clinician who will provide telephonic triage and make appropriate referrals in accordance with CDC guidelines. Additionally, you may visit www.coronavirus.gov and take a "Coronavirus Self-Checker" assessment. This will help you communicate symptoms to your doctor when you call their office before making a visit.
To coordinate prescreening and referral directly with UT Health East Texas, patients may call (903) 596- DOCS.
To coordinate prescreening and referral directly with CHRISTUS Trinity Mother Frances, patients may call (903) 606-DOCS.
**In the event of an emergency, call 911.
Texas Department of Public Safety
Texas authorities have published a form to aid in the process of identifying who is crossing from Louisiana into Texas to support the response to coronavirus.
The Texas Division of Emergency Management has published an online form for people to fill out who plan to cross west into Texas. It lists out the different categories of positions approved to opt-out of the required two-week quarantine. The agency will review each submission on a case-by-case basis and issue letters for the individual to carry with them should they encounter law enforcement.
The form can be found by visiting www.texas.gov and selecting "GA-11 and GA-12 Travel Exemption Form. See attached press release from DPS for more information.
The Joint Information Center
The Joint Information Center (J.I.C.) has been put in place as an information agency to best communicate with the public from a centralized location for agencies like the City of Tyler, Smith County, Tyler Independent School District and the Northeast Public Health District.
---
See Daily Update on COVID-19 in Smith County
Need food or other help like clinics? Go HERE.

Information for COVID-19 Employers, Jobseekers and Child Care
The Texas Department of State Health Services is tracking cases of the new coronavirus that causes COVID-19. The numbers include confirmed and presumptive positive cases of COVID-19 reported by local and regional public health jurisdictions to DSHS and are listed by the person's county of residence.
Go on a Bunny Hunt in the Beautiful Azalea Trails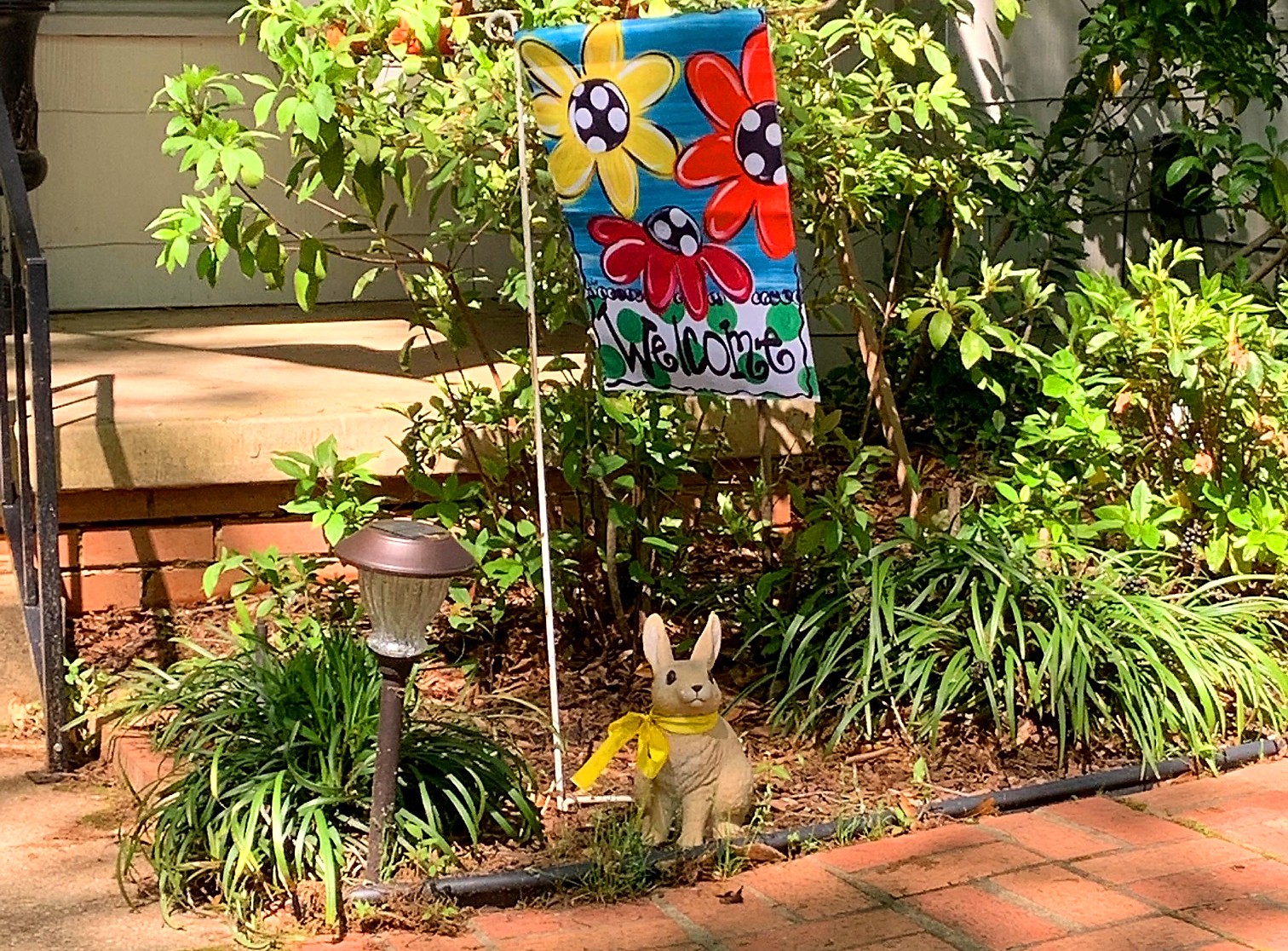 The Bunny Hunt has been an annual favorite activity for families enjoying the Tyler Azalea & Spring Trail for several years, and this year is no different. While the festivities look a little different this year, the bunnies are back and hiding along the Trail.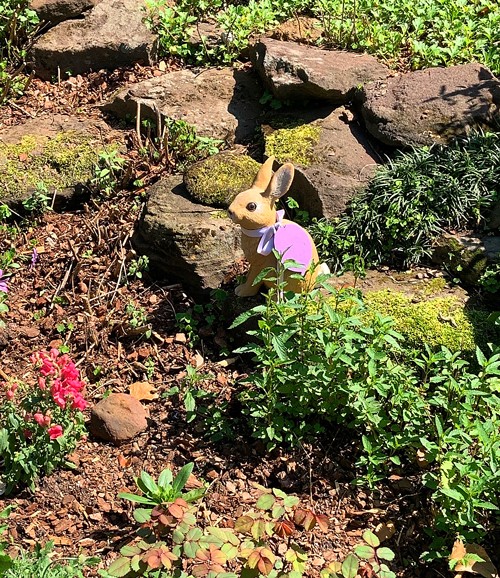 Even though you are probably adhering to the shelter in place rule and staying home, you might be in the mood to take a drive, which is perfectly ok under the new rules. The Azalea District is a beautiful afternoon drive. The historic homes are always pretty, and flowers are blooming. Spring is the perfect time to get out in this area of Tyler.
The Tyler Azalea & Spring Flower Trail is an annual spring affair that covers ten miles of residential gardens and historic home-sites covered with blooming bushes and fresh flowers. This year, because of the concern over the spread of coronavirus, the private gardens are closed and most events are canceled, but you are still able to drive through the neighborhood.
When you are driving around, see how many bunnies you can spot along the Trail. Share your photos on social media using the tag #TylerAzaleaBunnies.
During this time of uncertainty, let's have a bit of fun and enjoy the Azalea bunnies that have brought joy to many people over the years.
For a map of the Trail, an update of the blooms, and a list of events effected by the quarantine go to www.visittyler.com/azaleatrail.
If you do decide to take a drive to keep your mental sanity, we encourage you to stay in your car, practice safe hygiene and social distancing as lined out by the CDC, and stay home if you're sick.
For details on the stay at home mandate, go to www.smith-county.com.