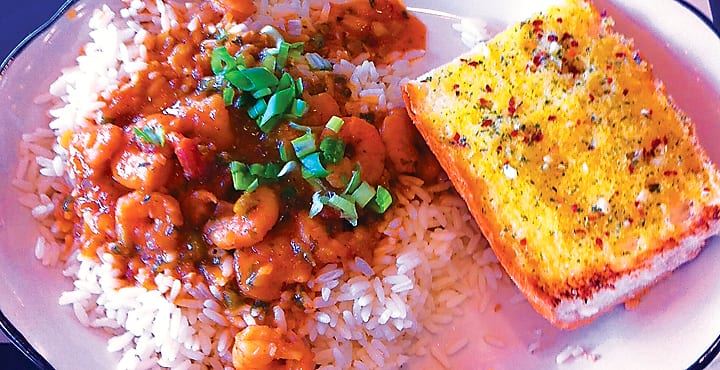 By Jodie Meyer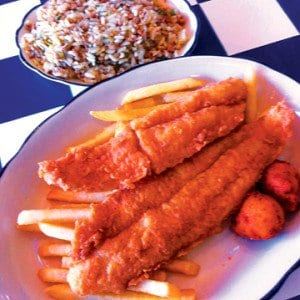 Another new restaurant has sailed its way to Tyler, Texas!
Happy's Fish House has docked here, and based on my visit, I think it will be moored here for a long time. This is a good thing. I went to discover this place for myself and found treasure in a building that was previously a sunken ship.
As I walked up to the entrance, I met an older couple who was just leaving. I asked, "How did you like the place?" I was hoping to get a scoop before I even entered the building. The gentleman replied, "We don't know – they don't have any more catfish, so we're leaving."
I admit I was taken aback by his answer. But as I continued inside to complete my mission, I saw a server literally run out the door to get this couple back. Apparently the couple had been misinformed, and this server was not going to let them leave unhappy. They came back, and from what I observed they enjoyed their meal very much.
WOW! You don't see this level of care for guests at many places in Tyler, but only three weeks in and the servers in this restaurant "get it." This kind of care was the theme throughout my visit. Everyone on staff had it. The hostesses looked great — and would you believe they were not on their cell phones. I let them know I was there for EGuide and they went and got Scott Nordon, director of operations. He sat down with me and we started to chat. I had yet to look at the menu.
Scott gave me the story of Happy's. First, this is a flagship restaurant, the first one. Owned by Andy Gugar who owns the Mercado's here and the Posado's restaurants all over Texas.
The name Happy's is after Gugar's grandfather. It was his nickname. (That's super sweet!) As a Tyler restaurateur, Andy felt there was a niche that needed to be filled in the area. So he spent over a year conceptualizing and testing the menu. His goals were fresh ingredients, scratch cooking, large portions, and excitement with the brand — all things that that draw me to a new eatery.
Scott fielded questions, one after another. He was excited about it. And I heard words I love to hear when talking about food — freshness, quality, high standards, and made from scratch.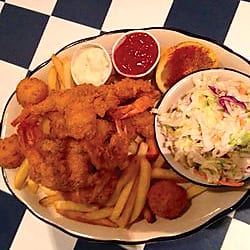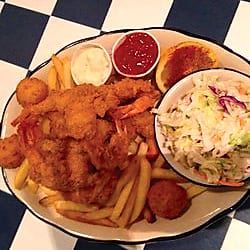 I also wanted to be sure about the catfish. Let's face it, we've all had catfish done poorly. But at Happy's, the chefs use only good, quality American catfish.
Every single dessert made in-house (the bread pudding is made fresh twice a day because they sell so much). They have oysters on the half-shell, shucked to order. Signature dishes are gumbo, etouffee, and anything fried. All fried foods here are hand-battered. He mentioned the chicken fried steak they hand-pound, if fish is not your thing.
We discussed the culture of Happy's, which to me, was apparent everywhere I looked. From the curb appeal coming in, to the décor, to the warm staff, I was impressed by the atmosphere the management worked hard to create.
Scott made a point of talking about how important the staff is to creating and preserving that welcoming atmosphere. The overarching goal, Scott said, is "treating the guest like family, and giving them an experience."
The restaurant puts every staff member through a four-week training period and it shows.
Finally, it was time to order. Brianna was my server. At 18 years old, this girl had it together. She was a pro, able to answer any question I had about the menu and confident enough to make suggestions.
I decided on the shrimp and craw fish fondue. It was amazing. The cheese was gooey and there was a lot of flavor in this dish. Most importantly, the shrimp was not overcooked.
It was a lot of food, so I never actually made it to the entrée! I did have dessert — the bread  pudding. This thing, too, was gigantic. It was hot and came with a scoop of ice cream. Who doesn't love a hot/cold dessert party in their mouth?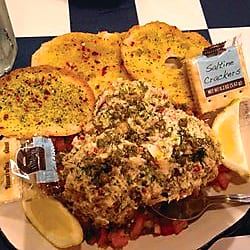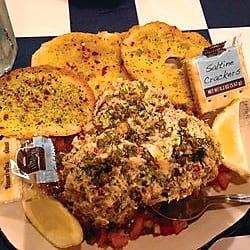 While I was enjoying the food  — food that was above my high expectations – I was joined by General Manager Kevin Aburayan. His enthusiasm was contagious. I could not get enough of it. Like Scott, Kevin could not tell me enough about the quality and freshness of the ingredients. He spoke more in-depth about Andy Gugar and his dedication to his product.
"Andy is so knowledgeable about food he should be on TV with his own show,"  Kevin confided.  Kevin continued talking about how great the customer feedback has been. "My customers tell me they don't have to go to Dallas for Pappadeaux anymore."  As we were talking I had Brianna bring me to-go boxes for both the items I ordered.
I was curious to see where Kevin saw Happy's Fish House in the future. His response showed some wisdom about the food industry.  "To predict the future is really hard" he said. "But with quality food and service we may open other locations."
When you go to Happy's get your sea legs ready. I'm pleased Happy's Fish House has come to our port. You will be, too.
#ilovetylertexas

"Cooking: A Way of Life" Cooking Classes Continue Through the Summer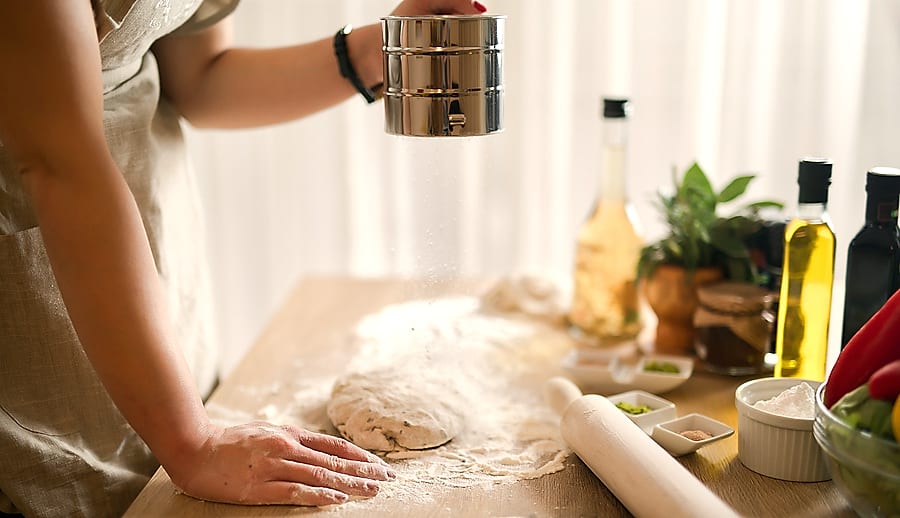 Cooking classes are available to anyone who wants to both learn to cook and increase their culinary skills. All classes are held at the Harvey Convention Center in Hall 3 from 6-8pm. Pre-registration is required for all classes. These classes include a cooking demonstration and recipes; plus you can enjoy a great meal. These classes are for adults. The cost is $15 per person per class. Registration can be made by calling (903)531-1214 or register for classes at parksandrec.cityoftyler.org. Dates and guest chef information is below. 
July 23rd: CLASS VII: "Southern Cooking with a Twist" featuring Guest Chef Cody Baschnagel, The Grove of Tyler

August 6th: CLASS VIII: "Four Day Meal Plan in One" featuring Guest Chef Chef Kat Santos, Founder, Food Works of Tyler

October 11th: Special Longtable Dinner in the Garden: "Rose to Table" at the Tyler Rose Garden. Tickets are $75 per person. Registration required. Tickets go on sale August 16th.

Foodie Events in July: Yum Yummy Good
Farmers Markets Around East Texas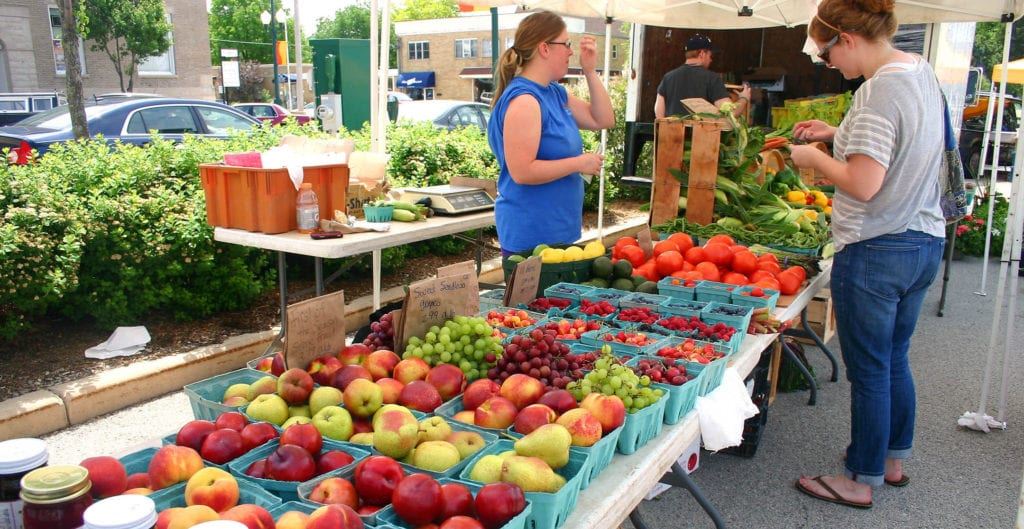 Everything is blooming, growing, and flourishing in East Texas, and it's time to head to your local favorite farmers market. Be sure to check one of these out for all kinds of goodies.
Rose City Farmers Market, Downtown Tyler
Saturday mornings, 8am-12 noon, the Rose City Farmers Market is a neat, unique experience for the whole family and even your furry four-legged friends. Located just a block from the Square, in the Unclaimed Furniture parking lot in Tyler (236 S. Broadway), the market brings all that's fresh straight to you: fruits, vegetables, and herbs all grown within 75 miles of Tyler. That includes pasture-raised beef, lamb, pork, chicken, and turkey, free-range/non GMO eggs, and goat cheeses. Every Saturday, the available selections are different featuring treasures from East Texas fields as the crops come in.  Also, there's fresh bread, flowers, coffee, jams and jellies, baked goods, Texas olive oil, handcrafted art, and Texas fruit wines on hand. Local musicians will be perform every Saturday. Visit them on Facebook, and foodcoalition.org.
Tyler Farmers Market
Tyler Farmers Market has moved to a new location at 2700 WSW Loop 323, Tyler, adjacent to Peltier Chevrolet. The Tyler Farmers Market is open Tuesdays, Thursdays, and Saturdays 7am-2pm. They feature seasonal items under a big white tent. You can visit them online at tylerfarmersmarket.org.
East Texas State Fair Farmers Market
East Texas State Fair Farmers Market, located at the Fairgrounds, 2112 W. Front Street, Tyler, is held under the large pavilion. They are open Tuesdays and Saturdays 7am-1pm. The East Texas State Fair Farmers Market is sourced from 100% local farmers who grow every last bit of food they sell on their own land. This is a covered/open air market, with locally grown fresh fruits, veggies, and flowers. There are also crafters, homemade baked goods, preserves, and fresh eggs. This farmer's market is located right behind the Rose Garden.
Lindale Farmers Market
Open through August 31st, this ongoing farmer's market occurs every Saturday (8am-1pm). Lindale Farmers Market will be held at the Picker's Pavilion, 205 E. North St., Lindale. Fruits, vegetables, artisan wares, and more are featured each week. Everything is home grown, home made, and hand crafted by artisans, ranchers, and growers. For more info go to www.facebook.com/Lindale-Farmers-Market.
Stillwater Farm Market Store
Located at 109 W. Main St. in Chandler, Stillwater Farm Market Store features locally fresh produce, pecans, local meats, baked goods, lunches, and ice cream! This is a destination for "all things fresh" and a great place to pick up locally grown produce. Stillwater Farm is the name given to their family land that is contiguous to the section of Fitzgerald farmland.  The farm features a pecan, peach, and fig orchard. Approximately 10 acres of irrigated row crop vegetables are also grown including onions, watermelons, tomatoes, peas, squash, okra, peppers, and more. For more info call (903)515-3502. They are open Monday-Friday 10am-6pm and Saturday 10am-5pm.