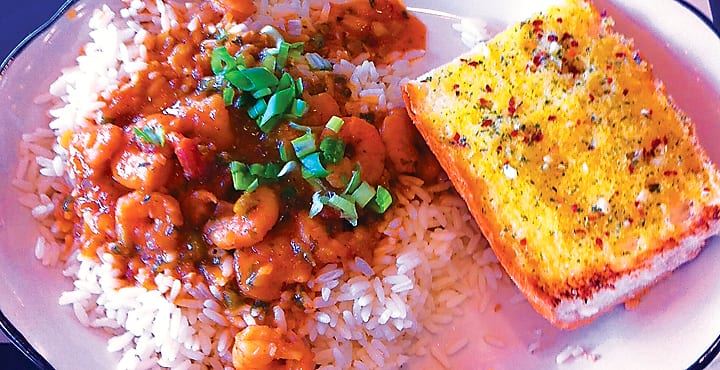 By Jodie Meyer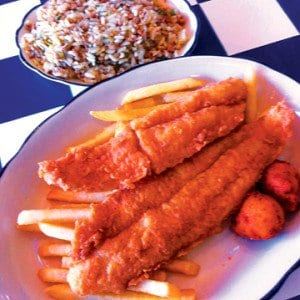 Another new restaurant has sailed its way to Tyler, Texas!
Happy's Fish House has docked here, and based on my visit, I think it will be moored here for a long time. This is a good thing. I went to discover this place for myself and found treasure in a building that was previously a sunken ship.
As I walked up to the entrance, I met an older couple who was just leaving. I asked, "How did you like the place?" I was hoping to get a scoop before I even entered the building. The gentleman replied, "We don't know – they don't have any more catfish, so we're leaving."
I admit I was taken aback by his answer. But as I continued inside to complete my mission, I saw a server literally run out the door to get this couple back. Apparently the couple had been misinformed, and this server was not going to let them leave unhappy. They came back, and from what I observed they enjoyed their meal very much.
WOW! You don't see this level of care for guests at many places in Tyler, but only three weeks in and the servers in this restaurant "get it." This kind of care was the theme throughout my visit. Everyone on staff had it. The hostesses looked great — and would you believe they were not on their cell phones. I let them know I was there for EGuide and they went and got Scott Nordon, director of operations. He sat down with me and we started to chat. I had yet to look at the menu.
Scott gave me the story of Happy's. First, this is a flagship restaurant, the first one. Owned by Andy Gugar who owns the Mercado's here and the Posado's restaurants all over Texas.
The name Happy's is after Gugar's grandfather. It was his nickname. (That's super sweet!) As a Tyler restaurateur, Andy felt there was a niche that needed to be filled in the area. So he spent over a year conceptualizing and testing the menu. His goals were fresh ingredients, scratch cooking, large portions, and excitement with the brand — all things that that draw me to a new eatery.
Scott fielded questions, one after another. He was excited about it. And I heard words I love to hear when talking about food — freshness, quality, high standards, and made from scratch.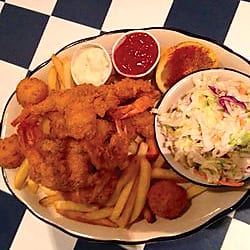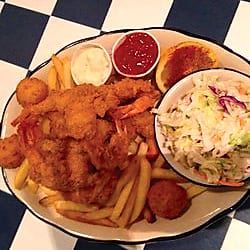 I also wanted to be sure about the catfish. Let's face it, we've all had catfish done poorly. But at Happy's, the chefs use only good, quality American catfish.
Every single dessert made in-house (the bread pudding is made fresh twice a day because they sell so much). They have oysters on the half-shell, shucked to order. Signature dishes are gumbo, etouffee, and anything fried. All fried foods here are hand-battered. He mentioned the chicken fried steak they hand-pound, if fish is not your thing.
We discussed the culture of Happy's, which to me, was apparent everywhere I looked. From the curb appeal coming in, to the décor, to the warm staff, I was impressed by the atmosphere the management worked hard to create.
Scott made a point of talking about how important the staff is to creating and preserving that welcoming atmosphere. The overarching goal, Scott said, is "treating the guest like family, and giving them an experience."
The restaurant puts every staff member through a four-week training period and it shows.
Finally, it was time to order. Brianna was my server. At 18 years old, this girl had it together. She was a pro, able to answer any question I had about the menu and confident enough to make suggestions.
I decided on the shrimp and craw fish fondue. It was amazing. The cheese was gooey and there was a lot of flavor in this dish. Most importantly, the shrimp was not overcooked.
It was a lot of food, so I never actually made it to the entrée! I did have dessert — the bread  pudding. This thing, too, was gigantic. It was hot and came with a scoop of ice cream. Who doesn't love a hot/cold dessert party in their mouth?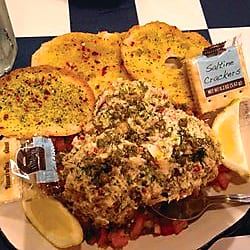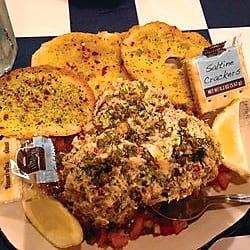 While I was enjoying the food  — food that was above my high expectations – I was joined by General Manager Kevin Aburayan. His enthusiasm was contagious. I could not get enough of it. Like Scott, Kevin could not tell me enough about the quality and freshness of the ingredients. He spoke more in-depth about Andy Gugar and his dedication to his product.
"Andy is so knowledgeable about food he should be on TV with his own show,"  Kevin confided.  Kevin continued talking about how great the customer feedback has been. "My customers tell me they don't have to go to Dallas for Pappadeaux anymore."  As we were talking I had Brianna bring me to-go boxes for both the items I ordered.
I was curious to see where Kevin saw Happy's Fish House in the future. His response showed some wisdom about the food industry.  "To predict the future is really hard" he said. "But with quality food and service we may open other locations."
When you go to Happy's get your sea legs ready. I'm pleased Happy's Fish House has come to our port. You will be, too.
#ilovetylertexas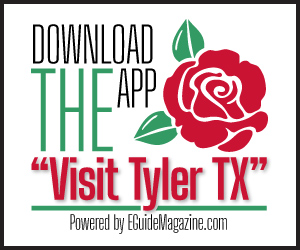 #HaveFunMakeADifference for Whitehouse Restaurants

The Whitehouse Chamber of Commerce wants to encourage you to #eatlocal and get rewarded!
When you eat at a Chamber member restaurant, you support your community and become eligible to win a $50 gift card to the Chamber member restaurant of your choice.
Drawings are held weekly.
You may submit as many receipts as you like during the time frame, there is no limit on the number of entries. To submit your receipt, write your name and contact information on the receipt and drop it off at the
Chamber office (208 TX 110).
Or, take a photo of your receipt and email it to info@whitehousetx.com. Be sure to include your contact information (email address and/or phone number) in the email so we may contact the winners.
There is no limit to the number of times you can register, but the drawing starts over every week. Details are on the flyer below…
Eat & Drink Local: Who is Open, Their Menus & More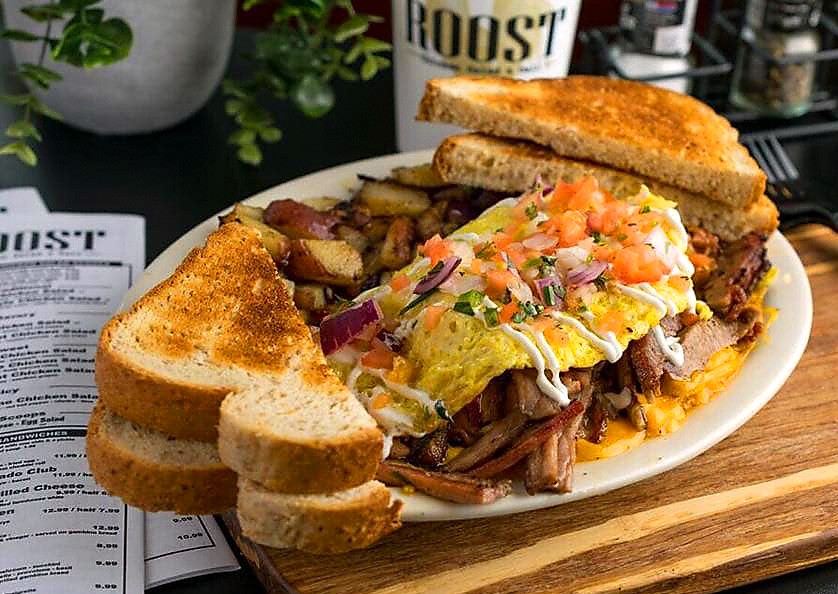 Roost is located at 3314 Troup Highway, Tyler, Texas 75701, (903) 747-3700,  open 8 am to 6 pm 7 days a week. Menus and ordering info available at facebook.com/RoostTX/.
To feature your business, email eguidemagazine@email.com. Ads run weekly Monday-Sunday, unlimited impressions for $110. You may purchase multiple weeks and the creation of your ad is always free.
---

Welcome to
EGuideMagazine.com
's new
#EatLocalTyler
page!
Starting Friday, May 22nd, 2020 restaurants can open their dining rooms! Seating is limited to 50% occupancy. Outdoors seating is not limited at all.
You can still order take out at the curbside, go through the drive-thru from some local restaurants, and get delivery from a variety of services.
And thanks to Governor Abbott, restaurants can continue to sell alcohol to go!
Links to restaurant's new condensed menus, websites for ordering, phone numbers, and what is available (delivery, drive-thru, curbside, etc…), and if they have opened their dining rooms are all posted below in a convenient and easy to use format.
Check back often, this list changes hourly!
To add your restaurant or report any changes or additions, email eguidemagazine@gmail.com.
Farmers Markets & Groceries: One-Stop Shopping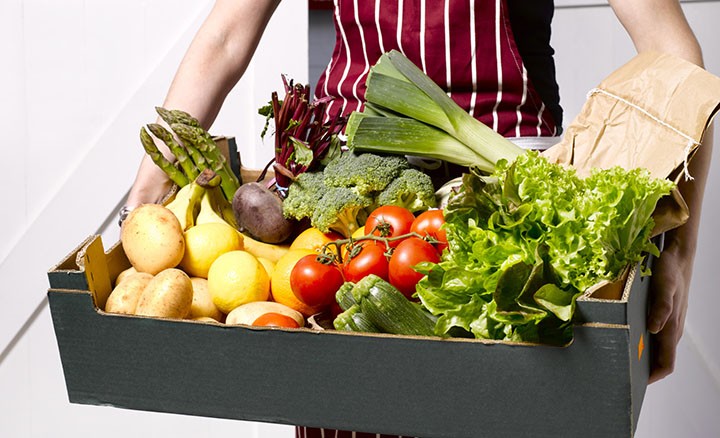 All of us may be going a little coocoo. And we may need to get out and stretch our legs- but this video is all good. This is a male Attwater Prairie-chicken strutting his stuff for spring.

Posted by Caldwell Zoo on Monday, April 6, 2020
Video from Caldwell Zoo 😛  The Caldwell Zoo will remain closed in accordance with directives geared to mitigate the COVID-19 outbreak we are all experiencing. They are offering some fun ways to stay connected with you and bring the Caldwell Zoo community some smiles. Keep an eye on them at facebook.com/CaldwellZoo.
One-Stop Shopping at Local Restaurants
Tired of the long lines and crowds at the grocery stores? You can now get limited groceries at some restaurants in the area. Options available include everything from toilet paper to produce to meat, fish and even eggs! Check out the Grab & Go options at these businesses: