---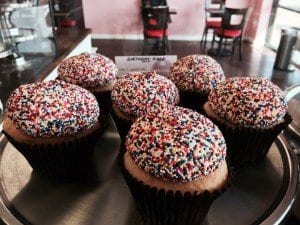 Written and Photographed by Barbara King
Do not let the name fool you, these cupcakes are large, moist, and absolutely delicious. You will be mesmerized by the selection and mouth -watering presentation of these delectable treats at the recently opened Smallcakes franchise in Tyler.
Becki and John Reiss are the cheerful and very busy ow
ners of the Tyler Smallcakes store, just one of 95 cupcakeries across the United States. Since opening the store in January, located in the Shops at Old Bullard (beside Sonoma Grill), Becki says they have "been so busy that we now have two head bakers and two assistant bakers." The couple, who relocated from Corpus Christi, have family in the area and extensive experience in the bakery industry. "We've been traveling back and forth for over ten years," said Becki, "and we saw a great opportunity to work for ourselves in Tyler."
The store itself resembles a sweet cupcake treat, with the color scheme reminiscent of pink frosting. There is inside seating if you care to relax and enjoy your cake, and maybe compliment it with a soft drink, coffee, or hot chocolate.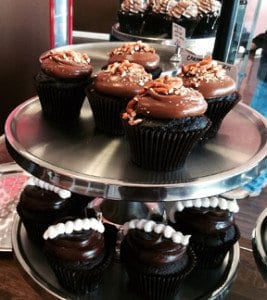 It may take some time and contemplation to choose between the signature flavors that include Pink Vanilla, Choco-holic, Cookies & Cream, Red Velvet (like grandma used to make), Hot Fudge Sundae, Chocolate Cream, Pink Chocolate, Vanilla-n-Chocolate, and Lemon Drop. Add 175 other rotating flavors to that mix, plus gluten free options too, and your taste buds will be reeling. The icings are spectacular, butter crème concoctions, rich and decadent. They also offer different daily specials, including cakes with names like Brownie Bling, Marble Cheesecake, and Tiramisu.
"We don't compare ourselves to any other bakery in town," explains Becki. "We have one product, and we focus on quality and freshness and great recipes." Smallcakes has been featured on the Food Network show, Cupcake Wars, and it is also listed as one of the "Top 10 Cupcake Places to Try" in the country.
The cupcakes are made fresh every day, and you will not find any day old cakes here. Local non-profits are the recipients of any unsold cupcakes, as the store gives back to the community by donating them to Meals on Wheels and the Salvation Army. The store also recently donated over 250 samples to the Salvation Army for their chili bowl event.
Tara S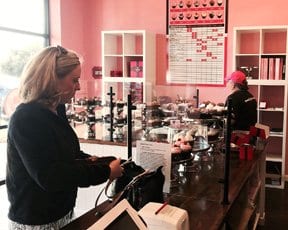 nyder was dropping by to check out the goodies on a recommendation from her sister. "I live three blocks away, and now that it's here, it may be my go-to treat place." Snyder was impressed by the gluten-free choices and left with a box of cakes, saying, "I almost don't want to share."
You can call ahead and order, or walk in and pick up a cupcake for $3.50 each. Smallcakes offers birthday parties on-site (reserved in advance) with cupcake decorating, as well as specialty orders for weddings, baby showers or any other special occasion. Smallcakes can even create minicakes, and offers a specialty corporate loyalty program for sales reps who place larger orders.
Place an order and get a Smallcakes rewards card, and after 12 purchases, receive a free cupcake. Also, on your cell phone you can text "smallcakes" to 51660 for a coupon code for "purchase one cake and get one for free (one time use only)."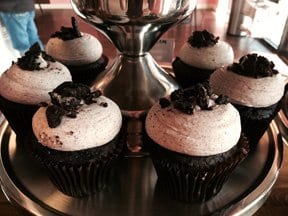 Becki says that the business is growing by word of mouth and folks are coming from Jacksonville, Longview, Whitehouse, and all over Tyler. "We took samples all over the city before we had our grand opening, so people could taste our product and become familiar with what we offer. We are in a great location with good visibility and have lots of families come in for an after school treat. We have even had personal trainers come in for cupcake rewards for their clients."
Did you know (courtesy of Smallcakes) that 13% of couples planning weddings are choosing cupcakes over conventional wedding cakes? Cupcakes have been around for over 200 years and were aptly named because their ingredients were measured in cups. The largest cupcake ever made weighed one ton and was covered in 600 pounds of frosting.
Lauren Arrington from Jacksonville said, "I was driving by and wanted to see what they had." After a few minutes of oohing and aahing over the incredible display of cupcake options, she commented that "it's almost impossible to choose, they all look heavenly!"
As the website proclaims, "You can't buy happiness, but you can buy a cupcake, and that's kind of the same thing."
Order ahead or drop by 5875 Old Bullard Road, Tyler, visit them on Facebook for specials at facebook.com/smallcakestyler, online at www.smallcakestyler.com, or call (903)561-8988 for birthday or decorating reservations.
Do you love sweets? Get cakes from The Glass Knife in Winter Park!